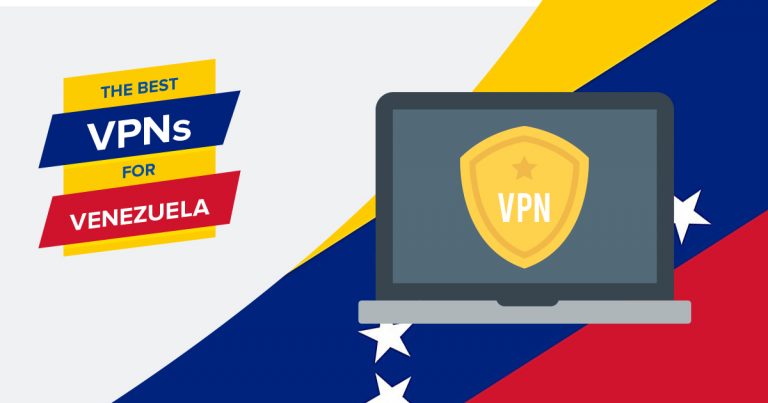 4 Best VPNs For Venezuela – For Safety, Streaming & Speeds in 2021
Updated on 16th April 2021
Whether you live in Venezuela or will only be in the country temporarily, using a VPN has become vital every time you go online there. The last several years have seen dramatic increases in online censorship and spying by the Venezuelan government.
In the midst of a national crisis that sees many Venezuelans struggling to satisfy their basic needs like food and safe drinking water, it's easy to forget about issues like online security. But the dangers of using the web in Venezuela without protecting yourself are very real.
Accessing your Venezuelan bank account from abroad, speaking your mind on social media, or protecting your private conversations from the government's harsh surveillance is only possible with a VPN (virtual private network) that fully conceals your identity and location.
By connecting you to a remote server and masking your IP address, a trustworthy VPN allows you to safely use websites and services that have been blocked by the National Commission of Telecommunications (CONATEL).
Even if you just want to stream popular programs on US Netflix or access the best coverage of La Liga soccer matches, a VPN is still an absolute must. We've tested hundreds of VPNs to find the ones that work best for any purpose in Venezuela.
Best VPNs to Use in Venezuela – Quick Summary
Taking into account all the unique challenges of gaining safe and free internet access in Venezuela, here are five top-quality VPNs you can count on to keep you safe.
Why You Need a VPN for Venezuela
As a result of deep economic and political unrest, internet censorship in Venezuela has continuously escalated over the last five years. The government's capability for online surveillance has expanded as well, making it impossible to browse the internet freely without a VPN.
In the wake of political protests in 2014, the government blocked Zello, a walkie-talkie app, calling it a "terrorist application" of Venezuelan students. As the situation worsened, many additional websites were systematically blocked between 2015 and 2016.
Banned websites include news media services such as Infobae and NTN24, sites related to the US dollar – especially black market trade of the dollar – such as DolarToday, blogs with content criticizing Hugo Chávez, online gaming and casino sites, and more.
In 2017, President Maduro issued an executive order extending Venezuela's government-declared State of Emergency, essentially legalizing internet policing and content censorship.
This measure intensified existing restrictions, leading to blocks of streaming news outlets such as VivoPlay and El Nacional. Generally speaking, any news outlet that dares to report the reality of what's happening in Venezuela is swiftly banned.
Additional laws subsequently set conditions for banning content that, in the view of the government, incited violence or contributed to "public anxiety." Anyone with a website containing content found to be in violation of these laws has six hours to remove the content, under penalties ranging from fines to prison sentences of 10-20 years.
In 2018, Venezuela's most popular ISP, CANTV, blocked access to Tor, a secure network that allows users to browse the internet anonymously without revealing their locations. Tor was one of the last outlets Venezuelan citizens had to express ideas freely and consume global content.
You can access social media and messaging platforms like Facebook, Twitter, WhatsApp, and Skype in Venezuela, but not without the risk of the government using hacking software or cooperating with ISPs to monitor your conversations.
In fact, the government has been known to spy on private conversations and later show up at a person's doorstep with threats or even handcuffs, charging the person with treason.
What's more, a virtual block has recently been put in place that makes it nearly impossible for Venezuelan citizens living abroad to access sites and services back home, and the effects are massive.
For example, if you attempt to access your Venezuelan bank account from a foreign IP address, your account will be blocked. You'll be unable to send money to friends and family, or even pay off utility bills or credit card debts you still have in your home country.
What You Should Look For in a VPN for Venezuela
Taking all this into consideration, there are a number of features you need in a VPN for Venezuela:
Ability to bypass censorship blocks: Make sure the VPN you choose has the ability to seamlessly bypass government censorship filters and firewalls. Look for features like Double VPN, obfuscated servers, and/or a proven record of working in heavy censorship countries like China.
Local servers: If you need to access services within Venezuela, especially your bank or online bill-paying services, it is essential to use a VPN with a server in the country.
Data security & privacy: Any VPN you use in Venezuela should have military-grade encryption and a zero-logging policy to ensure that your online activity remains safe and anonymous.
Device compatibility: Before signing up for any VPN, check whether it has an app for your device's operating system.
Large network: The larger your VPN's network is, the more connection options and IP addresses you will have access to.
Strong reputation: The risks are too great in Venezuela to use a VPN that you're not sure you can trust. Check customer and expert reviews to learn how well the VPN has worked for other users.
The 4 Best VPNs for Venezuela & Why We Trust Them
All of these VPNs use the highest levels of encryption and include leak protection and a built-in kill switch. You can trust them all to keep you safe when you go online in Venezuela, but each has different features, so read on to learn which one is best for you.
Money-back guarantee:
30 days, no questions asked
ExpressVPN can unblock:
Netflix, Hulu, HBO, Amazon Prime Video, Showtime, Sling TV, DAZN, and BBC iPlayer.
Supports torrenting:
Yes, all servers support P2P activity.
ExpressVPN works on these devices:
Windows, macOS, Android, iOS, Android TV, Linux, Chrome, and Firefox. It also offers an app for use with certain routers.
ExpressVPN tops our list by offering a high-speed server in Venezuela, which very few VPN providers do. You can easily access a Venezuelan IP address through this VPN to pay bills, transfer money to loved ones still in the country, and more.
ExpressVPN secures your data by offering DNS leak protection and an automatic kill switch, which stops all data transmission if there's a break in your VPN server connection. These are extremely valuable features in the surveillance-heavy environment of Venezuela.
With the fastest connection speeds of any premium VPN, ExpressVPN is ideal for a country like Venezuela where high-speed internet access can be hard to find. The service costs a little more than most other VPNs, but satisified users think it's more than worth the price.
A subscription to ExpressVPN can be purchased by users in Venezuela using a credit card. The charge will be converted from Venezuelan bolivars into US dollars.
Ivacy VPN is another fast and reliable service to use in Venezuela. It operates
3,500 servers across 100 countries
, so you can
bypass censorship and geoblocks
with ease.
It uses some of the best security features available to ensure that your identity is hidden every time you connect to the internet. This includes 256-bit encryption, a strict no-logs policy, an automatic kill switch, secure DNS, and IPv6 leak protection.
Ivacy VPN operates Venezuelan servers, making it a great option for remote banking and accessing local content at high speeds. It's a popular choice for any purpose, including private surfing, anonymous torrenting, and unblocking popular streaming sites like Netflix US.
Money-back guarantee: 30 days on all plans
Free trial: 7 days
The name might make you laugh, but HMA understands that protecting your online anonymity in a country like Venezuela is very serious business. This VPN's huge global network reaches almost every country and includes
two servers in Venezuela
.
HMA offers a simple interface with preset modes you can activate with a single click. Freedom Mode automatically connects you to the best available server in a nearby country where free speech is protected, a very valuable feature in Venezuela.
It is important to note that HMA does maintain some data logs. However, the information stored includes only your connect/disconnect times and data usage – nothing that would enable spies to know which sites you accessed or where you sent messages.
To learn more about HMA, check out our collection of expert and user reviews.
Money-back guarantee: 30 days
Free trial: 7 days
VyprVPN's network has servers in multiple countries close to Venezuela, including Colombia, Brazil, and Panama, which helps to ensure fast connections. However, there is no server within Venezuela, so you can't use it to access Venezuelan bank accounts.
VyprVPN's proprietary Chameleon protocol is a powerful tool for bypassing government-imposed blocks and gaining free access to the entire internet in Venezuela. This feature also makes it easy to reach geo-restricted services like Netflix.
And unlike the other VPN providers on this list, VyprVPN exclusively owns all 700 servers in its network, which spans over 70 countries. You will never need to worry about third parties gaining access to your internet activity.
Money-back guarantee: 30 days
Summary
No VPN can take away the pain that the crisis in Venezuela causes millions of people every day. But the best VPN services protect you from government surveillance, enable you to bypass censorship blocks, and give you access to financial services so you can take care of your loved ones from wherever you are.
To learn more about government internet censorship and the ways providers like ExpressVPN are fighting it around the world, see our internet freedom reports.
Because so many Venezuelans have suffered financial hardship as a result of all the turmoil, we want to help you get a reliable VPN at the lowest possible price. Please check out the coupon codes we've collected from providers to see how much you can save.
Protect Yourself with ExpressVPN NOW!
You May Also Like:
To summarize, the best VPNs for Venezuela in 2021 are…
Privacy Alert!
Your data is exposed to the websites you visit!
The information above can be used to track you, target you for ads, and monitor what you do online.
VPNs can help you hide this information from websites so that you are protected at all times. We recommend ExpressVPN — the #1 VPN out of over 350 providers we've tested. It has military-grade encryption and privacy features that will ensure your digital security, plus — it's currently offering 49% off.