3 Best VPNs For Ireland – Fast & Secure in 2021
Updated on 9th April 2021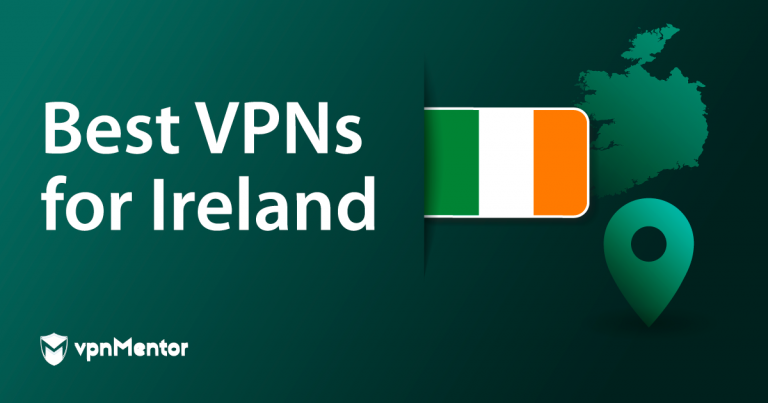 Irish citizens enjoy a great deal of online freedom. As local laws are in place to protect your right to freedom of expression, you aren't likely to get in trouble for comments you make online.
That being said, cybercriminals love to prey on unsecured Internet connections all over the world. If you browse the internet without a VPN, you're putting yourself at risk. VPNs encrypt your internet connection and hide your real IP address. With an encrypted Internet connection, it's almost impossible for hackers to intercept, read, and substitute the contents of your data. This stops hackers and spies from accessing your personal information — like your online banking passwords.
In addition, VPNs like my top pick, ExpressVPN, mask your true IP address, allowing you to bypass geo-blocks in order to access exclusive international streaming providers like Netflix US, Hulu, HBO, Showtime, Amazon Prime Video, Sling TV, and more.
Short on Time? Here's a Quick List of the Best VPNs for Ireland
ExpressVPN — Featuring multiple servers in Ireland, this VPN is renowned for Its military-grade encryption and Trusted Server technology that ensures your anonymity while surfing the web.
CyberGhost — A great option for beginners and experts alike thanks to an intuitive interface, reliable connections, and pre-set profiles for private browsing,
Private Internet Access — Strong encryption combined with an automatic kill switch makes this VPN a great choice for torrenting.
The Best VPNs for Ireland — Full Analysis (Updated April 2021)
Although online freedom ranks high and censorship is virtually non-existent in Ireland, cybercrime, hacking, and data theft are always a cause for concern. The best VPNs protect your personal data, allow you to stream and torrent safely, and enable you to roam the web anonymously.
In addition to safety and anonymity, VPNs transform geo-blocked streaming providers into universal entertainment hubs. With a VPN, you can access services and content from virtually anywhere in the world — as long as a server is located nearby. For example, from the comfort of your couch in Dublin, with a VPN you can stream Netflix US, Hulu, Amazon Prime Video, and more.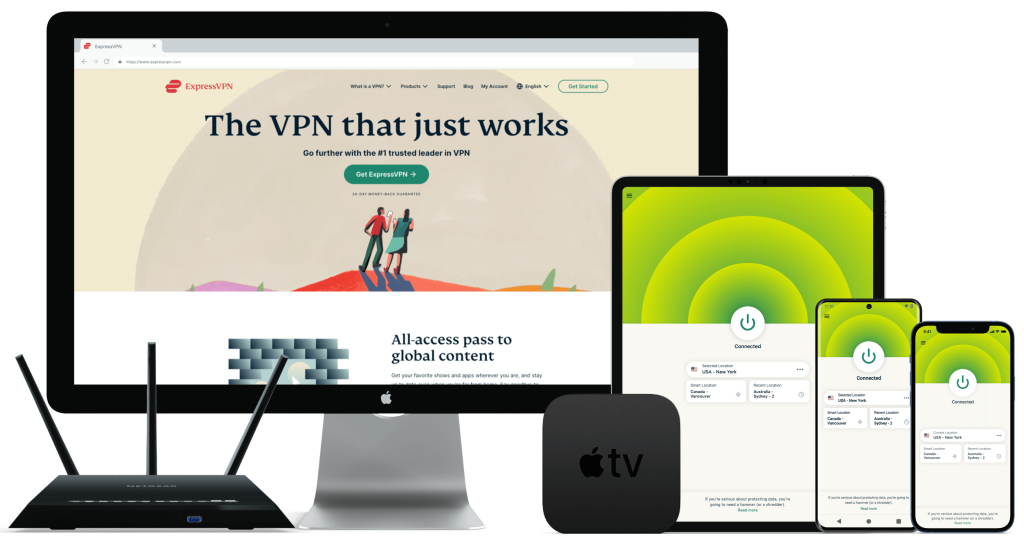 3,000 servers, including multiple servers in Ireland
30-day money-back guarantee
5 simultaneous device connections
Camouflage Mode
Works with: Netflix, Amazon Prime Video, BBC iPlayer, Hulu, Vudu, HBO GO, Disney+, and more
Compatible with: Windows, Android, iOS, macOS, Ubuntu, Linux, Router, Chrome, Edge, Firefox.
I was blown away by the sheer amount of security features ExpressVPN offers. This VPN uses AES-256 encryption — that's the same encryption standard that was adopted by the U.S. Government and used by security experts worldwide to protect classified information.
Thanks to this high level of encryption, all of your internet traffic remains camouflaged meaning that information-deciphering is virtually impossible. In short, every time you connect to ExpressVPN, for any session that lasts 60 minutes or longer, a new encryption key is added.
On top of that, ExpressVPN uses stealth servers that were originally designed for bypassing the Great Firewall of China. If you travel in countries with heavy censorship, these servers will definitely come in handy.
ExpressVPN is also equipped with an automatic kill switch to protect your sensitive information, including your true IP address if the VPN gets disconnected. It also has a strict zero-logs policy, meaning none of your data or history is stored.
With over 3,000 servers spread throughout the globe, including multiple servers in Ireland, I could easily get an IP address no matter the continent. Thanks to this, you can easily stream domestic Irish content, and international content, like Netflix US.
ExpressVPN also features a 30-day money-back guarantee. I used it to get my money back after a week's worth of testing. After a quick set of questions, they deposited the money back into my account.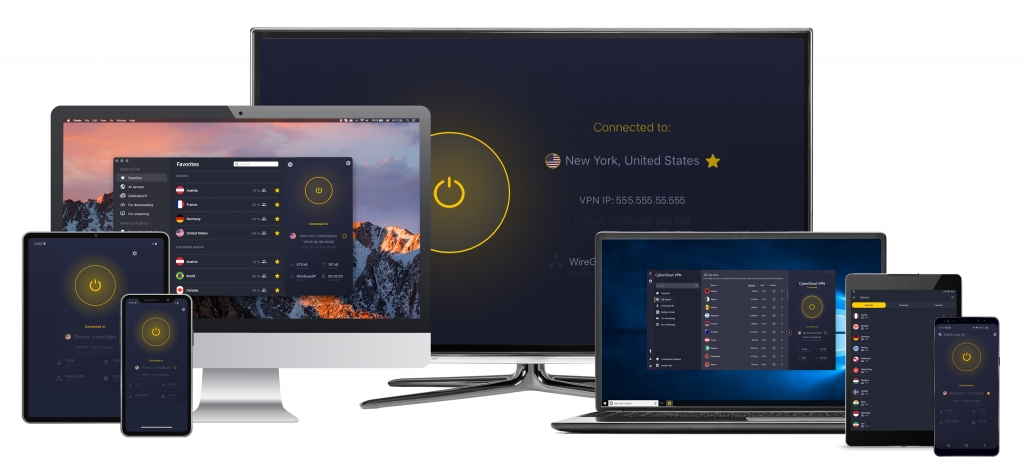 Over 6,800 servers in 90 countries, including over 30 servers in Ireland
45-day money-back guarantee
7 simultaneous device connections
Streaming and torrenting-optimized servers
Works with: Netflix, Amazon Prime Video, BBC iPlayer, Hulu, Vudu, HBO GO, Disney+
Compatible with: Windows, Android, iOS, macOS, Ubuntu, Linux, Router, Chrome, Firefox.
This VPN was designed with streaming in mind. Boasting over 6,800 servers (30+ throughout Ireland), CyberGhost is both incredibly fast and highly reliable when it comes to unblocking and streaming content.
This VPN was powerful enough to unblock every streaming service I tested, including providers with strict anti-VPN measures like Netflix, Hulu, and other popular streaming providers.
CyberGhost's servers are labeled based on which streaming providers they provide access to best. This feature was amazing — I didn't have to waste any time, testing each server, looking for the best option.
This VPN doesn't take security lightly. It features 256-bit AES encryption, leak protection software, and a built-in kill switch. Thanks to this, I never felt like my privacy was at risk.
Even more, CyberGhost offers a 45-day money-back guarantee — in all my years spent testing VPNs, I've never come across anything like it. Contact them via live chat support if you have any questions.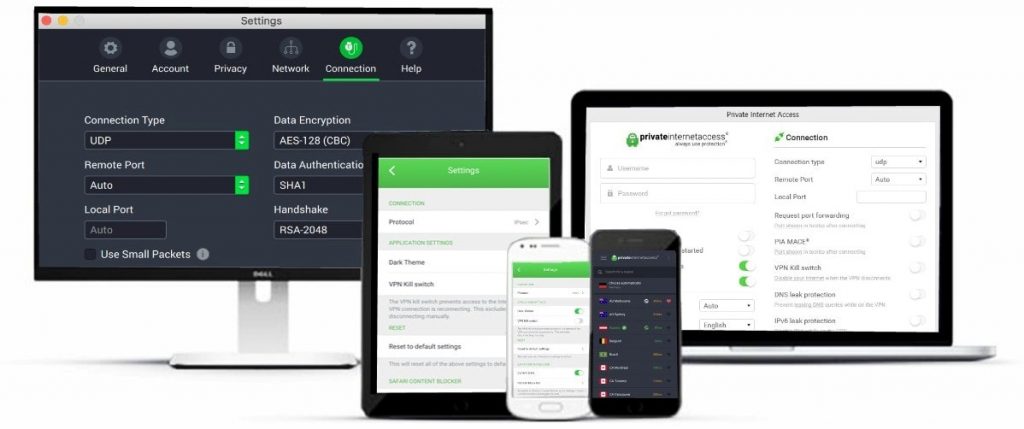 Almost 35,550 servers in 77 countries, 100+ servers in Ireland
30-day money-back guarantee
10 simultaneous device connections
High-speed servers
Works with Netflix, Hulu, BBC iPlayer, Amazon Prime Video, Sky Go
Compatible with: Windows, Android, iOS, macOS, Ubuntu, Linux, Router, Chrome, Firefox.
Although it's not as popular as the other leading VPN providers, when it comes to accessing geo-restricted content, Private Internet Access checks all of the boxes in terms of security, speed, and confidentiality.
I could easily access international content, including Netflix US, Hulu, HBO, Showtime, Amazon Prime Video, Sling TV, and more. I could also easily connect to its servers in Ireland to access Now TV, Hayu, BBC iPlayer, Netflix UK, Sky Go, ITV Hub, and All 4.
Private Internet Access passed every speed test I threw its way proving itself to be a great option for torrenting, gaming, and video-calling. In addition, with one subscription I could use Private Internet Access on up to 10 separate devices.
This VPN covers the whole spectrum of security features needed for torrenting safely, including military-grade encryption, an automatic kill switch, and a strict no-logs policy that prevents Private Internet Access from storing or selling any identity-revealing information.
If you have any questions, feel free to contact them via live chat support; although you probably won't need to — I noticed that their website was chock-full of useful troubleshooting information.
Try Private Internet Access Today!
How To Unblock Websites In Ireland Using A VPN
Choose a VPN that has servers both inside and outside of Ireland. I recommend ExpressVPN, as it has plenty of servers throughout Ireland and will easily enable you to unblock international content including Netflix US, Amazon Prime Video, and more.
Install the VPN application and connect to a server in your target location.
That's it. You can now access local and international content in Ireland.
How I Tested The Best VPNs For Ireland
Whether streaming, gaming, or online shopping — no matter what you choose to do online — you deserve to remain safe from cybercriminals and any unwanted third-party attention. For these reasons alone, a suitable VPN for Ireland must be lightning-quick, security-focused, and highly reliable. As someone who has made a career out of testing and writing about VPNs, I have determined the following features to be absolutely necessary for use in Ireland.
Security & Privacy
State-of-the-art encryption: Security is something that every VPN on my list takes seriously. Look for a VPN that is equipped with industry-leading 256-bit AES encryption. This will ensure your browsing habits, personal information, and more, remain safe from any unwanted third-party attention.
No-logs policy: This feature guarantees that your personal information will not be stored and handed over to third-parties. Even if the government were to request a copy of this private information, a copy could not be handed over as, with a no-logs policy, the data simply doesn't exist.
Kill switch: This feature automatically disconnects you from the Internet, preventing any leaks should your VPN connection drop.
Streaming & Accessing Geo-Blocked Services
Server access: The larger a VPN's server network, the better. If you want access to international geo-restricted content from a specific country, then you need to make certain your VPN has a server located within that country. For example, in order to access Netflix US, a VPN must have servers located within the US. Conversely, If you wish to access domestic Irish content from abroad, you're going to need a VPN that has servers in Ireland.
High speeds: If you're interested in a VPN for streaming, torrenting, or gaming purposes, then speed is going to be a top priority for you. The higher the speed, the less buffering, lagging, and poor image/video quality you'll have to deal with.
Device compatibility: Make sure your VPN has apps for all your devices. The best VPNs will allow you to connect multiple devices with a single subscription. This way you can stream, torrent, and game safely even when you're on-the-go.
What You Need To Know About Using A VPN In Ireland
Whether you use the Bank of Ireland, Allied Irish Banks, or Citibank, if you attempt to log in to your bank account from outside of Ireland, chances are you will trip an automated fraud prevention system — the same goes for anyone traveling in Ireland attempting to access their bank accounts back home.
With a VPN, you can "spoof" your location by connecting to a server in your native country, allowing you to safely and securely access your bank accounts and other services without having to worry about hackers, malware, viruses, and geo-blocks.
FAQs About VPNs For Ireland
😊  Is it legal to use a VPN in Ireland?
Yes. It is perfectly legal to use a VPN in Ireland — VPNs don't break Irish laws, people break Irish laws using VPNs. If you're planning to use your VPN for questionable activities, like torrenting, make sure you fully understand the consequences.
😊  I heard that streaming providers have begun implementing anti-VPN technology — are there VPNs that can bypass this?
Although it is true that popular streaming services, such as Netflix and Amazon Prime Video have begun using powerful anti-VPN software that detects and blocks VPN IP addresses, all of the VPNs on my list can bypass this technology. If your current VPN has trouble getting around geo-blocks, then it's time for an upgrade. Before settling on a VPN, I always recommend that our readers do some in-depth research on this matter first.
😊 Can I use a free VPN in Ireland?
Technically, yes, but as I stressed in the previous question, you will not be able to access many popular streaming providers — only the best VPN services that update their server ISPs regularly can bypass anti-VPN software. Furthermore, free VPNs are not reliable when it comes to streaming and gaming due to data caps and network congestion. Security-wise, they are highly unreliable, often keeping logs of personal information that can be stored and handed over to third-parties.
The Bottom Line
Whether you're interested in streaming regionally-restricted content from around the globe, torrenting, gaming, or just privacy in general — regardless of your online interests, a VPN will only enhance your overall experience, providing you with additional security, access to multitudes of exotic content, and complete anonymity.
In short, after comparing and contrasting all of the VPNs on my list, I have determined that there is no better VPN for Ireland than ExpressVPN.
To summarize, The best VPNs for Ireland in April 2021 are…
Provider
Our Score

9.8

/10

9.8

/10

9.6

/10
Privacy Alert!
Your data is exposed to the websites you visit!
The information above can be used to track you, target you for ads, and monitor what you do online.
VPNs can help you hide this information from websites so that you are protected at all times. We recommend ExpressVPN — the #1 VPN out of over 350 providers we've tested. It has military-grade encryption and privacy features that will ensure your digital security, plus — it's currently offering 49% off.