5 Best VPNs for Online Banking: Stay Secure and Safe in 2023
If you want the convenience of banking on the go while keeping your personal and credit card information safe, you need a reliable VPN. Although handy, online banking is risky, and you can't rely on strong passwords and multi-factor identification to keep you safe anymore. Hackers can create fake WiFi hotspots, infiltrate public networks, and steal your data using keylogger software. One little slip-up, like connecting to the internet at a café or an airport, and you can become a victim of a cyberattack.
Most VPNs are advertised as safe and secure, but not all can deliver on that promise. Some have software vulnerabilities. Others log your data and even share it with third parties or simply excel in other areas other than security. But for worry-free online transactions, you need to make sure you're using a premium service. A secure VPN encrypts your activities and sensitive banking details so nobody can monitor your online traffic to gain access to your personal information.
After testing 25+ VPNs, I found ExpressVPN to be the safest for online banking. It offers the best combination of security, speed, and ease of use. Plus, you can try ExpressVPN out risk-free because it comes with a 30-day money-back guarantee.
Short on Time? Here Are the Best VPNs for Online Banking in 2023
Best VPNs for Online Banking  — Full Analysis (Updated in 2023)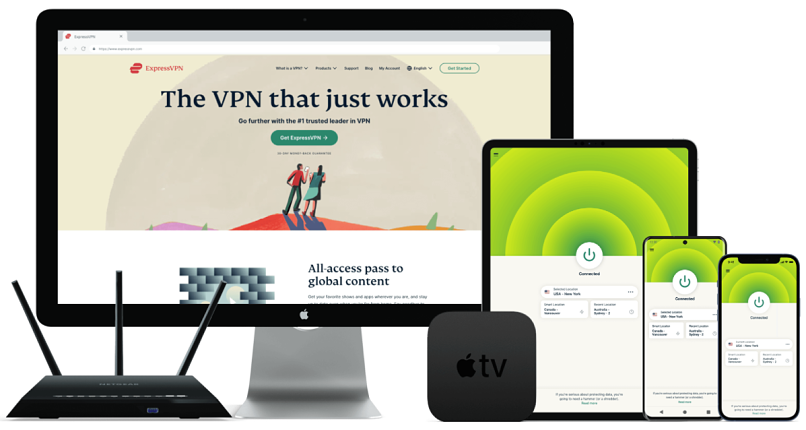 Editor's Choice
Editor's Choice

Tested February 2023
Try Risk-Free for 30 Days
Available on:
Chrome
Router
Smart TV
More
www.ExpressVPN.com
Military-grade encryption with perfect forward secrecy for full security while banking
Threat Manager to prevent apps from sharing your information with third parties
A strict no-logs policy to ensure maximum privacy
3,000 servers in 94 countries so you can stay safe while banking anywhere
Works with: PayPal, Cash App, Venmo, Google Pay, WePay, TransferWise, Skrill, Payoneer, and more
Compatible with: Windows, Mac, iOS, Android, Linux, routers, Apple TV, and more
ExpressVPN uses the highest level of encryption to protect your data — AES 256-bit. Its cipher key is 78 digits long, making it virtually impossible for hackers to crack. What impressed me the most was the perfect forward secrecy feature. PFS changes the encryption key (used to encode and decode data) every 15 minutes, preventing a hacker from discovering your key value. That takes your online banking security to an even higher level. I truly felt safe while using my mobile device to deposit checks or send and receive money while on the go.
The feature I recommend always having on is its automatic kill switch (Network Lock). It immediately halts your internet connection if your VPN accidentally stops. That ensures you are never left vulnerable to cybercriminals trying to steal your personal information. The kill switch is enabled automatically on macOS, Windows, and Linux devices, but I had to turn it on manually on my Android device.
ExpressVPN uses its own sophisticated TrustedServer technology, which relies solely on volatile memory (RAM) and never writes data on a hard drive. This means that the servers are wiped clean every time they are rebooted. So even if hackers seized the servers, they wouldn't have what to steal because none of the information is stored. This gives you a piece of mind that your banking details won't end up in the wrong hands.
Its strong IPv6, WebRTC, and DNS leak protections ensure your IP and activities (e.g., sites you visit) stay private. I tested some of ExpressVPN's servers for IP, WebRTC, and DNS leaks, and none were detected. The leak test revealed only the IP address belonging to the VPN. If the VPN "leaks" your personal information, it is a security defect, and you're vulnerable to online threats. In that case, it's not safe enough for online banking because interceptors could link your activity with your identity to target you.
ExpressVPN's subscription costs are on the higher end of the spectrum, starting from $6.67/month. The good news is that it often offers generous discounts on long-term plans, so you can save up to 49% on your subscription costs. I even got 3 months for free when I subscribed to it.
It comes with a 30-day money-back guarantee, so you can try it with zero risk. I wanted to see for myself if its guarantee was legitimate and requested a refund through its 24/7 live chat. It was immediately approved with no questions asked. The money was back in my account within 3 days.
Smart rules to trigger WiFi protection whenever it detects a new network
Automatic kill switch, so your banking data is safe even if the VPN suddenly breaks
AES 256-bit encryption to make your data indecipherable
Works with: PayPal, Cash App, Venmo, Google Pay, WePay, TransferWise, Skrill, Payoneer, and more
Compatible with: Windows, Mac, iOS, Android, Linux, routers, Apple TV, and more
Smart rules let you set up CyberGhost to launch automatically or warn you when it detects unsecured WiFi. That means you won't end up banking online unprotected if you forget to turn it on. When I was testing CyberGhost the app warned me I was joining an unsafe WiFi as soon as I connected to the internet at a café. Without it, I could have unknowingly put myself at risk of hacker attacks. Automatic WiFi protection is perfect for keeping your banking details safe when you're on the go or traveling.
CyberGhost also allows you to purchase a dedicated IP address for a small extra cost. When you connect to a VPN server, you get a new IP. They are sometimes shared among users, and some websites may block them. If your bank notices you're logging in with a shared IP, it may flag your account or issue an alert. With a unique IP, you're no longer sharing your address with anyone, so you can securely access your banking account. I got a dedicated IP for my US account and had no issues using my online bank account on the go.
CyberGhost's design is straightforward and ideal for beginners. Its app is easy to customize because every category is neatly labeled and explained. For example, if you want to set up automatic WiFi protection, you need to go to the extended view of the app and click on the "Smart rules" tab. After that, you can select "WiFi protection" and choose whether you want the VPN to auto-start or ask you when there is an unsecured network nearby. I opted for it to ask me what to do when it detects a new WiFi.
Its monthly plan is a bit pricey, starting from $2.19/month. That doesn't make it too attractive to potential short-term users, especially if you also consider its shorter money-back guarantee. However, the long-term plans are budget-friendly and come with a longer refund period.
CyberGhost's money-back guarantee is 45 days for long-term plans. This way, you can try it out risk-free. When I tested its refund claims, I contacted its support team through the 24/7 live chat. They asked me a few questions about the service before approving the refund, and I received my money back in 3 days.
29,650 servers in 84 countries for global access to online banking
Court-verified no-logs policy to ensure your absolute privacy
10 simultaneous device connections
Works with: PayPal, Cash App, Venmo, Google Pay, WePay, TransferWise, Skrill, Payoneer, and more
Compatible with: Mac, Windows, Linux, Android, iOS, Roku, gaming consoles, and more
PIA has one of the largest VPN server networks — over 29,650 servers in 84 countries worldwide. Global coverage is important for banking because you need your VPN to have servers in your country to safely access your account. Websites you visit look at your IP address to see your location, and some (like banks) may allow access only to their country's residents. If your bank detects you're connecting from another region, it may trigger a fraud warning or even temporarily freeze your account. I tested PIA's servers in the US and successfully accessed my account without raising any flags.
Its MACE blocker successfully prevents you from seeing malicious ads. It's a built-in feature in PIA's app, so you don't need to pay anything extra for it. It also prevents malicious websites from planting a tracker in your browser or infecting you with spyware that can harvest your banking login credentials. PIA regularly updates the list of malicious domains to ensure you're secure. When I ran MACE through some advanced tests, it held up well, successfully blocking annoying banners and pop-up ads which may contain malware.
You may need to change the encryption settings inside PIA's app, which is not as user-friendly as ExpressVPN's, for example. By default, the encryption is set to AES 128-bit. I recommend using AES 256-bit while banking online because it is much harder for hackers to break it, so you are safer. But because its security options are highly customizable (you can choose between several encryption protocols and levels), it is perfect if you're an advanced user.
Its subscription costs are very reasonable, both the monthly and long-term plans. The prices start at $2.19/month, and the cost can drop by 83% if you come across one of its regular discounts.
PIA also comes with a money-back guarantee, so you can try it completely risk-free. If you are not happy with it within the first 30 days, you can get a full refund. I contacted its support team via email to ask for a refund, and they responded within an hour. After a couple of questions, my refund was granted. The entire amount was back in my account after 5 days.
Unlimited simultaneous connections to protect your banking data on all devices
Verified no-logs policy, so you're banking data is never stored
Owns its entire server network, which protects you from man-in-the-middle attacks
Works with: PayPal, Cash App, Venmo, Google Pay, WePay, TransferWise, Skrill, Payoneer, and more
Compatible with: Mac, Windows, Linux, Android, iOS, Roku, gaming consoles, and more
IPVanish lets you connect to a VPN on as many devices as you want so you can bank online safely from any PC, laptop, phone or tablet you use. It saved me a lot of time not having to log in and out each time I wanted to make a payment from another device. I also shared my subscription with my family to ensure their banking transactions are also well-protected. During my tests, I connected IPVanish to 4 devices at once, and my connection remained stable and fast.
You can also use split tunneling to pick which apps to use the VPN with. You can use your banking apps with VPN protection while accessing other sites using the internet directly through your ISP. This can be useful because you can retain your local IP address for websites you use without needing any extra protection. For example, I used it to secure my banking transactions (with the VPN on) while streaming local Netflix (with the VPN off).
Like ExpressVPN, IPVanish also offers built-in leak protection. I tested its Israel servers for any DNS and IPv6 leaks, and I was happy to learn that there were none. Your location, browsing activity, and identity are fully protected with IPVanish, as your IP address and DNS requests remain private.
What I didn't like is that its monthly plans don't offers a refund possibility — only its yearly plan does. However, at least the 3-month plan comes at a discount, which is rare for most VPN providers. So it's still a good option for short-term use even without the refund option.
IPVanish's lowest-priced plan costs $3.33/month and the price can decrease by 66% if you opt for its long-term plans, depending on the active offers.
Its long-term plan comes with a 30-day money-back guarantee, so you can try it with no risk. I decided to test its refund policy by canceling my subscription. The process was quite easy, as you don't even have to talk to a customer support agent. You just need to log into your IPVanish account, go to your subscription info, and click on the "I wish to cancel my subscription" button.
Provides "Simple" mode, which is great for VPN beginners
Strong security features to keep your banking details safe while using free WiFi
Kill switch for added protection if the VPN connection breaks
Works with: PayPal, Cash App, Venmo, Google Pay, WePay, TransferWise, Skrill, Payoneer, and more
Compatible with Mac, Windows, Linux, Android, iOS, Roku, gaming consoles, and more
PrivateVPN has a simple-to-use app that makes it a perfect choice if you are new to VPNs. The download and installation took me 2-3 minutes. After choosing the server location on its Simple View, you just need to click the power button to connect, and you're safe to make your online transactions. If you want to tweak your security settings, you can open the "Advanced View", which is also very intuitive.
It guarantees you total privacy with its strict no-logs policy. Since it doesn't collect any of your data, you can rest assured that even if hackers manage to bypass its defenses, there is nothing they can steal. I've checked its privacy policy myself to make sure those claims are legitimate.
PrivateVPN uses built-in DNS and IPv6 leak protection for added security while you make online transactions. I tested several of PrivateVPN's servers and couldn't detect any leaks. This ensures that your identity and banking activities online are well-protected.
One downside to PrivateVPN is its small server network. It has server locations in only 63 countries, meaning it might be unavailable in some regions. However, its servers are very reliable and continuously growing as new countries are being added.
Its plans start from $2/month. The prices can go down by 85% if you happen to snag one of its discounts.
PrivateVPN is also backed by a 30-day money-back guarantee, so you can test it for free to see if it meets your needs. Its refund policy works as promised. I used its live chat feature to ask for a refund. Overall, I was satisfied with the process, as I received my money back in under 5 days.
Quick Comparison Table: Online Banking VPN Features
Tips on Choosing the Best VPN for Online Banking
Many VPNs claim to be safe for online banking, but not all deliver on their promises. I tested many VPNs myself to make sure that they could protect my banking information. In order of importance, these are the features I found to be absolutely crucial:
Military-grade 256-bit AES encryption. This feature makes your information unreadable and protects it from hackers and other malicious actors trying to get their hands on it.
Servers in your country. To make sure you can log into your bank account without activating alerts or getting shut out of it while traveling abroad, you should connect to a server in your country. This makes it look like you're there, so your bank doesn't see it as suspicious.
A kill switch and leak protection. Built-in IP and DNS leak protection make sure that your private information is never exposed to the internet by accident. Similarly, the kill switch halts your internet connection if your VPN drops, so no data can leak out.
Automatic WiFi protection. With this feature, you're immediately protected even if you connect to an unsecured network unknowingly.
Zero-logs policy. This ensure that your VPN doesn't collect any of your data, so hackers can't steal your personal information in case of a breach.
Secure Your Online Banking With ExpressVPN
Quick Guide:
How to Secure Your Online Banking in 3 Easy Steps
Get a VPN. I recommend using ExpressVPN because of its top-tier security and privacy features and extensive server network.
Connect to a server in your country. For example, connect to a US server to get a local IP if your account is in the US. That prevents your bank from accidentally flagging your account for accessing it from another country.
Log in to your bank app and make transactions safely. Your connection to your bank account is now encrypted, protecting you from hackers and scammers.
FAQs on VPNs for Online Banking
How can I secure my online banking transactions?
The best way to secure your online banking is to use a reputable VPN. That way, you can make safe transactions even while on the go using public WiFi without worrying about password theft. It encrypts your traffic, ensuring that hackers can't access your data. But only premium VPNs provide these high-quality security and privacy features to safeguard your online banking.
Aside from that, here are a few additional tips to make sure your online bank account is safe:
Check the URL on your banking site is correct if you're accessing it from your browser.
Regularly update your device and antivirus software.
Use 2-factor or multi-factor authentication as an added layer of security.
Update your passwords every couple of months (or more often).
Be aware of scams.
Monitor your account regularly for any suspicious activity.
Should I use a VPN for online banking?
Yes, you should. A VPN helps you secure your banking transactions everywhere, even when connected to unsecured networks. It encrypts your traffic so cybercriminals can't read it, even if they manage to intercept it. I recommend using a premium VPN like ExpressVPN for safe online banking from anywhere. My leak tests showed it encrypts the traffic reliably, ensuring your privacy and identity are never compromised.
Is a VPN safe for online banking?
VPNs are safe for online banking because they protect your personal data by encrypting it. This ensures hackers and other snoopers can't steal your banking details and credentials or see what you do online. However, not all VPNs can do this reliably. Some have security flaws, so cybercriminals can break through and collect your personal information and passwords. Others may even sell your data for a profit to dangerous third parties. I've extensively tested all 5 VPNs included here, which proved to be safe and reliable for banking. All of them have top-tier security features, powerful encryption protocols, and strict privacy policies that are important for secure online money transfers.
Does a VPN affect online banking?
Using a VPN makes your online banking more secure — just make sure you connect to a server in your country. Otherwise, it may cause your bank to flag your account if it notices you're accessing it from another country. Your IP address tells your bank where you are. If it sees a foreign IP, it may trigger a warning that locks you out of your account. To prevent that, you should look for a VPN with worldwide coverage and servers in your home country. As long as your bank sees a local connection, it won't register your login as suspicious.
Can I use a free VPN when online banking?
I wouldn't recommend it. Free VPNs are not as safe as top-tier VPNs and can log and sell your data to third parties — which can include your banking information. Some are even infected with malware, which can make you an easy target for hackers. They also usually place restrictions on your data, speeds, server access, and bandwidth, making them slow and frustrating to use. This can be a problem because it can interrupt your banking transactions if the connection is lost.
Saving money on a VPN isn't worth risking losing all the money in your bank account. You're much better off with a premium VPN that offers a money-back guarantee. That way, you can try it risk-free to ensure that it meets your needs.
Get the Best VPN for Online Banking Today
When it comes to protecting your online banking, there should be no compromises. With hackers becoming more sophisticated every day, you need to secure your banking transactions against cyberattacks.
The best way to protect your online banking is with a VPN. It encrypts your data and prevents your sensitive information from being intercepted by third parties.
However, not all VPNs are equally safe. My top recommendation is ExpressVPN because of its unparalleled security features, such as military-grade encryption, a kill switch, and a verified no-logs policy. Plus, it has a huge server network, so you can safely make transactions from anywhere.
It also comes with a 30-day money-back guarantee, so you can try it with zero risk. If you're not completely satisfied, you can claim a refund.
To summarize, here are the best VPNs for online banking
Privacy Alert!
Your data is exposed to the websites you visit!
The information above can be used to track you, target you for ads, and monitor what you do online.
VPNs can help you hide this information from websites so that you are protected at all times. We recommend ExpressVPN — the #1 VPN out of over 350 providers we've tested. It has military-grade encryption and privacy features that will ensure your digital security, plus — it's currently offering 49% off.