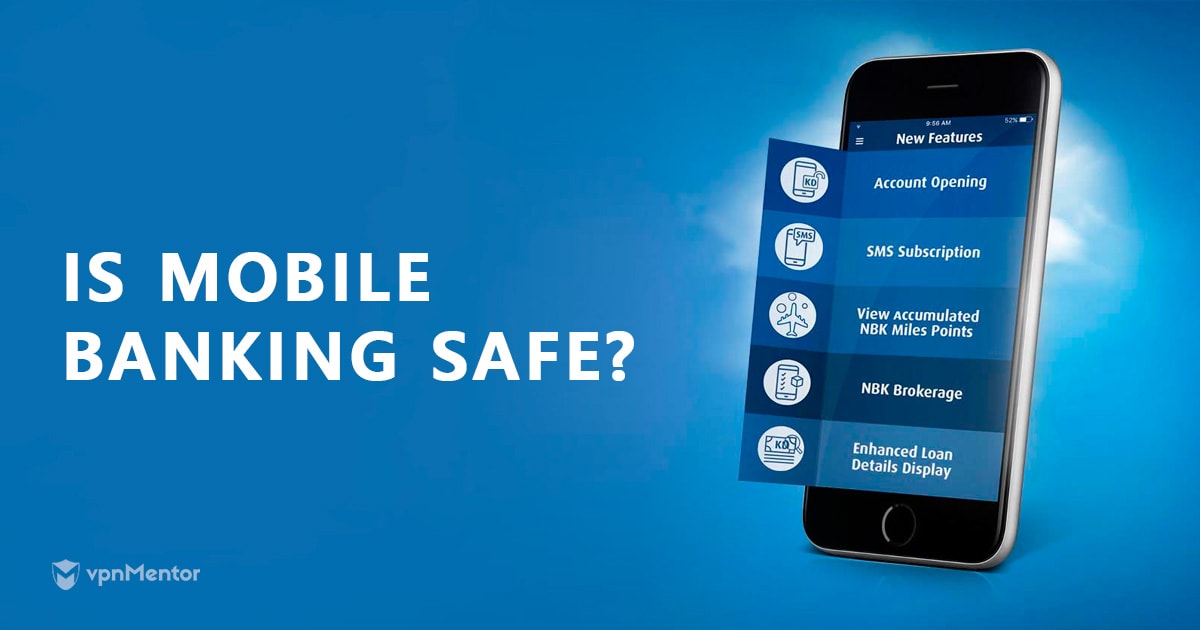 Is Mobile Banking Safe? Top 5 Safety Tips for 2023
Throughout the world, we are living more and more of our lives online every day. At the same time, we're conducting much of our online activity on our mobile devices. Banking is certainly following this trend.
In the US, more than 70 percent of people do at least some of their banking online. More than half of all web traffic now comes from mobile devices, and traffic to financial institutions isn't far behind.
Is Mobile Banking Safe?
Of course, things that are popular aren't always safe. The shift toward online and mobile banking is driven mostly by its convenience. Plenty of people just embrace the change without considering the trade-offs.
Many customers take the security of their finances for granted without looking into it.
In this article, we will examine the potential risks involved in mobile banking and explain what you need to do to ensure a secure mobile banking experience.
What are the Security Risks of Mobile Banking?
Obviously, in-person banking is the most secure option. But the fear of hacking shouldn't make you give up on convenience. If you know the risks of online and mobile banking, you're halfway to protecting yourself.
Hackers have several methods of gaining access to your financial information. They might trick you into installing malware on your phone or computer. They might send you fraudulent e-mails asking for account details. Or they might break into your device directly and start using those accounts.
The basic risks are the same whether you're using your computer's web browser or a mobile banking app on your phone. But different devices have different vulnerabilities. And different apps require different skill sets from potential hackers.
These differences raise an important question for people who are starting to use their phones more than their computers:
Is Mobile Banking More Secure than Online Banking?
The short answer to this question is yes. The longer answer is more complicated. Most malware is still designed to attack traditional PCs. Malware for mobile devices exists, but it is less common and it requires hackers to focus on more specific targets than just a web browser.
That's the good news. The bad news is that security experts have run studies on mobile banking apps and found that almost all of them have at least one vulnerability. But these are rarely high-level vulnerabilities – almost never in the case of iPhone apps. So there's some cause for concern, but you can avoid problems if you're cautious.
Part of that caution involves keeping your actual device safe. Unlike your desktop computer, your phone tends to go with you everywhere. This means it's much more likely to fall into the wrong hands. This is a problem that's new to the smartphone era. But it's still not a reason to give up on the convenience of mobile banking.
Are Banking Apps Safe on Android?
We mentioned that iPhones avoid high-level security vulnerabilities. But what if you're an Android user? The risk is slightly higher for you. But that doesn't mean your data is automatically prone to being leaked.
Incidences of moderate-to-high risk are rare for all mobile users. Individual vulnerabilities are something to keep an eye on, but not a reason to panic. You definitely don't need to switch phones if you already have an Android.
The main problem is that Android phones may allow you to download apps from unauthorized sources. But this is a feature you can turn off in "Settings," under "Security." Apart from that, you just need to be on the lookout for suspicious activity and take the same precautions as you would as an iPhone user.
Top Five Tips for Safe Online Banking
Still not sure what those precautions are? We've created this list of five top recommendations. These should protect you against almost all threats. And they should also help you to practice safe browsing at all times, both on mobile networks and home internet connections.
#1: Use a VPN
Using a VPN is an important step in safeguarding the security of your mobile banking. By hiding your IP address and avoiding online tracking, you can make it much harder for hackers to see what you're doing.
This is true even if you're on public wi-fi. On their own, public networks are very insecure. But a top-rated VPN like ExpressVPN brings the security of your home internet connection with you. With a virtual barrier between them, your online banking activities can't be connected to the data on your phone.
The only drawback to this is that it might actually make your data too secure. In other words, it might eliminate some of the convenience of online banking. Most VPNs even prevent your bank from recognizing that you're trying to log into your own account. This means you'll have to go through extra steps to verify your identity.
But ExpressVPN is an exception, and that's why it's our top recommendation for a VPN to use with online and mobile banking. It provides each user with a designated proxy IP. This way, once you've used ExpressVPN to log in once, your bank will recognize who you are - but hackers still won't.
#2: Keep Devices Secure
Not all threats to your online banking will come over the internet. The first thing you need to guard against is direct breaches of your device. For that reason, you need to keep your phone in a familiar place at all times and also make sure it's safe even if lost.
That means you should set a pin or use facial recognition to unlock your home screen. It also means you should log out of apps and web pages, and tell them not to save passwords. The more security a thief has to get through, the more time you'll have to alert your bank after your phone goes missing.
#3: Use Strong Passwords
Most sites require that when you create or update your account, you create a strong password. But you should still know the rules: Use a combination of uppercase and lowercase letters, numbers, and special characters. Make sure it's not easy to guess, and never use a password you're already using on another site. There are special tools to help you generate a strong password.
Of course, these rules lead most people to ask, "But how can I even remember a bunch of strong passwords?" We don't expect you to develop a superhuman memory. Some people say you shouldn't write down your passwords, but this isn't quite true. You just need to keep passwords secure and separate from the devices you use them on.
If you need to carry your online banking password with you, keep it in a pocket or bag separate from your phone. And don't leave any clue about what it's for.
Alternatively, you can install a password manager that stores separate passwords for each site. Then you just need to remember one super-strong password and let the manager log into everything else for you.
#4: Check Your Bank's Security Practices
There should be a section on your bank's website that explains how they keep your information safe. We recommend that you read it. You might not understand every word, but you should get a sense of whether their practices are good enough.
One obvious thing to look for is the padlock icon indicating that the website is properly encrypted. Another is the availability of two-factor authentication. Sometimes this is optional, and it should be turned on for extra security. It requires you to answer a security question or enter a one-time security code each time you log in.
Things like this give some idea of how committed your bank is to security. It's probably a sign of how secure their apps are, too. If security doesn't seem to be a priority, it might be time to look for a new bank. A bank that's not concerned about security is probably not concerned about customer service, either.
#5: Recognize Scams and Phishing
However tight its security is, you can be sure your bank will never contact you to ask for account details. If you get a message like that, it's almost certainly a phishing scheme.
Hackers often send official-looking e-mails to trick people into giving out sensitive information. They may even set up fake websites and convince you to click on bad links.
It's easy to fall for this kind of fraud if you don't know what to look for. But it's also easy to avoid it if you train yourself to view all unwanted messages with skepticism. If you aren't sure about any message you receive from your bank, type its web address directly into your browser and contact customer service.
Conclusion
The more you know about online security, the safer you'll be.
With precautions like strong passwords and a powerful VPN, you can give yourself extra layers of security and learn to recognize threats. That's why we recommend ExpressVPN - it's the best way to keep yourself safe for online banking.
Our recommendations should help you to get started with secure mobile banking. And as long as you stay alert, you'll only become more comfortable with the convenience of mobile banking.
Further Reading
Privacy Alert!
Your data is exposed to the websites you visit!
The information above can be used to track you, target you for ads, and monitor what you do online.
VPNs can help you hide this information from websites so that you are protected at all times. We recommend ExpressVPN — the #1 VPN out of over 350 providers we've tested. It has military-grade encryption and privacy features that will ensure your digital security, plus — it's currently offering 49% off.