The 10 Best Secure Password Managers for 2019
Updated on 4th December 2019
I tested 25 popular password managers to find out which ones offer the best security and ease of use. NordPass topped the list with its user-friendly design, airtight security, and zero-knowledge architecture. Find out more about what else NordPass offers and my other recommendations. Share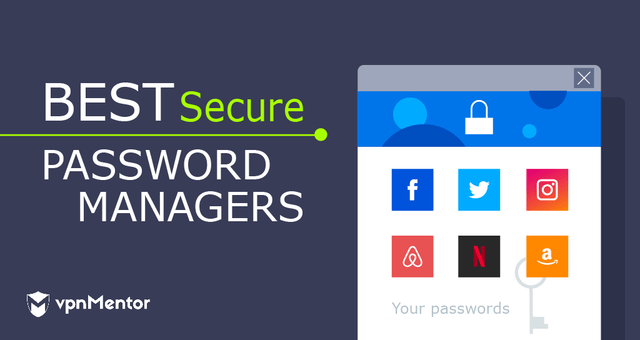 You want to stay safe online, and you know that creating unique, secure passwords for all your online accounts is one of the best ways to protect yourself from dangerous hackers and cyber threats. But keeping track of so many complex passwords can feel impossible.
A great password manager makes it easy. I tested and ranked 25 password manager applications to bring you this ultimate list of the ten best secure password managers.
You can forget about that frustrating moment when you get locked out of your account after trying the wrong password too many times.
These great password managers help keep track of all your login information and can quickly generate secure new passwords for your accounts.
After careful research, I chose the ten password managers on this list based on their excellent security, transparency, ease of use, compatibility, and overall performance.
I'll give you all the information you need to choose a top-notch password manager that's the best fit for your needs.
Best Password Managers – Quick Guide
NordPass: Powerful encryption, zero-knowledge architecture, user-friendly design, two-factor authentication, and secure storage for your private notes and payment information.
Keeper: Protects your passwords with airtight encryption and allows multiple forms of two-factor authentication to keep hackers out.
Dashlane: Secure file sharing, comprehensive online security assessments, and personalized safety alerts help you stay aware of security risks as soon as they occur.
LastPass: Robust encryption and user-friendly design that includes a password and username generator, as well as secure storage for credit card and insurance information.
1Password: End-to-end encryption, zero-knowledge design, and unique WebCrypto technology guarantee that your passwords stay private.
Why Do I Need a Password Manager?
No matter how secure your password is, using the same login information for all your online activity puts you at serious risk of hackers getting their hands on your sensitive data.
Good password managers make it easy to keep your private online accounts safe from cyber threats.
Think of how many of your accounts contain sensitive information. Do you use online banking? How many of your accounts have access to your credit card details? There could be serious long-lasting consequences if these accounts are compromised.
Password managers encrypt your passwords and store them in a secure vault that's only accessible with your master password.
Whenever you run into a login page, your password manager effortlessly auto-fills your username and password. You never have to worry about forgetting passwords or getting locked out of your accounts.
What to Look For in a Password Manager
You put a lot of trust in your password manager, so it's important to pick one that's safe, well-designed, and high-performing. Here are some of the most important features to look for.
Safety and Transparency
Choosing a safe and trustworthy password manager is critical. After all, you're giving it some of your most sensitive private information. Because of this, the password managers I'm recommending are all run by reputable companies with proven records in the cybersecurity field.
The safest password managers are ones dedicated to transparency. Your password manager should provide clear, straightforward information about how it works and what information it collects.
Password managers use strong encryption to secure your usernames and passwords. Most high-quality password managers use AES 256-bit encryption, which is the same level of encryption used by most banks and government organizations.
It's also a good idea to look for a password manager that offers two-factor authentication. That way, your passwords aren't at risk even if someone gains access to your master password.
Ease of Use
Great password managers are so well-designed you don't even notice they're there. They offer user-friendly features that make your life easier.
Your password manager should work seamlessly with your browser and devices to learn your login information and auto-fill your usernames and passwords as soon as you need them.
Most password managers also help you generate strong new passwords on-the-go. This saves you time and mental effort, and it also ensures your passwords are almost impossible to hack.
Compatibility
At the very least, you need a password manager that offers an extension for your favorite browser. But ideally, you want a password manager that's compatible with all your devices.
The best password managers offer dedicated extensions for all major browsers, as well as mobile compatibility.
If you regularly use your Android or iPhone for online banking, shopping, and other sensitive activities involving financial information, it's a good idea to get a password manager that works with your phone.
Best Secure Password Managers for 2019
These ten excellent password managers are packed with powerful, user-friendly features to ensure your most sensitive data stays protected at all times.

NordPass is a powerful new password manager from the top-rated VPN provider NordVPN. It quickly learns your passwords and auto-fills them whenever you need to log in anywhere. It also offers secure storage for your private notes and credit card information.
NordPass features zero-knowledge architecture, which means the password manager encrypts your information on your device before sending it to the company's servers for backup and syncing. Since no unencrypted data leaves your device, it's impossible for anyone other than you to ever access your private login data.
This password manager uses industry-leading XChaCha20 encryption and Argon 2 key derivation to secure your passwords. This configuration is fast and powerful enough to protect your data from any cyber threat.
Two-factor authentication is optional, but I recommend enabling this feature to ensure no hackers can access your password vault even if they somehow get a copy of your NordPass master password.
Other useful features include a built-in secure password generator and password strength checker to help you create the strongest passwords possible.
NordPass provides user-friendly dedicated apps for iOS and Android. You can also install NordPass on Chrome, Firefox, Opera, and Microsoft Edge with its secure browser extensions. If you've used a different provider in the past, NordPass allows you to import your data from your old password manager.
You can use NordPass for free for as long as you want. The password manager also offers an affordable premium plan that allows you to sync your data on up to six devices, so you can switch between your laptop, phone, tablet, and other devices without a hassle. If you're interested in trying the premium plan, the free version includes a 7-day trial.
The premium version also gives you the option to safely share passwords, credit card information, and notes with trusted family, friends, and colleagues. You can test out the premium service risk-free with a 30-day money-back guarantee.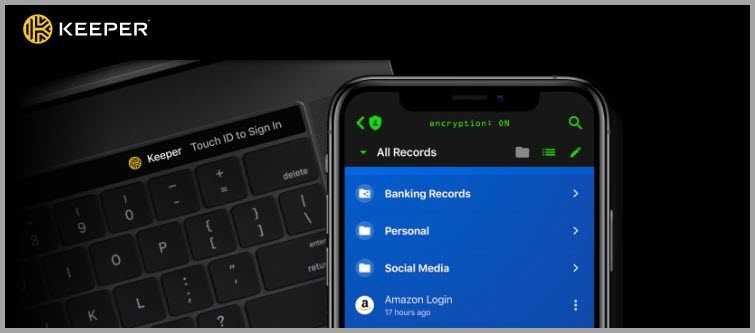 Keeper is an effective password manager that mainly targets businesses, but also works well as a personal password manager. The software passed multiple independent audits that confirmed Keeper is secure and trustworthy.
It uses a proprietary zero-knowledge security architecture to ensure no one–including Keeper–has access to the private information that you store with the password manager.
Keeper secures your passwords with robust AES 256-bit encryption and PBKDF2, one of the strongest combinations possible.
Keeper always encrypts your data on your device before sending it to Keeper's Cloud Security Vault. The only way to unencrypt and access the data stored with Keeper is with your Master Password, which only you have access to.
If you want an extra layer of security, you can take advantage of Keeper's multi-factor authentication. Keeper offers traditional two-factor authentication as well as biometric login and Keeper DNA, which allows you to confirm your identity using your Apple Watch or Android Wear device.
Keeper is compatible with Android and iOS devices. You can even use your fingerprint to access your Keeper vault with Touch ID on your iPhone or iPad.
The software is also available via desktop apps for Windows, macOS, and Linux. Keeper also offers a browser extension called KeeperFill for Chrome, Firefox, Safari, Internet Explorer, Microsoft Edge, and Opera.
Keeper offers a limited free plan that allows you to use the password manager on one mobile device with a data storage cap of 100MB.
You can try out Keeper Premium for personal use with a 30-day free trial. The trial for business plans is 14 days. If you don't pay for a subscription after the trial ends you'll automatically revert to the limited free plan.

Dashlane has an attractive, user-friendly interface that makes it easy to generate strong passwords and store them securely. Once you save a password, Dashlane auto-fills it every time you need it.
In addition to passwords, you can use Dashlane to store other personal information and payment details so you don't have to keep filling out annoying online forms. It also allows you to save notes, documents, attachments, and other important information with its Secure Notes feature.
This password manager lets you share your account credentials with coworkers, family, and friends. You don't even need to give out your passwords to provide access.
Dashlane gives you access to a comprehensive Identity Dashboard that rates your online security status and lets you know where you can improve.
It even monitors the dark web regularly and sends you personalized alerts if it discovers your data has been leaked or stolen.
With Dashlane's emergency contact feature, you can grant account access to someone you know and trust. This will ensure your loved ones can access your important accounts in the event of an emergency.
Dashlane is compatible with Windows, macOS, iOS, Android, and Linux. You can sync your data across multiple devices to avoid the hassle of re-entering your login information on a new device.
This password manager offers a free version that limits you to one device and allows you to save up to 50 passwords. Upgrading to the premium version gives you unlimited storage and devices, plus access to Dark Web Monitoring.
Dashlane also has a Premium Plus plan that provides credit monitoring and Identity Theft Insurance. You can test out the premium plans with Dashlane's 30-day money-back guarantee.

LastPass promises to simplify your life, and that's precisely what it does. The well-designed software works in the background of your device or browser to secure, store, and auto-fill your login information without a hassle.
It uses powerful AES-256 bit encryption and PBKDF2 SHA-256 to protect your sensitive login data from spying eyes. Your privacy is guaranteed since even LastPass can't access your master password or encryption keys. All your data is encrypted and decrypted at the device level.
LastPass has a built-in username and password generator that helps you quickly create super-secure login credentials for all your accounts. You get all the security benefits of unhackable passwords without the frustration of having to remember them.
Its auto-fill feature will not only fill in your password details on the accounts you add to your vault, but can also fill in data like payment information when you're shopping online.
The service also offers the option of storing other sensitive information like insurance cards and memberships in a digital records file.
LastPass is compatible with Windows, macOS Linux, Chrome, Firefox, Safari, Internet Explorer, Opera, and Microsoft Edge. It also offers user-friendly native apps for iOS and Android.
LastPass offers an excellent free version that allows you to sync your information on unlimited devices. When you sign up for a free plan, you also get a 30-day free trial of LastPass Premium.
The premium plan includes additional features like secure sharing, emergency access, and priority tech support. Special family plans are also available.

This password manager is an excellent choice if your biggest concern is security. 1Password protects your sensitive login data with end-to-end encryption using a military-grade AES 256-bit algorithm. 
It generates a Secret Key based on your private Master Password to encrypt and authenticate your data. That means your information can't be compromised, even if someone gains access to your laptop or phone.
To protect your data from hackers, 1Password also uses Secure Remote Password to authenticate your login credentials locally on your device, so you never have to send your Master Password through the internet.
With the Watchtower feature, you immediately receive an alert if 1Password discovers a password breach or other security threat.
The software also checks to make sure the websites you visit and your browser are verified before auto-filling your account information to protect you from malware and phishing attempts.
1Password has a transparent privacy policy that guarantees your personally identifiable information (PII) isn't shared with third parties under any circumstances.
Another example of 1Password's dedication to transparency is its thorough white paper. The company provides free access to in-depth information about its security design for anyone to review, so you can be sure it's not hiding any secrets. 1Password also passed multiple security audits where experts praised its strong security and airtight design.
1Password is compatible with Windows, macOS, iOS, Android, Linux, and Chrome OS. There is no free version, but you can use its 30-day free trial to find out if you like the service. You can choose from multiple plans for personal and business use.

RoboForm makes it easy for you to log-in with only one click, no matter what website you're browsing.
The platform automatically captures and stores your passwords as you browse the net, allowing you to securely access them across all your devices. Your passwords will be stored in organized category folders, making them easy to find.
RoboForm also offers a password generator to help you easily create strong passwords on the go, while its security center scores your existing password strengths for you.
Its AES 256-bit encryption with PBKDF2 SHA256 protects against dictionary, brute force and other forms of attacks. It also offers two-factor authentication that supports TOTP-based authentication apps like Google Authenticator, Authy, and Microsoft Authenticator.
You can access RoboForm on Windows, macOS, iOS, Android, and Linux with support for all major browsers, including Microsoft Edge.
RoboForm offers free and two premium plans for personal use and a premium plan with a 14-day free trial for business use.
Sticky Password is another solid choice that offers an automatic strong password generator and military-grade AES 256-bit encryption.
It features enhanced two-factor authentication and supports biometric authentication using your fingerprint on compatible devices.
Your passwords will be conveniently auto-filled for you, while your master password can only be saved by you and is never seen on their servers or devices.
Its securely encrypted vault will safely store all your credit card information and sync to all your devices for easy one-click checkouts.
Sticky Password is one of the only password managers to support 16 different browsers including Chrome, Firefox, Safari, Explorer, Opera, and more. It also offers native apps for Windows, macOS, iOS, and Android devices.
Sticky Password offers a free and premium plan and the free plan includes a 30-day trial of premium. The company even donates to save manatees for each license sold!

RememBear is another of my top choices for the best secure password manager.
Far from being just a cute name, RememBear utilizes top security features to keep your passwords secure without compromising convenience.
Its platform maximizes security with end-to-end military-grade AES 256-bit encryption and an NDK master password that adds a series of random characters to increase the strength of your password.
To make sure you're the only one that can access your master password, RememBear uses a Secure Remote Password through the Diffie-Hellman key exchange that verifies your password without actually exposing it to an internet connection.
RememBear protects the data stored on its servers with Amazon's Key Management Services. It also adds an extra layer of Transport Layer Encryption to minimize its reliance on HTTPS.
This password manager demonstrated its transparency with an independent audit by cybersecurity expert Cure53, which confirmed there are no critical issues with the RememBear security design.
RememBear offers dedicated apps for macOS, iOS, Android, and Windows. You can also download its browser extension on Chrome, Firefox, and Safari.
RememBear offers a free version that you can use on one device and a premium version that will work on all your devices.

Intuitive Password takes your security seriously. It stores all network data behind layers of firewalls, and access to its databases is strictly controlled by application certificates. It also offers a robust antivirus program that's regularly updated.
Intuitive Password protects its network from DDoS attacks and uses a real-time malware scanning service to keep its servers secure at all times.
Intuitive Password never stores your passwords in plain text. It uses PBKDF2 with a unique salt for each credential to mask your passwords from hackers. It also offers two-factor authentication using the time-based one-time password algorithm TOTP, and a messaging-based onetime password algorithm for SMS.
Intuitive Password offers free and premium options and is compatible with Windows, Android, macOS, and iOS.

LogMeOnce is a reliable password manager that offers a variety of log-in options with automatic two-factor authentication.
You can log-in to the password manager using its unique Selfie 2FA photo recognition, biometric fingerprint recognition, a PIN code, or a traditional master password.
It also offers a variety of anti-theft measures to ensure your sensitive login information remains safe in the event your device is lost or stolen.
You can remotely log out, lock your device, delete all your data, or use a GPS locator to find your device. You can even use LogMeOnce to display a customized message on your device to help the person who found it to give it back to you.
LogMeOnce has both free and premium options for consumers and businesses and offers browser extensions for Chrome, Firefox, Safari, and Microsoft Edge, as well as native apps for macOS, Windows, iOS, and Android.
Conclusion
Using one of these ten great password managers is a simple way to improve your online security. These password managers make it easy to follow good password practices and avoid the dangerous consequences of a security breach.
If you're still not sure which password manager is best for you, I recommend NordPass for its easy-to-use interface, high-performing features, and airtight security. 
But your online security shouldn't end with a password manager. A high-quality VPN will secure your online activity at all times and protect your privacy from spying eyes.
If you like NordPass, you should check out our top-rated VPN provider NordVPN by the same company. You can also take a look at our VPN coupons page (updated weekly!) to find incredible deals on great VPN services.