The 10 Best Secure Password Managers for 2019
Updated on 24th August 2019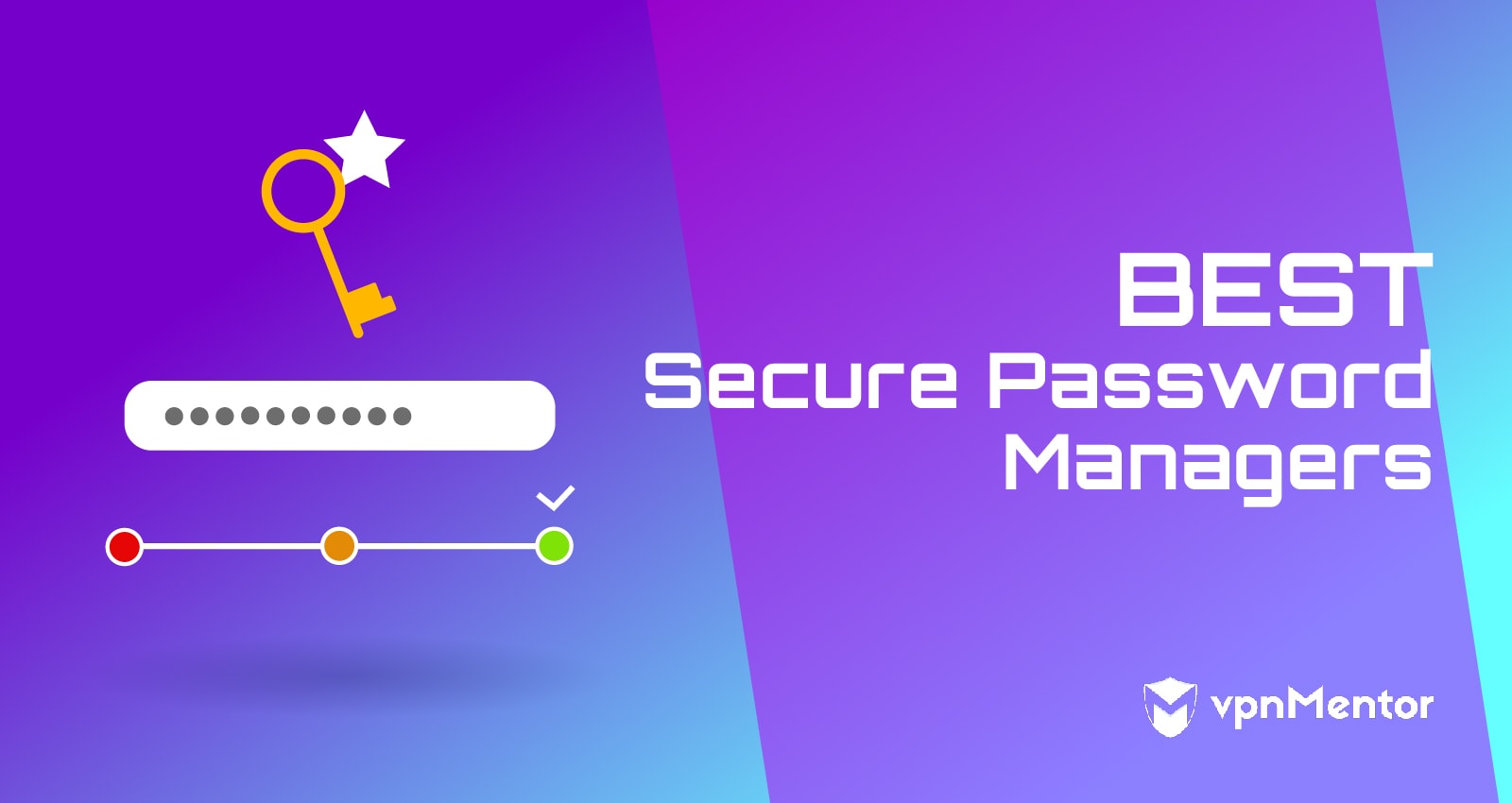 Using the same password for all your online activity puts you at serious risk of hackers getting their hands on your sensitive data. Even a strong password won't help you if you use it for multiple accounts.
We've compiled a list of the top ten password managers that will keep your passwords safe and never compromise your security.
Why Do I Need a Password Protector?
As unique as you think your passwords are, it's pretty easy for hackers to guess your daughter's birthday, your pet's name, or the street you grew up on. Passwords created from simple life-trivia put your online security at great risk.
With a password manager, you'll be able to automatically generate strong passwords for every account you open online. Plus, you won't need to remember them all!
Your passwords will auto-fill themselves out on the relevant websites and be stored in a secure vault accessible with a master password that only you have knowledge of.
Top Ten Password Managers
Here are the top ten password managers with the highest level of security features to ensure your sensitive data remains protected at all times:
Dashlane allows you to generate strong passwords and store them securely with their password manager.
You'll also be able to share files securely and access a comprehensive identity dashboard that rates your online security status and lets you know where you can improve.
With their emergency contact feature, you can grant account access to someone you know and trust personally in the event of emergencies preventing you from accessing your own account.
They even monitor the dark web regularly and send you personalized alerts in the event your data is found in the wrong hands.
Dashlane is available on MacOS, Windows, iOS, Android, and Linux.
Keeper is yet another password manager known for its maximum security features like AES 256-bit encryption and PBKDF2. The app will offer you a private master password that no one will be able to access except for you.
What's more, they feature a secure cloud vault utilizing Amazon AWS. And, they require multi-factor authentication to be able to enter your password manager.
Keeper also supports FIDO, compatible U2F hardware-based security devices like YubiKey as a second authentication factor, making your information even more safe and protected.
Their software is available via desktop or mobile apps and as a browser extension called KeeperFill for Chrome, Firefox, Safari, Internet Explorer, Microsoft Edge, and Opera.
You can try Keeper with its 30-day free trial for its premium plan. If you don't pay for a subscription after 30 days, you'll automatically revert to the limited free plan.
RoboForm makes it easy for you to log-in with only one click, no matter what website you're browsing.
The platform automatically captures and stores your passwords as you browse the net, allowing you to securely access them across all your devices. Your passwords will be stored in organized category folders, making them easy to find.
RoboForm also offers a strong password generator while their security center will score your existing password strengths for you.
Their AES 256-bit encryption with PBKDF2 SHA256 protect against dictionary, brute force and other forms of attacks. And, their two-factor authentication supports TOTP based authentication apps like Google Authenticator, Authy, and Microsoft Authenticator.
You can access RoboForm on Windows, Mac, iOS, Android, and Linux with support for all their respective browsers, including Microsoft Edge.
Sticky Password is another great password manager that includes an automatic strong password generator and military-grade AES 256-bit encryption.
They also feature enhanced two-factor authentication, with biometric authentication using your fingerprint as an option.
Your passwords will be conveniently auto-filled for you, while your master password can only be saved by you and is never seen on their servers or devices.
A securely encrypted vault will safely store all your credit card information and sync to all your devices for easy one-click checkouts.
Sticky Password is one of the only password managers to support 16 different browsers including Chrome, Firefox, Safari, Explorer, Opera, and more. And, their app can be downloaded on Windows, Mac, iOS, and Android devices.
They even donate to save manatees for each license sold!
RememBear is another of our top choices for the best secure password manager.
Far from being just a cute name, RememBear utilizes top security features to keep your passwords secure, without compromising convenience.
Their platform maximizes security with end-to-end military-grade AES 256-bit encryption and an NDK master password that adds a series of characters to add to the randomness of your password.
To make sure you're the only one that can access your master password, they use a Secure Remote Password – a form of Diffie-Hellman key exchange – that proves you know your password without actually exposing it to their servers.
The data stored on their servers is also protected with Amazon's Key Management Services. And, to minimize their reliance on HTTPS they add an extra layer of Transport Layer Encryption.
And, if that wasn't impressively transparent enough, all these features were officially audited by Cure53, who confirmed there are no critical issues with the RememBear security design.
RememBear is available as an app on MacOS, iOS, Android, and Windows. Or, as a browser extension on Chrome, Firefox and Safari.
LastPass has long been one of the forerunners in the password manager market.
To keep your passwords safe, LastPass employs AES-256 bit encryption, plus PBKDF2 SHA-256 and salted hashes in its cloud. You can feel secure that even LastPass won't be able to access your master password, nor can it read your encryption keys. All of your data is encrypted and decrypted at the device level.
Like other password managers, LastPass offers users a password generator that will generate long, secure password strings for all of your accounts. This keeps your accounts more secure while removing the need to deal with passwords that are complex and difficult to remember.
Its auto-fill feature will not only fill in your password details on the accounts you add to your vault, it can fill in data like payment information when you're shopping online.
The service also offers users the option of storing other sensitive information like insurance cards and memberships in a digital records file. You can also try out its Username Generator to add yet another level of protection for your accounts.
LastPass is available on Mac, Windows, Linux, Chrome, Firefox, Safari, Internet Explorer, Opera, and Microsoft Edge. Additionally, users have the option of downloading native apps for iOS, Android, and Windows Phone.
1password is another great password manager with high-quality security features to keep your data safe.
They feature end-to-end encryption, and encrypts your data with military-grade AES 256-bit encryption PBKDF2 not once, not twice, but three times for maximum security.
You will have a master password that only you can know and a secret key with a unique 128-bit identifier generated locally.
1password also features a Secure Remote Password which includes a zero knowledge protocol that encrypts all network traffic and verifies authenticity of remote servers before sending your information via TLS/SSL.
Unlike other password managers, 1password is the first to use unique WebCrypto technology, which provides direct access to their system's secure number generator directly to your browser!
1password is compatible with MacOS, iOS, Windows, Android, Linux, Chrome OS, and Command Line.
Intuitive Password takes your password manager security seriously.
On the network security front they have a robust antivirus program running with regular updates. All network data is stored behind layers of rewalls and access to their databases are strictly controlled by application certificates.
They also protect their network from DDoS attacks by using a mitigation service and real-time malware scanning service to keep their servers malware free at all times.
On the account security front, Intuitive Password will never store your passwords in plain text. They use PBKDF2 with a unique salt for each credential to keep passwords masked. They also feature two-factor authentication based on a time-based one-time password algorithm TOTP and messaging based one-time password algorithm for SMS.
Intuitive Password is compatible with all laptops, mobile devices, and tablets.
Logmeonce is a reliable password manager that offers a variety of log-in options with automatic two-factor authentication.
You can log-in to the password manager using their unique Selfie 2FA photo recognition, biometric fingerprint recognition, a PIN code, or a traditional master password.
They also offer a variety of anti-theft measures in the event your device is stolen. You will be able to remotely delete all your data, lock your device, log out of your device, use a GPS locator to find your device, and even display a message on the device in order to help the person who found it to give it back to you.
By well-known security giant McAfee, True Key boasts military-grade AES 256-bit encryption and multi-factor authentication access to your password manager.
You'll be able to choose how many factors you wish to include in authentication, having a choice of simple login, facial recognition, fingerprint recognition, or a traditional master password.
They also offer integration with RealSence depth-perception technology and SGX technology, which protects code from disclosure or modification. They both offer superior security experiences.
True Key is compatible with Mac, Windows, Android and iOS. They also offer browser extensions for Chrome, Firefox, Safari, and Microsoft Edge.
Conclusion
Don't put your sensitive data online at risk. Using one of the above password managers will secure your online passwords in one place where virtually no one can get their hands on it.
If you're still not sure which password manager is best for you, we recommend going with RememBear. Their easy-to-use interface and convenient features never come at the cost of compromised security – and the independent audit conducted on them confirms just that.