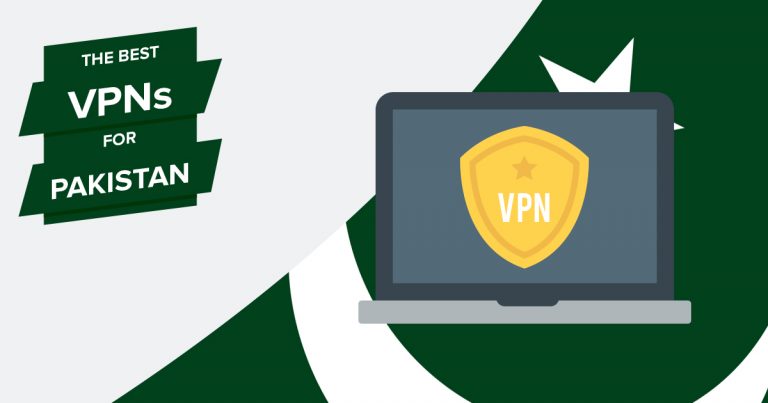 5 Best VPNs for Pakistan – Fastest, Safest, and Cheapest in 2021
Updated on 12th May 2021
For seven consecutive years, Pakistan has been marked as "not free" in the annual global internet freedom report by Freedom House. If you use the internet in Pakistan, you really need a VPN to protect your privacy and freedom.
The Government of Pakistan censors what citizens and visitors can access online. It blocks websites that oppose the country's political, social, and religious traditions.
It can be dangerous to use social media in Pakistan. If you post something that the government finds offensive or blasphemous, you can face serious legal consequences, including the death penalty.
Even if you obey Pakistan's restrictive laws, you will be affected by censorship. The government blocks any website that it considers to contain offensive or anti-Islamic material. In the past, it has blocked services including Twitter and YouTube.
These blocks are unpredictable and can stop you from communicating with your friends and family online.
The best way around these online challenges is to use a VPN.
VPNs mask your IP address and encrypt your internet traffic. This makes you completely anonymous, and stops hackers, trackers, and spies stealing your personal information.
A VPN will safeguard your online privacy and freedom in Pakistan. It will also bypass censorship and grant you access to blocked websites and services.
Not all VPNs work in Pakistan, and many that do work don't offer the level of security you need to keep you safe. Our recommendations passed all our tests for both safety and performance.
Summary: The Best VPNs for Pakistan
What You Should Look for in a VPN for Pakistan
Bypassing Censorship
In 2016, Pakistan passed the Prevention of Electronic Crimes Act (PECA), comprehensive cybercrime legislation that grants the government broad censorship and surveillance powers and restricts online speech. 
Censors block websites that contain pornographic, blasphemous, anti-Islamic, political, or religious content. This is a wide filter that can be applied to almost any website that the government doesn't want citizens to see.
These blocks are often temporary and may be lifted if the website agrees to remove the offensive material and comply with Pakistan's laws. However, they are unpredictable and can cause you to lose access to vital websites and communication services.
In the past, the government has blocked many popular websites, including:
YouTube
WordPress
Flickr
Facebook
Wikipedia
Twitter
VPNs connect your device to a remote server through a secure tunnel. This masks your IP address so you can safely bypass censorship and geoblocks. This will also unlock restricted international services, like Netflix US.
Secure Your Privacy
PECA grants sweeping surveillance powers to both Pakistani and international agencies.
It requires internet service providers (ISPs) to retain traffic data for at least one year. To make matters worse, recent regulations require that wi-fi hotspot providers retain user data.
Faced with these privacy challenges, it's wise to use a VPN to keep your online activity secure and anonymous.
Protect Your Freedom of Speech
Pakistan's strict laws threaten your freedom of speech, particularly when it comes to politics and religion.
There are tough penalties for disobeying these laws. An anti-terrorism court in Pakistan sentenced Taimoor Razato death for insulting the prophet Muhammad during an online argument. Because the government can apply these laws to any content it finds offensive, even a small mistake can land you in serious legal trouble in Pakistan.
A quality VPN will ensure that you are always anonymous online. IP masking prevents authorities from seeing your real location, while encryption makes it impossible for them to see your browsing activity and personal information.
Are VPNs Legal in Pakistan?
It is legal to use a VPN in Pakistan, but the government requires all VPN services to be registered. Unregistered VPNs are blocked.
Registered VPNs are a security threat because they may leak your browsing activity to the government. Because of this, we recommend installing a trustworthy VPN before you arrive in Pakistan.
Features to Look For in a VPN
High-speed connections and unlimited bandwidth will reduce load times and ensure you never run out of internet data.
Servers in nearby countries that enjoy freedom of speech will help you bypass censorship. The closer the server is to Pakistan, the faster your connection will be.
High-end security features, like 256-bit encryption, a strict no-logs policy, and an automatic kill switch will ensure you are always safe online.
Now you have the knowledge you need to choose the best VPN for Pakistan, let's look at our top choices.
The Best VPNs for Pakistan
ExpressVPN is our overall
speed test champion,
and it also excels in security and reliability.
With unlimited bandwidth on 3,000 high-speed servers worldwide, you can say goodbye to censorship and geoblocks and hello to exclusive entertainment and services.
ExpressVPN offers outstanding 24/7 customer support via online chat, although we don't think you'll ever need to use it. It also offers a 30-day money-back guarantee and a 7-day free trial for Android and iOS users. You can learn more by reading what real customers have to say about this top VPN.
CyberGhost combines
military-level security
with a
global network of over 6,900 high-speed servers
to make it easy for you to
bypass censorship and geoblocks
safely.
All of its plans include unlimited bandwidth and up to 7 simultaneous connections. It offers user-friendly apps that make it easy to configure your VPN connection to meet your individual needs.
You can try CyberGhost risk-free with its 45-day money-back guarantee see why it's a user favorite. All its plans are backed by a generous 45-day money-back guarantee.
HMA VPN is
a popular choice among VPN users
. It operates
1,100 high-speed servers in 210 countries
, including Pakistan.
Its has user-friendly apps for all major platforms, including routers. Its comprehensive guides make installation easy, even if you've never used a VPN before.
Best of all, you can try it risk-free with its 7-day free trial and 30-day money-back guarantee.
VyprVPN's proprietary Chameleon VPN technology is brilliant at
bypassing geo-restrictions and censorship.
It's based in Switzerland, a country that is  well-known for its
online freedom.
This means that your data is protected under Swiss privacy laws.
It has a distinct advantage over other VPNs when it comes to speed and reliability because it owns and maintains its own server network. VyprVPN offers top-notch security protocols, 256-bit encryption, a strict no-logs policy, and an automatic kill switch. There are easy-to-use apps for all major devices, too.
VyprVPN offers new users of its service a 30-day money-back guarantee. Based on its great customer reviews, you'll want to keep the service a lot longer than that.
Summary
A VPN is the only way to protect your freedom and privacy online in Pakistan.
Our recommendations will grant you anonymity and allow you to bypass censorship with ease. They will also keep you safe from legal action and other real-world consequences.
Remember to install your VPN before you arrive. The Pakistan government blocks unregistered VPNs, so you may not be able to install it once you are in the country.
If you're still unsure which VPN is best for you, we recommend ExpressVPN. You can try it for free!
Disclaimer: We are not lawyers or legal specialists on Pakistan's laws. Although we have carefully researched the subject to provide you with working solutions, this article should not be considered legal advice.
Further Reading
Our budget-savvy experts have compiled a list of the best VPN deals and coupons to save you money on your service.
What's a VPN, and why do you need one? Read everything you need to know in our comprehensive VPN guide.
Hungry for entertainment? Learn how to unblock Hulu from anywhere.
To summarize, the best VPNs for Pakistan in 2021 are…
Privacy Alert!
Your data is exposed to the websites you visit!
The information above can be used to track you, target you for ads, and monitor what you do online.
VPNs can help you hide this information from websites so that you are protected at all times. We recommend ExpressVPN — the #1 VPN out of over 350 providers we've tested. It has military-grade encryption and privacy features that will ensure your digital security, plus — it's currently offering 49% off.