The Best VPNs for PC Gaming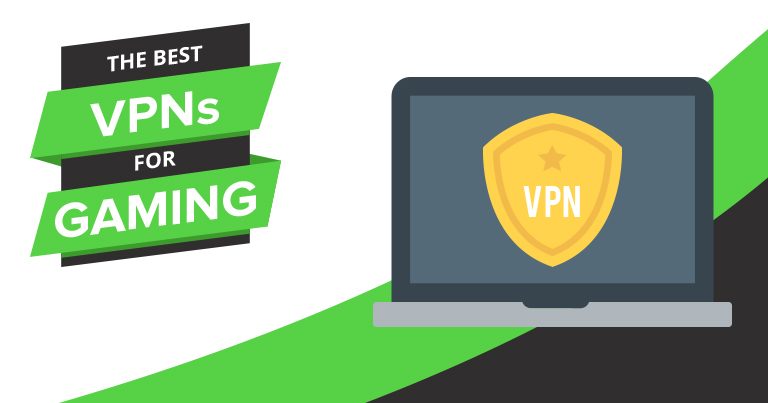 A VPN for gaming? Yeah, right — why would you use software that almost always slows you down and seems like the polar opposite of what a gamer truly needs?
Well, since you're here, you've either met face-to-face with one of several hurdles in the gaming world, or you're looking to prevent such a scenario. Gaming is an extremely fun and popular hobby — but geographical restrictions and foul play can quickly ruin your awesome experience, or worse.
If you're competitive, using a VPN can help you get early access to new online titles while shielding you from malicious attacks from opponents. But finding the right VPN service for PC gaming can be very difficult, as you won't be satisfied with average speeds, limited servers, or unreliable support.
We're here to help you out — after heavy research and countless hours of testing, we present you with the top five VPNs for PC gaming. Check out the quick summary below, but stay tuned for in-depth overviews and extra goodies!
Summary of the Best VPNs for PC Gaming
1. ExpressVPN
ExpressVPN is lightning-fast and full of valuable features for PC gamers — most importantly, it's consistently good. Whatever your needs are, this VPN is sure to meet them.
2. NordVPN
NordVPN is ideal if you'll be changing servers constantly, thanks to a massive network. With great speeds, anti-DDoS features, and a whole security suite, it will also keep your sessions fast and safe without breaking a sweat.
3. Private Internet Access (PIA)
PIA is a favorite VPN for the PC gamer on a budget, with thousands of servers and great performance — all wrapped in a very affordable package.
4. CyberGhost
Perfect for equipping your in-house LAN party with VPN protection, CyberGhost has seven simultaneous connections and offers dependable uptime across all its 2,000+ servers.
5. AirVPN
Need a VPN for just a few days, but don't want to commit to a long-term subscription? AirVPN has great plans for the occasional user, allowing you to get that coveted protection and accessibility for as long as you want.
What You Should Look for in a VPN for PC Gaming
The utility of a VPN for PC gaming is huge. One reason is bypassing territorial restrictions — imposed by either the game itself, or your own country.
Gamers come from all around the world, and unfortunately some of our friends online have to deal with censored or outright forbidden games just because of their location. Take a look at Iran, for example — Battlefield 3 and ARMA 3 were banned there due to depicting graphic violence and cruelty. The list goes on — Saudi Arabia, China, Malaysia, Thailand, and many other countries have banned games like Red Dead Redemption, Grand Theft Auto titles, and various shooters.
With a VPN, you can still play otherwise-banned games, both online and by yourself. By connecting to a server in a country that doesn't have these restrictions, you effectively avoid censorship and open up a whole new world of gaming possibilities.
VPNs can also help you get early access to new games. Let's say this new MMO you've been drooling over finally drops a release date — and it's going to be available in Japan first, hours before any other servers go live. If you want to be ahead of the curve, all that's needed is obtaining a Japanese IP address, and you're ready to get the grind started.
Accessibility aside, VPNs are extremely valuable when it comes to protection. A great deal of serious, competitive gaming is found online nowadays — and with that comes the risk of hackers. You don't want to be serving your real IP address and other sensitive info on a platter for them, and with a VPN you can keep all of it hidden behind a securely encrypted connection.
Speaking of connections, a VPN will also keep you safe from DDoS attacks — an occurrence that has plagued competitive online gaming for a long time. Semi-professional and professional teams in CS:GO and Dota 2 were often targeted by frustrated fans of rival teams in the past, but this risk isn't limited to the pro scene. If you're an avid player of competitive games like these two and many others (League of Legends, Heroes of the Storm, Overwatch, Smite), you know how sore losers can get. Using a VPN will allow you to deal with potential DDoS attacks or other harmful activities aimed towards you.
With that said, here's what you need out of the perfect VPN for PC gaming:
Speed

. If your connection takes a major hit, your gaming VPN might as well be useless. Make sure your picks have excellent speeds so you can keep owning in-game.

Choice of servers

. Usually, the more servers you have at your disposal, the better. But it's not just about diversity — you want your VPN's network to be optimized, fast, and well-maintained with guaranteed uptime.

Easy interface

. Not everyone is a tech guru, but even the advanced user wants a sleek, intuitive GUI. Look for a VPN that's not only capable, but one that's put effort into ease of use as well.

Responsive customer support

. You might run into issues with your VPN — everyone does. Faster customer support will put you back on track in no time. Choose a VPN that knows its stuff, and also knows how to solve problems quickly.
With so much to look for, it may feel like a high-level quest to find the ideal VPN. We have the walkthrough right here — take a look at our top VPN picks for PC gaming:
The Best VPNs for PC Gaming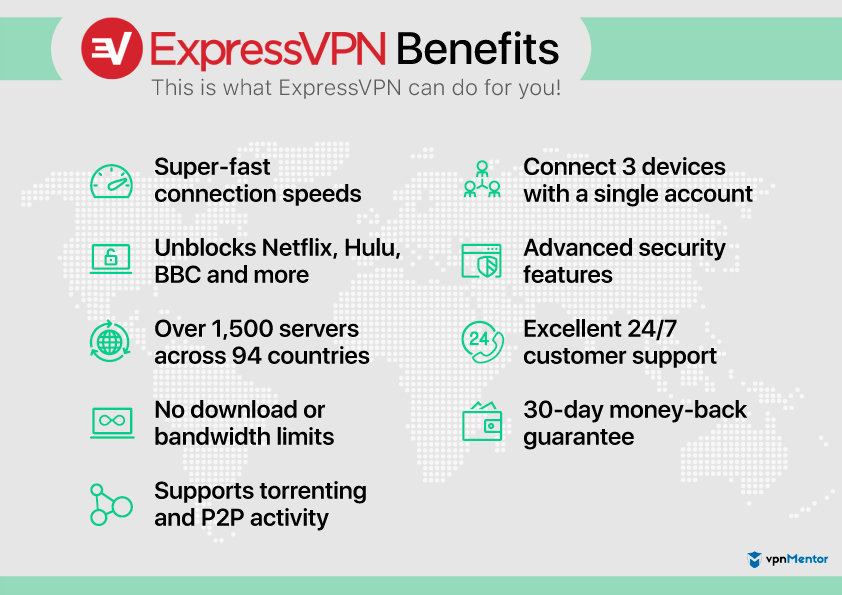 Fastest VPN on the market

No logs kept

Kill switch, DNS/IPv6 leak protection

Try before you commit with the 30-day money-back guarantee
ExpressVPN has a seriously fast network of 2,000+ servers in over 90 countries. It also offers spotless privacy, thanks to a favorable headquarters in the British Virgin Islands and a stern zero-logs policy. The AES256 encryption and OpenVPN support will keep you secure at all times.
You'll be connected to any location you desire, and the interface is a breeze to use. Plus, you get some great extras for gaming — namely, the split tunneling feature allows you to precisely select the parts of your traffic you want encrypted.
All of that, combined with the stellar 24/7 customer support (including live chat) makes ExpressVPN a crowd favorite.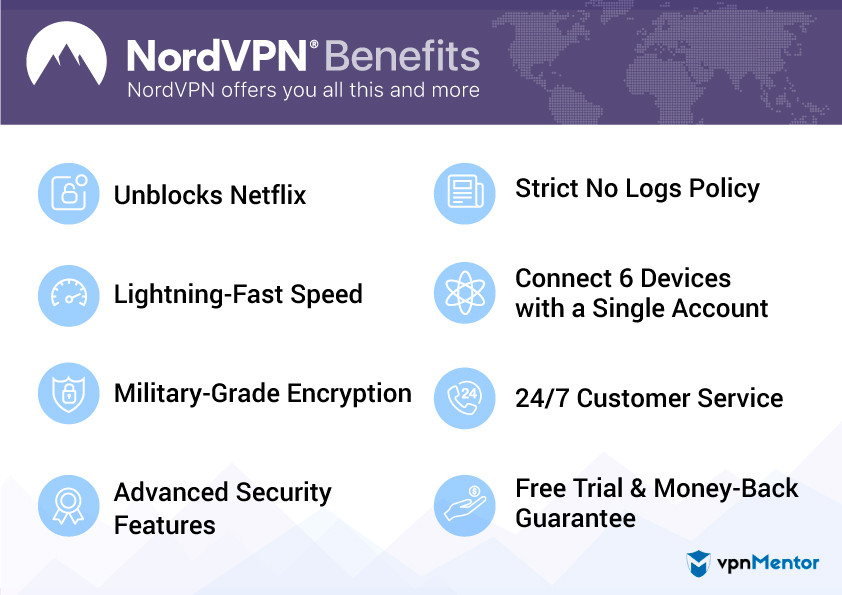 Fast and secure

Based outside the Five Eyes

Feature-packed

One-month refund window
NordVPN has an arsenal of security features — including anti-DDoS servers, enhanced obfuscation protocols, and a full-fledged security suite called CyberSec. It includes everything from adblocking to expert malware protection.
With constant service updates, NordVPN becomes bigger and faster on a regular basis. There are over 4,600 servers to choose from, and that number's bound to increase.
The elegant, feature-packed clients are just another bonus to this Panama-based VPN. Add excellent support over live chat, and you can see why it scores so well in reviews.

Excellent performance at a cheap price

Loyal and helpful community

Over 3,500 servers to choose from

7-day money-back guarantee
If you want a cheap VPN, you won't find one that does affordable protection better than PIA. It has all the essential features, plus a massive network of 3,500+ servers.
Sure, it's not the fastest VPN, but it's up there with the best. PIA also offers an easy, no-fuss client — it's not super polished, but you won't have any trouble with it.
Helpful customer support and an active community are other major highlights of this VPN. If you're on a budget, you won't find many better options than PIA — which is why users have a lot of good things to say about it.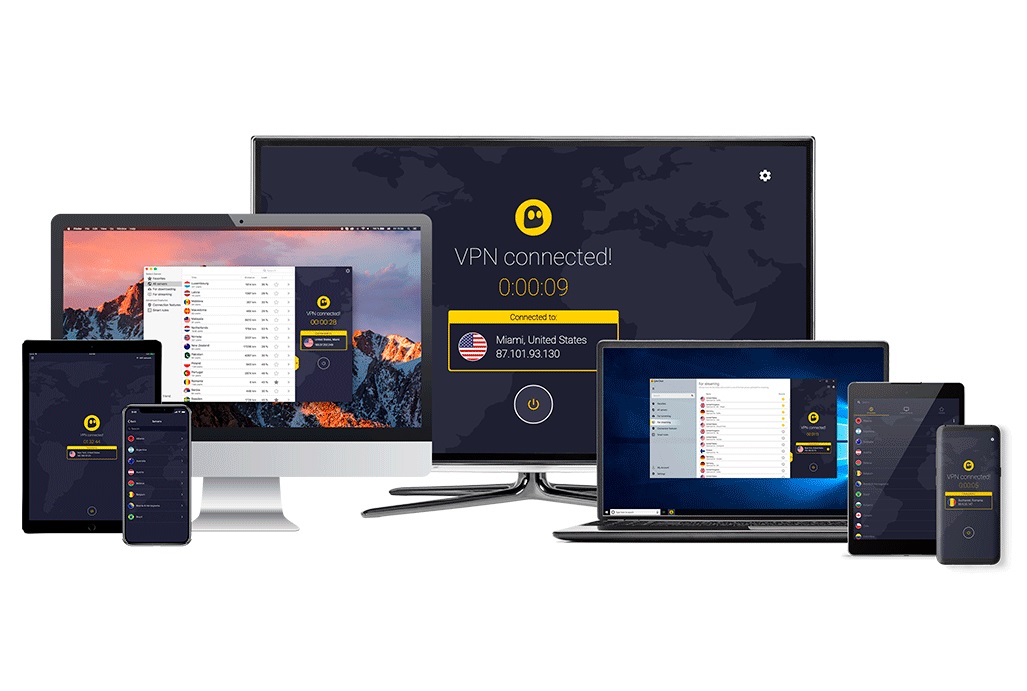 Very easy to use
Has the speeds and servers you want

Seven simultaneous connections for your entire LAN party

30 days to test risk-free
CyberGhost has a lot to offer gamers — from 2,200 optimized servers and great speeds to fully-automated setups, thanks to an awesome profile-based interface.
Most VPNs offer between three and five simultaneous connections. CyberGhost stands out with up to seven devices per subscription, bringing huge value if you're planning on outfitting your whole group with top-shelf protection and unlimited accessibility.
Last but not least, CyberGhost has helpful agents to answer your questions or solve your issues in no time. In a nutshell, it's a wonderful VPN for beginners and experts alike, which is reflected in user reviews.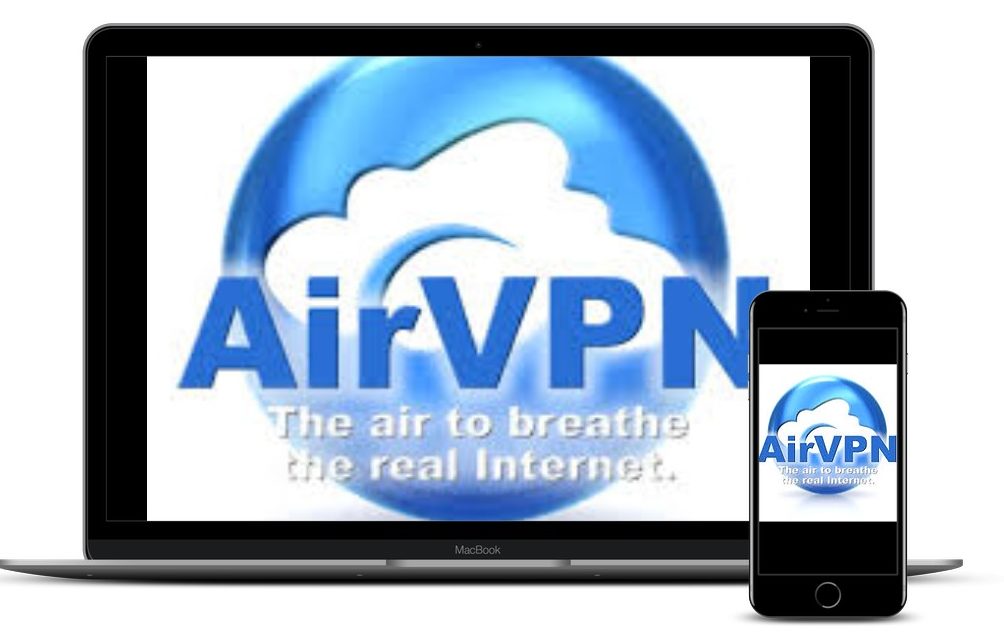 Great alternative for short-term users

200+ servers to choose from

High standards in security and privacy

A bit difficult to use, but nothing you can't handle
You may not want a year-long VPN subscription. Hell, you may not even want it for a month — we understand that, so here's a VPN you can get for just three days!
Aside from perfect security and privacy, AirVPN can suit your gaming needs for a very short time, if you so desire. For pocket change, you can get the protection and utility you need as you enter that online tournament you qualified for, or try out a game that's only available abroad.
The only drawback to AirVPN is that it's a bit more technical than most, and it doesn't make things much easier. We're sure a hard-boiled gamer like you won't run into any trouble. But don't take our word for it — check out user reviews here!
You Can Get a Great Deal on a VPN Here
If you're itching for a game that's banned or not released yet in your region, or you simply want to shield yourself from nasty DDoS attacks and hackers, a VPN is the win condition in this game of wits.
Did you know you could grab the best VPNs on the market at incredible discounts? Check out the hottest VPN deals here, before time runs out!