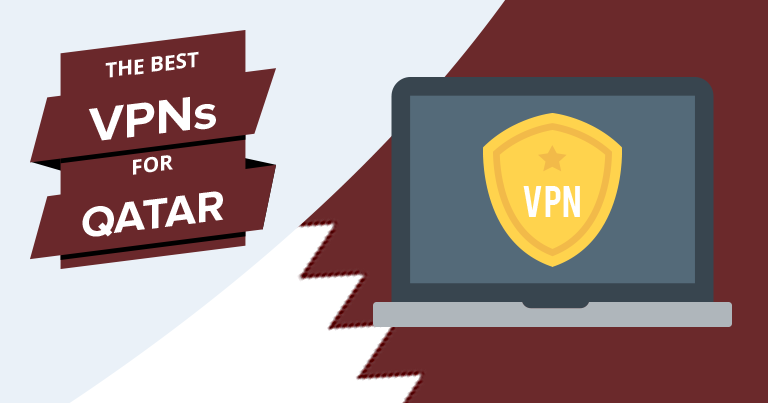 4 Best VPNs for Qatar 2021 – Fastest & Cheapest
Updated on 26th June 2021
Freedom online is a myth for Qatari citizens and visitors to the Kingdom. You need a VPN to protect yourself online and to access blocked content.
Qatar's government-funded ISP, Ooredo, enforces strict censorship and cybercrime laws. Residents and visitors can face scary consequences for posting a photo of another person or sharing 'fake news' online. These consequences include heavy fines and jail time.
Even people who follow the law are affected. Qatari censors block any website that challenges cultural norms, from pornography and news sources to WhatsApp and Skype.
A VPN is the safest way to access the internet in Qatar. VPNs mask your IP address and encrypt your data. This anonymizes your online activity and lets you safely bypass censorship laws.
Not all VPNs work in Qatar, and many that do don't provide all the security you need to stay safe and anonymous. Our top recommendations passed all our tests for both safety and performance.
Short on Time? Here Are the Best VPNs for Qatar
What you should look for in a VPN for Qatar
Bypass Censorship
Visitors and native Qataris alike need VPNs to bypass Qatar's proxy firewall and enjoy unrestricted internet access.
The Qatari government has very strict censorship policies. This allows the nation's primary ISP, Ooredoo, to use a proxy firewall to block access to websites containing banned content.
The law prohibits sites that:
criticize Gulf countries
publish news that the government decides is false
contain pornography
publish LGBTQI+ content
share or publish sexual health resources
offer dating and/or escort services
However, Qatari netizens often report that non-banned services like Skype and WhatsApp get caught in the filter, too.
In Qatar, you'll need a VPN to bypass censorship and access geo-restricted content. This includes everything from your favorite streaming platforms to messaging apps.
We recommend installing a VPN before you arrive in Qatar so you'll be safe from the moment you land.
Look for a VPN provider that offers high-speed connections and unlimited bandwidth. Check for servers in nearby countries that protect freedom of speech, like Italy, Hungary, or France.
Stay Safe Online
You'll need to use a VPN to protect your safety and anonymity every time you use the internet in Qatar.
Qatar's strict cybercrime laws limit your freedom of speech. The maximum penalty for breaking the law is three years in jail and a QR500,000 fine (that's USD$137,325!).
The law criminalizes a wide spectrum of content, including: sharing fake news; defamation; prejudicing public morals and social values; and publishing news, photos, or videos about anyone's personal life.
These laws are easy to break. One Qatari woman found this out the hard way: she was convicted for sharing a slanderous comment on WhatsApp.
It is legal to use a VPN in Qatar, as long as you don't use it to commit fraudulent activity or to bypass censorship. However, VPNs mask your IP address and make you anonymous online. This means you can't be tracked and helps avoid potential legal consequences.
Surveillance in Qatar is not widely reported, but Ooredoo can snoop on your private messages and emails. Encryption is vital to ensure that your private conversations are completely unreadable to third parties.
Look for a VPN that offers 256-bit AES encryption and an automatic kill switch. This prevents unprotected data from leaving your network, just in case your VPN connection fails.
The Best VPNs for Qatar
If you're looking for a VPN with lightning-fast speeds and the best security features available, ExpressVPN is for you. It offers 256-bit AES encryption, a strict no-logs policy, and an automatic kill switch.
ExpressVPN has servers in 94 countries, including nearby in Italy, France, and Hungary.
It also has apps for every platform, making it one of the best VPNs available. Don't just take our word for it, check out what real users have to say.
ExpressVPN offers a 30-day money-back guarantee on all its VPN services, plus a 7-day free trial for mobile apps.
HMA is a fast and reliable VPN for Qatar. It operates 1,080 servers across 210 countries.
It offers high-end security features, including 256-bit encryption, an automatic kill switch, and a strict no-logs policy. This is perfect for maintaining your privacy in countries like Qatar with intense internet surveillance and censorship.
With HMA, you can bypass Qatar's firewall and securely access your favorite sites and services.
You can try the service risk-free with a 7-day free trial and a 30-day money-back guarantee to find out why it's a user favorite for online security.
VyprVPN's unique Chameleon VPN technology is perfect for bypassing VPN blocks and firewalls. It offers secure, anonymous, and unrestricted internet access.
Although it operates a small network of just 700 servers, VyprVPN owns and maintains 100% of its equipment. Unusually, it also operates servers in Qatar and other Gulf states including Bahrain, Saudia Arabia, and UAE. All this gives it an edge in speed and reliability.
Its high-end security protocols safeguard your anonymity, and its location is ideal, too. VyprVPN is based in Switzerland, where there is very little internet censorship.
VyprVPN also offers a 30-day money-back guarantee. Its great customer reviews mean you'll want to keep the service much longer than that!
SaferVPN's fast connections and unlimited bandwidth make it a great choice for bypassing censorship in Qatar.
SaferVPN secures your data with 256-bit encryption and automatic wi-fi protection. This instantly connects your device to the VPN network when it detects a public wi-fi signal. You'll also be protected by an automatic kill switch.
SaferVPN is compatible with all major devices, and offers a 24-hour free trial and 30-day money-back guarantee. To learn more, read real customer reviews.
Summary
Using a great VPN is the only way to stay safe in Qatar.
Our recommendations will protect your anonymity, unblock restricted content, and bypass censorship.
They'll grant you unrestricted access, keep your identity safe, and help you avoid legal issues.
Still not sure which VPN is best for you? We recommend ExpressVPN, and you can try it out for yourself with a risk-free 30-day money-back guarantee!
Disclaimer: We are not lawyers or legal specialists on Qatari laws. Although we have carefully researched the subject to provide you with working solutions, this article should not be considered legal advice.
Further Reading
Save your hard-earned cash with our best VPN deals and coupons.
For more information on bypassing censorship, check out our informative guide to unblocking social media in Qatar.
Learn why a VPN is the only weapon against online censorship.
Privacy Alert!
Your data is exposed to the websites you visit!
The information above can be used to track you, target you for ads, and monitor what you do online.
VPNs can help you hide this information from websites so that you are protected at all times. We recommend ExpressVPN — the #1 VPN out of over 350 providers we've tested. It has military-grade encryption and privacy features that will ensure your digital security, plus — it's currently offering 49% off.