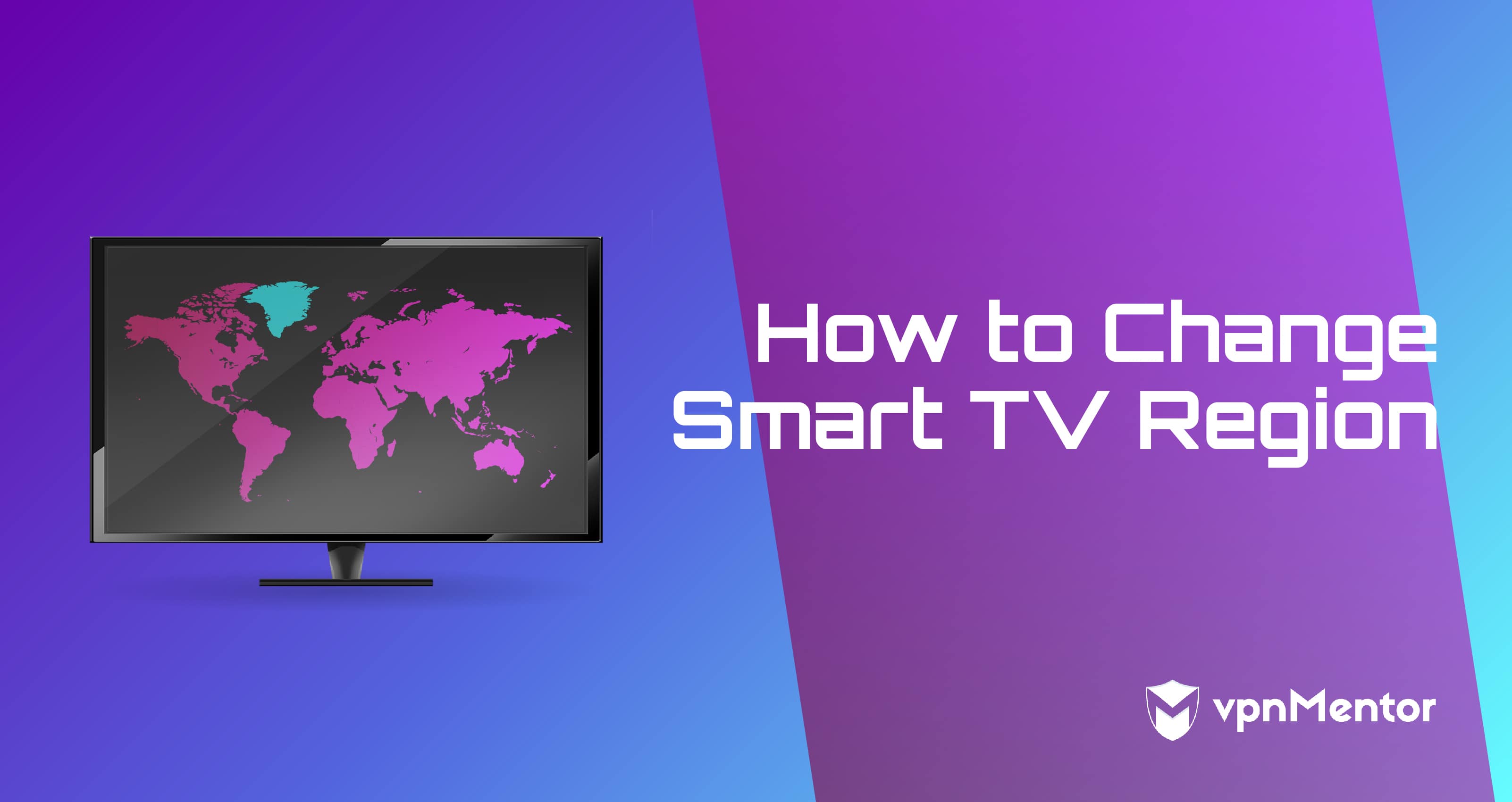 How to Change Your Smart TV Region in 2021
Updated on 30th June 2021
When you buy a smart TV,  it's preloaded with apps according to your region. Therefore, the content you can access through these apps also depends on your location. Changing your smart TV's region will give you access to additional apps, and extra content from streaming services such as Netflix.
A VPN can overcome geographical restrictions on apps and content by allowing you to connect to servers in different regions. However, some smart TVs don't support native VPN apps, but there are simple ways around this.
Continue reading to find out how to use a VPN to change the region on your smart TV to watch geo-restricted content.
Quick Guide:
How to Change your Smart TV Region
Choose a premium VPN. We recommend ExpressVPN as it is compatible with a wide range of devices, and some routers.
Install the VPN and connect to a server in your target country.
Head to your smart TV's settings, switch the region, and enjoy the new available apps and content.
NOTE: You can only access apps and content from one region at a time. For example, you cannot load the US Netflix app and BBC iPlayer at the same time.
Why You Need a VPN to Change Your Smart TV Region
One of the great things about your smart TV is that you can use your favorite streaming service through your television.
A smart TV lets you download apps and watch content by being connected to your router and therefore the internet. The IP address of your internet connection determines the region of your smart TV, and therefore the content you can access.
Outside of this region, content and apps will be geoblocked, meaning you can only access the content if you have an IP address from the right location. Streaming services like Netflix have many catalogs, depending on the region, with some offering better content than others.
A reliable VPN lets you connect to a server in the location of your desired content. With the new IP address, you can change the region of your smart TV to get the best versions of your favorite streaming services.
The well-known streaming services don't just have geographical restrictions on content, they also have anti-VPN software, which blocks your access if it detects your data is encrypted by a VPN. Only the best VPNs can overcome both geoblocks and anti-VPN software to grant you access to restricted global content.
How to Use a VPN With Your Smart TV
You can use a VPN in a few ways to change the region on your smart TV, depending on the make and model of your TV.
Android TVs
Smart TVs that use an Android operating system, allow you to install VPN apps from the Google Play Store directly. You need to download the VPN software and install the Android client (.APK file) onto your smart TV. Run the app and connect to a server in your desired location and change the region of your smart TV.
If your TV doesn't have an Android operating system, but has access to the Google Play Store, you should still be able to install the VPN app onto your smart TV.
VPN Router
If your smart TV doesn't have an android operating system, another way to pair it with a VPN is by installing the VPN onto your router. The added advantage of this is that it also connects every device connected to your router to the VPN.
There are several pre-flashed routers that come equipped with a VPN already installed. However, these VPN routers often come with a hefty price tag.
You can flash compatible routers with your VPN software yourself. Be aware if you choose this method you are at risk of 'bricking' your router, making it unusable. Minimize risk by selecting a VPN that is compatible with your router and carefully follow the installation instructions of your provider.
Once the VPN is installed on your router, your smart TV will share the VPN connection and you will be able to connect to a server in a different location and then change the region of your smart TV.
Network Connection Sharing
Another option for pairing your VPN with your smart TV is by connecting it to your PC or laptop with an ethernet cable. This allows your smart TV to share your computer's internet connection and therefore its connection to your VPN.
Once you have restarted your TV and computer, you can use your VPN through your computer to connect to a server in your desired country. Then change the region on your smart TV and enjoy unrestricted global content.
Best VPNs for Changing Smart TV Regions
ExpressVPN is another premium service that works well with smart TVs, making it easy to change the region and access geoblocked content. Plus, as the fastest VPN we tested, you'll be able to stream with no buffering.
The Android app is easy to use, or if your smart TV is not compatible, there are a growing number of routers with ExpressVPN firmware pre-installed. The VPN is also compatible with several different routers, with one of the easier configurations and detailed setup instructions available.
That's not all. The popular MediaStreamer feature, which you can set up from the ExpressVPN website, allows streaming on devices that don't support VPNs, like your smart TV.
It may be more expensive than some other premium services, but with top-shelf security features – including strong encryption, no-logs, and automatic kill switch – and dazzling speed, it is worth the price. Try for yourself on up to 5 devices with a 30-day money-back guarantee.
ExpressVPN can unblock:
Netflix, Hulu, HBO, Amazon Prime Video, Showtime, Sling TV, DAZN, and BBC iPlayer.
Supports torrenting:
Yes, all servers support P2P activity.
ExpressVPN works on these devices:
Windows, macOS, Android, iOS, Android TV, Linux, Chrome, and Firefox. It also offers an app for use with certain routers.
Change Your Smart TV Region with ExpressVPN!
As one of the best VPNs for beginners, CyberGhost is known for keeping things simple and this is true with pairing it with your smart TV. It may not currently come pre-installed on routers, but you can install it on compatible routers with relative ease thanks to easy-to-follow tutorials.
CyberGhost has compatible apps for Android TV and Fire OS devices, making it easy to install the fast and reliable VPN onto your smart TV. If you experience any problems, responsive live chat customer support can help with any issue.
Decent unblocking powers and fast speed, allow for HD streaming through a vast number of services, while military-grade encryption and solid security features, keep your internet activity private.
Learn more about CyberGhost through reviews from our experts and real users and try it for yourself with a 24-hour free trial and 45-day money-back period.
CyberGhost can unblock:
Dedicated streaming profile with servers optimized for: Netflix, BBC iPlayer, Sky Go, Comedy Central, Eurosport, ESPN, and others.
Supports torrenting:
Yes, the dedicated profile shows countries and number of users.
CyberGhost works on these devices:
Windows, macOS, Android, iOS, Amazon Fire Stick, Android TV, Linux, and Chrome.
Change Your Smart TV Region with CyberGhost!
Summary
The apps installed on smart TVs are dependent on your region. By using a premium VPN you can change the region of your smart TV to access restricted content and apps from around the world.
ExpressVPN is our top choice of VPN for changing your smart TV region as it has a great android app, compatibility with routers, excellent unblocking powers, and the fast speeds and robust security needed for smooth and safe streaming.
Further Reading
Privacy Alert!
Your data is exposed to the websites you visit!
The information above can be used to track you, target you for ads, and monitor what you do online.
VPNs can help you hide this information from websites so that you are protected at all times. We recommend ExpressVPN — the #1 VPN out of over 350 providers we've tested. It has military-grade encryption and privacy features that will ensure your digital security, plus — it's currently offering 49% off.