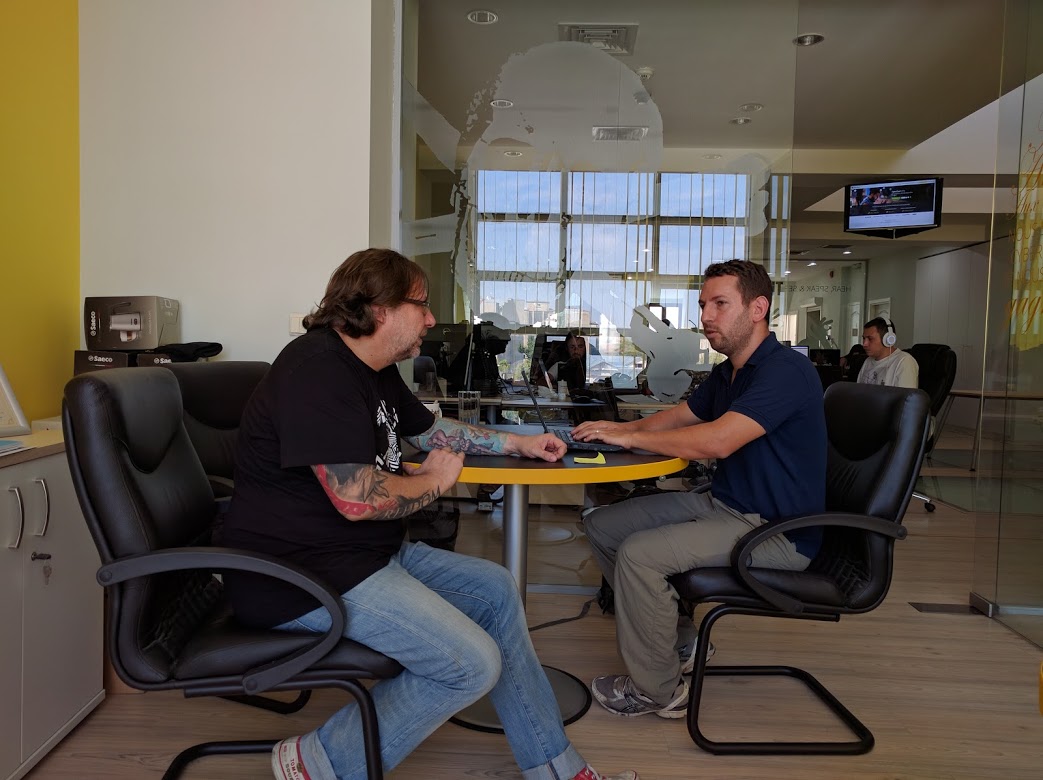 Robert Knapp Interview: CyberGhost Is Not a VPN Company
CyberGhost is a known VPN provider in the industry. CyberGhost challenges its competitors by offering a decent free VPN along it's premium one. Based in Romania, the country with the fastest internet speed in Europe (CyberGhost is truly an international company. Its biggest markets include the US and Germany with a strong prominence in France and Italy, among others. Robert Knapp, co-founder and CEO of CyberGhost, hosted me in his office in Bucharest to share his views on the state of online privacy and on the role CyberGhost plays to keep users' privacy safe. Share
Interview with CyberGhost's CEO, Robert Knapp, Bucharest Sep 08 2016
VPNMentor: You founded CyberGhost in 2004, What made you do that?
It was a coincidence really. We started CyberGhost as part of a software range in a software publishing house in Germany. We were doing a few tools and someone said "let's do a product that can access free web proxies. We will crawl all VPNs and put them in a nice interface to choose from." We also did some speed tests and it was out there as part of another set of tools. The customers really liked it and we noticed increasing interest in a tool allowing to access content from a different country.  We detected that the proxies are slow and difficult to control. These are hackers' honeypots.  We wanted to solve this problem by creating a standalone product, relying on its own secure servers.
VPNMentor: We meet to discuss the launch of CyberGhost 6.0 for Windows. What is so special about this version and what is your biggest achievement?
There is a major problem in the industry related to VPN.  "The law of diffusion of an innovation" relates to the lifetime of an innovative product and the time it takes for it to become a mainstream product. We had our product designed for early adopters. Our first users sometimes moved from products they developed themselves. The rest were sophisticated users that knew what a VPN is and why they need it. Now as we grow, we see there is a big crowd out there that needs a VPN but can't even identify this need by name and understand what a VPN is. Despite the relative simplicity of the product (select a country and server) people call our customer service complaining about the product not working (for example, we have many complaints, such as "I want to connect to Hulu and your product doesn't work", and we then find out the user never selected a US server. It doesn't work by intuition. He selected Frankfurt (where he is located). So we worked on a few versions, worked with customer surveys and user tests. We saw where users fail and do not understand how the product works. The new version of CyberGhost is trying to resolve the most common issues we found.
There isn't just one case for using a VPN. There is a segment intended to protect user privacy with a fast connection and IP hiding. it requires "Kill-Switch", etc. There is another segment of users that want to download stuff and keep anonymity, but don't need all the extra features. Others just want access to Facebook and Google while they travel to China or some other country where some sites are blocked. This segment doesn't necessarily need a US server.
We moved from the idea of "select a server location and connection", to "select your need and we'll take care of it for you". The numbers for this new version look very promising (users get to decide whether we do a good job or not): we have much higher retention rate and people use the VPN much more often. Of course, we still learn and improve as we go along.
The funny thing about the beta of the version we tested, is that the savvy users started to complain the product became too simple for them. So we created a savvy VPN tile for them that includes all the geek stuff.
VPNMentor: Tell us more about CyberGhost' "Smart Technology"?
Our goal is that a user will no longer have to start and configure a VPN to solve a problem, we want to offer the solution before a problem occurs. So if a user in Germany types the url of Netflix, we move him to US server without the user needing to select that he wants to watch Netflix or that he wants to use a US server. If we see a torrent download, we focus on speed. If we detect an unprotected Wi-Fi, we focus on security. And so forth.
We try to detect the need and bring the best solution without having the user to be involved. This will open VPN technology to everybody and not only to tech-savvy experts.
It's like when Henry Ford said if he had asked users what they want, they would have answered they want faster horses. So he never would have manufactured cars. If we asked users what they wanted, they would have answered they need more servers. But we identified they really need simplicity and solutions to their changing needs.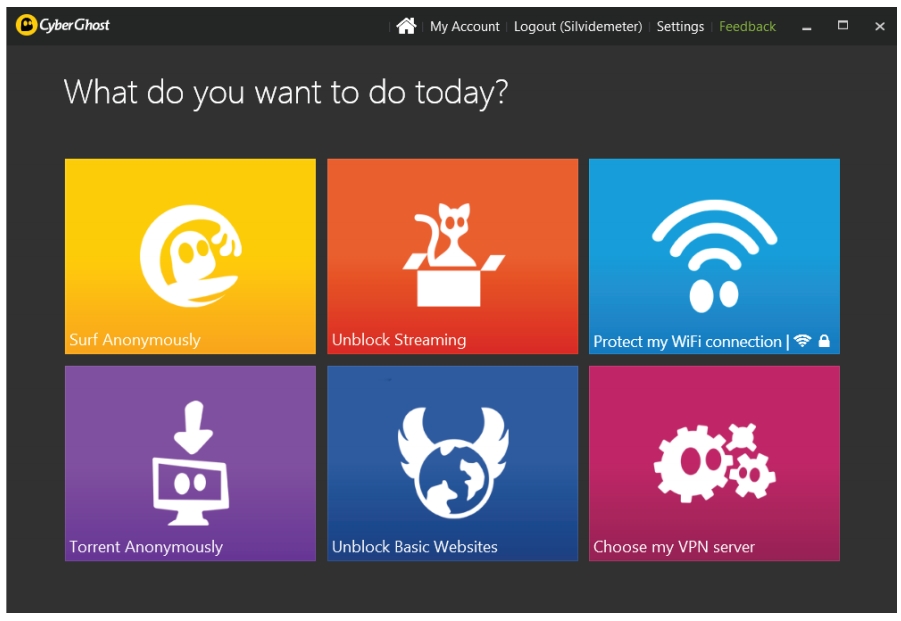 CyberGhost 6.0 for Windows - focusing on user needs instead of  the regular "select server location" button
VPNMentor: What are the key aspects in which you think CyberGhost is a better VPN than alternatives?
To be honest, we aren't! Sure, we are on top of the game, we built state-of-the-art technology, but just because you build a Mercedes Benz doesn't mean that somebody else is not able to build a BMW or a Porsche. I think the truth is that there are plenty of good products in the market. But saying "we are better" is just a marketing strategy and it distracts from the real thing: Can you trust your VPN service provider?
So, if someone asks you why choose CyberGhost I would say "we are the most transparent company". We show our address on the website. We publish transparency reports. I am a public figure who speaks at public events. I am not hiding my identity. There are a few NGOs that looked at our source code and verified we are not tracking user information because we are open to third party audits. This is what makes us special. This I think the greatest advantage for a company who you trust with your personal information. To know who you are dealing with. And to know that we are accountable for our actions within the legislation of the European Union.
As a user, I would never trust a company that can't be found on the website and has an unknown registered location. Some VPNs "sell" it as a benefit that they are hiding their address, as if the FBI would have a hard time finding where a VPN provider has offices. The truth is that they hide their identity not from the US government, but from you the user. You can't contact them; you can't complain about the service. You don't know how they deal with your data because they are literally "outlaws". Bottom line, they have no accountability. And that is dangerous for you as a customer.
VPNMentor: We are meeting in Bucharest, Romania, in your office. The country's peak's internet speeds are the fastest in Europe according to various studies and the labor force is relatively cheap. How does the fact that you are located here, and not, for example in Silicon Valley influence the company's culture and competitive advantage?
We came here for two reasons:
The constitutional court (Similarly to Germany and Austria) was one of the few courts to turn down "data retention" laws. This is a post-communist state and despite issues like corruption, the constitution and the courts have negative approach to citizen surveillance. So we know no one will come and ask us for logs and other information. And the country is part of the EU and enjoys benefits as such.
The second reason relates to an article I read a while ago on TechCrunch, titled "Can Romanian tech universities solve the problem of Silicon Valley's labor force?" This article mentioned the high rate of Romanian workers in Silicon Valley, and I checked the numbers and confirmed there are many Romanians working in the US tech industry. So I flew to Romania and checked the marker and decided to open our offices here. I was thinking there must be something about the Romanians. We still have an office in Germany but 35 out of our 45 employees, including myself, operate from Bucharest.
I believe Romania can become the next Silicon Valley outside the US. It can get bigger than any other center in Europe and take over Berlin and London. The Romanian language is Latin so people can understand well Latin languages like French, Italian, Spanish etc. The market is small so people learned to look outside and also speak English well.
Also the communists focused on science and math so there is still a culture that respects education and there are good universities with history of procuring great graduates. So we can really hire great talent here directly from one of the top universities in the city and groom them with the kinds of skills that they need.
And most importantly is the work ethic. 2 years ago there was a big riot against the government wanting to fire state secretary in the health ministry. He was known for not being corrupted and everyone went on the streets to protest. What would happen if such a thing took place in France? The entire country would be on flames and no one will work. Here in Romania, everyone went to demonstrate in the evening but in the morning they came to work, then back home for a quick shower and into the demonstration. They didn't give up and people went back to their office jobs, and they did it while showing they value their jobs and the economy.
VPNMentor: Netflix was according to many, a major reason for users to buy a VPN, and since it declared war against VPN providers when launching it's global local expansion. How did it effect you and can we admit that Netflix won in this battle against VPN providers?
I think the fact that people come to unblock media is overrated. We started by solving this issue, but over time we understood that this is not the main use case for a VPN.
Unblocking Netflix, Hulu etc. is less than 7% of the use cases. VPNusers also have other needs.
When Netflix went globally with their catalog they started blocking VPNs, which is a cat and mouse game that is pointless in my eyes.  Indeed, we saw, that some people started using the local version of Netflix and not the US one and no longer needed a VPN, but again, this is only some part of the 7% of users that I mentioned.
But there was also an unexpected trend we identified later. Netflix's expansion created much more awareness to their services in local markets. New people started to watch Netflix for the first time on their market. They watched the first season of some show, and when they wanted to watch the next season they found out that it is live in the US but not accessible yet in their own market. So they started using a VPN to unblock Netflix… and we then see a new spike in users.
VPNMentor: You offer a limited service of free VPN. How is this working for you?
We are running the free version for two reason. The freemium model is our marketing model. We have zero budget for advertising (we don't advertise in Google, Facebook etc.). We are generating traffic to the free product and this helps us gain recognition and a potential user base for the premium base.
Second, we give users in North Africa, Turkey, China etc. access to blocked content. These people can't afford a VPN and we want to make sure that everyone in the world will have access to online surfing while protecting their privacy. In a way, our premium users subsidize the free users and they can be proud of helping the poorer users from the rest of the world.
VPNMentor: When Microsoft launched IE as a free browser, it killed Netscape Communicator and the entire model of paid web browser, which has become a free product since. Lately, Opera, a less known Internet Browser launched a free VPN service that is working well for limited server locations. Is this the beginning of the end of VPNs as a paid service?
First of all, there is no such thing that "free" is killing "paid". Free doesn't exist. Somebody pays for the server infrastructure behind the Opera VPN.
So it is only the beginning of an evolution where encryption technology is directly implemented where it is needed: in browsers, mobile phones, routers. On the side of ISP, hardware manufacturer and so on. If you look at the future of the internet and take it to extreme ways there are two options: a) No one will have privacy or b) Everyone will have privacy.
I feel we are heading towards an era of having privacy online (I think it is a must for the economy), so what does this mean? Would we have 1-2 big companies that will provide this service of encryption to all people as a stand-alone service? I think not, I think encryption will be part of the underlying design of the internet. The good news is that we understood it way back and we developed our API. Our API helps anyone open a VPN using our service. We already sell (we can't share who are our clients) our API to Antivirus companies, Mobile manufacturers, even to "competitors". What we are doing right now is still investing in our brand but we are working also on a B2B with the idea of becoming the Amazon AWS for VPN. Whoever wants to integrate VPN technology into his own product can do that easily with our API. This I think would be the future of CyberGhost.
CyberGhost is not about running a VPN service. This is a means to an end. We are a technology company that focuses on Privacy. Tomorrow we can be in the instant messaging industry or start a new social network. This is why we don't mind selling our service to others, including our competitors.
You asked me why select CyberGhost and not Opera? I think Opera is a great product. But maybe you want to use Chrome. Maybe you care for the faster connection or the flexible server location.
VPNMentor: Tell us a bit about the company, employees and future plans
We want to grow. CyberGhost is here to stay. I turned down offers to sell the company or to take investors in because I feel we have plenty of room to grow and we are profitable so we don't require money now. We are moving to a new office soon. It's the first time that we have our own villa or campus which will have a great atmosphere. We have this mission of building technology that ensures everyone stays private online. And we will keep following this mission.
Write your review on CyberGhost VPN here >>