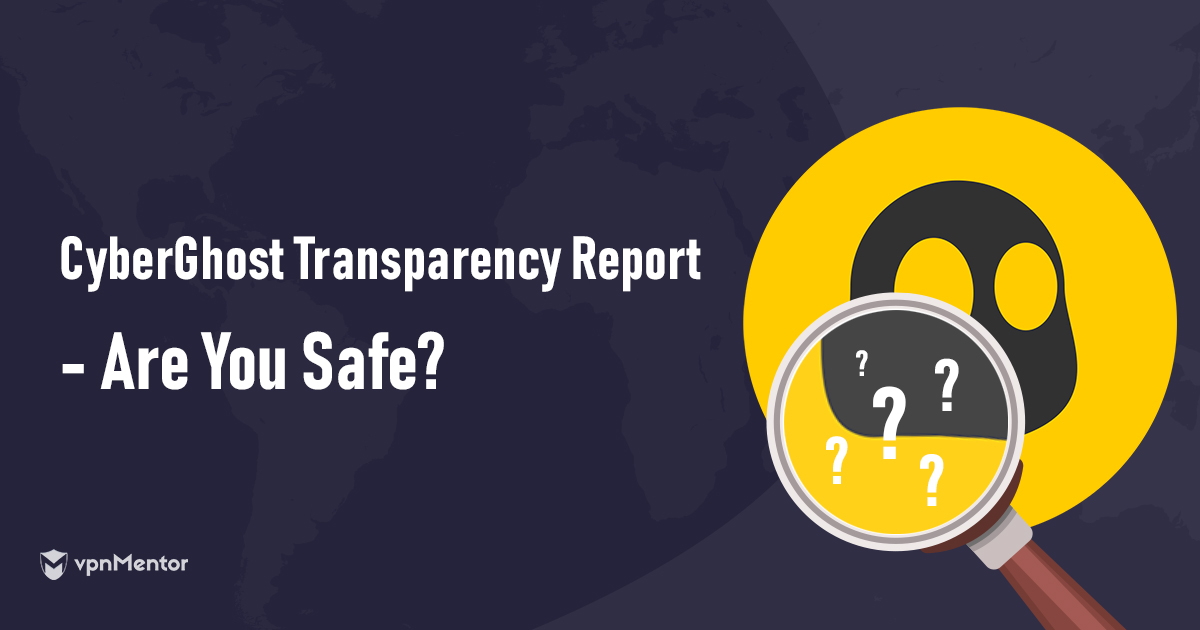 CyberGhost Transparency Report, Analysis, & Findings - Well Done!
CyberGhost claims to take your privacy seriously and has earned a reputation as a trustworthy and privacy-conscious VPN provider. These traits make it a long-time user favorite.
It's time to put CyberGhost to the test.
The latest CyberGhost transparency report is packed with privacy and performance data. But what does all this information prove?
Below is a summary of the main points of the report, including a critical analysis of what the report means for CyberGhost's privacy claims.
Legal Requests
Romanian-based CyberGhost doesn't have any legal requirement to store user data, which means they really can honor their no-logs policy even when they receive legally binding requests for information.
CyberGhost receives three main types of legal requests for information: Digital Millennium Copyright Act (DMCA) complaints, malicious activity flags, and police requests.
The report includes the number of legal requests per year that CyberGhost has received in each category. The record goes all the way back to 2011. The report also mentions what kind of information is typically included in each kind of request.
Because CyberGhost doesn't keep track of any user activity, they are unable to respond to these requests with any information about user identity or activity.
Instead of compromising users' privacy, CyberGhost tries to deal with violations anonymously on their end.
For example, most complaints that they receive about malicious activity include the victim's IP address and the source of the attacks. While CyberGhost can't track the activity to a specific user, they can block access to the victim's IP address to stop the malicious attacks.
Tech Numbers
CyberGhost's transparency report covers more than just privacy data. The company has also given out information about its performance and growth over time.
The numbers are pretty clear. CyberGhost has raised the bar in every category, from number of average connections to bandwidth size.
One of the most impressive areas of growth for CyberGhost is their server network. CyberGhost went from having 550 servers in 27 countries in 2015 to having 6,000+ servers in 90+ countries in 2019.
CyberGhost's consistent growth speaks to the strength of the service they provide, as well as their reputation as a trusted provider.
Meet the Team
CyberGhost tries something new in the last section of its transparency report. It's not very common for a VPN provider to try to open up about things like company history and culture, but CyberGhost makes an effort to connect on a more personal level.
The report gives a timeline of major events in the company's history, going back to its founding in 2011.
The timeline includes not only standard information about CyberGhost's growth as a business—like their creation of a new Manila-based support team in 2018—but also fun details about things like Halloween parties and favorite office dogs.
All these details work together to give you an idea of the company's culture and values. CyberGhost is sending out a strong message that they're not hiding from their customers.
The argument is a good one. When it comes to privacy, total transparency says a lot more than empty promises.
Summary - Is CyberGhost Safe?
Our analysis says yes. The transparency report shows that despite frequent requests for data, CyberGhost users are fully protected.
CyberGhost's strict no-log policy means that they don't have any data to send, even in response to legally binding requests for information.
The report also gives insight into some of the ways that CyberGhost goes above and beyond to protect its users. For example, CyberGhost only allows torrenting through servers in countries where torrenting is legal. This means that users are protected even if they aren't informed about local torrenting laws.
CyberGhost is going for full transparency in this report, which fits with its privacy-conscious reputation. CyberGhost was actually the first VPN provider to release a transparency report back in 2011.
The great thing about a transparency report is that you don't have to take CyberGhost's word for their commitment to privacy. It's easy to make big promises about privacy and safety, but CyberGhost does a great job building trust by providing the data to back up those claims.
Privacy Alert!
Your data is exposed to the websites you visit!
The information above can be used to track you, target you for ads, and monitor what you do online.
VPNs can help you hide this information from websites so that you are protected at all times. We recommend ExpressVPN — the #1 VPN out of over 350 providers we've tested. It has military-grade encryption and privacy features that will ensure your digital security, plus — it's currently offering 49% off.