CyberGhost Works With Netflix US – Here's How | Updated 2020
Updated on 5th January 2020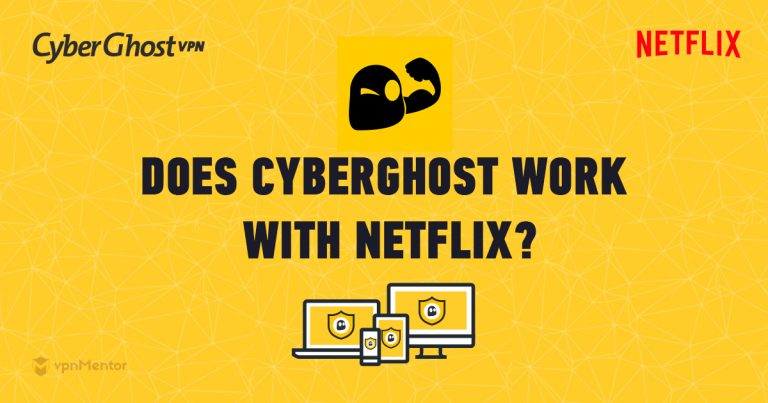 Ever since Netflix started to introduce geo-restrictions on its content in different countries, logging in to the online streaming service from around the world has become increasingly difficult.
Luckily, there are ways you can get around geoblocks. Whether you want to get earlier access to that new season of your favorite show, or you're traveling and want to log in to your own account from abroad, a reliable VPN can help.
VPNs work by masking your IP address and routing your internet traffic through a server in a different location to your own. If this server is based in the same country as the Netflix service you wish to use, the VPN will bypass any geo-restrictions by tricking Netflix into thinking you're in that country.
To counteract this, Netflix has now developed extremely sophisticated anti-VPN software. The software identifies and blacklists IP addresses connected to VPN servers, meaning many VPNs cannot unblock Netflix.
Thankfully, CyberGhost is one VPN that does work with Netflix US. It also works with Netflix in France and Germany, although Netflix Canada, UK, Brazil, and Japan are still blocked.
CyberGhost even has a dedicated server for streaming from a whole host of platforms.
How to Use CyberGhost to Watch Netflix: Quick Guide
Choose the best CyberGhost billing plan for your needs.
Download the correct app for your chosen device.
Select CyberGhost's dedicated streaming profile.
Choose whether you want to use a server that is optimized for Netflix US, DE, or FR.
Log in to your Netflix account.
Press play!
How CyberGhost Unblocks Netflix
Netflix's anti-VPN software works by identifying VPN-encrypted traffic and blacklisting the related IP address. Small VPN providers with limited servers, therefore, get blocked very quickly.
The best VPNs, however, have huge numbers of servers around the world that are constantly added to and updated. This continuous growth means that these VPNs can bypass Netflix's anti-VPN software by allowing users to switch servers if their current server gets blocked.
CyberGhost is one of these VPNs, with a network of 5,700+ servers that is always being expanded. Its dedicated streaming profile offers you a huge variety of servers to choose from and will automatically select the best option for streaming Netflix as a result.
If any of these servers are detected by Netflix, CyberGhost will simply switch you to a server that hasn't been blocked.
CyberGhost's streaming profile is very intuitive and easy-to-use; you can log in and watch your favorite movie in no time.
What Else Makes CyberGhost Great for Netflix US?
User-friendly apps across all major platforms and devices, allowing you to stream wherever and however you like.
Intuitive design that's perfect for first-time VPN users who want an easy way to stream Netflix.
Unlimited bandwidth to guard against throttling and slow connections.
Excellent speeds for smooth streaming.
Other Benefits of CyberGhost
Secure and private browsing with AES 256-bit encryption, an automatic kill switch, DNS leak protection, and a strict no-log policy.
Malware and ad-blocking software means no annoying interruptions.
Protect up to 7 devices at one time.
A 45-day money-back guarantee and 24-hour free trials.
Conclusion and Further Reading
Not only is CyberGhost great for Netflix, its streaming profile can also be configured for Amazon Video, Hulu, and HBO. Plus it provides all the security you need if you just want to browse the internet in privacy and safety.
Check out our user reviews to find out more about this great all-rounder.
Like to keep your options open? Here are some more of the best VPNs for Netflix.
You can also find out about our most recommended VPNs overall.