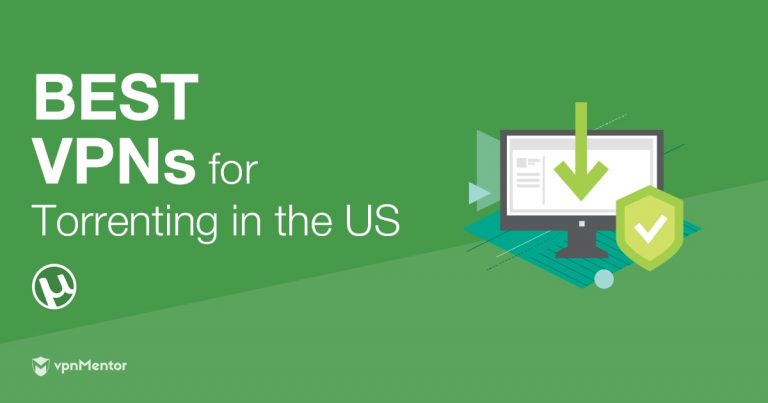 Is Torrenting in the USA Safe in 2021? Not Unless You Do This
Updated on 16th June 2021
Are you a torrenting enthusiast in the United States? We're sure you want to hold on to that privilege—and you should!
But if you're file sharing without protecting yourself, your activity, and your computer, then your fun could turn into a major headache. In short, you need a virtual private network (VPN).
Between serious security threats and rapidly increasing lawsuits from aggressive copyright "trolls," downloading torrents in the US has become a dangerous activity. In addition, your connection speed could be cut by your ISP (more about this later).
If you don't want to risk paying fines and losing your digital privacy, a VPN is the answer.
With a VPN, you can secure your connection and hide your identity online—but not all VPNs are equal. Only some providers give you the features and performance you need for safe, fast, and easy torrenting.
So how do you know which VPN to choose? We're here to help you with our roundup of the best VPN services for downloading torrents in the US.
Before we dive in, here's a short, step-by-step snapshot of how to torrent in the US with no worries.
Quick Guide:
Secure US Torrenting with a VPN
Choose a VPN that allows peer-to-peer connections and keeps zero user logs. CyberGhost is our top suggestion—see the full scoop below for the reasons why.
Install the VPN and connect to a P2P server close to your actual location for the best results.
Launch your torrenting program and experience better security and anonymity while downloading torrents.
Why You Need a VPN for Torrenting in the US
What actually is torrenting? Torrenting is file sharing via peer-to-peer (P2P) connections. File sharing (of non-copyrighted content) is perfectly legal—but torrent fans still face a few serious challenges, especially in the US.
Copyright trolls
If you're torrenting without protection, your first major concern comes from copyright trolls.
These companies, usually acting on behalf of big movie studios and music labels, are overly aggressive and could target you even if you download only non-copyrighted content. Results range from warning letters to large fines and even the threat of jail time—not pleasant things to contemplate.
Copyright trolls have been very active in the US since the late 2000s. In 2018, more than 3,300 lawsuits were directed at BitTorrent users.
With the rise of copyright trolls, gone are the days when torrenting-related lawsuits were mainly a scare tactic. The trolls aim to expose the torrent user and settle the case out of court—usually for thousands of dollars. It has become just another way to make money, with many comparing it to extortion.
This trend is alarming, but it's not the only problem for P2P users.
Suspicious torrenting sites
If a torrenting site is deemed to be facilitating or enabling the sharing of copyrighted material—otherwise known as piracy—it can be blocked or shut down indefinitely.
Many torrenting sites have been closed down within the US. This action, far from stopping the illegal use of torrenting and file sharing, actually puts users at greater risk.
As trusted and upstanding sites disappear, shadier ones often take their place. These usually have annoying pop-up ads and suspicious torrents from unverified uploaders, exposing you to malware and viruses.
It takes just one wrong click before you "invite" a hacker into your machine. From there, your personal data may be accessed and sold, or your system may get hijacked completely.
In short, without the additional security and data protection of a VPN, torrenting is no longer safe in the US.
Connection throttling
Torrenting is heavy on your bandwidth. Downloading big files at high speeds takes a lot—in many cases, more bandwidth than your internet service provider (ISP) is willing to give.
Many ISPs in the US will intentionally slow you down if they see you've been using up "too much" data. This shady practice is called throttling, and it isn't limited to just torrents. (Have you ever noticed your internet acting up when you're streaming Netflix in HD?)
It might not be as random as you think. That's why you need to be able to hide what you're doing from your ISP.
What Happens if You Get Caught Torrenting
If you're caught torrenting by your Internet Service Provider (ISP), you face many serious issues. ISPs can immediately identify which of their customers are using P2P software and take action – unless you're using a VPN.
The first response to expect – even if you're not breaking copyright law – is having your internet speed deliberately slowed down. This is the 'connection throttling' we discussed earlier. While not a legal issue, it's incredibly inconvenient and you may not even know it's happening.
At the same time, your ISP will record you for torrenting on a database they are legally required to keep (more on this below). They will also record what you were torrenting, in case of copyright infringement.
Once you've been caught and recorded by your ISP, expect a warning letter threatening to cut off your internet connection if you continue. If you ignore the warnings, you'll lose your connection and possibly be blacklisted among other ISPs.
Every ISP in the USA is required to keep a record of all their customers caught torrenting. This database can be subpoenaed by the government at any time and forwarded to copyright agencies. Most ISPs voluntarily give the government and copyright agencies access to their records on a regular basis.
Once the copyright agencies – the 'trolls' already mentioned – have your personal details, they will target you with legal action. This starts with a letter threatening a massive fine. If you refuse to pay the fine or ignore the letter altogether, you will face further threats and a court case. If you have been caught consistently breaching copyright laws, you may also be threatened with jail time.
To dispute the charges and have the fines reduced, you must go to court, defending yourself against the copyright trolls. For most people, the legal process ends in paying an out-of-court settlement to the copyright trolls.
From the first warning letter to final settlement, this can all take months. The whole affair is incredibly stressful, time-consuming and expensive.
The only way to stop it happening you is to use a VPN.
How a VPN Makes Torrenting Safe
As you can see, torrenting in the US is not so simple if you want to preserve your security (or even internet quality). Fortunately, with a solid VPN you have nothing to worry about.
The most important part is to mask your P2P traffic and make it undetectable.
A VPN secures your connection by changing your IP address and encrypting your data, so it remains private. When you connect to a special torrenting server provided by the VPN, you effectively hide the details of your traffic—including the P2P portion of it.
You'll be hidden even from your ISP; at most, it will only see that you're connected to a VPN server.
Here's what this means for you: Your data will remain safe from hackers and snoopers, and your ISP won't throttle your speed or get the chance to spy on you.
In addition, if you do accidentally download copyrighted material from a torrent site, it can't be traced back to you, saving you from a potential lawsuit and hefty fines. Of course, we do not condone video or music piracy, but we do believe that you should be able to share copyright-free files without fear of being targeted by copyright trolls.
Not all VPNs support P2P connections for torrenting, so choosing your service carefully is crucial. Luckily, we've done the legwork for you.
Below, you'll find the most suitable VPN providers for downloading torrents. Happy torrenting!
The Best VPNs for Torrenting in the US – Full Analysis (Updated August 2021)
CyberGhost VPN has one of the best user interfaces around, and torrenting is made easy with a dedicated P2P profile.
It shows you which of the 7,198 servers are best for downloading torrents, including useful info on server distance, load, and real-time users.
Other notable features of this VPN include DNS leak protection and a kill switch. The Smart Rules tab gives you additional ways to customize your connection.
An ideal service for experts and beginners, CyberGhost is a hassle-free VPN for torrenting (and anything else). But don't just take our word for it—see what users are saying in their reviews!
Money-back guarantee:
45 days for 6-month plan and higher; 14 days for monthly plan
CyberGhost can unblock:
Dedicated streaming profile with servers optimized for: Netflix, BBC iPlayer, Sky Go, Comedy Central, Eurosport, ESPN, and others.
Supports torrenting:
Yes; dedicated profile shows countries and number of users.
CyberGhost works on these devices:
Windows, macOS, Android, iOS, Amazon Fire Stick, Android TV, Linux, and Chrome.
If speed is your top priority, you'll love ExpressVPN's blazing-fast network.
All 3,000 servers support P2P traffic, so torrenting is a one-click task. The built-in speed test allows you to find suitable locations with ease. Alternatively, you can let the software pick the best option with the quick-connect feature.
ExpressVPN also offers split tunneling, which you can use to make certain apps bypass the VPN. That way, you can customize the VPN exclusively for torrenting.
The AES-256 encryption, OpenVPN support, and kill switch make this VPN not only fast, but secure as well. Your sensitive data will remain off-limits to everyone, thanks to the tight zero-logs policy. All this makes ExpressVPN a crowd favorite.
Money-back guarantee:
ExpressVPN can unblock:
Netflix, Hulu, HBO, Amazon Prime Video, Showtime, Sling TV, DAZN, and BBC iPlayer.
Supports torrenting:
Yes, all servers support P2P activity.
ExpressVPN works on these devices:
Windows, macOS, Android, iOS, Android TV, Linux, Chrome, and Firefox. It also offers an app for use with certain routers.
Despite being an American provider, IPVanish has a lot to offer when it comes to torrenting. 1,900 servers in 75 countries give you plenty of locations to choose from, and the lack of US data-retention laws allows for a legitimate no-logging policy.
Security is well covered, thanks to strong 256-bit encryption and native OpenVPN support. IPVanish also offers SOCKS5 proxies, which you can use together with your torrent program for better speeds.
The stylish, intuitive apps come with a kill switch and DNS/IPv6 leak protection. Sadly, there isn't a separate torrenting tab, so you'll have to pick a suitable location from the long server list—a small drawback, considering all the neat features you get.
The combination of speed, security, and stability puts IPVanish in our top VPNs for torrenting. For more info on this reliable service, take a look at the various reviews from real users.
Money-back guarantee:
IPVanish can unblock:
Supports torrenting:
IPVanish works on these devices: 
Windows, macOS, iOS, Android, FireTV, Windows Phone, Linux, Chromebook, Routers.
FAQs
Can I go to jail for torrenting?
If you aren't doing anything illegal, there's no need to worry about jail time.
However, if you are caught downloading/uploading copyrighted and other licensed materials in the US without permission, you may land in serious trouble. Most first offenses come with hefty fines, and it only gets worse from there.
Using a VPN will help protect you if you accidentally download something you shouldn't. CyberGhost offers DNS leak protection, to prevent anyone from tracing your P2P file sharing activities back to your true location. That way you can torrent in peace.
Is torrenting safe?
Yes, torrenting is completely safe if you know and trust the P2P network you are using and you're using a VPN. Some people use P2P networks and torrent sites to spread malicious files, so you should always have your anti-malware program activated when you're torrenting to protect yourself, too.
Some torrent index sites aren't safe and there are plenty out there to choose from, so it can be difficult to know which one to choose. Never fear! We've done the work for you, check our post on the best torrenting sites for 2021. 
Does torrenting with a VPN affect my internet speed?
It depends how far you are from your target VPN server. The farther you are from the server, the slower your connection will be. If you use a nearby server, you'll have optimal connection speeds.
It's normal for a VPN to slow your connection slightly because your traffic has to travel farther to the VPN server. It also takes extra time to encrypt and decrypt your data.
When you're using a VPN from this list, you will barely notice the speed loss. Most even offer a generous money-back guarantee, so you can test the speeds yourself before committing to a subscription.
The Bottom Line
What you've heard is true: file-sharing in the US can quickly turn into a massive headache. With a solid VPN, you can remove the risk and torrent away in peace. A quality service from our list will help you avoid costly lawsuits, while keeping you safe and hidden online.
Still not sure which VPN is the right one for you? Take CyberGhost VPN, our #1 recommendation, for a test drive—its easy user interface and solid security protections make it ideal for experts and beginners!
To summarize, the best VPNs for torrenting in the US in 2021 are…
Privacy Alert!
Your data is exposed to the websites you visit!
The information above can be used to track you, target you for ads, and monitor what you do online.
VPNs can help you hide this information from websites so that you are protected at all times. We recommend ExpressVPN — the #1 VPN out of over 350 providers we've tested. It has military-grade encryption and privacy features that will ensure your digital security, plus — it's currently offering 49% off.