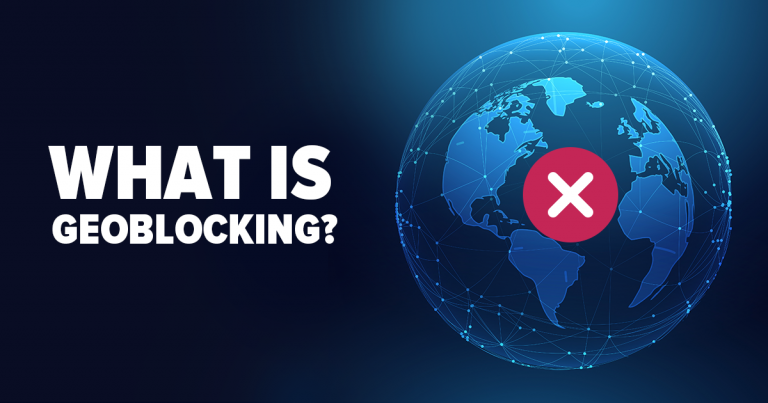 Everything You Need to Know About Geoblocking
Have you ever been outside of the U.S. and tried to access Hulu or Sling TV? If you have, you probably got a message like this:
This is called geo-blocking, and it's a pain to deal with.
Even though you may never have heard the word 'Geoblocking', I am quite sure you have experienced it.
So, what is geo-blocking exactly?
In a nutshell, geo-blocking is when content is not available due to your geographic location, but it gets a bit more complicated than that.
It's quite common for content producers to limit access to a particular location, mainly because of licensing, copyright, price discrimination, or to block illegal content.
Many organizations use geo-blocking to categorize and divide the world into a number of market segments. Entertainment companies like Amazon, Netflix, and Hulu make their content location specific.
They do this to set different offers for their products and increase their overall profit by dealing with individual regions rather than having a single policy for the entire globe. This means that audiences in the United States can enjoy shows on Netflix but not watch the BBC iPlayer.
How does geo-blocking work?
Every computer is recognized by its unique IP address. Whenever you visit a website, this is sent to its server so it knows where it has to send all the information packets.
You get your IP address from your Internet Service Provider as soon as you register with it. It will show your location to the world and anyone can easily track you.
Broadcasters use this to decide whether or not users should be allowed to view content based on their location. So, if you try to connect to a service from an IP address that is not on an allowed list, you will get blocked.
This occurs even if you pay for the service. Let's say you live in America, and pay for and watch Netflix all the time. When you go on vacation or travel for business to other countries, you won't be able to access the same content.
Why do so many sites use Geoblocking?
By dividing the globe into regions, Hollywood producers ensure that movies can be launched in just one market at a time. Some movies are also aimed at local audiences and splitting boosts the overall effect of marketing campaigns.
In the same way, popular streaming sites like Netflix and BBC iPlayer use geoblocking to put a restriction on content depending on user's geographical location. It's one of the easiest ways to meet the licensing terms.
Geoblocking also means online retailers can charge differently in different markets based on geographical regions.
How do I get past Geoblocking?
Your location is the basis of all geoblocking so if you want to get around it, you'll need to find a way to mask your IP address.
One of the most popular ways to do this is to use proxy servers. These act as an intermediary for all your traffic on the internet.
They pass on your request to the receiving servers as theirs and fool them by completely masking your IP address.
Other services allow users to access geographically blocked content via a peer-to-peer network. They route your traffic through other nodes in the network by using their idle resources.
However, even though proxy servers and collaborative P2P network services can help you bypass geoblocking, there are some security and safety downsides.
Don't worry, there is a better and more efficient alternative. Using a VPN will help you round any geoblock. It will cleverly encrypt your requests and tunnel them through a private network ensuring that your IP address won't be seen by anyone.
Here is a list of our best VPN services.
Overcoming restrictions based on your geographical area
Netflix
Netflix is one of the most popular streaming sites with a subscriber base of over 100 million. Recently, it revealed that it has more subscribers internationally than in the United States.
Existing licensing agreements mean Netflix offers a comparatively smaller content library to users outside the US. For example, if you are a subscriber in India, you cannot view Family Guy. Around 93% of the titles available on Netflix are not available in India.
Hence many users have resorted to using VPNs to hide their IP address and access more content by bypassing geoblocks.
The problem here is that Netflix detects and blocks VPNs, and now there are only a few that can bypass the block. You can learn how to bypass VPN blocks on Netflix here.
YouTube
YouTube gets over 30 million visitors every day. It gives uploaders an option to geoblock their videos. Just changing YouTube URL used to be enough to get around geographical restrictions. Unfortunately, this trick does not work anymore.
Using a reliable VPN remains one of the best ways to get around these restrictions.
BBC iPlayer
BBC iPlayer is an Internet streaming, radio, and television service from the British Broadcasting Corporation which is only available to UK residents. Even if you are a British resident traveling abroad, you cannot access the content.
VPNs will let you stream it regardless of location. Over 60 million people outside the UK watch for free using either VPNs or proxy servers.
China alone contributes to around 38.5 million users while the rest of traffic mainly comes from countries like the U.S., Australia, Ireland, India, Brazil, France, and Germany. Here are the 5 Best VPNs for BBC iPlayer that actually Work.
Even though there is some justification for geoblocking, it's not fair from a user's point of view. If you are paying the full subscription fee, you should be able to watch all its content wherever you are.
VPNs enable you to hide your IP address and prevent others from tracking your location. They will also boost your device's security encrypting your traffic by sending it through a private network.
Netflix and other services have been trying hard to block them, but VPN services are constantly coming up with new and effective ways of getting around the blocks.
Want to learn more? Check out how to watch Sling TV without an American credit card and learn more about the best VPNs for streaming.
Privacy Alert!
Your data is exposed to the websites you visit!
The information above can be used to track you, target you for ads, and monitor what you do online.
VPNs can help you hide this information from websites so that you are protected at all times. We recommend ExpressVPN — the #1 VPN out of over 350 providers we've tested. It has military-grade encryption and privacy features that will ensure your digital security, plus — it's currently offering 49% off.