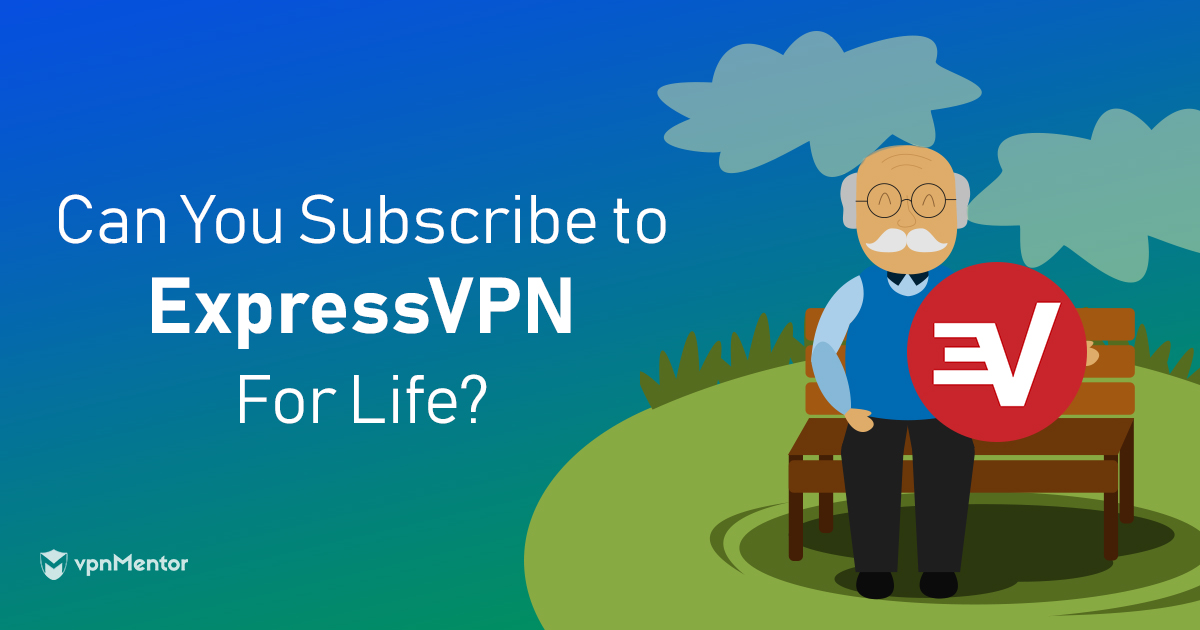 ExpressVPN Lifetime Subscription — Can You Get It in 2023?
When you're looking to invest in a VPN, lifetime subscriptions seem like a fantastic deal. Imagine getting decades of VPN protection for a heavily discounted, one-time fee. Unfortunately, lifetime subscriptions are packed with problems. They rarely provide any real value, and the VPN often goes bankrupt before the 'lifetime' term is up.
You'll rarely see a responsible, top-rated VPN that offers a lifetime subscription as an option. If you're wondering if ExpressVPN offers one, the answer is no. ExpressVPN doesn't offer lifetime subscriptions – and that's a great thing.
Read on to learn how ExpressVPN provides great value on long-term subscriptions. This is only one of the many reasons it's our top recommended VPN.
What Is a Lifetime VPN Subscription?
A so-called lifetime subscription involves paying a fairly large amount of money to use a VPN for the rest of your life (typically a few hundred dollars with no additional fees).
In theory, that one payment entitles you to use the service for as long as 80-100 years. If you're planning to use a VPN for the decades to come, this seems like the perfect deal. So why would a company offer such an unbelievable bargain?
VPN companies sell lifetime plans to boost their short-term earnings. Unfortunately, this is a poor business model that results in many problems. So many top VPNs offer great deals on long-term subscriptions and operate under sustainable business models. It's always a better idea to go for a long-term subscription than a lifetime one.
Try ExpressVPN Risk-Free Today!
Why Lifetime Subscriptions Are a Bad Idea
VPN companies offer lifetime plans to increase their short-term revenue, which means they're giving up income in future years. Without consistent income, a VPN provider will struggle to keep up with the costs of running a good quality VPN service.
That means that over time, you could end up with an unreliable or unsafe VPN instead of the high-quality service you paid for. The provider won't be able to afford equipment upgrades or engineers to update the service with new security protocols. Essentially, you'll be using yesterday's security solution in tomorrow's world — no discount is worth that risk.
Below are a few of the most common problems with VPNs that offer lifetime subscriptions:
Slow speeds and small server networks: Maintaining an extensive server network costs a lot of money, which these VPN providers often don't have. Over time, you'll notice that the servers become crowded, resulting in slow speeds and a lot of annoying lag.
Compromised privacy: Some lifetime VPNs make up for long-term revenue loss by secretly selling their users' private information to third parties. That defeats the purpose of having a VPN — you're practically paying to have your privacy violated.
Loss of your VPN provider: Without consistent revenue, the company will be sold or go bankrupt. You could log in one day to find the VPN no longer functions, or that the VPN is under new ownership who may not honor your lifetime subscription. They could even have a different privacy policy to which you didn't agree.
Account cancellation: Some VPN companies that sold lifetime plans avoided closure or bankruptcy by canceling these subscriptions without issuing refunds. You'd then be expected to start paying a monthly fee instead (even though you've already paid).
Outdated service: Even if your lifetime VPN manages to survive, it might serve no useful purpose in the future. VPNs need to not only maintain their networks, but update them as technology evolves. While it might work great in the beginning, outdated encryption protocols and blacklisted IP addresses (for example) will make staying safe and accessing geoblocked content impossible.
What Plans Does ExpressVPN Offer?
Since lifetime subscriptions can come with so many risks, it's better to opt for a longer-term subscription from a reputable VPN like ExpressVPN. ExpressVPN currently offers 3 different plans:
1-month plan: This plan costs $12.95 per month and doesn't come with any discounts. The 1-month plan is great for testing ExpressVPN, since you'll only have to pay for a single month upfront.
6-month plan: The price of this plan is $9.99 per month, which is 23% cheaper than the 1-month plan. This option is great if you're looking for a longer subscription but not ready to commit to a 1-year plan yet.
15-month plan: This subscription costs $6.67 per month and gives you 3 months of free usage — that's a 49% discount! In addition, ExpressVPN also offers 1 year of free unlimited cloud backup when choosing the 15-month subscription.
The 15-month subscription is the longest plan and gives you the best value for your money. It doesn't come with the risks of making a lifetime commitment to a VPN that might not be there in the future. You can try any of these plans out risk-free since they're all backed by a money-back guarantee. If you're not impressed, you have 30 days to claim a full refund.
Try ExpressVPN Risk-Free Today!
Why ExpressVPN Is Worth the Price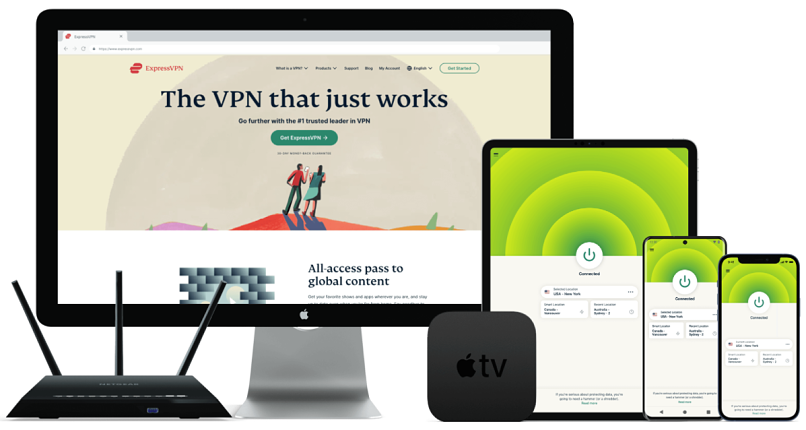 Editor's Choice
Editor's Choice

Tested February 2023
Try Risk-Free for 30 Days
Available on:
Chrome
Router
Smart TV
More
www.ExpressVPN.com
Unlimited data and superfast speeds to stream and surf the web without lag
Strict zero-logs policy, military-grade 256-bit encryption, and an automatic kill switch to safeguard your online activity
3,000 servers in 94 countries that give you access to geo-blocked sites around the world
5 simultaneous device connections
30-day money-back guarantee
Can unblock: Netflix, Disney+, HBO Max, Hulu, BBC iPlayer, Vudu, and more
Compatible with: Windows, Mac, iOS, Android, Linux, routers, Apple TV, and more
ExpressVPN has unlimited bandwidth and lightning-fast speeds. While testing its Japan, UK, and Finland servers, I never experienced speeds lower than 42 Mbps. You only need 5 Mbps to stream in HD, so I was able to watch my favorite movies in high quality. This means you won't have any annoying lag or interruptions while streaming or browsing the web.
With 3,000 high-performance servers in 94 countries, ExpressVPN can easily defeat geoblocks to grant you unlimited access to the internet from anywhere in the world. During my tests, I never experienced any issues finding a reliable server. I could easily unblock US Netflix, Disney+, and Hulu and it only took a few seconds for shows to load. Its powerful network also works in countries with censorship (such as Turkey and Iran) and can bypass China's Great Firewall.
It offers military-grade encryption and operates under a strict no-logs policy. It also comes with an automatic kill switch (called Network Lock) that disconnects your internet in case the VPN connection fails, so nothing can possibly leak accidentally. While reading its privacy policy, I found out that its apps and no-logs policy are regularly audited and verified with very good results. That means it's incredibly safe and your privacy is well protected.
ExpressVPN has apps for Windows, Mac, iOS, Android, Linux, routers, Apple TV, and more. It even allows you to connect up to 5 devices simultaneously. This gives you the freedom to watch your favorite series on your laptop as you work on your iPhone.
It even includes a convenient split tunneling feature. This lets you choose which apps use the VPN connection and which ones use your regular connection. I was able to access my banking app with my local connection while I browsed the web protected through ExpressVPN's encrypted VPN tunnel. This means you won't lose access to domestic sites while using your VPN.
Since ExpressVPN comes with a money-back guarantee, you don't have to commit to your long-term subscription. You can test it out completely risk-free and claim a full refund within 30 days if you're not satisfied. I tested its refund policy and contacted its 24/7 live chat support on day 28 of the subscription. After answering a few questions, my refund was approved. I had my money back 4 days later.
FAQs on ExpressVPN Lifetime Access
Are there any good lifetime VPN subscriptions?
The truth is, there are no good lifetime VPN subscriptions. Most VPNs that offer lifetime plans don't have the same level of privacy protection that other top VPNs do. Because it's an unsustainable business model, VPNs offering lifetime subscriptions don't have the money to keep up with evolving VPN technology. They may even go completely bankrupt, leaving you with no online protection at all. The best option is to subscribe to a long-term plan with a premium VPN provider.
Can I use an ExpressVPN lifetime access crack?
It's not recommended because ExpressVPN lifetime access cracks can be dangerous. An ExpressVPN lifetime crack is a pirated copy of ExpressVPN's software. The shady websites that offer them should never be trusted with your personal information and could be scamming you for your money. They can even be infected with malware and spyware. You should always purchase any ExpressVPN subscription through its website to protect yourself, your private information, and your wallet.
Can I get an ExpressVPN lifetime access subscription on eBay?
There currently are no lifetime access subscriptions for ExpressVPN on eBay, and it wouldn't be safe to buy one anyway. Some resellers sell "lifetime subscriptions" for ExpressVPN on eBay, but these are often scams. If you find any ExpressVPN subscription for sale at a super low rate, it's possible the activation code has already been sold to dozens of other people and won't work. It could even be a hacked account and put you at risk of having personal information stolen. The safest option is to simply go to the ExpressVPN website and get your subscription from there.
The Bottom Line
If something sounds too good to be true, it usually is – and that is definitely the case with VPN lifetime subscriptions. They come with many risks and rarely provide any real long-term value.
It's safest not to spend hundreds of dollars on a VPN provider that could close down in a few years or sell your data to cover future costs. Look for a subscription length that actually makes sense with a VPN provider you can trust.
ExpressVPN is currently offering a long-term plan for $6.67/month and is committed to protecting your privacy and your right to choose the best security tools for the changing times.
The best VPNs with long-term subscriptions are...
Privacy Alert!
Your data is exposed to the websites you visit!
The information above can be used to track you, target you for ads, and monitor what you do online.
VPNs can help you hide this information from websites so that you are protected at all times. We recommend ExpressVPN — the #1 VPN out of over 350 providers we've tested. It has military-grade encryption and privacy features that will ensure your digital security, plus — it's currently offering 49% off.