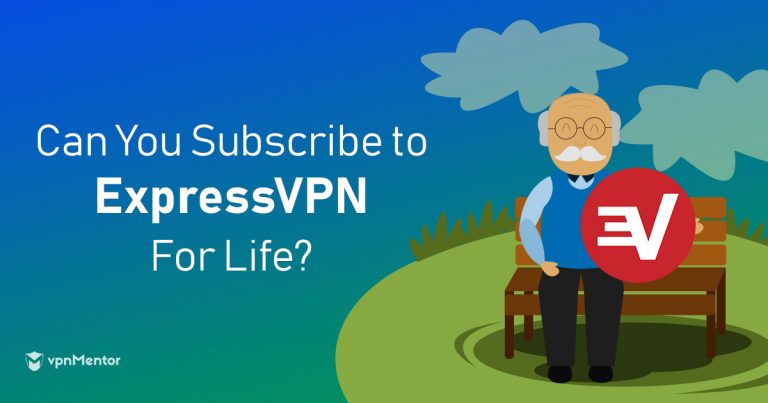 ExpressVPN Lifetime Access – Can You Get It? Know the Facts
Updated on 3rd March 2021
When you're looking to invest in a VPN, lifetime subscriptions seem like an amazing deal. Imagine getting decades of VPN protection, all for a heavily discounted, one-time fee!
Some smaller VPNs claim to offer as much as 90% off their monthly plans to entice you to sign up "for life." But can you get a similar package from a premium provider like ExpressVPN? In a word, no. ExpressVPN doesn't offer lifetime subscriptions – and that's a great thing.
Lifetime subscriptions are packed with problems. That's why you'll rarely see a responsible, top-rated VPN that offers one as an option. Read on to learn how ExpressVPN provides a great value and user experience by NOT offering lifetime plans.
What Is a "Lifetime" VPN Subscription and Why Do Providers Offer Them?
A so-called lifetime subscription involves paying a farily large amount of money, typically a few hundred dollars, in order to use a VPN for the rest of your life with no additional fees.
In theory, that one payment entitles you to use the service for as much as 80-100 years. If you're planning to stream a lot of geoblocked content for decades to come, this seems like the perfect deal. So why would the company offer you such an unbelievable bargain?
VPN companies offer lifetime plans to increase their short-term revenue, which means they're giving up income in future years. Without ongoing income, a VPN provider will struggle to keep up with the costs of running the business, such as server maintenance and salaries.
In the worst case, this poor planning can lead the company into bankruptcy. It won't do you any good to have lifetime access to a service that doesn't exist. And at best, you'll be dealing with declining performance and a loss of usability.
Get a SAFE Long-Term VPN Package
What Are the Problems with a Lifetime VPN Subscription?
Plain and simple, lifetime VPN subscriptions are an unsustainable business model. As the short-term income that providers get from selling lifetime plans dries up, many of them are forced to cut corners to reduce their costs.
So over time, you'll end up with an unreliable and unsafe VPN instead of the high-quality service you paid for. The provider won't be able to afford equipment upgrades, or engineers to update the service with new security protocols.
You'll be using yesterday's security solution in tomorrow's world. No discount is worth that risk. Here are just a few of the many problems a lifetime VPN subscription will bring you.
Compromised privacy
Some lifetime VPNs make up for the loss of long-term revenue by secretly selling their users' private information to third parties. That defeats the purpose of having a VPN – you're practically paying to have your privacy violated.
Loss of your VPN provider
Things can actually get even worse if your data isn't sold. If the VPN provider doesn't find a way to cut costs or make extra money, the company will one day be sold, go into bankruptcy, or just disappear.
These are all scary options. Either you'll log in one day and find that the VPN you paid hundreds of dollars for is gone, or your data and account will be passed on to new company owners, who likely won't honor your lifetime subscription.
Account cancellation
How do VPN companies that sold lifetime plans avoid closure or bankruptcy? They might simply cancel your lifetime subscription without a refund, and charge you a monthly or yearly subscription rate even though you've already paid.
This is exactly what happened when VPN Land was forced to restructure lifetime subscriptions that had been sold – with the provider's consent – by third parties.
Outdated service
Even if your VPN somehow manages to survive for the long haul, it might serve no useful purpose in the future.
Consider this question: What was the best available VPN 25 years ago? If you're stumped, you're right! The first VPN didn't even exist yet. So how likely is it that today's VPNs will meet the security and privacy challenges of 25 years from now?
In reality, no one knows if VPNs will even exist a decade from now. If they do, they'll be completely different from the VPN apps we use today. Providers won't just need to maintain their networks, they'll need to reinvent them. And again, that's going to cost a lot of money.
Furthermore, even if technology somehow stops changing (not likely!), your lifestyle will still change over time. It doesn't make sense to invest money in a lifetime subscription that won't meet your needs in years to come – needs that you can't anticipate right now.
For example, you might move to a new country, or want to use a new streaming service, in a region where your VPN doesn't operate servers. Your lifetime subscription will become useless for your purposes in an instant, even if the service is still working just fine.
And speaking of streaming, anti-VPN software is constantly changing as providers like Netflix enforce their geoblocks more and more strictly. You might be able to unblock your favorite streaming services with your chosen VPN now, but if the provider can't invest in regularly updating its servers, it won't be long before your lifetime service falls victim to VPN blocking.
On the other hand, a long-term, recurring subscription will ensure that you always have access to a high-quality, secure VPN that evolves with you and with the times.
What Length Subscription Should I Buy?
Annual, 18-month, and two-year plans are great alternatives to lifetime VPN subscriptions. They offer you big savings over month-to-month plans, without the risk of making a lifetime commitment to a VPN that might not be there in the future.
As your needs change over time, you can try new VPNs without having to worry that you've wasted hundreds of dollars just to end up stuck with a VPN that doesn't work for you.
Okay, No Lifetime Plan – What Deals Does ExpressVPN Offer?
ExpressVPN is currently offering three months free with every 12-month subscription. It's not a magical deal, but it's a good deal. By the time your subscription comes up for renewal, you'll know if ExpressVPN is keeping its promise to evolve and grow with you. If not, you can walk away with no regrets.
See ExpressVPN Subscription Plans
Is ExpressVPN Worth Its Subscription Prices?
ExpressVPN is one of our top-ranked VPNs
, and our
speed test champion
!
With 3,000 high-performance servers in 90 countries, ExpressVPN can easily defeat geoblocks and censorship to grant you unlimited access to the internet from anywhere in the world.
If you value privacy, security, and speed, ExpressVPN is a great choice for you. And although you can't purchase a lifetime subscription, the provider has made a pledge to continuously upgrade the service for many years to come.
Here are just a few of the things we admire about ExpressVPN:
Unlimited bandwidth: You'll never run out of data or have your video streaming ruined by lag and buffering.
Perfect for beginners: Every ExpressVPN app is extremely easy to use. With 3-step setup, you'll be ready to go in minutes.
Apps for all your devices: ExpressVPN offers apps for all major platforms – from Windows to iOS to Xbox to routers, and almost everything in between. You can connect up to 5 devices at the same time with one subscription.
High-end security features: ExpressVPN safeguards your data with 256-bit AES encryption, a strict no-logs policy, and an automatic kill switch that prevents unprotected data from spilling over to the public internet in the rare event that your VPN server connection fails.
Convenient split-tunneling feature: With split tunneling, you can route some of your device's traffic through your VPN while the rest uses your local IP. That makes it easy to multitask and stay connected with wireless devices on your local network.
30-day money-back guarantee: You can try ExpressVPN risk free; if you decide it's not for you, the company will refund your subscription fee, no questions asked.
Summary
If something sounds to good be true, it usually is – and that is definitely the case with VPN lifetime subscription packages.
While many VPNs offer overpriced plans that will leave you with an unusable service, ExpressVPN is committed to protecting your data, your devices, and your right to choose the best security tools for the changing times and for your changing lifestyle.
So instead of spending hundreds of dollars on a VPN provider that will close down in a few years or sell your data to cover future costs, look for a subscription length that actually makes sense, with a VPN provider you can trust to be there tomorrow.
We are committed to helping you find the right privacy solution for you at the best possible price. Check out our ExpressVPN deals and coupons page to get this top-rated VPN for 15 months for the cost of a one-year subscription.
Privacy Alert!
Your data is exposed to the websites you visit!
The information above can be used to track you, target you for ads, and monitor what you do online.
VPNs can help you hide this information from websites so that you are protected at all times. We recommend ExpressVPN — the #1 VPN out of over 350 providers we've tested. It has military-grade encryption and privacy features that will ensure your digital security, plus — it's currently offering 49% off.