ExpressVPN vs IPVanish Comparison – What's Best for You in 2020?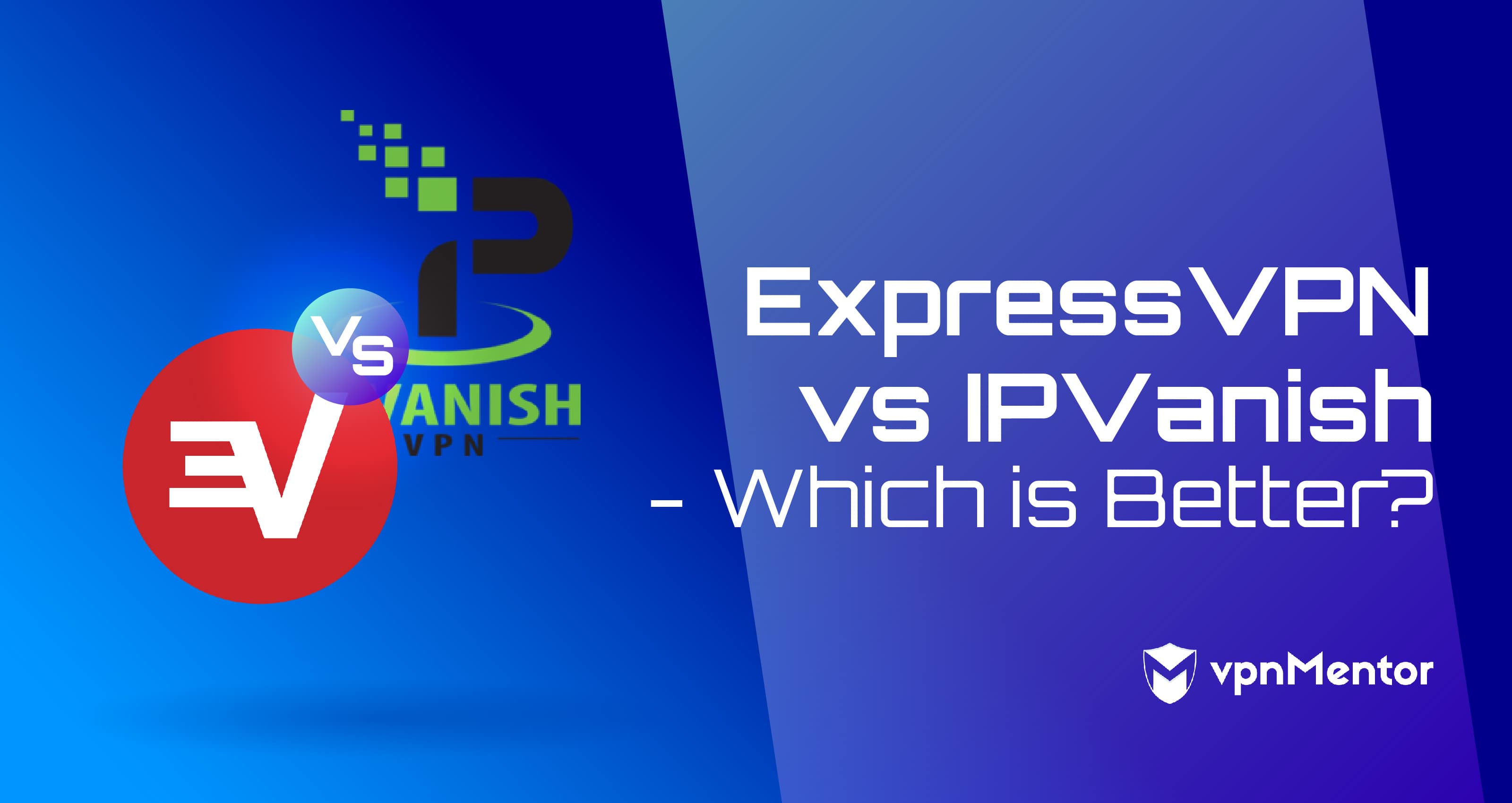 ExpressVPN and IPVanish have a lot in common – at least on the surface. Both services claim to offer some of the fastest speeds around, along with dependable security, thousands of servers, and excellent apps.
You'll find ExpressVPNearning a top three finish in many lists, including our best overall VPN rankings. But with IPVanishbreathing down its neck, there's an obvious question that needs to be answered.
How do these two premium VPNs stack up against each other in a direct comparison? With strong arguments on both sides, it's all about taking a deeper look.
If you're having a rough time picking your favorite, we have all the information you need right here. See how ExpressVPN and IPVanish perform as we test them across several crucial categories, and find out all about their strengths and weaknesses.
Still, keep in mind we can't cover everything in just one comparison. For the deep dives on these popular VPN services, check out the ExpressVPN review and IPVanish review by our experts.
ExpressVPN vs IPVanish – The Categories
For this ExpressVPN vs IPVanish comparison, we looked at eight important VPN criteria.
Kicking things off, we'll see how each VPN deals with geographical restrictions and the BitTorrent protocol as we compare them in the streaming and torrenting categories.
Next up are pricing and ease of use, where you'll find out which provider offers the cheaper service and/or better user interface.
Don't worry – we haven't forgotten about platform support and speed. With ExpressVPN and IPVanish offering great platform variety and seriously fast servers, these comparisons are bound to be interesting.
Lastly, we'll compare server networks, privacy, and security features in detail.
Stick around to find out where, and how, ExpressVPN and IPVanish come out on top!
1. Streaming
Let's face it – geographical restrictions on your favorite content can be super frustrating. ExpressVPN understands that, which is probably why it's one of the better VPNs for streaming fans.
The combination of 3,000+ servers, 160 locations, and plenty of helpful features is huge. ExpressVPN performs exceptionally well in our Netflix tests, granting reliable access to Netflix catalogs in the US, UK, Canada, France, and Japan.
Additionally, you shouldn't have any issues with Hulu, BBC iPlayer, Amazon Prime Video. ExpressVPN is also one of the few services that work with DAZN – something IPVanish fails to provide.
In fact, IPVanish seems to struggle when it comes to streaming. Despite the decently large network, most of its servers have fallen to the relentless Netflix blocks. This doesn't mean you can't watch Netflix at all with this VPN – some IPVanish servers in the US should still work, but you won't have any luck with Netflix catalogs in other countries. BBC iPlayer also remained blocked during our tests.
ExpressVPN has one more advantage over IPVanish for streaming. If you'll be watching on devices without native VPN support, you can make use of the MediaStreamer feature, which provides special DNS servers for easy access to the content you're after.
Sadly, IPVanish doesn't offer an equivalent to MediaStreamer, which puts it farther behind for the Apple TV/smart TV/media console crowd.
2. Torrenting
Both ExpressVPN and IPVanish start off strong here. You'll find open support for P2P traffic as a notable feature of either VPN – and extra functionality for the torrenting crowd.
Both VPNs allow P2P connections on all their servers, which eliminates the need for a dedicated torrenting profile. So if you're about to download some torrents, all you need to do is connect the VPN like you normally would.
ExpressVPN can also be tailored for torrents with the split tunneling feature. Essentially, you can set the app to encrypt BitTorrent traffic only – very useful if you don't want your entire connection to pass through the VPN tunnel.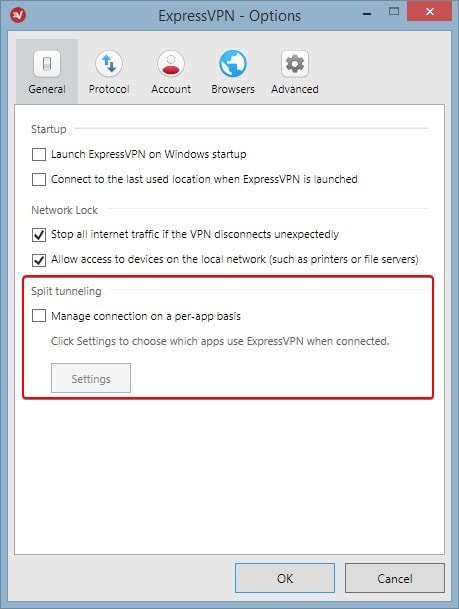 IPVanish has a neat feature itself with its SOCKS5 proxies. These are independent from the IPVanish apps and included with your subscription. SOCKS5 proxies don't offer encryption, but they do provide an extra layer of security and (usually) faster downloading speeds. You'll need to set the proxy up within your BitTorrent client, however.
There's one more thing torrenting fans should know about IPVanish – it's based in the United States. We'll cover this in detail later, but as far as torrents are concerned, IPVanish is susceptible to DMCA (Digital Millennium Copyright Act) notices as an American service.

A VPN with a DMCA policy is rarely good news for the avid torrent downloader. Now, we aren't saying IPVanish is bad because of this – illegal torrenting is, in the end, illegal – but you may run into problems with copyright trolls even if you're playing by the rules. Repeated DMCA notices will result in the suspension of your IPVanish account, so you'll need to be careful.
3. Cost
ExpressVPN and IPVanish are two VPNs with relatively high price tags. Reasonable, considering you get a lot of value for your money. Still, neither service is cheap, so let's put it this way – which one is less expensive?
For monthly plans, your wallet will definitely feel ExpressVPN. IPVanish has a slightly better short-term option for users on a budget, even if it's only an 8% difference. If you're lucky, you can catch one of the IPVanish discounts on monthly plans – the latest one shaves off 17% on your subscription.
One-year plans are where it gets interesting, as this is where both VPNs typically offer the best deals. Currently, ExpressVPN takes the lead with its awesome 49% discount (plus three months free!) – get it here with our special coupon.
IPVanish isn't far behind, with annual plans regularly at 46% off. Still, it doesn't beat ExpressVPN's excellent offer.
In addition to monthly and yearly subscriptions, ExpressVPN also has a six-month plan. If you're in a weird spot where one month is too short and six is too long, you may be interested in the three-month IPVanish subscription – not a bad deal with a frequent 25% discount.
Both VPNs offer the same features for all available plans.
4. Ease of Use
As two of the best premium VPNs out there, a simple and intuitive interface is expected from both ExpressVPN and IPVanish. Which one gives users an easier time?
The differences in design are most apparent on desktop devices. ExpressVPN strives to keep a compact, mobile-like app even on Windows and Mac. With a big button and the Smart Location feature to greet you, securing your data is a one-click task.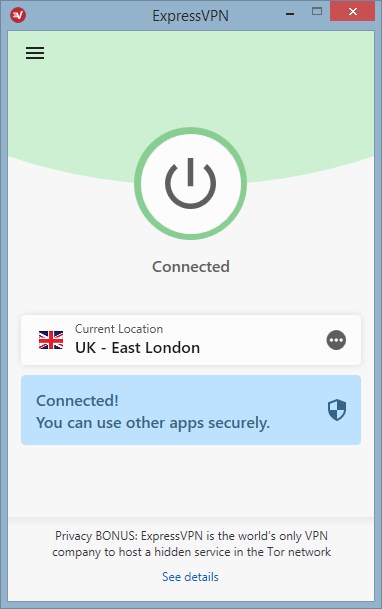 Access to the settings is easy as well. The ExpressVPN app is perfectly capable even with its default setup, but you have plenty of things to customize, should you feel the need for it.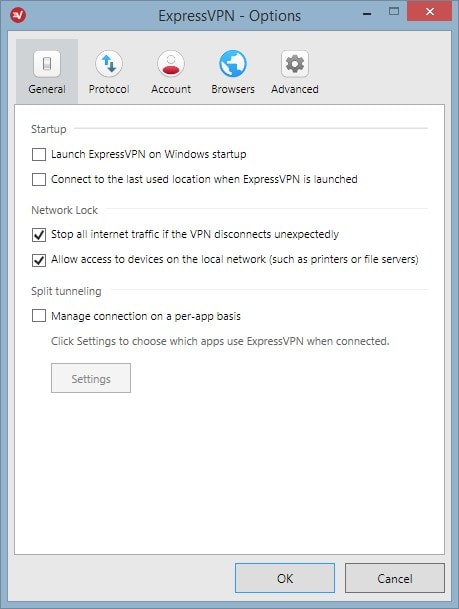 The expanded server list is also a joy to use, complete with handy tools and information such as server loads and built-in speed tests.
On the other hand, the IPVanish desktop app is noticeably bigger on your screen. We know it's subjective, but to us it also looks more stylish. Not that it should matter too much – as long as it gets the job done, right?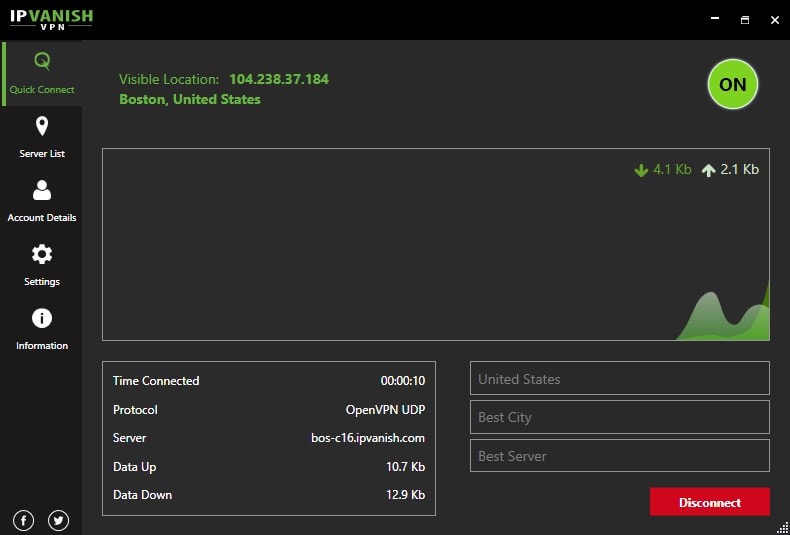 Rest assured IPVanish doesn't put style over substance. We found the quick connect feature to be more polished than the one ExpressVPN offers – here, you can also connect to the best city or server in a specific country, without having to open the server menu.
Still, you should definitely check out the full server list. IPVanish allows you to quickly sort servers by country, response time, and server load. You can also bring your favorite servers to the forefront. That said, we found the Map and Filter menus to be a little redundant – they just don't bring any extra utility.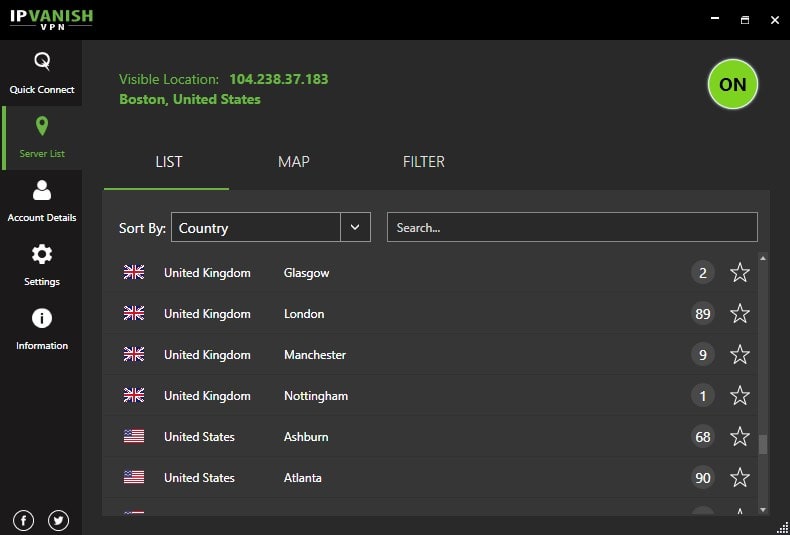 As for settings, IPVanish is on par with ExpressVPN. It doesn't bring anything new to the table, but it's just as easy to get to the menus and tailor the VPN to your preferences.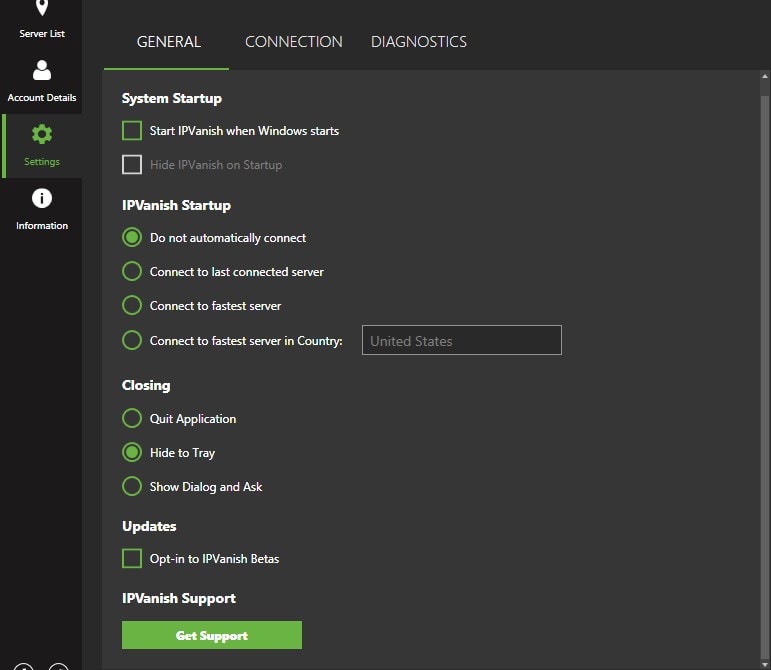 Manual configurations are also equally straightforward. You can get the necessary files with ease on either VPN's website and run them on the OpenVPN third-party interface. No surprises here.
5. Compatibility
ExpressVPN and IPVanish are compatible with many different platforms – from the most popular operating systems to routers and niche devices. Let's see what a deeper look reveals.
Windows
Windows is the operating system of choice for most VPN users, and both providers offer wide support for it.
That said, ExpressVPN has a slight edge here. You can run its apps on anything from Windows XP to the latest Windows 10, while IPVanish app support starts from Windows 7 – no XP or Vista included.
It's probably a good idea to update if you're still using XP or Vista, due to known security vulnerabilities. But we aren't ones to judge – in the end, if upgrading isn't an option for you, ExpressVPN can help you where IPVanish can't.
Mac
You can run the ExpressVPN on a bunch of macOS versions, starting from Snow Leopard (10.6). IPVanish isn't as flexible – the earliest supported version here is Yosemite (10.10).
Android
ExpressVPN switches places with IPVanish here. While both VPNs cover plenty of Android versions, ExpressVPN apps require at least Android 5. IPVanish goes the extra mile, with support for Android 4.0.3 and above.
iOS
ExpressVPN returns to form, offering native apps for iOS 8.0 and above. You'll need at least iOS 9.0 to run the IPVanish app on your iPhone or iPad.
Linux
ExpressVPN can be run on a variety of Linux distros, including Ubuntu, CentOS, Debian, Fedora, Raspbian, and Arch. This is a much stronger showing compared to IPVanish, which guarantees support only for Ubuntu.
Routers
Both ExpressVPN and IPVanish are readily available on pre-flashed routers. Additionally, you can find simple, well-written tutorials for DD-WRT and Tomato firmware on the ExpressVPN and IPVanish websites.
If you're going the hands-on VPN router route, you can also benefit from ExpressVPN's dedicated router app if you have the right device. Currently, the app is available for select Asus, Linksys, and Netgear models.
IPVanish doesn't offer a router app.
Other Platforms
ExpressVPN works on the following additional platforms:
Browser extensions (Chrome, Firefox)

Chromebook

E-book readers (Amazon Kindle Fire, Nook HD)

Windows Phone (versions 8.1 and 10)

Media and gaming consoles (Amazon Fire TV, Apple TV, Roku, Boxee Box, Chromecast, Nintendo Switch, Nvidia Shield, PlayStation, Xbox, and more)

BlackBerry

Kodi

Smart TVs
IPVanish supports the following additional platforms:
6. Speed
Encryption is the key (no pun intended) behind your security when using a VPN. But it also slows your connection down.
The solution? Find a provider that won't let you notice the difference.
ExpressVPN likes to advertise its speeds.

And so does IPVanish.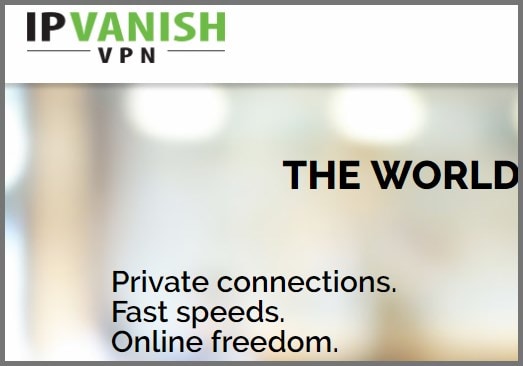 These two providers back up their claims with results. Both have a reputation as seriously fast VPNs with many happy customers. But we want to know which one is better.
We ran some tests with the main purpose of finding out which VPN was faster and more consistent. Below, you'll find how ExpressVPN and IPVanish performed on 10 of their servers across the globe.
Our tests were conducted from a location in Eastern Europe. Here are our benchmark results (no VPN):

And here are the results for both VPNs:
Server
Download speed (Mbps)
Upload speed (Mbps)
ExpressVPN
IPVanish
ExpressVPN
IPVanish

Auto (closest)

71.81
69.54
31.36
32.63

Romania

67.79
64.38
36.71
30.81

Germany

67.72
69.33
34.79
30.90

United Kingdom

63.41
68.25
28.96
35.67

Portugal

61.15
50.54
25.53
24.13

Israel

39.99
53.14
24.15
31.09

United States (New York)

59.14
43.44
22.48
22.91

United States (Los Angeles)

23.59
21.39
12.95
15.21

Japan

51.95
0.53
1.66
1.16

Australia

31.38
10.67
0.76
0.35
Overall, ExpressVPN and IPVanish deliver amazing speeds on most servers. They also manage to stay pretty close – or do they?
IPVanish takes a convincing lead in the Israel test and performs better on the UK server. However, it really drops the ball in the Japan and Australia tests – with download speeds of less than 1 Mbps in Japan, even light browsing was a time-consuming challenge.
We suspect these results were due to unfortunate server problems during our tests, but we tried several times and it didn't get any better. Stability was also an issue on the Japan and Australia servers – long story short, we ran into regular connection drops.
Meanwhile, ExpressVPN remains fast and hassle-free on all 10 servers. Connection quality is impressive even as the distance piles up. Not much to say here – ExpressVPN definitely lives up to its reputation.
So does IPVanish, but only partly. While we didn't encounter any issues on most servers, this VPN wasn't as consistent as we'd hoped.
7. Servers and Network
When compared to other VPNs on the market, ExpressVPN and IPVanish give you a massive number of servers to enjoy. When compared against each other, however, one of them has a clear advantage.
ExpressVPN lets you choose between 3,000+ servers, hundreds of locations, and over 90 countries around the world.

In the other corner you have IPVanish with 1,300+ servers, over 70 VPN locations, and 50 countries worldwide.

The numbers speak for themselves. With a difference of more than 30 countries, ExpressVPN is much more flexible. And while both VPNs are strong in Europe and the Americas, ExpressVPN offers better variety in the Middle East, Southeast Asia, and Africa. These regions are rarely well-covered by VPN services – we wouldn't be surprised if this tipped the scales towards ExpressVPN for users living there.
Judging by our speed tests, ExpressVPN also seems to be more stable than IPVanish in less popular locations. It's always a good thing when a VPN provides the same server capacity and quality across its entire network.
8. Privacy and Security
Both ExpressVPN and IPVanish make a strong first impression here. Privacy and security are guaranteed by robust 256-bit encryption, strict no-logging policies, and all the essential features for a safer time online.
But there's one curious aspect where one VPN shines over the other.
Here's what we mean.
Logging Policy
The zero-logging claim is shared in the privacy policies of ExpressVPN and IPVanish. What's more, both VPNs have had to prove this claim in the past – but one of them failed.
ExpressVPN had to answer to Turkish authorities back in 2016 when one of its servers was used to delete evidence in an ongoing murder investigation. The result? No information could be gathered from the VPN provider because it legitimately kept no user logs. This cemented ExpressVPN's reputation as a service with spotless privacy.
ExpressVPN is registered in the British Virgin Islands, which means no data retention laws to worry about. Since the British Virgin Islands aren't a part of the 5/9/14-Eyes surveillance alliances, your data is also safe from widespread government spying.
IPVanish also had a brush with the government in 2016. Unfortunately, it turned into a data-logging debacle when the VPN handed over sensitive user information to the US Department of Homeland Security. Yes, this information helped the authorities with an investigation on child abuse and pornography, but it also caught IPVanish in a serious lie.
There've been some changes since then – IPVanish is under new ownership since 2017, and StackPath (the new parent company) guarantees that no logs are kept nowadays. Still, IPVanish is a US-based VPN service and subject to 5/9/14-Eyes surveillance, so it may not be the perfect pick for the privacy-conscious.
Encryption and Protocols
AES-256 encryption comes standard for both ExpressVPN and IPVanish. This type of encryption is considered bulletproof, but ExpressVPN has another advantage here. It also implements Perfect Forward Secrecy, meaning it uses dynamic encryption keys for each VPN session for extra security.
The OpenVPN protocol is available on desktop and Android apps. Great news, as this protocol offers the best balance between security and performance.
ExpressVPN also offers native OpenVPN support on iOS, which is relatively rare. IPVanish doesn't – its iOS app comes with IKEv2/IPSec, and you'll have to opt for a manual OpenVPN setup with third-party software if you want that protocol on your iOS device.
As for additional protocols, both VPNs support PPTP and L2TP/IPSec.
Security Features
At first glance, there aren't many differences between ExpressVPN and IPVanish when it comes to security features.
ExpressVPN comes with a kill switch (called Network Lock), as well as DNS and IPv6 leak protection. You can enable or disable the kill switch in the General settings tab – the rest can be found in the Advanced menu.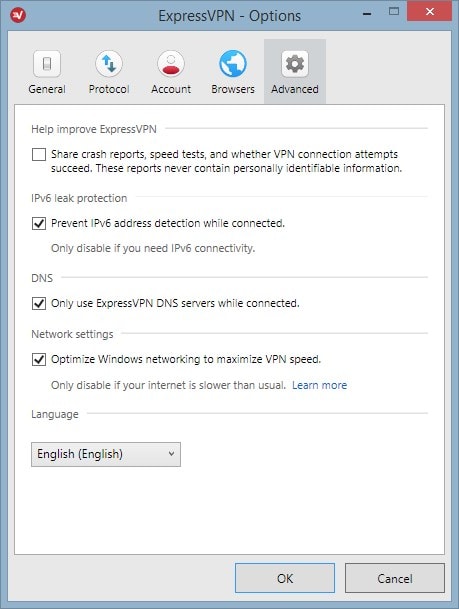 IPVanish gives you a similar toolset – DNS leak protection, IPv6 leak protection, and a kill switch. Everything is configured in one place – the Connection settings tab. Overall, a little more organized than ExpressVPN.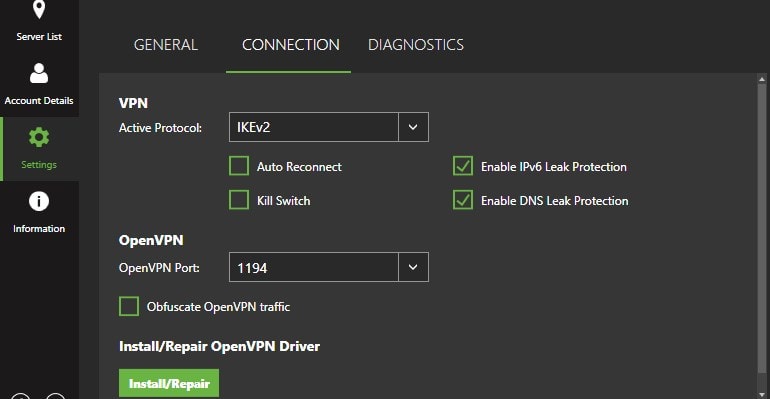 Additionally, you can configure IPVanish to obfuscate your OpenVPN traffic with one click. This can be extremely useful if you're in a country with heavy internet censorship. That said, IPVanish is currently blocked in China.
This isn't the case with ExpressVPN, which continues to bypass the Great Firewall with ease. Thanks to the special stealth settings, you can use this VPN to obtain an extra layer of security and access your favorite content from this country, and others such as Iran, Russia, and the UAE.
9. Final Verdict
ExpressVPN is the victor in seven out of eight categories, with convincing wins in the streaming, server network, and privacy comparisons. Compared to IPVanish, this VPN has many more servers, much higher streaming potential, and a proven zero-logs policy.
IPVanish fails to beat ExpressVPN in most matchups, and the one category where it earns a point can easily swing the other way. Does this make IPVanish a terrible VPN?
Not at all.
With excellent speeds comparable to ExpressVPN's (on most servers), great P2P features, and tight encryption, this provider delivers an impressive service that's up there with the best. If you often run a VPN on several devices and you appreciate a pretty interface, definitely consider IPVanish.
But if five simultaneous connections are all you'll ever need, ExpressVPN is the undisputed better choice. Fast, stable, and most importantly private, this VPN won't disappoint you if you're looking for the best combination of security and performance around.