ExpressVPN vs NordVPN: Both Great – What's Best For You in 2020?
There are many reasons why ExpressVPN and NordVPN are considered the two best VPNs out there. Choosing the best from two leaders is no easy task. Honestly, it depends on what you're looking for. We thoroughly tested and compared NordVPN and ExpressVPN, and in this article, we'll help you choose which VPN is best for your needs. Share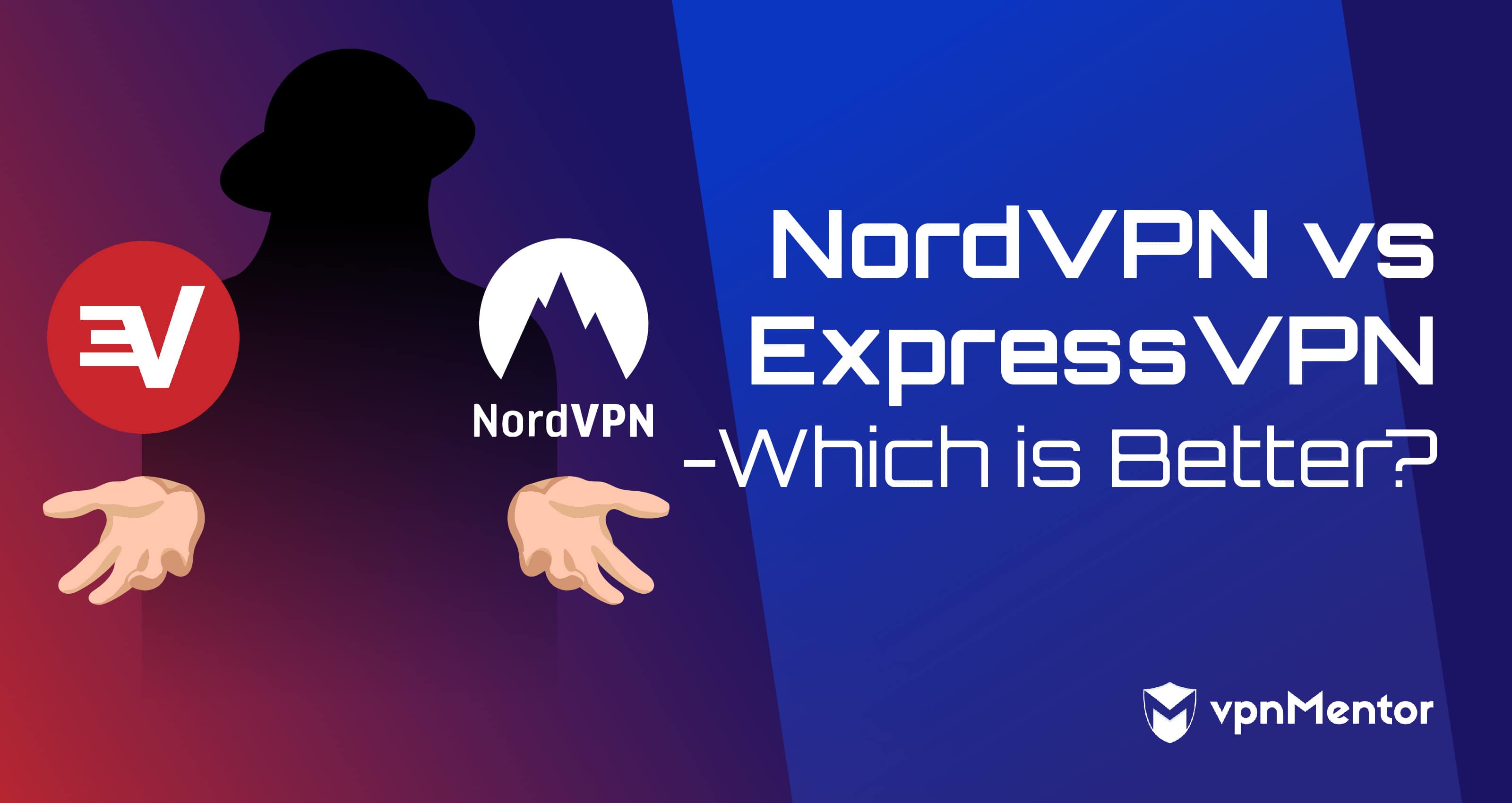 When it comes to premium VPN services, ExpressVPN and NordVPN are in a category of their own.
These two VPNs lead the way in almost all our top lists, and it's often a very close fight for first place between them. NordVPN comes out ahead in our overall VPN rankings, but only slightly. Make no mistake – ExpressVPN also has plenty to offer in security and performance.
The battle for the "best VPN" title is fierce. Both ExpressVPN and NordVPN have very strong claims, but which one is better for your needs? There's only one way to answer this question – with an in-depth comparison covering all important VPN aspects, of course!
In this article, we tested ExpressVPN and NordVPN against each other in several categories. Both providers earn great all-around scores, but it's the little details that make a difference. We're here to show you exactly where one service outshines the other – buckle up, this will be a close one!
For the full scoop on these two impressive VPN services, make sure to check out our detailed ExpressVPN review and NordVPN review.
ExpressVPN vs NordVPN – The Categories
We've based our comparison between ExpressVPN and NordVPN around eight crucial aspects that either make or break a VPN service.
We begin with finding which one is the best VPN for streaming, followed by the best VPN service for torrenting – both categories are hugely important in today's world of geo-restrictions and widespread BitTorrent use.
Then, we continue with comparing price points and ease of use, to find which provider is cheaper and more user-friendly.
We'll also cover platform compatibility and connection quality in detail – complete with all the subtle differences between operating systems and speed test results for servers around the globe.
Last but not least, we'll take a closer look at how ExpressVPN and NordVPN fare in server networks and overall security.
The terms are set, and we're ready to go! Let's see which VPN has the edge.
1. Streaming
ExpressVPN and NordVPN are two favorites for effortless streaming online. They work with the most popular platforms around, from Netflix and Hulu to BBC iPlayer and Amazon Prime Video.
During our extensive Netflix tests, both VPNs were able to access Netflix catalogs in the US, UK, Canada, France, and Japan. But unlike ExpressVPN, NordVPN was also able to stream Netflix Brazil without hiccups.
The reason for NordVPN's slightly better Netflix performance is the proprietary SmartPlay DNS feature, which automatically connects you to a suitable streaming server as you try to watch your favorite content. And with 5,100+ servers to choose from (ExpressVPN has "only" 3,000+), chances are you'll always have a way to get past annoying blocks and restrictions.
ExpressVPN has a few tricks of its own, too. Not including the seriously fast speeds (more on that later), it provides 160 VPN locations in 90+ countries. Compared to 60 countries for NordVPN, you get wider coverage and more streaming opportunities.
ExpressVPN is also one of the few VPNs to access DAZN – a bonus over NordVPN, which currently fails to work with this streaming platform. Keep that in mind if you're a DAZN fan!
The cherry on top for ExpressVPN is the MediaStreamer feature, which gives you special DNS servers to use on devices without native VPN support. NordVPN doesn't have such a polished feature, even though its Smart DNS proxy (included with your subscription) is similar.
2. Torrenting
At first glance, you won't find a huge difference between ExpressVPN and NordVPN when it comes to torrents. The details will decide the winner here.
Both VPNs allow P2P traffic, and both are open about this – important if you're looking for a long-term torrenting VPN.
Some may consider it subjective, but ExpressVPN proved easier to use with torrent clients in our tests. The main reason – all of its servers support P2P, so secure torrenting is literally a one-click task.
You can also customize ExpressVPN to secure your P2P traffic exclusively, thanks to the split tunneling feature (available on Windows, Mac, and Android).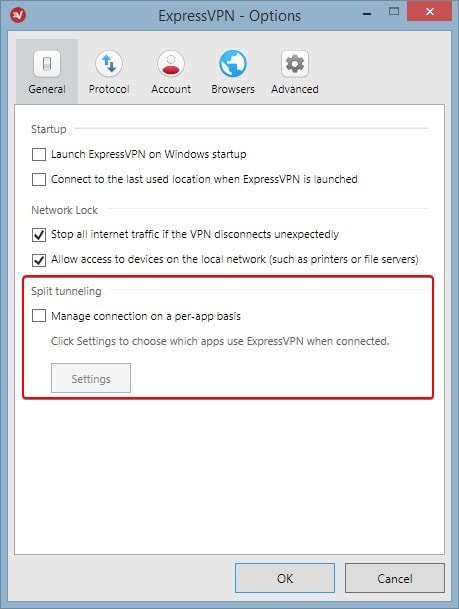 NordVPN has the network advantage, with 4,300+ P2P-ready servers – still more than ExpressVPN's entire server park. However, there's an extra step involved, since you'll need to select a suitable P2P server from the Specialty servers tab.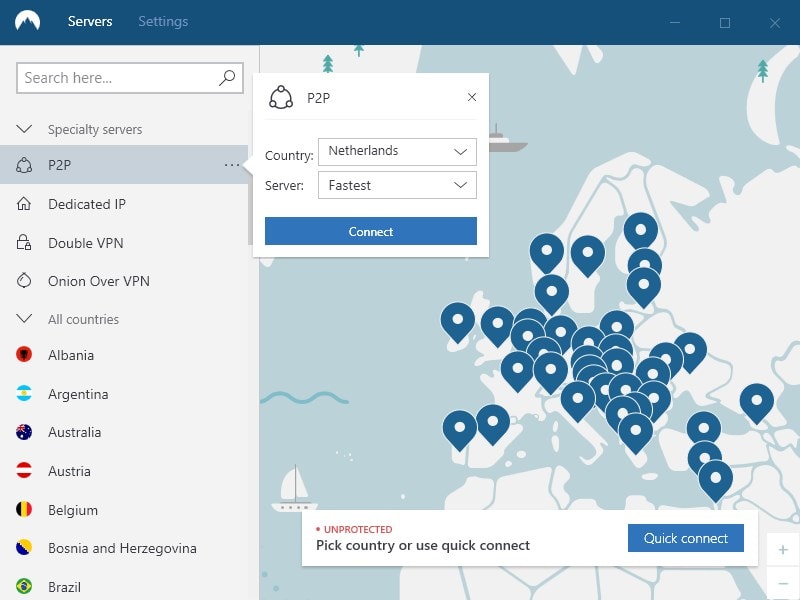 That said, NordVPN has one feature you won't find in ExpressVPN – SOCKS5 proxies. These are separate from the VPN app, and you'll need to configure them within your torrent client. SOCKS5 proxies usually provide better speeds with an acceptable level of security (not encryption). But again – it's extra effort to set them up.
3. Cost
So far, ExpressVPN and NordVPN have been pretty much neck-and-neck. But pricing is one area where we have a clear winner.
Users on a budget should avoid either provider's monthly plans, as they are quite expensive – unfortunate, but common with VPN services. Long-term subscriptions are where bargain hunters should look.
NordVPN comes with great deals on its two- and three-year plans (respectively 58% and 70% cheaper than the monthly option). Even better, you can shave off 70% on your NordVPN subscription with our exclusive coupon codes!
If you don't want to commit straight away, NordVPN gives you plenty of testing opportunities with the 30-day money-back guarantee.
You'd expect ExpressVPN to present an equally appealing proposition here, but this isn't the case. Compared to NordVPN, it also has a 30-day money-back guarantee, but offers fewer and more expensive plans. Currently, ExpressVPN's annual subscription is 19% more expensive than the NordVPN equivalent.
Fortunately, you can get a 49% discount on ExpressVPN (plus three months free!) with our special coupon. But even that isn't enough to beat NordVPN's standout three-year deal, at more than half the cost in the long run.
NordVPN's Pricing:
3-year plan: $3.49/month (pay $125.64 every 3 years – 70% discount)
2-year plan: $4.99/month (pay $119.76 every 2 years – 58% discount)
1-year plan: $6.99/month (pay $83.88 every year – 41% discount)
1-month plan: $11.95/month (base price paid monthly – no discount)
ExpressVPN's Pricing:
12-month plan: $6.67/month (includes three free months; pay $99.95 first 15 months then every year – 49% discount)
6-month plan: $9.99/month (pay $59.95 every 6 months – 23% discount)
1-month plan: $12.95/month (base price paid monthly – no discount)
4. Ease of Use
As two of the leading commercial VPNs, ExpressVPN and NordVPN make things easy for users of all skill levels. Which one does a better job, though?
Both VPNs offer compact and intuitive apps with simple interfaces. The guiding principle is clear – one-click connections and fast access to settings.
ExpressVPN keeps a mobile-inspired design, even on desktop. The main panel allows you to quickly select a server with the extra help of the Smart Location feature.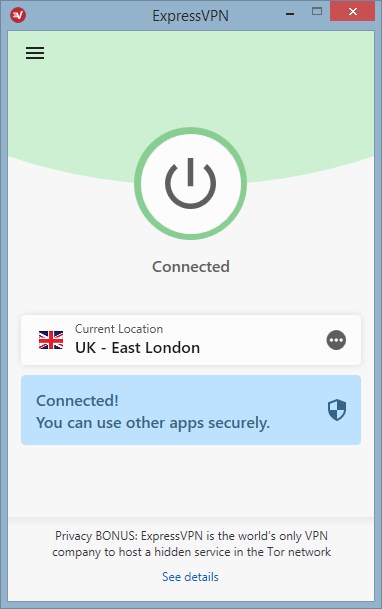 The settings menu is found easily. You have plenty of things to tinker with, or you can keep things simple if you aren't interested in anything advanced.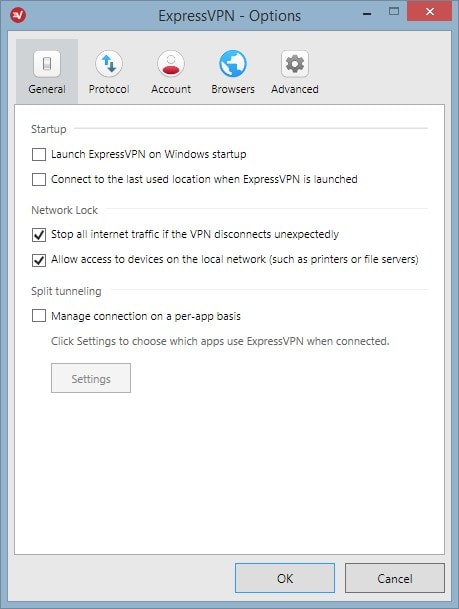 NordVPN opts for a more stylish, but equally functional interface. One advantage over ExpressVPN is the easier access to the full server roster – you can find all of them from the main panel here, instead of opening the server list in a separate window.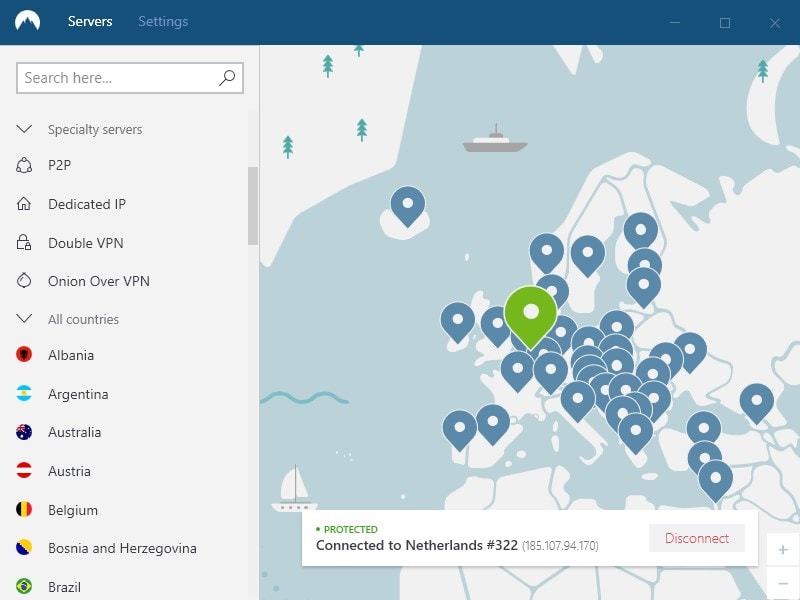 NordVPN is also easy to configure – you'll find everything in one neat window after opening the settings menu.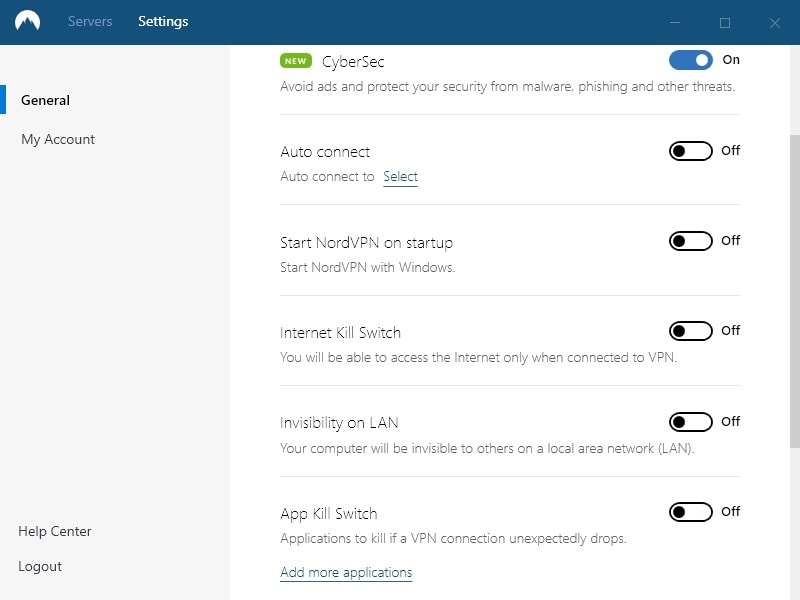 If you'd rather have a manual setup using the OpenVPN interface, both VPNs provide raw configuration files. ExpressVPN makes them slightly easier to get from the website, but you'll have no trouble with either.
5. Compatibility
ExpressVPN and NordVPN cover a wide range of platforms, including major operating systems and routers. Yet again, the small details make a difference.
Windows
As the most popular platform to install a VPN on, Windows is expertly covered by both providers in this comparison. You can run either of them on anything from Windows XP to Windows 10.
That said, the ExpressVPN app also covers Windows XP and Vista, while NordVPN app support starts from Windows 7 with manual configuration required for older versions. We highly recommend updating your PC if you're still running XP or Vista – if that's not an option, ExpressVPN may be the better choice for you.
Mac
ExpressVPN apps can be installed on macOS Snow Leopard (10.6) and newer versions. Again, this provider proves more flexible than NordVPN, which requires at least macOS Yosemite (10.10).
Android
Both VPNs have a strong showing for Android devices, with extensive support even for older versions. You also get working apps for your Android TV with either provider.
iOS
Both ExpressVPN and NordVPN have native apps for your iPhone or iPad. As usual, ExpressVPN takes a slight lead for older devices, with support starting from iOS 8.0. NordVPN requires iOS 9.0 and above.
Linux
NordVPN's Linux offering is centered around Debian distros, but you can run it on Ubuntu as well. ExpressVPN is much more versatile, with support (and detailed instructions) for Ubuntu, CentOS, Debian, Fedora, Raspbian, and Arch.
Routers
When it comes to routers, both VPNs shine with excellent tutorials for a variety of firmwares. Additionally, you can get yourself a pre-flashed router that's configured with either VPN straight from the box.
If you'll be setting up a VPN router yourself, ExpressVPN provides a dedicated app for select Asus, Linksys, and Netgear routers. If you have the right model, this provider may be a better pick than NordVPN, which currently doesn't have a native router app of its own.
Other Platforms
ExpressVPN works on the following additional platforms:
Browser extensions (Chrome, Firefox)

Chromebook

E-book readers (Amazon Kindle Fire, Nook HD)

Windows Phone (versions 8.1 and 10)

Media and gaming consoles (Amazon Fire TV, Apple TV, Roku, Boxee Box, Chromecast, Nintendo Switch, Nvidia Shield, Playstation, Xbox, and more)

Blackberry

Kodi

Smart TVs
NordVPN supports the following additional platforms:
Browser extensions (Chrome, Firefox, Opera, Safari, Internet Explorer)

Blackberry

Kodi

Media and gaming consoles (via router)

Smart TVs (via router)
6. Speed
A VPN's encryption keeps you safe online, but it's also a burden on your internet connection. ExpressVPN and NordVPN are two providers who keep this negative impact to a minimum, and it shows.
In fact, speed is the biggest strength of ExpressVPN. It has a reputation as the fastest VPN on the market for a reason, constantly beating challengers that try to snatch its title.
In the other corner is a VPN that was considered sluggish a few years ago. But after heavy improvements, today NordVPN is up there with the swiftest services.
Still, actions speak louder than words. So we put both providers to the test.
We aimed to find out how fast each VPN was on a global scale. Below, you can see how ExpressVPN and NordVPN performed when connected to 10 different locations around the world.
We ran the speed tests from a location in Eastern Europe. Here are our benchmark speeds (no VPN):

And here are the final results from our tests:
Server
Download speed (MB/s)
Upload speed (MB/s)
ExpressVPN
NordVPN
ExpressVPN
NordVPN

Auto (closest)

71.81
69.82
31.36
31.28

Romania

67.79
67.50
36.71
29.10

Germany

67.72
62.16
34.79
29.09

United Kingdom

63.41
66.41
28.96
31.08

Portugal

61.15
33.93
25.53
30.00

Israel

39.99
38.42
24.15
34.53

United States (New York)

59.14
35.25
22.48
16.70

United States (Los Angeles)

23.59
30.71
12.95
5.53

Japan

51.95
17.58
1.66
1.70

Australia

31.38
15.90
0.76
2.04
No surprise – ExpressVPN takes a lead in download speeds, which becomes even more pronounced with distance. The only exceptions are the Los Angeles and London servers, where its competitor proved slightly faster.
Still, NordVPN holds its own. It was noticeably slower in Portugal, Japan, and Australia, but remained very close to ExpressVPN overall. What's more, NordVPN went even in upload speeds – no small victory when you're up against a seriously fast VPN.
7. Servers and Network
ExpressVPN and NordVPN operate huge server networks compared to many other VPN services. But when compared against each other, you can see clear differences in philosophy between these two premium providers.
NordVPN lets you choose from 5,100+ servers, which is an impressive number no matter how you look at it. It trumps ExpressVPN's 3,000+ servers, but there's more to talk about.

When it comes to all-around coverage, ExpressVPN supports 30 more countries than NordVPN. This includes relatively rare to find regions in the Middle East and Africa – by comparison, NordVPN doesn't have a strong presence on these continents.

ExpressVPN servers also have a generally larger capacity, which might be one of the reasons for its smaller (but still massive) network. NordVPN gives you more options, but it's common to see at least 10 servers working at full load for its more popular locations like the US, UK, and the Netherlands.
8. Privacy and Security
When it comes to safe browsing, ExpressVPN and NordVPN are champions.
Both services cover the basics perfectly. With bulletproof encryption, zero logging, essential features, and independent security audits confirming all of the above, you can't go wrong with either VPN. But we aren't going to leave it at that, are we?
You guessed it – we need to go deeper.
Logging policy
ExpressVPN operates out of the British Virgin Islands, while NordVPN is registered in Panama. Both of these offshore locations are considered safe havens due to favorable privacy laws, as they're far away from the 5/9/14-Eyes surveillance alliances.
This allows ExpressVPN and NordVPN to promise strict no-logging policies, which means the VPN service doesn't store or share any sensitive data related to connection or bandwidth. In other words, spotless privacy is a quality of both providers in this comparison. ExpressVPN even commissioned an independent audit to ensure it's offering users the highest levels of privacy.
Encryption and protocols
Both VPNs employ AES-256 encryption with Perfect Forward Secrecy. Great news, as 256-bit encryption is considered virtually impossible to crack.
Moving on, you'll find full OpenVPN support in the desktop and Android apps of both providers. This is the industry standard protocol, offering the best combination of security and performance.
That said, ExpressVPN is one of few providers to offer native OpenVPN for iOS. NordVPN runs the IKEv2/IPSec protocol on it iOS app, requiring third-party software and manual configuration for OpenVPN. This gives ExpressVPN a slight edge for iPhone and iPad.
ExpressVPN also gives you a greater variety of protocols, including PPTP and L2TP/IPSec.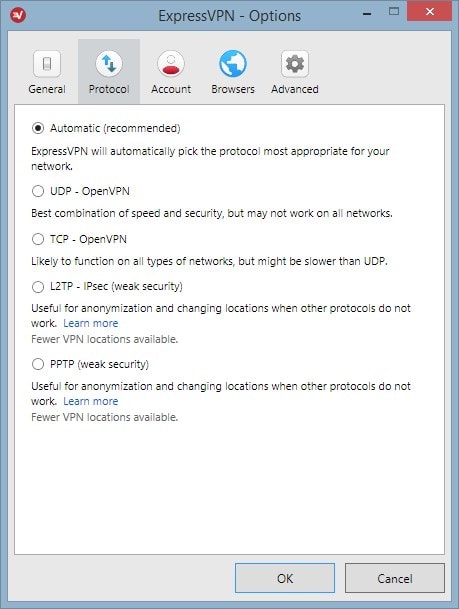 These can be useful for streaming and bypassing OpenVPN blocks, but are much less secure than OpenVPN or IKEv2/IPSec. NordVPN used to provide PPTP, SSTP, and L2TP/IPSec in the past, but has recently discontinued support for these protocols.
Security Features
NordVPN is known for its extensive focus on security. Between the proprietary CyberSec suite (adblocking and malware protection), Double VPN servers, and two different kill switches, you get a whole list of valuable features for extra protection.
Additionally, "stealth" settings are offered via NordVPN's custom Obfuscated servers.
These special servers are deployed for special purposes, like bypassing the Great Firewall of China. They should also work in other countries with heavy censorship, such as Russia, Iran, and the UAE.
Thanks to its stealth settings and wide array of protocols, ExpressVPN is an excellent pick for unrestricted internet access in China as well.
This VPN also has plenty of security features to showcase. Like NordVPN, it comes with a kill switch and DNS leak protection, but they're a little more streamlined. A couple of examples – you don't get a second app-specific kill switch, and the custom DNS settings are just an on-off switch (NordVPN allows you to input your own DNS settings).
However, ExpressVPN has one bonus over its competitor — extra secure servers. Thanks to ExpressVPN's state of the art TrustedServer technology, its servers operate using only RAM. This makes it next to impossible for any of your data to be stored on an ExpressVPN server, even by mistake.
9. Final Verdict
Two leading VPNs, eight fiercely fought rounds, and an even score. If you were expecting a stomp from either provider, you won't find it here.
Here's a summary of the winner for each category:
Streaming: ExpressVPN
Torrenting: ExpressVPN
Cost: NordVPN
Ease of Use: NordVPN
Compatibility: ExpressVPN
Speed: ExpressVPN
Servers and Network: NordVPN
Privacy and Security: NordVPN
On the surface, ExpressVPN and NordVPN are impressive services for any purpose. This remains true even at a closer look.
So which one is better? Without a clear winner, it really is down to personal preference with these two. You're just as likely to fall in love with either one.
The real question – is ExpressVPN worth the price? If you absolutely must have the best-performing, fastest VPN around, the answer is yes. It's stable, user-friendly, and excellent from anything from streaming/torrents to basic and advanced security.
But so is NordVPN.
If you'd rather have a fast and feature-packed VPN that's also affordable, we recommend trying out NordVPN. You'll enjoy its huge server network, cheap cost, and amazing deals.