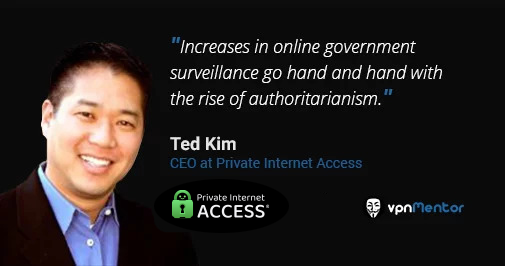 Fighting for Justice- Interview with Private Internet Access
Private Internet Access is a VPN Service provider specializing in secure, encrypted VPN tunnels that create several layers of privacy and security on the internet. They also support numerous organizations in their justful fight for internet privacy. We spoke with CEO Ted Kim to hear his views on the state of the internet today, and how to keep safe on the web. Share
What measures are being taken in your company to prevent outsiders as well as employees from looking at your user's data?
Our no logging policy is the most effective measure being taken to protect our users' private data. No employee or outsider can access or review specific user activity; in other words, there is no user activity data to look at since we do not log.
What are some of the features that make PIA unique compared to its competitors?
Being based in the US and Iceland, we're not covered by any legislation that forces us to log the activity of our users. A number of countries around the world, such as the UK, Russia, and China are enacting these sorts of laws, which do not apply to us.
In addition, we've shown ourselves to be reputable through our years of operation. We do not log; we never have and we never will. We're committed to the privacy and security of our users.
We donate effusively to like minded non profit organizations such as the EFF, FFTF, Linux Mint, GNOME, Creative Commons, Access Now, Open Rights Group, Snoonet, and more. Beyond our demonstrated commitment to privacy, the Private Internet Access VPN also has these differentiating features:
Kill Switch: Ensures that traffic is routed through the VPN such that if the VPN connection is unexpectedly terminated, the traffic will not route.
IPv6 Leak Protection: Protects clients from websites which may include IPv6 embeds, which could lead to IPv6 IP information coming out.
DNS Leak Protection: This is built-in and ensures that DNS requests are made through the VPN on a safe, private, no-log DNS daemon.
Shared IP System: We mix clients' traffic with many other clients' traffic through the use of an anonymous shared-IP system ensuring that our users blend in with the crowd.
MACE™: Protects users from malware, trackers and ads.
What is the difference between Tor, VPN and Proxy?
Tor is a very useful privacy and security tool, as it bounces your connection through a number of endpoints before sending it out. VPNs similarly bounce your traffic through endpoints to hide what you're doing from snoopers and to make sure you have secure, unrestricted access to the internet. Proxies work similarly, but whereas VPNs typically protect all the traffic on your machine, a proxy usually only applies to a single application.
VPNs are typically faster than Tor, and as such it's easier to justify using a VPN connection for your day-to-day browsing. However, for those that are particularly security-conscious, it's definitely possible to use them together for even greater protection.
In your opinion, what major risks does "the internet of things" impose on the public, and how can they be prevented?
The proliferation of Internet of Things (IoT) devices has exacerbated an age-old problem: your network is only as strong as the least secure device. As well, IoT devices (such as wireless cameras) typically live for a number of years before being replaced. Currently, automatic over-the-air update systems aren't widespread for these devices, which means that any discovered bugs remain issues for a very long time.
There are two primary concerns with IoT devices -- first is your home network. Given that these devices can be hacked, they can be used to affect the other devices you have at home. The other concern is that these devices can be used to launch attacks on other websites and public infrastructure. This happened a few months ago when the Mirai botnet took down Dyn's DNS services (resulting in a large portion of the Internet going down), and similar attacks have only been ramping up as 'the Internet of Things' becomes more widespread. We have to be mindful that though these new devices are amazingly cool and convenient, they are potentially gateways into your home.
It's certainly a difficult issue to solve. The best advice is to keep an eye out for vendors that are relatively well-regarded by the security community and to use a VPN at home that is active across all devices connected to your home network.
How do you explain the duality between the increasing severity of privacy regulations and online government surveillance programs?
This is an inherent conflict when it comes to technology: the world is moving similarly to an arms race between rival groups. One party develops technology to increase privacy or surveillance, and the other side reacts accordingly to the change by either passing laws that restrict privacy, or creating privacy protection mechanisms. Moreover, increases in online government surveillance go hand and hand with the rise of authoritarianism. As proof of this point, how many countries that have increased internet surveillance are democracies, and how many are autocratic?
Add Your Review on Private Internet Access Here