How to Access Claude AI: Chat with Claude 2 Anywhere (2023)
Unlike most generative AI, Claude can analyze large files and produce novel-length texts. Sadly, the advanced Claude 2 model is blocked outside the US and UK. This can be a pain when you'd like to access Claude.aI while traveling.
You can access some features of Claude AI chat abroad with third-party access points (like Poe or Allle.AI). However, these methods come with limitations like word and message count restrictions. The easiest way to access Claude 2 AI chat's full features and capabilities from any country is via a VPN.
After my team and I tested upward of 85 different VPN services, ExpressVPN is my favorite option for Claude 2. It offers high-speed US and UK servers that allow you to reliably access the chatbot from anywhere and rapidly upload large files with no slowdowns. Best of all, you can try ExpressVPN risk-free — it's backed by a trustworthy 30-day money-back guarantee.
Quick Guide:
How to Access Claude AI With a VPN in 3 Easy Steps
Get a reliable VPN. I suggest ExpressVPN as its fast US and UK servers enable seamless text generation and file uploads to Claude AI. You can try ExpressVPN without risk for up to 30 days.
Connect to a server. Choose a US or UK server (the nearest country will give you the best speeds). Then, create an account, verify your email address (you can use a burner for privacy), and confirm your phone number via the official site.
Start chatting. You can now produce texts, summarize data, and write code on Claude AI from any country.
Pro Tip:
Claude AI may ask for a US or UK phone number to verify registration. If you're already abroad and lacking one for any reason, use an online service like
Ringover
or
KrispCall
to create and use a phone number in the US or UK. You don't need the phone after signing up once.
Why You Need a VPN to Access Claude 2
Claude 2 — the most advanced model with zero limitations, a full set of features, and regular updates — is only accessible via the official portal in the US or UK. The site uses your IP address to tell where you're located, blocking access if you're from an unsupported country. You need an IP address in the US or UK to access all of Claude 2's key features.
However, you can access Claude 2 anywhere with a VPN (Virtual Private Network). When you connect to a VPN, your connection is encrypted and rerouted via a secure server. This hides your IP address behind one associated with the VPN server. All you have to do is choose a server in the UK or the US to get an IP address from either country. Then, when you go to Claude.ai, the service will think you're in a supported location and won't block your access.
Not all VPNs work well with Claude AI though. Claude 2 can analyze up to 100K tokens (around 75,000 words) and can generate thousands of tokens worth of text. Many VPNs slow your internet speed significantly as they reroute your traffic; you need a VPN with fast speeds to deal with extensive texts and to upload large files to Claude 2 in a reasonable time. Keep reading for our top recommendations.
Best VPNs to Access Claude AI From Anywhere in 2023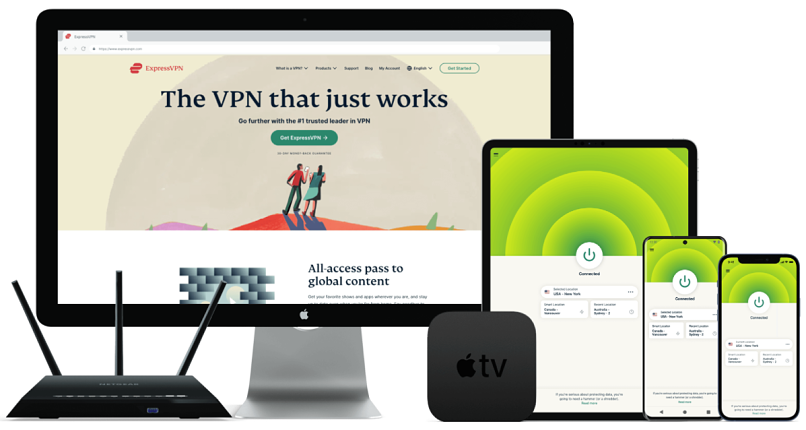 Editor's Choice
Editor's Choice

Tested September 2023
Try Risk-Free for 30 Days
Available on:
Chrome
Router
Smart TV
More
www.ExpressVPN.com
| | |
| --- | --- |
| Best Feature | Impressive speeds for smooth file sharing and document analysis on Claude 2 |
| Speeds | 94.66Mbps (8% slower than my usual connection) |
| Server Network | 24 US and 5 UK server locations for easy access to Claude.ai |
| Can access | Claude AI, ChatGPT, Google Bard, Bing AI, MidJourney AI, DALL-E, Netflix US, and more |
ExpressVPN gives you excellent speeds for Claude AI. My connection was barely affected while I tested ExpessVPN's US servers; it only decreased from 103Mbps to about 95Mbps. My upload speed also stayed at an impressive 14Mbps, letting me upload several PDF and CSV files to Claude 2 for analysis without long wait times. The VPN doesn't impose any data limits either, so you can upload as many files as you need.
ExpressVPN works with Claude.ai anywhere. The IP/DNS/WebRTC leak protection keeps your location hidden — Claude 2 chat worked problem-free during my extensive tests. Network Lock, ExpressVPN's kill switch, also cuts off your internet if the VPN connection is ever interrupted. That way, your real location is never revealed to Claude AI.
The apps are user-friendly on all operating systems, including Windows, macOS, Linux, Android, and iOS. Installing ExpressVPN and connecting to a relevant server takes just a few clicks — the default settings work perfectly with Claude AI and it was easy to find a UK or US server from the dropdown list.
The only downside is that this VPN has a relatively high price tag. However, ExpressVPN offers generous discounts that bring the cost down. I got 49% off and 3 extra months free with the 12-month plan, for a final price of $6.67/month. All plans cover up to 8 simultaneous device connections and have a trustworthy 30 money-back guarantee, so you can test Claude AI without risking your money.
Useful Features
Lightway protocol. ExpressVPN uses its own optimized VPN protocol to securely route your traffic. Lightway is built on lightweight code that allows for consistently faster speeds than most other VPNs can manage.
Split tunneling. This feature lets you select which apps use the VPN (and which ones use your real IP address). I use it to unblock Claude AI from abroad but run my banking app through my usual connection to avoid triggering security alerts.
Obfuscation tech. Server-wide obfuscation disguises your VPN traffic as regular internet activity. This lets you avoid VPN blocks enforced by restrictive networks, allowing you to access Claude AI from school, workplaces, or even censorship-heavy countries.
Access Claude.ai With ExpressVPN >>
| | |
| --- | --- |
| Best Feature | Intuitive apps that support all popular operating systems |
| Speeds | 90.55Mbps (12% slower than my usual connection) |
| Server Network | 11 US and 3 UK server locations to use Claude AI's chatbot worldwide |
| Can access | Claude AI, ChatGPT, Google Bard, Bing AI, MidJourney AI, DALL-E, Netflix US, and more |
CyberGhost lets you easily work with Claude AI on any device. Getting started is a breeze — all the apps are configured to work with no extra setup. The servers are neatly listed and organized too, so it's easy to find your ideal US or UK server. The Smart Rules feature also lets you set the VPN to launch automatically with your chosen server when you access certain apps, like your browser (so you don't even have to remember to enable it for Claude.ai).
A reliable network in the US and UK helps you access Claude AI from any country. I didn't detect any IP/DNS leaks while testing CyberGhost, so my real location stayed hidden the entire time. This VPN also works with various other generative AI chatbots, such as ChatGPT and MidJourney AI.
My speeds stayed above 90Mbps on the New York server (close to ExpressVPN's results) so I interacted with Claude without any delays. You don't have to worry about hitting data limits either, thanks to CyberGhost's unlimited bandwidth. You can upload as many files as you like to Claude AI seamlessly.
I was a little disappointed with the expensive monthly pricing. However, the long-term plans are much more affordable at just $2.19/month. Choosing longer subscriptions also comes with an extended money-back guarantee, which means you can try CyberGhost for 45 days free.
Useful Features
24/7 live chat. If you've never used a VPN before, the live chat support team is on hand to help you get started. They walked me through setting CyberGhost up on my router so I could use it with all my devices at home.
WireGuard protocol. This protocol is known for its great speeds, so I recommend enabling it for seamless interactions with Claude AI.
Access Claude.ai With CyberGhost >>
| | |
| --- | --- |
| Best Feature | An expansive network across the US and UK to use Claude AI reliably |
| Speeds | 88Mbps (14% slower than my usual connection) on WireGuard protocol |
| Server Network | 53 US and 3 UK server locations for guaranteed access to Claude AI |
| Can access | Claude AI, ChatGPT, Google Bard, Bing AI, MidJourney AI, DALL-E, Netflix US, and more |
Private Internet Access (PIA) offers more US and UK servers that work with Claude AI than the vast majority of other VPNs. Thanks to this, PIA provided me with plenty of reliable servers to choose from — I never had to get stuck with a congested or unreliable server as there were always a ton of alternatives. The app indicates the latency of each server too, so you can easily find the fastest one to use with Claude.
While it's not as fast as my other recommendations, I still got 88Mbps on PIA's US servers. This was more than fast enough for getting rapid answers from Claude — I wasn't waiting long even when I asked it to generate tens of thousands of words.
PIA's apps can be a tad complex though, due to the sheer number of customizable settings. However, PIA is pre-configured to work with most services, including Claude. So, you don't have to touch the settings if you don't want to.
Useful Features
Unlimited simultaneous connections. You can use PIA on as many devices as you like on a single account. So, your entire household can use the VPN without worrying about disconnecting each other.
Budget-friendly. PIA is affordable, offering prices as low as $2.03/month. Plus, all plans come with a 30-day money-back guarantee, so you can easily get a full refund if you aren't a fan.
FAQs on How to Access Claude AI From Anywhere
What is Claude AI chat by Anthropic?
Claude AI is a large language model (LLM) similar to ChatGPT and Google Bard. It can generate text, write code, interpret large documents, and serve as a professional assistant. Due to geoblocks though, you need a VPN with US and UK servers to access Claude AI from abroad as it's restricted to those countries for the time being.
Anthropic is an AI research startup backed by Google and founded by prior members of OpenAI. The team of researchers, policy experts, and engineers is focused on AI safety — which is why Claude AI has been designed to generate more natural and less harmful results than other chatbots. Anthropic has also created Claude Instant, a smaller and more affordable model capable of processing faster conversations.
Where is Claude AI available?
You can only access the full-featured and unlimited Claude 2 from the US and the UK. While you may be able to use limited versions of the chatbot outside these countries via some third-party services, the most advanced version — Claude 2 — is only accessible via the official portal. However, you can use a VPN to access Claude 2 from anywhere.
If Claude isn't available in your country right now, you can also sign up for Anthropic's country waitlist. That way, you'll get notified when the chatbot comes to your region.
Is Claude AI better than ChatGPT or Google Bard?
It depends on what you want and where you are. Currently, Claude 2 is only available in the US and the UK so you need a VPN with servers in those countries to access the service from anywhere else. In comparison, ChatGPT and Bard are now available in most regions.
That said, Claude is free to use and can create and analyze huge blocks of data — up to 100K tokens or 75,000 words at a time. It also can work with up to 5 files (PDFs, CSV, DOCX, RTF, HTML, and TXT files) with a size of up to 10MB each. ChatGPT's free version has a token context length of around 8000 (though you can pay for up to 32K tokens with a Plus account). Bard is free to use but hasn't made its token length publicly available.
Claude AI can't scan the web though. ChatGPT 3 (the free version) can't do this either, but you can pay for a Plus or Enterprise account to use ChatGPT 4, which can. On the other hand, Bard is automatically connected to the internet at no extra cost. While the lack of internet access limits Claude somewhat, Anthropic claims that its chatbot is less likely to produce harmful responses as a result.
What's the best way to use Claude 2?
Claude 2 excels in generating book-size blocks of text and processing data in files. You can also use Claude AI to summarize documents, ideate, and assist with code — you can even integrate it with Slack to work as a personal assistant for you and your colleagues. If you're outside the US or UK though, you need a VPN to use the most advanced Claude 2 model without limits.
Can I use Claude 2 for free?
Yes, Claude is free to use within the US and UK. If you're outside these countries, a VPN can help you gain access. Claude AI is also accessible via third-party AI playgrounds worldwide but with limitations. Services like Poe, Alle.ai, Vercel AI, and Nat.dev have word-per-message restrictions, paywalls, a lack of file analytics, or no access to the latest Claude 2 beta model.
Easily Access Claude AI Chat From Outside the US and UK
While you can test Claude anywhere via free AI playground services like Poe, they severely limit the chatbot's functionality. You need a US or UK IP address to access the most advanced capabilities of Claude AI. Thankfully, you can easily access Claude 2 from any corner of the globe with a VPN.
After a lot of testing, I found that ExpressVPN works the best for Claude AI. Its vast network, excellent speeds, and unlimited bandwidth made my experience with Claude smooth. Plus, the 30-day money-back guarantee means you can test ExpressVPN risk-free.
To summarize, these are the best VPNs to access Claude AI anywhere…
Privacy Alert!
Your data is exposed to the websites you visit!
The information above can be used to track you, target you for ads, and monitor what you do online.
VPNs can help you hide this information from websites so that you are protected at all times. We recommend ExpressVPN — the #1 VPN out of over 350 providers we've tested. It has military-grade encryption and privacy features that will ensure your digital security, plus — it's currently offering 49% off.
We rank vendors based on rigorous testing and research, but also take into account your feedback and our commercial agreements with providers. This page contains affiliate links.