How to Buy and Sell NFT Art Safely February 2023 (+ Beginner's Guide)
Non-Fungible Tokens (NFTs) are digital assets that resemble a form of art. They are unique because, while they can be duplicated, their ownership is underpinned by a blockchain ledger (hence the term non-fungible). If you want to start buying and selling NFTs, then the process can be quite complex — especially for beginners. You'll need to know how to transact with cryptocurrencies and use NFT marketplaces at the very least.
But with the help of an easy-to-use guide, you can buy and sell NFTs with confidence. On top of buying and selling NFTs, you'll find out how to protect your NFTs from online threats. Even though blockchain transactions are secure, there are always security and privacy risks involved with a decentralized market. Millions of dollars have been stolen in the past.
To add an additional layer of security, consider using a VPN. It encrypts your connection at all times and you can combine it with other methods for the best protection.
Safely Buy and Sell NFTs Today
The Ultimate Guide: How to Buy and Sell NFT Art
Before You Start
You'll need to set yourself up with the right tools before buying and selling NFTs. So, make sure you have everything listed here before diving in.
Digital Wallet — This is used to store your cryptocurrency and make NFT-related transactions. Just make sure your digital wallet supports the ERC-725 and ERC-1125 standards, which most NFTs use. These standards will also let you store your NFT in your digital wallet. ERC stands for "Ethereum Request for Comments" and refers to Ethereum protocols that enable transactions.
The two wallets I recommend are the MetaMask wallet and Coinbase wallet. Meta Mask also works as a browser extension and lets you store your NFTs, while Coinbase supports a wide range of coins and is backed by the largest cryptocurrency exchange in the world.
Make sure you set up a strong password and enable 2-factor authentication for strong security. Most wallets also come with a key phrase that you need to access your wallet. If you lose your key phrase, then you'll lose access to your wallet for good - so store it in a safe place.
Each wallet comes with a unique address that's used to send cryptocurrency, so think of it as an email address since it serves the same function. A good wallet lets you keep track of your transactions, send cryptocurrency, or view your balance.
Cryptocurrency — You'll need to use cryptocurrency to buy and sell NFTs because they're built using blockchain. Traditional currencies aren't accepted. Most NFTs are built on the Ethereum network, so you'll probably need some Ether to make transactions. Other blockchains for NFTs include Tezos, Polkadot, Cosmos (ATOM), and Binance Smart Chain. Each blockchain has its native cryptocurrency, so make sure they match.
You can buy cryptocurrencies from a cryptocurrency exchange like Coinbase or Robinhood. All you need to do is create an account, place your order, and make payment at the checkout. Ensure you provide your wallet address when you're making payment to send the Ether to your wallet.
NFT marketplace — A platform where you can buy and sell NFTs. You can think of them as an open gallery where you can freely browse NFTs that are for sale. All you need is to create an account and link your digital wallet to start using one. But keep in mind that they differ in the types of collectibles or arts you can trade, so choose wisely.
Some of the biggest NFT marketplaces include OpenSea, CryptoPunks, Rariable, SuperRare, and Sorare. OpenSea, SuperRare, and Rarible support different kinds of collectibles, while CryptoPunks has mainly 24x24 pixel images and Sorare specializes in soccer cards.

How to Buy NFT Art
Create an NFT marketplace account. Once you've chosen an NFT marketplace, you just need to create an account by providing your details and linking your wallet. They all have different terms and conditions and fees, which are mostly paid in Ether.
Buy an NFT. When you see an NFT you like, you can choose to make a bid on it or buy it outright. You'll need to pay a gas fee in addition to the NFT price, which pays for the required energy to make the Ether transaction. As soon as the NFT is in your possession, you can display it in an online gallery, give it as a gift, or resell it at a later date. The NFT market is volatile, so the value of your NFT will probably change frequently.
How to Sell NFT Art
Mint your NFT. The process of making NFT art is called minting and can be done on an NFT marketplace. All you need is a digital file of your art, such as a PNG, MP3, or GIF. Once you've minted your NFT, you're ready to put it up for sale.
Unless you're specializing in a specific collectible like trading cards, then I recommend using OpenSea as a marketplace. It has the largest audience and is the easiest to use. Just make sure your marketplace supports your NFT's blockchain. For example, OpenSea is only compatible with Ethereum.
Upload your file. Log into your NFT marketplace account and click "create" on the top right (if you're using OpenSea or Rarible). Then, choose from either a single or multiple collectible, depending on your art. For example, choose a multiple collectible If you have a collection of photos. After that, you'll need to give your NFT a name before uploading your file.
Set a price. Once you've uploaded your NFT, you'll need to determine a price using the native cryptocurrency of your blockchain. You'll need to pay a service fee on top of that, too. Also, you can choose to set royalties, which means you'll continue to get paid if the NFT resells at a later date. Then, select "Connect wallet and create" or a similar option and pay the gas fee to complete your listing.
Tips for Keeping Your NFTs Safe
Even though blockchain has its own security protocols, there are still some privacy and security risks that come with buying and selling NFTs. There have been several incidents where hackers have stolen large sums of money by breaching blockchain protocols, so you want to be properly protected. Here are some steps you can take to keep safe when trading NFTs.
Increase your anonymity online. When you buy and sell NFTs, all of your internet traffic is exposed except your cryptocurrency transactions. A VPN encrypts your internet traffic at all times so malicious parties can't track your activity or intercept your data. It also adds an extra security layer on top of the blockchain protocols, making it highly secure.
My favorite VPN is ExpressVPN because it's well-suited for beginners and comes with a 30-day money-back guarantee.
Carefully choose a Digital Wallet. While most Digital Wallets are safe, there's always a chance they can be hacked. For example, $600 million worth of cryptocurrency assets were stolen by hackers when they breached a blockchain interoperability network called Poly. It meant Digital Wallets disclosed by Poly were hacked, as around $267 million worth of Ether tokens were stolen.
Since Poly is a newer network built on the Web3 infrastructure, it's less secure and more likely to get hacked. For that reason, I recommend using an established Digital Wallet like a Coinbase wallet or MetaMask wallet. They both support the ERC-725 and ERC-1125 standards, which allow NFTs to be stored.
Create secure passwords. Make sure you set up a strong password and enable 2-factor authentication for robust security. Most wallets also come with a key phrase that you need to access your wallet. If you lose your key phrase, then you'll lose access to your wallet for good — so store it in a safe place.
Use Antivirus to protect against malware. Unfortunately, there can be some NFTs that are disguised as malware, meaning they completely drain Digital Wallets. There have been several cases of this in the past on OpenSea, but luckily they are decreasing. Equipping yourself with a reliable Antivirus like Norton or Avira will detect malware NFTs and keep you safe. They are affordable and compatible with VPNs, too.
Watermark artwork (for NFT creators). Even though copyright laws still apply on NFT marketplaces, it's still easy for someone to copy and paste NFT art and use it elsewhere. Since copyright claims can be hard to prove, it's best to add a visible watermark to your images before selling them on an NFT marketplace. Even an invisible watermark at pixel level can still give you an advantage if you get into a dispute.
Another option would be to mint an NFT with a watermark and then add exclusive content that's watermark-free, which can only be obtained upon purchase of the watermarked NFT.
In addition, you can set out licensing terms in the description of your NFT and keep a digital archive of the original artwork to prove ownership. Taking note of the creation date helps, too, since it adds further proof.
Try ExpressVPN Risk-Free Today
Best VPNs to Buy and Sell NFT Art Safely in February 2023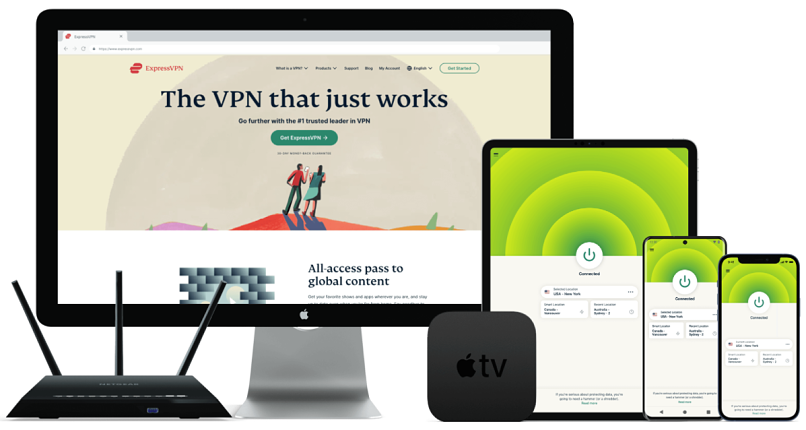 Editor's Choice
Editor's Choice

Tested February 2023
Try Risk-Free for 30 Days
Available on:
Chrome
Router
Smart TV
More
www.ExpressVPN.com
AES-256 bit encryption, kill switch, and DNS leak protection provides strong security
Strict no-logs policy and hide my IP feature ensure total privacy on NFT marketplaces
5 simultaneous device connections
30-day money-back guarantee
Compatible with: Windows, Mac, iOS, Android, Linux, routers, Apple TV, and more
ExpressVPN's top-notch security features keep you well protected when you're buying and selling NFTs. It uses AES-256 bit encryption which is the strongest encryption available and makes your connection impenetrable, even on public WiFi networks. Meanwhile, its automatic kill switch acts as your last line of defense and cuts you off the internet in the rare case that the VPN malfunctions. When I tested its kill switch, I tried to load web pages while switching servers. The pages wouldn't load until the VPN reestablished a safe connection, so I knew it was working.
Additionally, ExpressVPN's no-logs policy prevents unwanted third parties from seeing your online activity when dealing with NFTs. Its Hide My IP feature will also conceal your actual IP address and replace it with a different one, so your identity or location remain private.
The only downside of ExpressVPN is that it's expensive compared to a lot of other VPNs. Its cheapest plan is for 12 months and costs $6.67/month. It's the best value since it has all the same features as the monthly plan, but costs nearly half as much. However, it offers discounts frequently, so you can make it more affordable. I managed to get 49% off my subscription upon signing up.
Also, you can test all of ExpressVPN's features risk-free while dealing with NFTs as it's backed by a 30-day money-back guarantee. You can simply ask for a refund if you don't like it. When I asked a live chat representative to cancel my subscription, they only asked me 1 user-satisfaction question before approving the request. After 2 business days, I was fully refunded, so it's a trustworthy guarantee.
AES-256 bit encryption, kill switch, and DNS leak protection for extra security
Strict no-logs policy and hide my IP feature keep you anonymous at all times
Unlimited simultaneous device connections
30-day money-back guarantee
Compatible with: Windows, Mac, iOS, Android, Linux, routers, Apple TV, and more
IPVanish lets you connect an unlimited number of devices so you're always safe when you buy and sell NFTs. I tested this by connecting my MacBook Pro, Windows laptop, Android tablet, and smartphone as I was using OpenSea to make an NFT. Having more devices connected made no difference to my connection speed or device performance. This makes it really handy if you live in a large household and wish to share the VPN.
For privacy, IPVanish adheres to a strict no-logs policy and owns its entire server network. The no-logs policy stops your online behavior from being recorded anywhere. Having complete control over the server network means there's no chance that third parties can see what you do or slow you down.
A minor inconvenience of IPVanish is that it doesn't accept cryptocurrency payments. But you can pay for your subscription by either credit card, PayPal, or online gift card. The yearly plan is the cheapest at $3.33/month and feature-wise it's no different from the rest. However, you'll pay significantly more if you choose a shorter term.
But if you aren't decided yet, you can test all of IPVanish's features for free by using its 30-day money-back guarantee. There's no need to contact customer service or provide a cancelation reason. Simply go into your account and cancel your membership from there. It only took me a few clicks and I had my money back 3 days later.
Intuitive app that's great for all experience levels when dealing with NFTs
Military-grade encryption and strict no-logs policy ensure total security on NFT marketplaces
7 simultaneous device connections
45-day money-back guarantee
Compatible with: Windows, Mac, iOS, Android, Linux, routers, Apple TV, and more
Cyberghost has an intuitive app that is easy to download and use. As soon as I signed up for a subscription, it took me less than a minute to download and install the app on my MacBook Pro. When I opened the app, I could use its Quick Connect feature to find the best-performing server in terms of reliability and speed. Less than a minute later, I was browsing NFTs on OpenSea.
Its security and privacy features keep you secure on NFT marketplaces, too. CyberGhost uses military-grade encryption and a kill switch to stop your data from falling into the wrong hands, while its no-logs policy ensures total privacy on an NFT marketplace. Also, its home base is in Romania, which is a privacy-friendly country without any data retention laws.
But where it falls short is its short-term plan is on the pricey side and it comes with a shortened money-back guarantee. Luckily, its long-term plans are affordable at $2.19/month.
Another benefit of the long-term plan is its generous 45-day money-back guarantee, which is much longer than most other VPNs. I tested it myself to make sure it's trustworthy and found it hassle-free. I asked customer support to cancel my subscription on day 45. After asking me a couple of questions, they proceeded with my request, and I was fully refunded after 3 business days.
FAQs on Buying and Selling NFT Art Safely
Where can I store NFT art?
Since NFTs are built on a blockchain network, they can be stored in a digital wallet. But do note that the wallet must be NFT-compatible. Even though blockchain protocols are highly secure, it's best to make use of some security practices to protect your NFTs. Cryptocurrency exchanges come with threats since they are unregulated, so you want to have the best protection possible.
Apart from a digital wallet, you can store an NFT on a private or centralized server or a decentralized storage mechanism like Arweave or IPFS.
Can anyone make NFT art?
Yes, anyone can make NFT art because there are no limits on making NFTs and accessing the marketplaces. All you need to do is create an account on your chosen marketplace, choose a blockchain network, and upload the file you want to mint. The file can be anything from a digital painting, photo, video, virtual land, or more.
Additionally, you need to have a digital wallet and the native cryptocurrency of that blockchain, such as some Ether. Since NFTs run on blockchain, you can't use traditional currencies to buy and sell them.
Which NFT marketplace is the best?
The best NFT marketplace is OpenSea. It has the broadest range of NFTs for sale and supports more than 150 payment tokens, making it ideal for beginners. Creating an OpenSea account is free too, which you need to buy, sell, and make NFTs. Once you've done that, then you can follow an easy-to-use guide to buy and sell NFTs on OpenSea and keep them safe from online threats.
Can NFT art be copied?
It is possible to copy the artwork on an NFT, but you can't claim ownership of the asset without buying it. The ownership of an NFT is recorded on a blockchain ledger, which makes each NFT unique and ensures the real owner is known even if the NFT is copied. That's why it's called a non-fungible token.
However, anyone can still copy an NFT and post it on another platform. Even if you hold the copyright, it's still hard to take legal action as ownership can be easily disputed. Therefore, you should consider adding a visible watermark to your NFT, which is a sure way to identify it as yours. Regardless of how much it has been copied, you'll have something to help you out in a dispute.
How are NFTs related to cryptocurrencies?
NFTs are related to cryptocurrencies because they are recorded on a blockchain ledger that shows a public record of the NFT's ownership. While blockchain has very secure protocols, it's always best to take some extra steps to have the best security when trading NFTs.
Most NFTs are built on the Ethereum network, which has NFT capabilities through the Ethereum ERC-721 standard. When you buy, make, and sell NFTs on an NFT marketplace, you'll also need to make payments in cryptocurrency.
Are NFTs regarded as an investment?
Like other assets, the value of NFTs fluctuates because of market trends and new technologies. Each NFT is unique in its own way and therefore carries a different value compared to other NFTs. Plenty of investors are beginning to accept NFTs as investments since they are a new sector that shows a new way of conducting business. If demand continues to grow, then so too can value.
If you're planning to invest in NFTs, then make sure you protect yourself from online threats by implementing some simple security practices. Blockchain networks have been hacked in the past, resulting in millions of dollars being stolen.
Buy and Sell NFTs Safely Today
NFTs are becoming widely accepted as a form of art, meaning more and more people are buying and selling them. Since NFTs involve the use of blockchain networks, cryptocurrency transactions, and NFT marketplaces, getting into them as a beginner can be difficult.
Luckily, all you need is a beginner-friendly guide that outlines the exact steps you need to take to enter the world of NFTs. With proper guidance and explanations of uncommon terms, you can start buying and selling NFTs in no time.
However, trading NFTs can leave you exposed to many online threats, so I recommend taking precautionary measures to stay well-protected. The easiest and most-effective way to stay safe is to use a reliable VPN like ExpressVPN, which encrypts your connection at all times. You can even test all of ExpressVPN's features risk-free since it's backed by a 30-day money-back guarantee. If it doesn't work out, then you can claim a refund.
To summarize, the best VPNs for buying and selling NFTs are…
Privacy Alert!
Your data is exposed to the websites you visit!
The information above can be used to track you, target you for ads, and monitor what you do online.
VPNs can help you hide this information from websites so that you are protected at all times. We recommend ExpressVPN — the #1 VPN out of over 350 providers we've tested. It has military-grade encryption and privacy features that will ensure your digital security, plus — it's currently offering 49% off.