How to Bypass T-Mobile Throttling in 2023 — Stop Speed Loss
Updated on 16th November 2022
It's no secret that T-Mobile can reduce your speeds based on your web activity. The ISP states it throttles users for several reasons. For example, to prevent congestion on the network at busy times or because you're considered a "Heavy Data" user.
The easiest way to bypass T-Mobile data throttling is with a VPN. My team and I tested many services to find the top VPNs to stop this happening. I shortlisted VPNs with fast servers and robust encryption that hide your online activities from T-Mobile. That way, you can stream UHD videos, play games online, and torrent at full speed — without being restricted.
ExpressVPN is my top choice. Its military-grade encryption and obfuscation prevent T-Mobile from seeing what you do online. The worldwide network of super-fast servers also helps you easily access any content at top speeds. Best of all, trying ExpressVPN is risk-free — it offers a 30-day money-back guarantee, so you can get a refund if you're not happy.
Bypass T-Mobile Throttling With ExpressVPN
Quick Guide:
Bypass T-Mobile Throttling in 3 Easy Steps
Get a reliable VPN. I recommend ExpressVPN for its high-grade encryption and excellent speeds to get around T-Mobile throttling. Its network spans 94 countries, offering unrestricted access to most online services.
Connect to a server. Use the Smart Connect feature to find the fastest nearby server. Or, you can select a server in a specific country to bypass geoblocks.
Start browsing. You're ready to stream 4K videos, game online, and torrent without T-Mobile speed restrictions.
Why You Need a VPN to Bypass T-Mobile Throttling
Throttling — intentionally slowing down your connection — is a legal practice outlined in T-Mobile's ToCs.
T-Mobile can throttle your connection for these reasons:
Network congestion. T-Mobile can reduce your speeds for certain activities if people are using too much bandwidth in one area. The same may apply to cell towers if you're using a mobile data plan.
Hotspot throttling. T-Mobile can lower your connection if you share the internet on your smartphone via the hotspot feature (tethering).
Deprioritization. Your speeds may be throttled by T-Mobile if you engage in "heavy bandwidth" activities, like streaming 4K videos or playing online games.
Paid prioritization. Some streaming platforms can be prioritized if they have a financial agreement with T-Mobile. This can also lead to other services being deprioritized, meaning that you get slower speeds when you access those sites.
Restricted activities. T-Mobile uses throttling to discourage you from downloading large files, as it may be a sign of piracy (even if, in reality, you're legally downloading digital products).
A VPN can help with most types of T-Mobile throttling, including network congestion, deprioritization, and traffic discrimination. T-Mobile uses your IP address and traffic to identify your online activities. However, VPNs hide this information from the ISP. Connecting to a VPN server redirects your traffic via a secure tunnel. This masks your online activities and location, helping you avoid activity-based slowdowns.
As a bonus, VPNs also give you enhanced online privacy. Just as T-Mobile can't see what you do online, neither can hackers or advertisers. They can help you bypass geo-restrictions too. When you connect to a VPN server in another country, your real IP address is masked by one from your chosen region — giving you access to any content that's usually geoblocked to that location.
Get the Best VPN to Bypass T-Mobile Speed Throttling
Best VPNs for Bypassing T-Mobile Throttling (Updated in January 2023)
These VPNs use strong security measures to prevent T-Mobile speed throttling. They also have fast global networks, so you can always find a nearby server and maintain UHD-ready speeds. These VPNs have unlimited bandwidth, too — they won't limit the amount you can download.
All of these services are compatible with popular operating systems, including iPhone and Android. You can install them on your router too, to prevent throttling on devices on your network that don't usually support VPNs. Plus, their money-back guarantees let you try them without risk.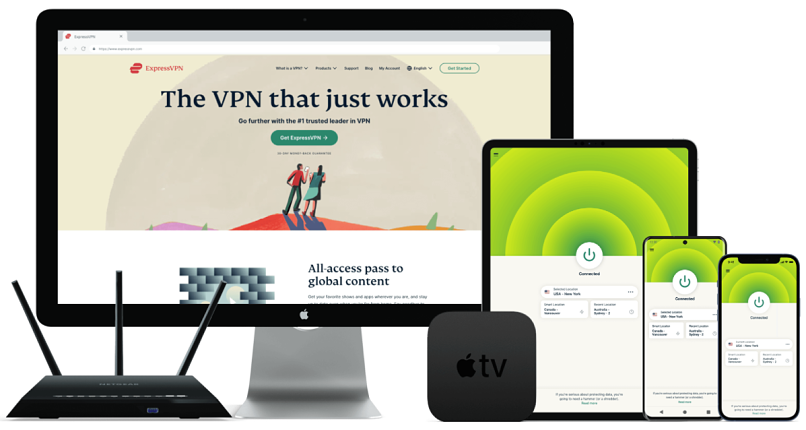 Editor's Choice
Editor's Choice

Tested January 2023
Try Risk-Free for 30 Days
Available on:
Chrome
Router
Smart TV
More
www.ExpressVPN.com
3,000 super-fast servers in 94 countries to stream global content buffer-free
Military-grade encryption to hide all your online activity from T-Mobile
Network-wide P2P support so you can torrent without throttling from anywhere
Can unblock: Netflix, Disney+, ESPN+, Hulu, HBO Max, Amazon Prime Video, BBC iPlayer, and more
Compatible with: iOS, Android, Windows, Mac, Linux, Chrome, Firefox, Amazon Fire Stick, routers, and more
ExpressVPN not only bypasses T-Mobile throttling, but delivers blazing-fast speeds for streaming, gaming, and torrenting. All VPNs decrease your baseline speeds as they encrypt your traffic. However, my connection was barely affected while testing ExpressVPN's servers. My speeds went from 93 Mbps to 83 Mbps — an almost unnoticeable 11% drop. So, I streamed in 4K on YouTube and Disney+ comfortably (you only need 25 Mbps for smooth UHD streaming).
The split tunneling also helped me prevent slowdowns for online services deprioritized by T-Mobile. It lets you select which apps use the VPN and which apps use your regular IP. Say you've detected that T-Mobile slows only Disney+ traffic. You can then set ExpressVPN to route only the Disney+ app, so you don't reduce speeds for other services.
Military-grade encryption (AES 256-bit standard) stops T-Mobile from seeing what you do online. You can choose from several robust security protocols, including the super-fast Lightway and OpenVPN. I use Lightway protocol for UHD streaming and gaming, as it offers the best speeds while protecting your traffic. At the same time, OpenVPN is best for secure online shopping.
Obfuscation technology stops T-Mobile from detecting and throttling your VPN traffic. It masks your encrypted connection as regular internet traffic by blocking deep packet inspections. This means T-Mobile can't tell you're using a VPN, another reason it uses for throttling.
Plus, the Network Lock (ExpressVPN's kill switch) terminates your connection if you disconnect from the VPN. This never happened to me because my connection was always stable, but it further protects your online activity from being exposed. I ran tests on several servers and didn't detect any IPv6/DNS/WebRTC leaks either.
The strict no-logs policy prevents the VPN from collecting or storing your private data. TrustedServer technology also automatically erases your web data on server reboots, so your information physically can't be stored on the RAM-only servers. Finally, the provider is headquartered in the British Virgin Islands, located outside the 5/9/14 Eyes Alliances intelligence-sharing pacts and any data-retention laws.
You can access all popular streaming platforms using the servers in 94 countries. I watched Bob's Burgers on my Hulu account without problems while outside of the country. The VPN also lets you use your accounts on platforms that are often throttled by T-Mobile, like Netflix US, without limits.
Downloading and sharing files is effortless too. This VPN supports the P2P traffic you need for unrestricted torrenting. You also get unlimited bandwidth, letting you enjoy your usual online activities without any additional caps from the VPN.
All the apps are beginner-friendly. The provider offers custom firmware for many router models too, allowing you to stop throttling on your whole home network. I installed ExpressVPN on my Netgear Nighthawk router to extend a throttle-free connection to all my devices, including my PlayStation 5. The official website offers extensive setup tutorials and there's a 24/7 live chat to help you with any questions.
One minor con is that plans are expensive (the most affordable starts at $6.67/month). However, ExpressVPN regularly offers fantastic discounts. I got 49% off and 3 extra free months when I signed up for a 12-month plan.
The refund process is hassle-free, thanks to the 30-day money-back policy. If you don't like ExpressVPN for some reason, you can quickly cancel your subscription. I applied for a refund via a live chat, which took a few minutes. In just 2 days, my money was back on my credit card.
Dedicated servers for bypassing throttling on streaming platforms and torrent sites
OpenVPN and WireGuard security protocols to safely watch videos in 4K
Prevents T-Mobile speed throttling on 7 devices at the same time
Can unblock: Netflix, Disney+, ESPN+, Hulu, HBO Max, Amazon Prime Video, BBC iPlayer, and more
Compatible with: iOS, Android, Windows, Mac, Linux, Chrome, Firefox, Amazon Fire Stick, routers, and more
Bypassing T-Mobile throttling and geo-restrictions is easy with CyberGhost's optimized servers. The VPN provides dedicated servers for unblocking specific platforms, and they're labeled according to the services they unblock. I bypassed throttling on my Netflix US account when testing CyberGhost's optimized servers. In addition, 9,758 servers across 91 countries give you access to speedy connections wherever you are.
My speeds averaged 78 Mbps on nearby servers and were above 65 Mbps on servers in Los Angeles. So I didn't experience video buffering or in-game lags. Some servers are optimized for P2P sharing too, meaning you can use BitTorrent without T-Mobile bottlenecking your connection. You can download as many files as you want, as this VPN doesn't restrict your bandwidth either.
Like ExpressVPN, CyberGhost supports the secure OpenVPN tunneling protocol. However, the VPN's super-fast (but still safe) WireGuard protocol is the best option for video streaming. The VPN also hides your activities from T-Mobile with robust AES 256-bit encryption and a kill switch feature. I didn't detect any IP address or DNS request leaks during testing.
A strict no-logs policy prohibits the VPN from collecting or sharing your data. It's also located in privacy-friendly Romania — free from the EU's harsh data retention laws and Eyes Alliances agreements.
The WiFi protection feature also lets you get around ISP throttling on public hotspots. It automatically launches the VPN whenever it detects an unknown network. Not only could this boost your speeds (if certain activities are slowed) when using public WiFi, but it gives you added defense against hackers too.
All the apps are very easy to install — setting up the VPN on my Android tablet took only 3 minutes. There's also a wealth of helpful tutorials on the website. You can use the 24/7 live chat support for quick troubleshooting. I tried reaching out to the customer support team several times and they always responded instantly.
The monthly plan is quite pricey and has a limited 14-day money-back period. However, long-term subscriptions are affordable, starting at $2.19/month. I got the 3-year plan for the best value for money (it also comes with an extended refund policy).
Trying CyberGhost is free with its 45-day money-back guarantee. If you have any issues with the VPN, you can get your payment back in full. The refund process is swift — I used the website dashboard to cancel and contacted support via email to ask for my money back. My PayPal wallet was reimbursed in 3 business days.
Customizable encryption allows you to focus on online security or fast speeds
29,650 servers worldwide can unblock most geo-restricted online services
Supports up to 10 connections for getting around throttling on all your devices
Can unblock: Netflix, Disney+, ESPN+, Hulu, HBO Max, Amazon Prime Video, BBC iPlayer, and more
Compatible with: iOS, Android, Windows, Mac, Linux, Chrome, Firefox, Amazon Fire Stick, routers, and more
Your web activities are secure from T-Mobile snooping with PIA's top-tier security features. Its apps offer two encryption levels: AES 256-bit for enhanced traffic protection and AES 128-bit, which uses weaker encryption for faster speeds (but is still secure enough for most online activities).
You can also choose between speedy WireGuard and security-oriented OpenVPN. This makes it easy to prioritize speed when bypassing T-Mobile throttling.
Leak protection helps to make sure your online activity isn't exposed to T-Mobile — I didn't detect any IPv6/DNS/WebRTC leaks while testing PIA on all settings. Plus, its reliable kill switch locks down your internet if the VPN loses connection. This prevents your traffic from reverting to your T-Mobile IP and showing the ISP what you're doing online.
This VPN doesn't store your personally identifiable information, thanks to the strict zero-logs policy. That means it doesn't have any data to hand over to third parties like advertisers or authorities. I also use the MACE feature to get rid of annoying pop-ups and trackers on websites like Yahoo News.
The vast network lets you access geoblocked websites and online services throttle-free. While outside of the US, I watched The Boys on my Amazon Prime Video account without experiencing any unusual slowdowns. I also downloaded digital copies of games on Steam without data throttling.
While it's not as fast as CyberGhost, PIA is a great option for seamless streaming due to its reliable speeds. I tested several US, UK, and France servers and my average result was well above 55 Mbps. This VPN also supports P2P connections and uncapped bandwidth, so you don't bump into additional data limits while torrenting.
The only downside is that the apps aren't very beginner-friendly due to their many customization options. That said, PIA's desktop and mobile apps offer pre-configured profiles for easier torrenting, streaming, and gaming. That means getting started is problem-free if you're a VPN beginner. There are also many FAQs, tutorials, and 24/7 online chat if you need help figuring something out.
Every subscription is wallet-friendly and offers the same features. However, PIA's extended plans are available for as low as $2.19/month. The yearly subscription gave me the best value.
On top of that, you can test PIA with confidence for 30 days. The refund process is as easy as it gets. I asked for a refund via the live chat and my credit card got reimbursed 4 days later.
FAQs on How to Bypass T-Mobile Throttling
Why does T-Mobile throttle my connection speed?
T-Mobile usually reduces your speeds to optimize overall network performance. Luckily, VPNs with robust encryption can help you bypass T-Mobile speed throttling when it's targeting users based on web-activity.
Heavy data users may also face additional throttling. The ISP identifies "heavy data" users as those who go over 50 GB in one billing period.
The ISP can use throttling to discourage illegal activities, too, like pirating copyrighted materials on torrent sites. It has also been known to throttle streaming platforms or other online services to encourage you toward sites that have paid to be prioritized.
How do I know if T-Mobile is throttling my speeds or data?
Use an online speed checker to measure your internet speeds with and without a VPN. After measuring your base internet connection, connect to a VPN server nearby to encrypt your traffic and redo the test. If you get higher speeds with the VPN, T-Mobile is most likely throttling your connection.
Speedtest by Ookla or Fast.com by Netflix are reliable tools to use.
Is it legal for T-Mobile to throttle my data?
T-Mobile can legally restrict your speeds if it discloses such practices. Thankfully, it's just as legal to use a VPN with advanced security features to bypass T-Mobile throttling.
Obama's Open Internet Order used to make US ISPs treat all internet users' traffic equally. However, the Order was repealed by the Trump administration in 2018 — making it legal for ISPs like T-Mobile to discriminate against your traffic depending on your device or online activity.
How can I bypass T-Mobile video throttling on iPhone and Android?
Use a mobile-friendly VPN that can hide your online activity and location from T-Mobile. All of the VPNs on this list have easy-to-use native apps for iOS and Android.
It's important to choose a VPN that provides a compatible app for your device. Otherwise, you have to go through a lot of complicated manual setup. With a native app, all you have to do is install and connect to start getting around T-Mobile throttling.
Can a VPN get around T-Mobile data or speed limits?
No, you can't bypass the monthly data limits of your T-Mobile plan with a VPN, or exceed your agreed speed. That said, VPNs with ad-blockers can help you save data, as they prevent annoying pop-ups and ads from loading and taking up vital bytes.
However, the only way to get around data caps is to upgrade to T-Mobile's Unlimited Data plan or switch ISP entirely. But even unlimited data plans have soft caps that place hidden thresholds on your data.
How do I bypass T-Mobile throttling while torrenting?
Use a reliable VPN to hide your torrenting traffic from T-Mobile. By protecting your online activities, you prevent T-Mobile from deprioritizing your connection when you torrent. You just need a VPN with P2P traffic support, top-grade encryption, and unlimited bandwidth for unrestricted torrenting.
Are there alternative methods for bypassing T-Mobile throttling?
Yes, but other methods have their disadvantages. The most reliable and hassle-free way to stop T-Mobile throttling is to use a VPN with robust security and a global network of fast servers.
For example, proxies can hide your location but they lack encryption, so T-Mobile can still see what you're doing online. There are also a couple of complicated configuration methods or third-party apps you can try. Changing your Google DNS or APN settings might help you get around cell tower throttling. Using hidden tethering apps or changing your DUN settings can also prevent throttling when you share your connection.
However, unlike VPNs, these methods only work for one type of throttling. Plus, complex configuration can brick your device if you don't know what you're doing and third party-apps come with their own risks.
Another alternative is to complain to T-Mobile itself. You can measure your internet connections for specific services to see if it throttles specific traffic. If you identify any restrictions, you can demand that T-Mobile stops throttling your connection or complain to an arbitrator. Still, these disputes can take a long time to resolve, and — since T-Mobile clearly outlines throttling in its ToS — there's no guarantee you'll get anywhere.
Can I bypass T-Mobile throttling with free VPNs?
Free VPNs lack the security methods to stop T-Mobile throttling. ISPs often use deep packet inspection for traffic analysis, so only a premium VPN with AES 256-bit encryption can protect your data. Free services rarely offer unlimited bandwidth too, which places additional data caps on your online activity. You're also likely to encounter severe slowdowns, as these VPNs tend to have highly congested networks.
Besides, you can compromise your online security with "free" VPNs. They usually lack a strict no-logs policy and can even sell your data to third parties. Worst of all, some VPN apps contain harmful malware and trackers. It's much safer to use a tried-and-tested paid VPN with a money-back guarantee.
Get a Reliable VPN to Bypass T-Mobile Throttling
Bottom Line
A secure VPN is the best way to stop T-Mobile from reducing your speeds. The VPNs on my list use world-class security measures to prevent T-Mobile from identifying your online activities and throttling your connection. They also have fast servers and advanced tunneling protocols for smooth UHD streaming and online gaming.
ExpressVPN is my favorite option to bypass T-Mobile throttling. Your web activity stays private with AES 256-bit encryption and a no-logs policy. It also has a blazing-fast global network for buffer-free streaming and easy access to popular online services. Finally, you can try ExpressVPN without risk, knowing it offers a 30-day money-back guarantee. Getting a refund is easy if you decide it's not for you.
To summarize, the best VPNs to bypass T-Mobile throttling are...
Privacy Alert!
Your data is exposed to the websites you visit!
The information above can be used to track you, target you for ads, and monitor what you do online.
VPNs can help you hide this information from websites so that you are protected at all times. We recommend ExpressVPN — the #1 VPN out of over 350 providers we've tested. It has military-grade encryption and privacy features that will ensure your digital security, plus — it's currently offering 49% off.