How to Stop AT&T Throttling in 2023 — Easy Workaround
Updated on 16th November 2022
AT&T is notorious for throttling internet bandwidth, either on your mobile or at home. In the past, the world's largest telecom company has admitted to temporarily slowing users' speeds whenever their network was busy.
This can be based on your web activity. I find this most annoying when I'm trying to watch content in high definition (for example, on my NBC Sports, YouTube, and Netflix accounts) or download large files quickly.
The easiest way to enjoy web browsing without slowdowns is by using a VPN. AT&T analyzes your IP address and traffic to detect whether you stream or torrent a lot. A VPN allows you to use a different IP address and mask your traffic so the ISP (internet service provider) can't see the content of your connection.
My team and I tested 60+ VPNs, and my top choice to stop AT&T throttling is ExpressVPN. It has military-grade encryption, and strong privacy features to quickly bypass throttling. Plus, you can try ExpressVPN risk-free since it's backed by a 30-day money-back guarantee. If you're not entirely satisfied, getting a refund is hassle-free.
Try the Best VPN to Bypass AT&T Throttling
Quick Guide:
How to Stop AT&T Throttling With a VPN in 3 Easy Steps
Download a VPN. I recommend ExpressVPN since it has robust security and obfuscation features to easily bypass AT&T throttling. The service also comes with a vast server network, unlimited bandwidth, and lightning-fast speeds to watch your favorite shows without interruptions.
Connect to a server. You can manually connect to a chosen location and access specific content available abroad or use the Quick Connect feature to find the fastest server automatically.
Enjoy interruption-free browsing. Watch YouTube videos, play online games, and torrent without AT&T data throttling.
Why You Need a VPN to Stop AT&T Throttling
Bandwidth throttling occurs when the ISP intentionally slows down your speeds. It mainly happens at night when everyone is home and online. The ISP analyzes your browsing activity to detect whether it's data-intensive, such as torrenting, gaming, or streaming. Once confirmed, the company applies bandwidth restrictions.
There are several reasons for AT&T to throttle your speeds. Among the most common ones is to reduce strain on its network. Data-heavy tasks, such as YouTube streaming or torrenting, use up a lot of bandwidth. This makes it hard for the company to offer a consistent level of connection quality, so it keeps slowing you down. AT&T is throttling speeds for unlimited data customers too. Here's what the provider's website says:
"If a lot of devices are using mobile data at once, it can put a strain in our network. This is called network congestion, and we may have to slow your data speed to keep everyone connected.
On an unlimited plan? We may temporarily slow your speed at any time if our network is busy. We may also slow it after you use more than 50GB or 22GB of data in a single bill period."
To check if AT&T throttles your bandwidth, use an online speed test tool, like fast.com. If the result is 20-30% slower than what's written in your contract, chances are AT&T is restricting your data. Rates much lower than your usual base speed while streaming, torrenting, or gaming might indicate your provider is throttling some specific online activities.
Using a VPN is a reliable way to bypass this limitation. It prevents ISPs from tracking the contents of your connection by creating a tunnel between their servers and your device. A VPN encrypts your data and forwards it through a server in another location. In other words, it swaps your actual IP address with a new one from your chosen country. For example, you get a UK IP when you connect to the UK server.
This leads AT&T to think you don't perform high-bandwidth activities (like BitTorrent downloads or watching Netflix), thus avoiding content-based internet throttling. Simply put, a VPN allows you to enjoy the web without restrictions from your ISP.
Note: A VPN can't stop AT&T throttling if you've exceeded your data caps. Even the unlimited plans have soft caps that result in slower speeds when you reach them. However, using a VPN helps to avoid discrimination against particular types of internet traffic — like live streaming, downloading large files, and gaming in high definition.
Try ExpressVPN Risk-Free Today
Best VPNs to Stop AT&T Throttling — Updated in 2023
All VPNs on my list can help you stop AT&T throttling with their robust encryption and global server networks. They also provide high-speed connections to enjoy streaming TV shows in perfect quality. Plus, every VPN comes with apps for popular operating systems, letting you enjoy the web unthrottled on your favorite devices.
Better yet, they offer a money-back guarantee to test them without risk. If you aren't satisfied with the results, getting a refund is very convenient.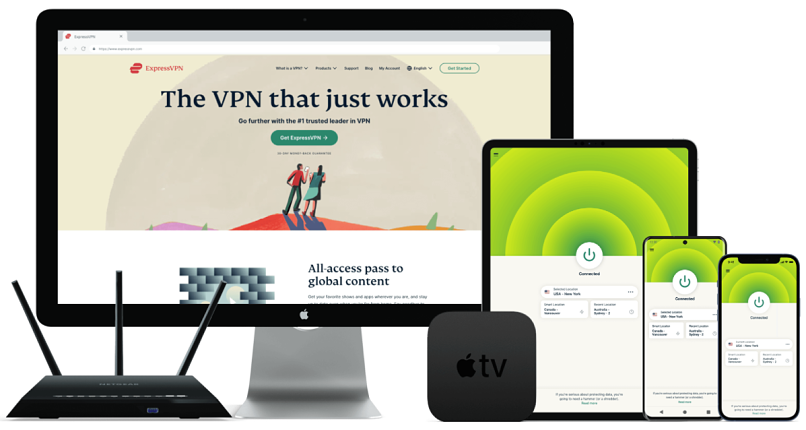 Editor's Choice
Editor's Choice

Tested January 2023
Try Risk-Free for 30 Days
Available on:
Chrome
Router
Smart TV
More
www.ExpressVPN.com
Robust security and privacy features to bypass AT&T data throttling easily
3,000 servers in 94 countries for accessing the content you need anywhere
Lightning-fast speeds to watch your favorite shows in UHD buffer-free
Can unblock: Netflix US, Hulu, Disney+, HBO Max, BBC iPlayer, Vudu, Amazon Prime Video, and more
Compatible with: Windows, Mac, iOS, Android, Linux, Amazon Fire Stick, Roku, Chromebook, Smart TVs, routers, and more
ExpressVPN's military-grade encryption protects you from AT&T throttling. It encrypts your information, making it hard for your ISP to keep tracking your online activity. Plus, Perfect Forward Secrecy changes your encryption key every 15 minutes to prevent data inspection. Network Lock (kill switch) also cuts off your internet if the VPN fails, but it didn't happen during my tests. There's split tunneling too, which lets you specify which app should use the VPN.
A proprietary Lightway protocol boosts your online safety without reducing speeds. It's a good choice for streaming and gaming. I ran several DNS/IP/WebRTC leak tests on ExpressVPN US servers, and my actual location wasn't revealed. Obfuscation makes the VPN traffic appear like regular activity if the security protocol is set to automatic. This prevents deep-packet inspections and helps bypass strict firewalls (like those of Amazon Prime Video).
TrustedServer technology reliably protects your privacy — the RAM-based servers automatically erase your online data with every reboot. This feature is paired with a no-logs policy, meaning your information isn't collected or shared with third parties either. The VPN is based in the British Virgin Islands, outside the 5/9/14 Eyes Alliances (international agreements between multiple countries to store and share data on its citizens).
An extensive server network covers 94 countries. This means you can enjoy browsing global content without AT&T speed throttling. During my tests, I connected to the UK server, which allowed me to access my BBC iPlayer account without problems. Similarly, I had no issues accessing my Netflix and Hulu subscriptions using the US server when abroad.
Blazing-fast speeds are perfect for watching YouTube videos buffer-free. I didn't notice any buffering while streaming El Camino on my Netflix account in UHD. Besides, you can torrent as much as you want with unlimited bandwidth. Connected to the UK, Mexico, and Canada servers, I recorded an average download speed of 89 Mbps (only an 8% drop from my base 96.7 Mbps connection).
Installing ExpressVPN on many devices is a breeze. The service offers incredibly user-friendly apps. It took me less than 5 minutes to install the VPN on my Windows 11 laptop and Android smartphone. MediaStreamer (SmartDNS) also lets you avoid geoblocks on devices without native VPN support. If you're having any difficulties, contacting support using the 24/7 live chat feature is easy. Plus, it's possible to connect 5 devices at the same time.
One small issue is the expensive subscriptions, which start at $6.67/month. Luckily, you can take advantage of ExpressVPN's frequent deals and promotions. I got 49% off when I signed up for the 12-month plan and an extra 3 months for free.
On top of that, ExpressVPN comes with a 30-day money-back guarantee. This means getting a full refund is hassle-free if you're not happy with the service. I contacted customer support via live chat to cancel my subscription. After providing quick feedback, my refund request was approved, and my PayPal account was reimbursed only 2 days later.
9,758 servers in 91 countries to quickly bypass AT&T bandwidth throttling
7 simultaneous device connections for covering your home and mobile devices
Multiple security protocols to keep your online activity safe
Can unblock: Netflix US, Hulu, Disney+, HBO Max, BBC iPlayer, Vudu, Amazon Prime Video, and more
Compatible with: Windows, Mac, iOS, Android, Linux, Amazon Fire Stick, Roku, Chromebook, Smart TVs, routers, and more
An extensive server network spanning 91 countries is great for bypassing AT&T throttling, even at peak times. You can also access the content you need from anywhere, trouble-free. The VPN comes with specialized servers for a better streaming experience. When testing CyberGhost's optimized servers, I immediately unblocked my Netflix account. The entire server list is categorized into 3 groups — streaming, gaming, and torrenting.
Like ExpressVPN, CyberGhost's speeds allow you to watch shows in 4K quality. I didn't notice any data throttling or buffering while watching Woke on my Hulu account. Besides, unlimited bandwidth lets you stream without limits. My speeds didn't drop below 81 Mbps — this is 3 times faster than the recommended 25 Mbps you need for UHD streaming.
The service has AES 256-bit encryption and an automatic kill switch to protect you from cyber threats. It also comes with OpenVPN and WireGuard protocols — both are very secure, however the first is a golden standard for online safety, whereas the latter offers faster connections. I tested CyberGhost's regular and specialized servers for IP/DNS leaks using an online tool, and my personal information wasn't exposed.
Fortunately, the VPN is based in Romania, outside the data-sharing 5/9/14 Eyes Alliances. It also has a built-in ad, tracker, and malware blocker that boosts your online safety. When testing it with the New York Times, Der Spiegel, and CNN websites, it automatically identified and blocked privacy risks and intrusive pop-ups. Plus, it's possible to get access to super-secure NoSpy servers (owned and directly operated by CyberGhost) for a small fee.
Using the apps is easy, and you can install them on multiple devices. All other options are intuitively placed under the settings menu. For example, the split tunneling feature allows you to choose which apps access the internet through the VPN tunnel and which apps omit it. However, if you need help with anything, the VPN has a 24/7 live chat feature and extensive guides.
My only disappointment is that monthly plans are quite pricey and come with a reduced money-back guarantee (only 14 days). However, CyberGhost's long-term subscriptions are very affordable, starting at $2.19/month. They also offer extended refund periods, so I recommend getting the 3-year plan since it's the most pocket-friendly.
With 45-day money-back guarantee, you can try CyberGhost for free to stop AT&T throttling. Getting a refund is very straightforward if it doesn't match your needs. I emailed customer support, and the money was transferred to my credit card 3 days later.
High-speed connections to stream TV shows without buffering
AES 256-bit encryption for protecting your traffic against AT&T throttling
10 simultaneous connections to use the VPN on multiple devices
Can unblock: Netflix US, Hulu, Disney+, HBO Max, BBC iPlayer, Vudu, Amazon Prime Video, and more
Compatible with: Windows, Mac, iOS, Android, Linux, Amazon Fire Stick, Roku, Chromebook, Smart TVs, routers, and more
PIA provides impressive speeds to enjoy browsing the web without interruptions. It let me download a hefty 8 GB file in about 16 minutes; not quite matching CyberGhost but still impressive. During PIA's speed tests, I recorded low ping for online gaming. The average download speed across all servers was 71 Mbps, more than enough to enjoy UHD buffer-free streaming. The VPN comes with unlimited bandwidth too, so you can download/upload as much as you like.
The service offers 29,650 servers in 84 countries to reliably bypass AT&T throttling. Connected to its US servers, I accessed my Hulu account without issues. Likewise, testing its Australia, UK, and Japan servers, I had no slowdowns when binge-watching shows on my Netflix and Disney+ subscriptions.
Robust privacy features protect your online data. The VPN comes with an ad blocker called MACE that successfully removes invasive tracker ads. There's also a strict no-logs policy and RAM-based servers, which guard your online privacy.
You can customize security settings to your liking. There's the option to switch between a faster AES 128-bit or super-secure 256-bit encryption. Plus, PIA has an automatic kill switch and leak protection. My favorite combination for secure and fast browsing is AES 256-bit encryption and the WireGuard protocol.
A small drawback is that some VPN users might find the apps quite complicated to use. However, PIA comes pre-configured with the best settings, meaning it's possible to use it right away. Besides, there's a 24/7 online chat if you need assistance.
I find the service fairly priced — you can get PIA for only $2.19/month. Out of all the plans, the 3-year one provides the best value for money. It has the same features as the monthly subscriptions but saves you more money in the long run.
Getting a refund is very convenient since all plans offer a 30-day money-back guarantee. I applied for a refund by sending a support ticket on its website, and in 5 days, my bank account was reimbursed.
FAQs on Stopping AT&T Throttling With a VPN
Do all ISPs throttle bandwidth?
Yes, most ISPs throttle your bandwidth. For example, AT&T is known for throttling home internet. Your ISP needs to make sure that customers get equal bandwidth, so they analyze your traffic and detect data-heavy tasks. However, you can mask your traffic with a secure VPN. It routes your connection through an encrypted tunnel, making it hard for your ISP to detect your online activities, therefore, avoid throttling.
What's interesting, it's possible to stream movies and shows on your DirecTV and U-verse TV (both owned by AT&T) without impacting your monthly data plan allowance. It's the way the company favors its own video services. Other streaming platforms like Netflix and Sling TV don't have this privilege unless they pay for it using AT&T's Sponsored Data service.
How to tell if AT&T is throttling my bandwidth?
You can measure your actual speeds and compare them to what's written in your contract. However, check whether you didn't go overboard on your data cap limits before testing. If your speeds are significantly reduced, just get a VPN with military-grade encryption and an extensive server network to bypass AT&T internet throttling.
The easiest way to check it is with an online tool like speedtest.net. Simply type "speed test" into the search box on Google or Bing. Look out for a significant drop (more than 30%) from your usual base speed while watching YouTube videos, streaming Netflix, or torrenting. It might be caused by deliberate bandwidth throttling by AT&T.
Is it legal for AT&T to throttle my bandwidth?
Yes, AT&T is legally permitted to throttle your bandwidth. Unfortunately, the FCC (Federal Communications Commission) under the Trump Administration repealed the Open Internet Order (net neutrality rules), which mandated ISP in the US to treat all traffic equally. To prevent data throttling, you need a reliable VPN. Otherwise, AT&T policies allow the company to reduce the internet bandwidth if its network is under strain.
In 2014 the FTC (Federal Trade Commission) filed a lawsuit against AT&T for throttling its unlimited data customers' bandwidth. Even though the company slowed down the mobile data access of millions of users, the court ruled in AT&T's favor.
How can I bypass AT&T hotspot and mobile data throttling?
There are several methods to prevent throttling hotspots, but the best one is with a VPN. It lets you mask your traffic, making it hard for AT&T to restrict your internet based on your activity. Make sure you get a VPN with robust security features and an extensive server network. This way, you can share your mobile data using your hotspot feature without severe limits.
Alternatively, it's possible to purchase additional data or get an AT&T hotspot device for the 4G network. For Android users, there's an option to use the PdaNet+ app that shares your device's internet connection with a computer or tablet.
Why does AT&T keep throttling my internet?
AT&T throttles streaming YouTube TV and other high-bandwidth activities to reduce network strain.The company does this to provide equal service to all of its subscribers. A premium VPN stops AT&T bandwidth throttling by masking your internet traffic. However, a VPN won't help if you've exceeded your data cap.
What are the other ways to speed up my home internet?
There are several things you can do if your internet connection is slow. However, if AT&T targets specific sites and services (like CBS or FaceTime), the only thing that can help you is to connect to a VPN server. To avoid other sources of slow internet:
Regularly update your router.
Make sure nothing blocks your wireless router signal, or try repositioning it.
Get the new router with the latest WiFi protocols. Most households don't have the newest generation WiFi routers to handle multiple UHD streams, video games, and downloads.
Turn off the devices you don't need to use to avoid congestion.
Can I use a free VPN to bypass ISP throttling?
Yes, but free VPNs aren't reliable. Most of them lack proper security measures and provide slow speeds. Free VPNs also have small network coverage, so they're a poor choice for bypassing internet throttling. It's a better alternative to get a low-cost VPN with a trustworthy money-back guarantee.
Some free services may even come bundled with malicious malware that steals your personal information. Besides, many have vague privacy policies, meaning they can sell your personal data to ad networks.
Stop AT&T Throttling With a VPN Now
The fastest and easiest way to stop AT&T from slowing down your speeds is using a VPN. It allows you to mask your traffic, giving you a fast, unthrottled connection. Powerful VPNs also let you bypass geoblocks to watch your favorite shows in crystal-clear quality.
ExpressVPN is my top choice for stopping AT&T throttling. It comes with military-grade encryption and a large server network, making it ideal for uninterrupted internet connections. Plus, the VPN has blazing-fast speeds to watch shows buffer-free. Best of all, it's backed by a 30-day money-back guarantee, meaning you can test ExpressVPN risk-free. If it doesn't meet your standards, getting a refund is hassle-free.
To summarize, the best VPNs to stop AT&T throttling are…
Privacy Alert!
Your data is exposed to the websites you visit!
The information above can be used to track you, target you for ads, and monitor what you do online.
VPNs can help you hide this information from websites so that you are protected at all times. We recommend ExpressVPN — the #1 VPN out of over 350 providers we've tested. It has military-grade encryption and privacy features that will ensure your digital security, plus — it's currently offering 49% off.