How to Cancel CyberGhost and Get Refunded
CyberGhost promises a 45-day money-back guarantee. While you can cancel your subscription fairly easily, getting a refund isn't as clear. We did the hard work for you and found out how to get a refund. Share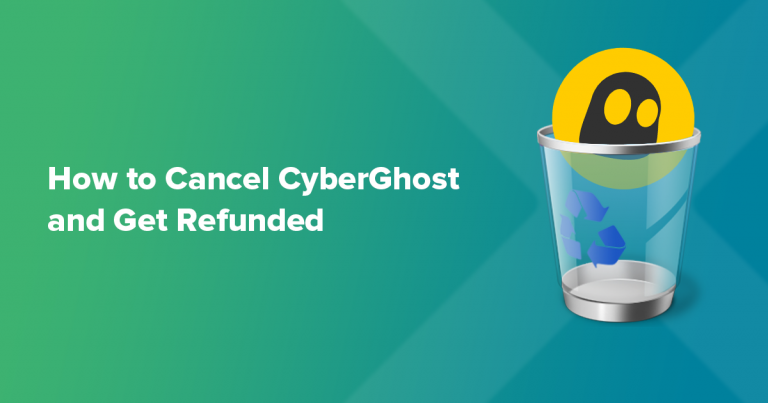 CyberGhost is a very popular VPN on the market, so we decided to test their 45-day money-back guarantee to see if it really holds up.  After signing up for a monthly plan, we waited a couple of days and then asked for a refund, and we found it was super simple to do.
The following offers a step-by-step guide on how to cancel your CyberGhost VPN subscription and get your money back.
How to Cancel CyberGhost and Request a Refund
Go to CyberGhost and sign into your account.
Cancel your subscription.
Contact customer support and request for a refund.
Once you cancel your subscription with CyberGhost and receive your refund, you may want to consider another provider that better meets your needs. We recommend NordVPN . This is one of the few top VPNs that can easily access geo-restricted services such as US Netflix and BBC iPlayer, has incredible security, and is available at a great price.
Step 1: Login to your CyberGhost VPN Account
To cancel your CyberGhost VPN subscription and get a refund, you need to first go to your account.
Click the My Account button at the top right of CyberGhost's home page .

Enter your registered username and password and login.

This should redirect you to your account page with all the key details about your VPN plan.
Step 2: Cancel Your Subscription
From your account page, you can then cancel your subscription. Scroll down to the Subscription section in the middle of the page
Click on Cancel Subscription


Confirm cancellation by clicking Yes

I received a confirmation email immediately after cancelling my subscription.
Now that your subscription is cancelled, you need to ask for a refund.
Step 3: Request a refund
I found cancelling my CyberGhost subscription very easy and straightforward, but getting a refund is a takes a bit more effort. There's no button to automatically get a refund, and CyberGhost's refund policy states that users need to contact them directly for a refund.
Luckily, CyberGhost has a Live Chat that's available all of the time. I immediately launched the Live Chat from CyberGhost's home page and entered my name and registered email.
Within seconds of asking for a refund, I was told that I would receive one, even before they asked for a reason.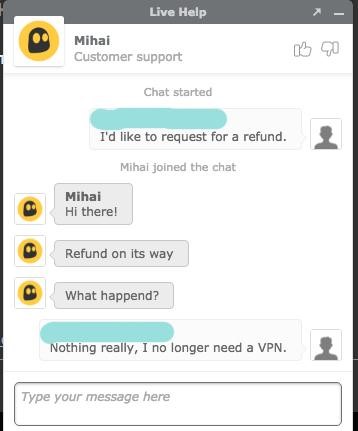 They immediately informed me that "you should expect the money back in 3-5 business days" and that an email confirmation had been sent.
I further asked if I needed to take any further action to close the account and they responded that "It has been automatically switched to a free account". This request took about a minute to make.
Step 4: Receive Confirmation Email
This was the final step in requesting for the refund. Immediately after the Live Chat with CyberGhost, I checked my email and found the confirmation that the cost of my subscription would be returned to my account within the next 3-5 business days.
That was it! The whole process took less than five minutes, and I got my money back without a hassle. CyberGhost was very understanding and easy to work with.
Choose a New VPN
Now that you've canceled your CyberGhost subscription, don't take your privacy for granted. Check here to see the best VPNs available and how they differ from each other, or check out our deals and discounts on our most popular VPNs.