How to Cancel CyberGhost and Get Refunded (2020 UPDATE)
CyberGhost promises a 45-day money-back guarantee. While you can cancel your subscription fairly easily, getting a refund isn't as clear. We did the hard work for you and found out how to get a refund. Share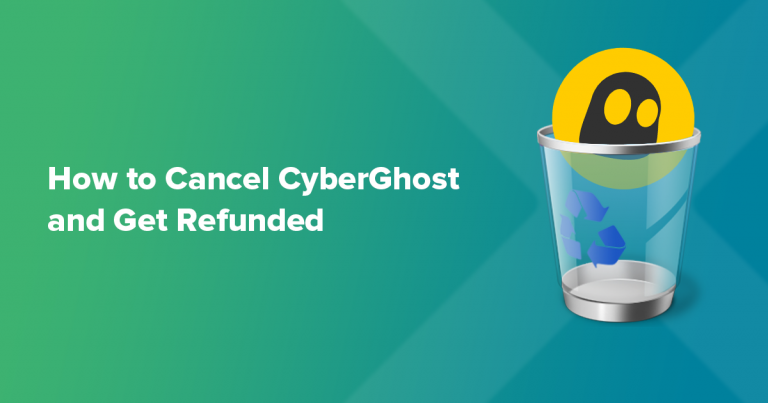 CyberGhost offers a generous 45-day money-back guarantee. When things sound too good to be true, they usually are, so we tested CyberGhost's refund policy to make sure the service delivers.
We signed up for the cheapest, shortest plan, waited a couple of days, and then asked for a refund. We found it was super simple to do.
The following offers a step-by-step guide on how to cancel your CyberGhost VPN subscription and get your money back.
If you're unhappy with CyberGhost and looking for an alternative, we recommend NordVPN or one of our other top alternatives.
Quick Guide – How to Cancel CyberGhost and Request a Refund
Go to CyberGhost and sign in to your account.
Cancel your subscription.
Contact customer support and request for a refund.
Step-By-Step Guide to Canceling Your Account
Step 1: Log In to Your CyberGhost VPN Account
To cancel your CyberGhost VPN subscription and get a refund, you need to first go to your account.
Click the My Account button at the top right of CyberGhost's home page.

Enter your registered username and password and log in.

This should redirect you to your account page with all the key details about your VPN plan.
Step 2: Cancel Your Subscription
From your account page, you can then cancel your subscription. Scroll to "My Subscriptions". Click "Turn auto-renewal off".
CyberGhost specifies that canceling your account will not trigger a refund. Requesting a refund is a different process.
If you bought your subscription through Google Play or iTunes, you'll need to follow a slightly different process to cancel your account. You can find the details in CyberGhost's detailed support section.
Step 3: Request A Refund from Customer Support
I found canceling my CyberGhost subscription very easy and straightforward, but getting a refund is a takes a bit more effort. There's no button to automatically get a refund, and CyberGhost's refund policy states that users need to contact them directly for a refund.
Luckily, CyberGhost has a Live Chat that's available all of the time. I immediately launched the Live Chat from CyberGhost's home page and entered my name and registered email.
Within seconds of asking for a refund, I was told that I would receive one, even before they asked for a reason.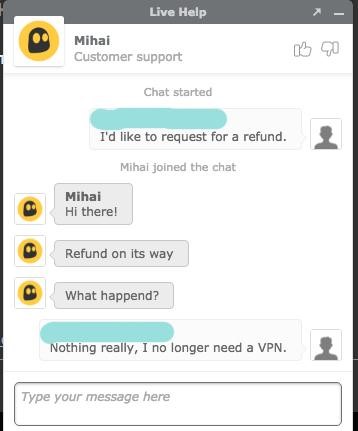 They immediately informed me that "you should expect the money back in 3-5 business days" and that an email confirmation had been sent.
I further asked if I needed to take any further action to close the account and they responded that "It has been automatically switched to a free account". This request took about a minute to make.
Step 4: Receive Confirmation Email
This was the final step in requesting for the refund. Immediately after the Live Chat with CyberGhost, I checked my email and found the confirmation that the cost of my subscription would be returned to my account within the next 3-5 business days.
That was it! The whole process took less than five minutes, and I got my money back without a hassle. CyberGhost was very understanding and easy to work with.
I Canceled My CyberGhost Subscription – Now What?
You weren't happy with CyberGhost, and we understand. With so many options out there, it can be challenging to pick the right VPN to meet your needs.
The good news is that you don't have to stay unprotected just because CyberGhost wasn't right for you.
These great alternatives to CyberGhost will keep your data safe while you torrent, browse, and even when you connect to public wi-fi networks.
These VPNs can also help you unlock the free and unrestricted internet no matter where you are.
Best Alternatives to CyberGhost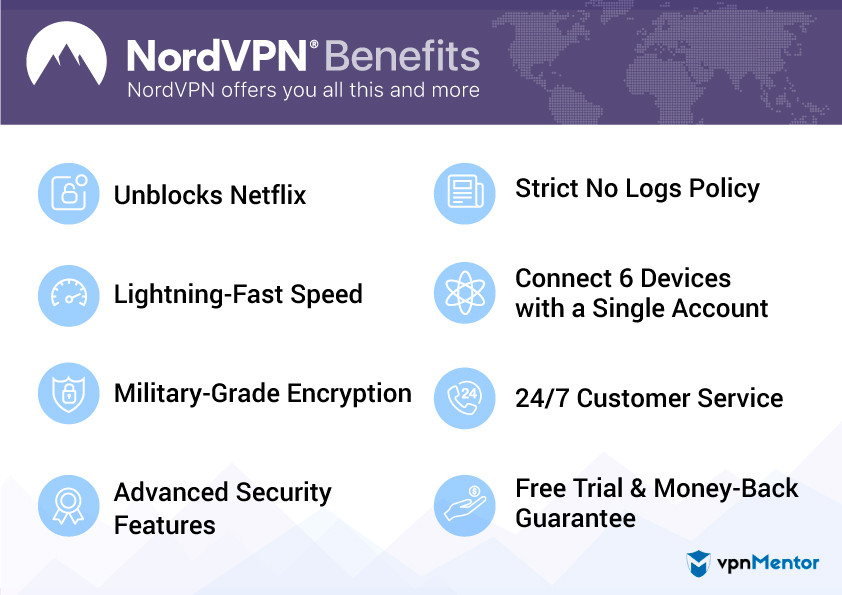 NordVPN makes it easy to protect your privacy and stay safe online. This VPN is packed with security features, including robust encryption, DNS/IP leak protection, an automatic kill switch, and Onion Over VPN.
The CyberSec suite automatically blocks ads and suspicious websites to block malware and other cyber threats.
Plus, NordVPN's strict zero-logging policy means that your browsing activity is truly private.
Security isn't the only thing this VPN has to offer. NordVPN's network of 5,400+ servers offers fast connection speeds in 60 countries around the world.
Real users praise NordVPN for its fast and reliable connections. With no buffering delays, NordVPN is a great choice for HD streaming.
NordVPN's SmartPlay technology allows you to stream geo-restricted shows, movies, and sporting events with no special setup or manual configuration.
NordVPN allows you to connect up to 6 simultaneous devices with a single account. You can test this VPN out risk-free with a 30-day money-back guarantee.
If you run into any issues, NordVPN's friendly support team is available 24/7 via live chat to help you out.
Make sure to check out our current NordVPN coupon page to save on your next subscription.
NordVPN can unblock:
Netflix, HBO, Hulu, Showtime, BBC iPlayer, Amazon Prime Video, and Sling TV.
Supports torrenting:
Yes, P2P specialty servers available.
NordVPN works on these devices:
Windows, macOS, Android, iOS, Android TV, Linux, Chrome, and Firefox. It's also compatible with routers.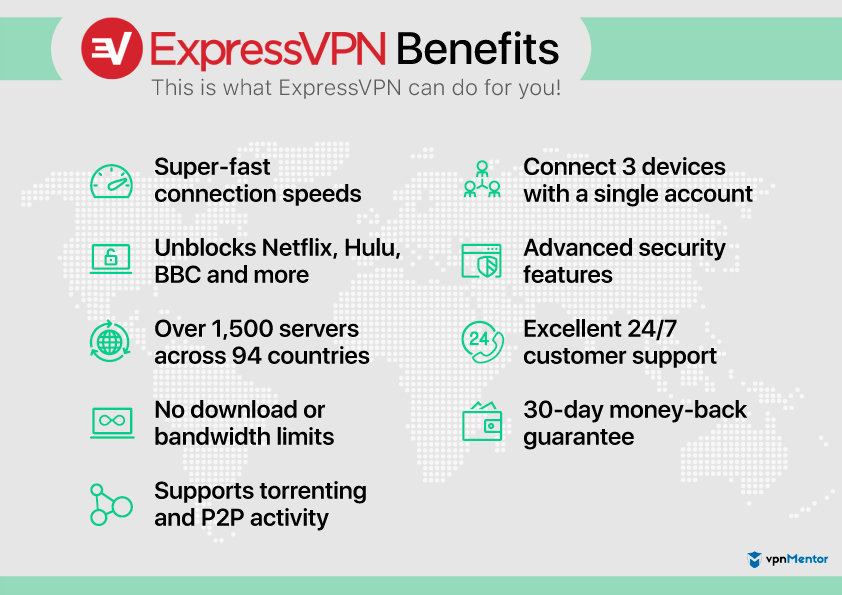 If your top priority is speed, ExpressVPN has got you covered. Out of all the VPNs we have tested, this one is the fastest.
ExpressVPN's network offers lightning-fast, reliable connections on 3,000+ servers spread across 94 countries.
When you combine its speed with its ability to unblock geo-restricted streaming content around the world, you can see why real users praise ExpressVPN as a great choice for streaming.
The server network is also unique when it comes to security. ExpressVPN's TrustedServer technology ensures that every ExpressVPN server always loads the same up-to-date software and can never store any of your data.
Other security features include tough encryption, an automatic kill switch, and IP/DNS leak protection.
This VPN also offers split tunneling and top-notch customer service, including 24/7 live chat support.
ExpressVPN costs slightly more than other popular VPNs, but its high-quality service offers excellent value for money. You can connect up to 5 devices to the VPN simultaneously.
If you're interested in ExpressVPN, you can test it out risk-free with a 30-day money-back guarantee.
Check out our current ExpressVPN coupons to get the best deal possible.
ExpressVPN can unblock:
Netflix, Hulu, HBO, Amazon Prime Video, Showtime, Sling TV, DAZN, and BBC iPlayer.
Supports torrenting:
Yes, all servers support P2P activity.
ExpressVPN works on these devices:
Windows, macOS, Android, iOS, Android TV, Linux, Chrome, and Firefox. It also offers an app for use with certain routers.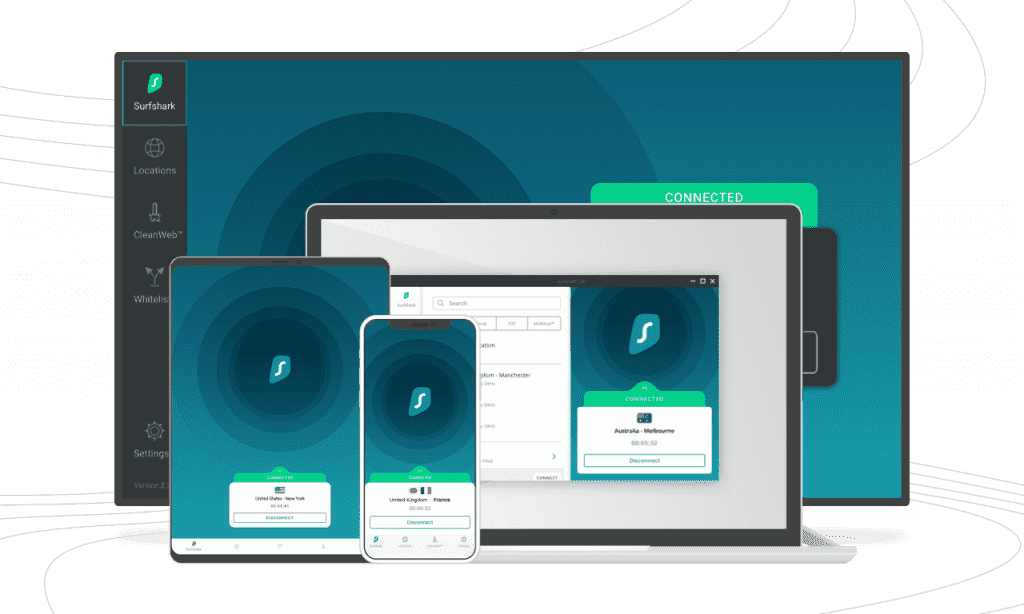 Surfshark is a great option for new VPN users thanks to its user-friendly interface and no-hassle set up.
It also has plenty of advanced features to satisfy experienced users. Surfshark covers the security basics with strong encryption, an automatic kill switch, IP/DNS leak protection, and a zero-logging policy.
The CleanWeb feature offers some advanced protection by blocking suspicious websites to prevent malware infections. It also stops phishing attempts and blocks ads.
NoBorders mode makes it easy to bypass censorship in restrictive regions, while Camouflage mode hides your VPN traffic from spying eyes, including your ISP.
Surfshark's network of 800+ servers in 50+ countries offers fast and reliable connections. Users love that Surfshark allows unlimited simultaneous connections.
A 30-day money-back guarantee makes it easy to try this VPN for yourself.
Surfshark can unblock:
Netflix, Hulu, CBS, ESPN, Amazon Prime Video, and others.
Supports torrenting:
Yes, all servers support P2P activity.
Surfshark works on these devices:
Windows, macOS, Android, iOS, FireTV, Linux, Chrome, and Firefox.
Conclusion and Further Reading
It can be frustrating to purchase a VPN subscription and not be happy with your selection.
CyberGhost wasn't right for you, but don't worry—it's easy to cancel your CyberGhost subscription and get a full refund.
Now is the perfect time to find a new VPN that can meet all of your needs. We recommend that you check out NordVPN. It offers low prices, tough security, and no-hassle access to the free, unrestricted internet.
Check out our regularly updated deals and coupons page to find out how you can save on your next VPN subscription.
If streaming is a top priority for you, take a look at our review of the best VPNs for Netflix that actually work in 2020.
You might also be interested in our guide on the best no-log VPNs if your goal is total anonymity.