How to Cancel HideMyAss! and Get Refunded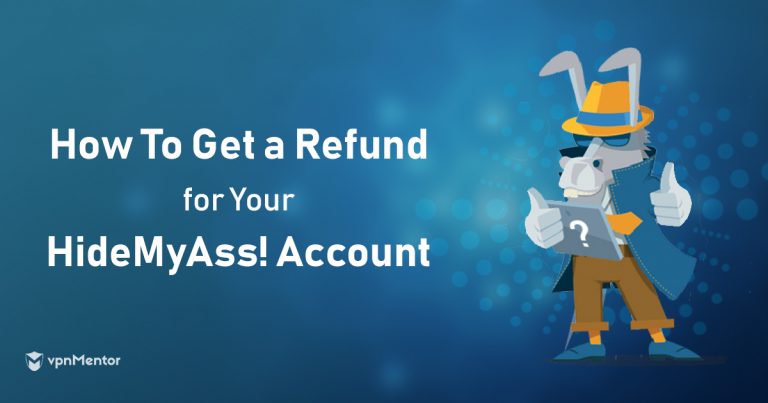 HideMyAss! (HMA) is a great VPN that provides cross-platform capabilities and one of the world's largest server networks. However, it also offers limited customization and comes at a higher-than-average price.
So if you try HMA and find that it is not quite right for you, what can you do?
HideMyAss! offers a 30-day money-back guarantee, so you can close your account and request a refund. The refund policy does have a few limitations, however – see below for all the details.
Here are the steps you need to take to cancel your HMA subscription and get your money back.
Quick Guide to Canceling HMA and Requesting a Refund
Here's a brief summary of HMA's refund process. You'll find all the details a little further down.
Open hidemyass.com and sign in to your HideMyAss! account.
Cancel your subscription.
Locate the How to apply for a refund help page and click on the I want to request a refund link.
Use the contact form to request your refund.
Reply to the email you receive; you'll get your refund within 24 hours.
Remember, however, that canceling HMA will leave your connection unprotected, exposing your data and device to ISP spying, hacking, government surveillance, and third-party data harvesting. You'll also lose access to geo-restricted services like Netflix.
So your next step should be to find a new VPN that better suits your needs. One alternative we highly recommend is NordVPN because it offers excellent speeds, unsurpassed security, and a huge network of servers.
NordVPN is a worldwide user favorite that offers great savings, an unlimited 30-day money-back guarantee.
How to Get Your HMA Refund: Step-by-Step Details
It's important to note that there are a few limitations attached to the HideMyAss! 30-day money-back guarantee. To receive a full refund, you must:
cancel within the first 30 days
transfer less than 10GB of data across the server network during those 30 days
use the service for no more than 100 sessions
If you have exceeded any of these limits, HMA might still issue a partial refund. You'll need to follow the steps below and hope for the best.
The cancellation process is straightforward, but you do need to submit a contact form to request your refund. It is also a good idea to check with your payment provider (e.g. PayPal) to make sure your automatic payments have been canceled.
Here's how the procedure works and what you'll see along the way.
Step 1
Open hidemyass.com and sign in to your account using the details you created when you first signed up with HMA.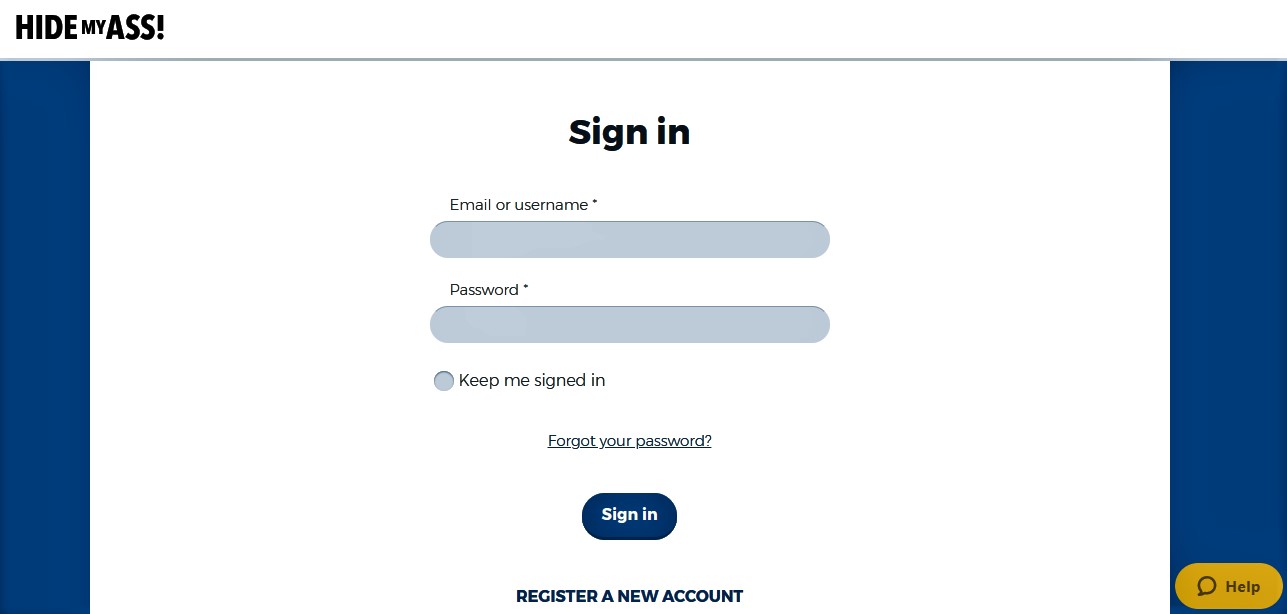 Step 2
Once you've signed in, you'll be redirected to the Manage Your Account page. Scroll down the page to the Your HMA! Licenses section and click on Cancel Subscription.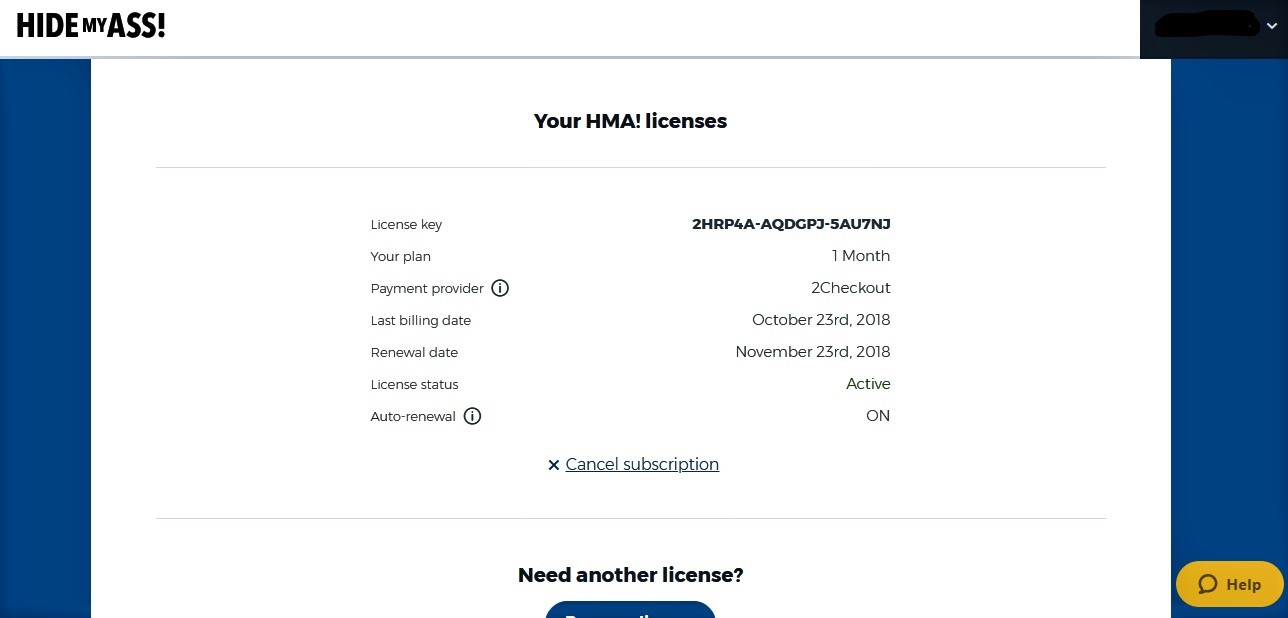 Step 3
A pop-up window should now appear asking you to confirm that you wish to cancel. Click Yes to confirm.
Step 4
Your service and recurring payments are now canceled. Your next step is to request your refund. Click on the Help tab at the top of the page and type refund into the search bar. Click on How to apply for a refund.
This will take you to the refund page. Click on the I want to request a refund link.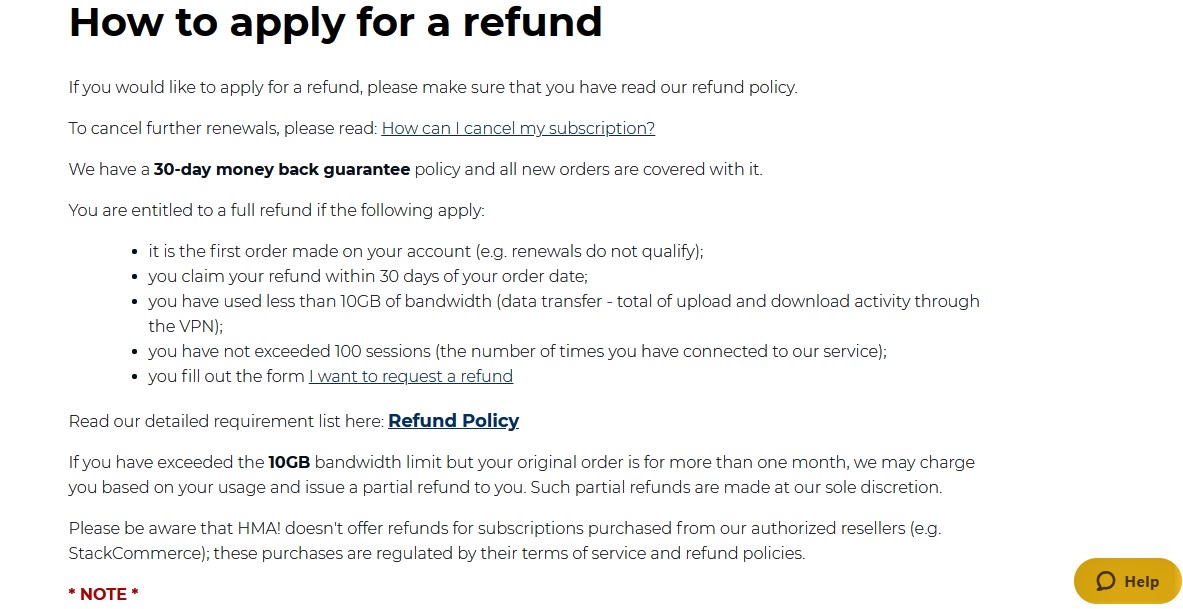 Step 5
Fill in the requested details on the contact form and add a message stating that you are requesting a refund. Click Submit. You should immediately receive an automated response stating that your request has been received.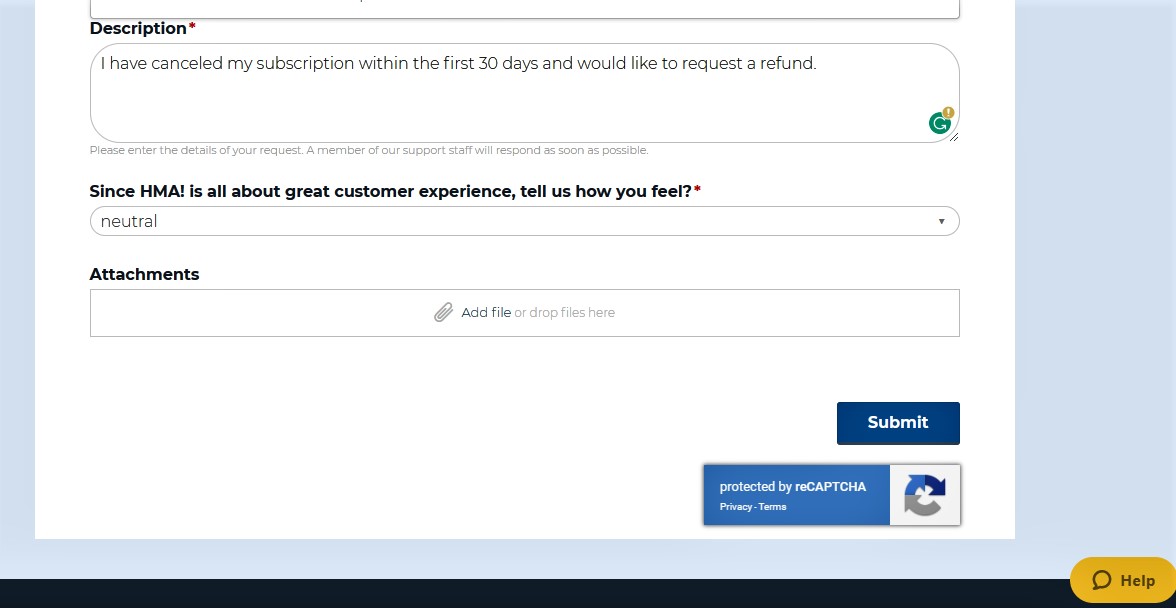 Not Quite "No Questions Asked" – There's One More Step!
So that is almost all there is to it. We received an email within 24 hours requesting that we provide a reason why we wanted to leave, along with our initial order number. One place to recover that number is the Welcome email message you received when you signed up.
Once we had sent our response with the order number and reason, our refund was processed within the day. The reason doesn't have to be anything special. We just said that we decided we didn't need the service.
Choose a New VPN to Stay Protected
Once you have received your HMA refund, don't forget to sign up with a new provider that better meets your privacy, security, and content access needs. NordVPN is currently offering huge discounts on subscriptions, so it's a great time to try our #1 rated VPN.
Below are several more of the best VPNs we've tested. They're all great replacements for HideMyAss!, and you can learn more about them on our reviews page.