PrivateVPN: How to Easily Get a Refund & Cancel Your Account
Want to cancel your PrivateVPN subscription and receive your refund? We've got you covered with our step-by-step guide. Share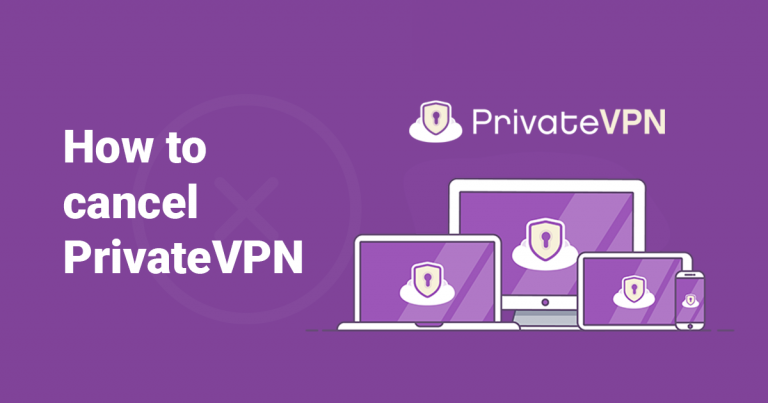 PrivateVPN offers a 30-day money-back guarantee on all its plans, but you have to contact the support team and ask them to close your account and issue a refund. We put PrivateVPN's policy to the test and received a full refund, even though we signed up for the cheapest plan on offer.
If you're not happy with PrivateVPN, we'll show you how to cancel your PrivateVPN account and get your refund. Don't go unprotected, though – we recommend trying NordVPN instead. It offers exceptional security and streaming access, and you can try it for free for 30 days!
How to Cancel PrivateVPN and Request a Refund
Go to PrivateVPN and click the live chat button.
Fill in your details and request a refund.
Respond to customer support via email.
Wait for your email that confirms the cancellation and refund.
Cancelling PrivateVPN and Getting Refunded – A Step by Step Guide
1. Contact Support via Live Chat 
Head over to the PrivateVPN website to access the Live Chat option. The Live Chat button is located at the lower right-hand side of the page as shown below:

Click on the Live Chat button to launch the contact page where you can input your name, email address, and a message asking the support team to cancel your subscription.
You may provide a specific reason for your cancellation or simply state that you would just like to cancel, then click Send.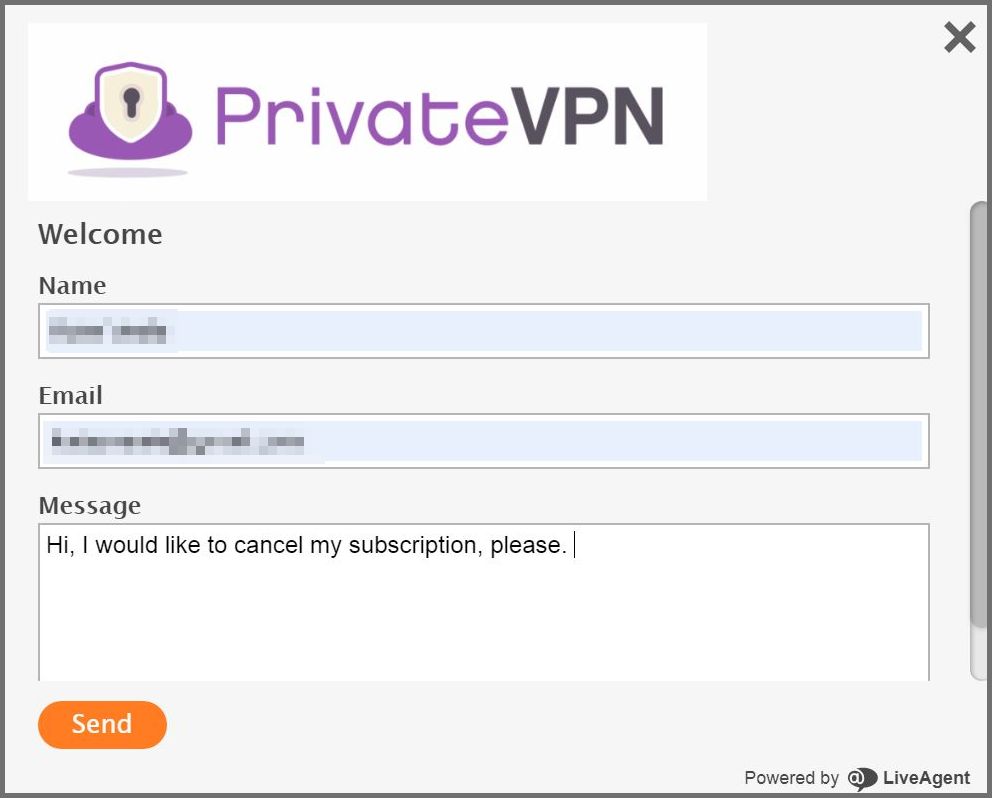 2. Respond to Support via Email 
You will receive an email response within a few minutes or a couple of hours asking whether you have a specific reason why you would like to cancel and if there is anything that can be done to solve any problem you may be facing with the service.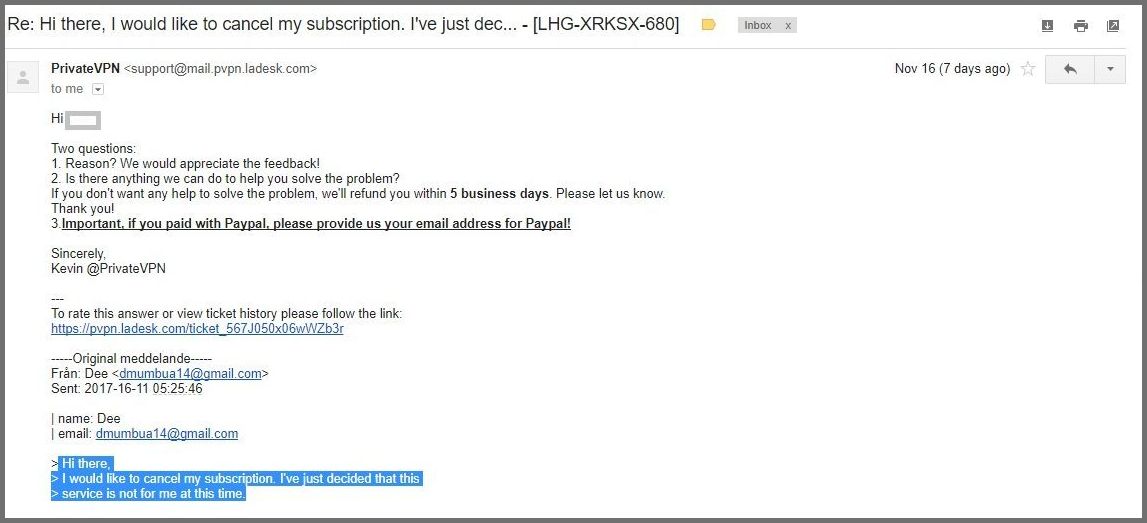 If you do not require any further help, just reply and say you'd simply like a refund. If you paid via PayPal, provide your email address in your reply.
It is commendable that PrivateVPN got back to me fast from the time I asked for a cancellation and a refund. The best part is that they did not ask too many questions demanding why I wanted to cancel.
They also offered to solve any problems I may have with their service.
PrivateVPN's refund policy states that it takes 5 business days to get a new account canceled and funds reimbursed within the 30-day money-back guarantee period.
However, I was pleasantly surprised when my account was canceled and refunded on the same day I contacted the support team.
As you can see, I sent the cancellation request email on November 16th, and the funds were deposited back into my PayPal account on the same day: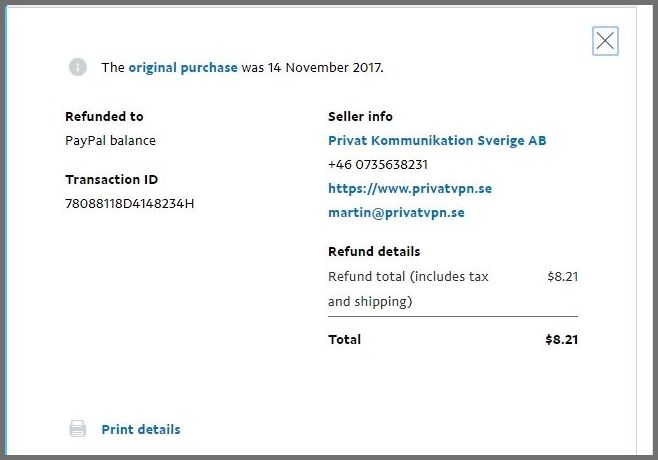 3. Wait for Your Confirmation Email and Refund
The support team at PrivateVPN sent me an email a day after my subscription cancellation to confirm the cancellation and refund.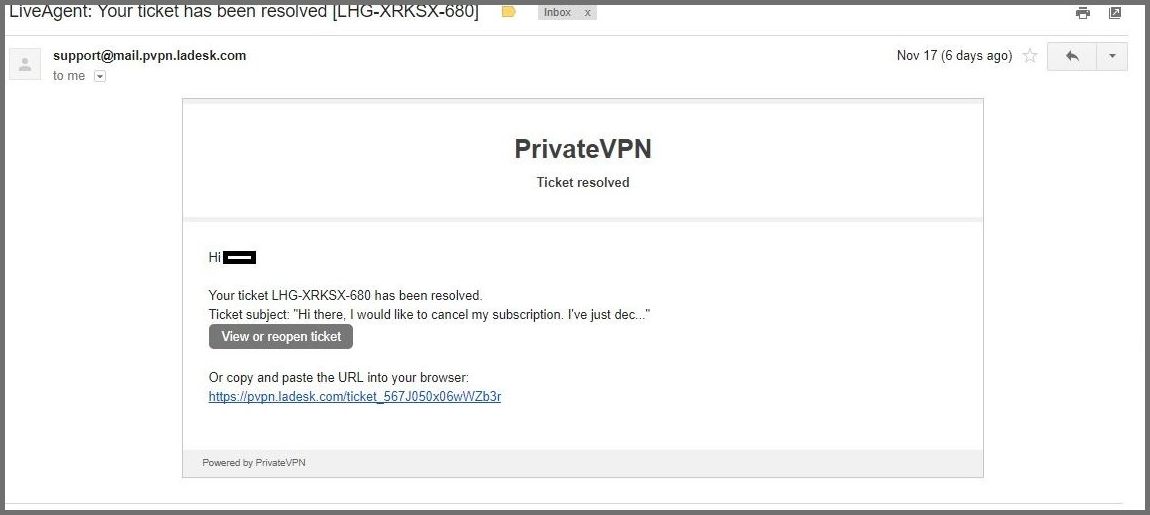 Once again, I was impressed by PrivateVPN's efficiency and transparency. They really do keep their word!
To learn more about VPNs and why you need one, check out our informative guide!
Tell us why you weren't happy with PrivateVPN.
You Might Also Like: