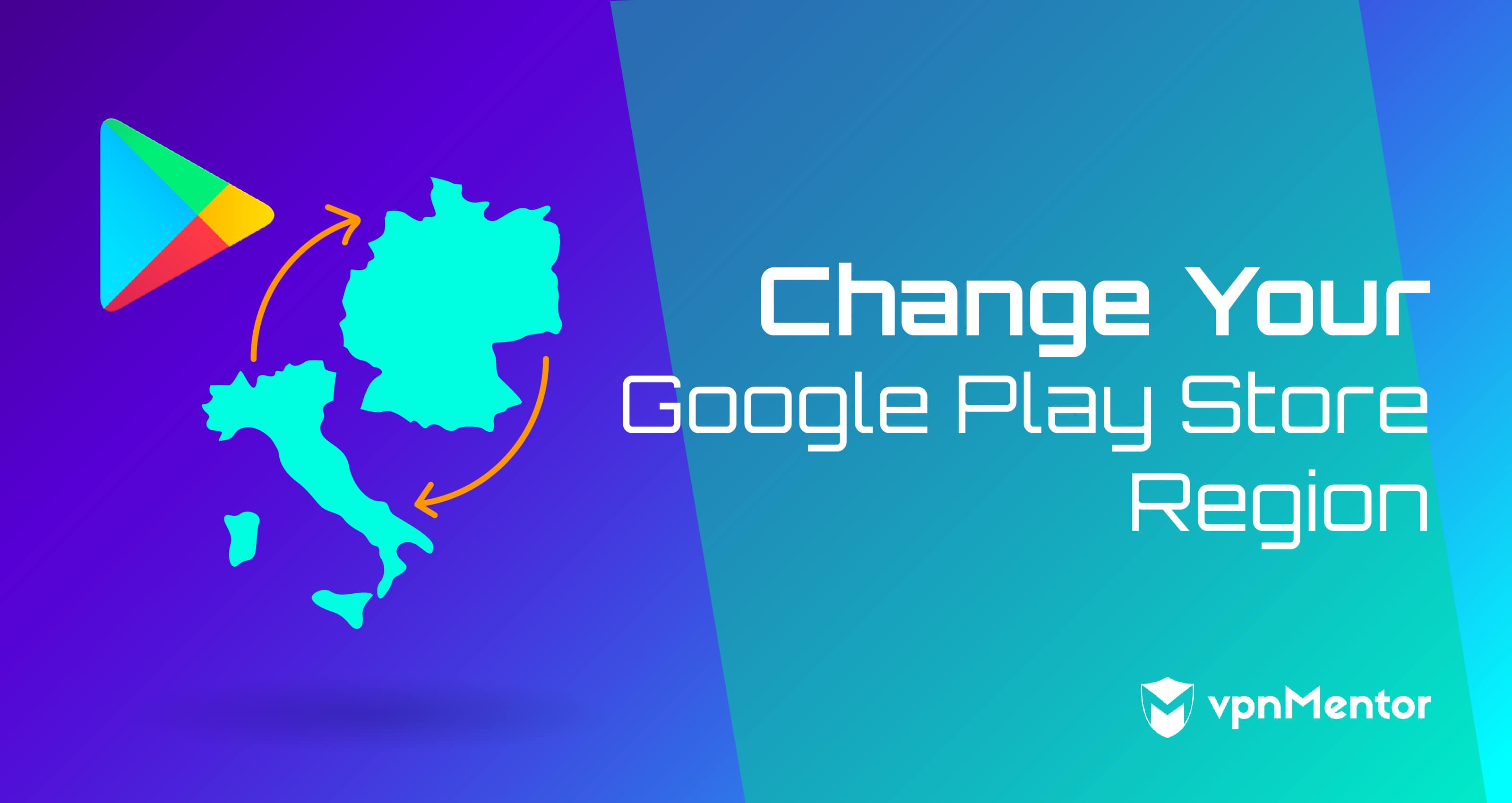 How To Change Your Google Play Store Country in 2021 in Seconds
When you access the Google Play Store, what you see is totally dependent on your region/county settings. Some apps, movies, or music simply won't appear in rankings or search results unless your Play Store location matches up with the right country.
Perhaps you live in the UK, but really want to download a game that is only available in the US. Or maybe you're taking a trip to Australia and you can't find any of your favorite apps. It can be incredibly frustrating not having the right IP address to access the apps you want or need.
The Play Store will automatically update country and profile options once your IP address changes, but Google restricts the number of times you can change your country to once per year.
However, there is a simple way to get around these restrictions – you can change your Google Play Store location by using a VPN. Keep reading to see just how easy it really is.
Quick Guide —
How to Change Your Location on Google Play
Choose a top-rated VPN that unblocks the Google Play Store and install it on your device. We recommend ExpressVPN.
Clear data on the Google Play Store app, and connect to a server in your target location.
Change your Play Store location and enjoy all the apps and content you couldn't before.
Why You Need a VPN to Access Apps on the Google Play Store
There are geographical restrictions on the apps you can access on the Google Play Store based on your current IP address.
A VPN can mask your actual location to make it appear that you're connecting to the Play Store from a different country. Therefore, you can access content and apps from the Play Store from many countries in the world using a premium VPN.
How to Use a VPN to Access the Google Play Store
Changing your Google Play Store location with a VPN is so simple. After you have chosen your VPN, the whole process takes just a few minutes. You will be wondering why you didn't do it sooner.
Here's a more detailed overview of the step-by-step guide:
1. Choose a Top-Rated VPN
Choosing a solid VPN is the most important step. We recommend choosing a VPN from our top ten list of VPNs.
We rigorously tested these VPNs and they all received high scores for speed, security, reliability, network size, and customer support. They are also are highly recommended by VPN users.
In this article, we are going to use our number one VPN choice ExpressVPN to demonstrate how to change your Google Play Store Location.
When you are choosing a VPN to use with the Google Play Store, look for the following features:
Ability to reliably bypass geoblocks.
High speed and reliable network for fast downloads.
Servers located in the country where your desired apps are available. For example, if you want to access apps from Canada, make sure the VPN has servers there. The VPN's website will have a full list of all their server locations.
Mobile apps on a number of different platforms as the Google Play Store is usually accessed on mobile devices.
Head to the Google Play Store and download the app for your chosen VPN. Or you can go to the provider's website, select the plan you want, and enter your payment information.
Many of the top VPNs offer free trials and money-back guarantees, which are great for trying out a service to see if it meets your requirements.
2. Clear the Data on Your Google Play Store App
On your mobile device, open your Settings app and select the 'Apps' button. In your Android phone's menu it may be named something else, such as 'Application' or 'Apps & Notifications'. Select 'Apps' or 'All Apps' and you will see a list of all the installed apps on your phone.
Scroll down the page to the Google Play Store, select it, and tap the 'Force Stop' option. Then select the 'Clear Data' option to clear the cache and data. This won't actually delete any of your apps or our profile. It just resets the Play Store so that your country will update the next time you open the app.
3. Connect to a Server in a Country That Has the App You Want
Within the ExpressVPN app, you can choose the server you want from a list of server locations. To do this, click on the hamburger icon on the top right hand corner of your app.
Then, select "VPN location" and choose a server from either the recommended or all locations tabs. Another option is to search by city or country in the search box above. Once you've found your server, you just need to double click it to connect.
4. Open Google Play Store and Enjoy a Host of New Apps
Open up the Google Play Store and if the currency next to paid apps has changed to your chosen country's currency you are ready to go.
If you don't see this change, you will have to update your location manually. Select the Google Play Store menu and tap on the 'Account' option and select 'Country and Profiles'. This should now show your default country and the new country you have connected to via ExpressVPN.
Select your new country and you will be prompted to enter a local payment method to confirm the location change if your account has been set up with an existing payment profile.
Getting Past Payment Info
To workaround the payment info, you can either create a new Google account or add another account that has no payment method linked to it.
Once you have created the new account, select it from the menu in the Google Play Store app and repeat steps 1 to 3. When you relaunch the Play Store app your country should now match the one you are connected to with your VPN.
By using multiple accounts for the Play Store you can switch between regions without being concerned about the restrictions imposed on the country settings of your main account. For example, on your mobile device, you could have an account for the UK Google Play Store and separate ones for the US and Canada Stores.
Once you have downloaded an app or other content from a region's Play Store, it can be accessed by any account, no matter the country settings.
Summary and Further Reading
As you can see, with a top quality VPN you can easily change your Google Play Store Location in just a few minutes. This allows you to bypass geoblocks and access apps, music, and films that are available in other countries.
However, not all VPNs can reliably overcome geo-restrictions, or give you the speed you need for fast downloads.
Our top VPN recommendations have all been thoroughly tested to make sure that they will allow you to quickly download all of the Google Play Store apps you want, no matter where in the world you are.
Don't stop with the Google Play Store. Learn how to use a VPN to change your location with Netflix to access the entire catalog.
Privacy Alert!
Your data is exposed to the websites you visit!
The information above can be used to track you, target you for ads, and monitor what you do online.
VPNs can help you hide this information from websites so that you are protected at all times. We recommend ExpressVPN — the #1 VPN out of over 350 providers we've tested. It has military-grade encryption and privacy features that will ensure your digital security, plus — it's currently offering 49% off.