How to Delete Your Google Search History – 2020 Update
Updated on 5th February 2020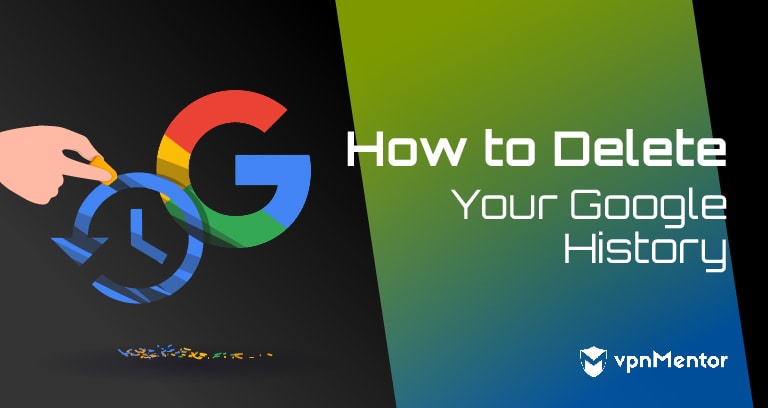 If you're interested in minimizing the personal data that you leave exposed through your online activity, read on to learn how to delete both your web browser history and Google search history.
By deleting your browsing history, you do not delete all the information that Google possesses relating to your search history that is stored on their servers.
Unfortunately, there's nothing you can do to convince corporations to actually stop harvesting your data. But Google has said that if users delete their data, they will follow suit. However, there are a few ways to keep sites from collecting your data in the first place.
Using a VPN such asNordVPNwill protect your privacy by hiding your IP address and internet activity from your browser. But first, you need to delete the data that Google has already stored.
In this article, we're going to show you how to delete all the information that Google has about you.
Deleting Your Browser History
If you're concerned about protecting your data, you probably empty your browser cache regularly. If not, you should start. Deleting your history is very easy to do in any browser.
Whether you're using Firefox, Chrome, or Edge, you can access your search history from the upper right corner.
In Microsoft Edge, click on the shooting star icon, then click on "History" and "Clear History."
In Mozilla Firefox, the icon looks like a set of books standing on edge.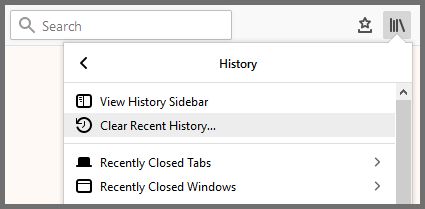 In the Google Chrome browser, you can press Ctrl + H or click on the three dots icon and then "History" to open up a new page.
On the left side of the screen, you'll see a link to "clear browsing data." You can also access this by going to "Settings" and scrolling to the bottom of the section labeled "privacy and security."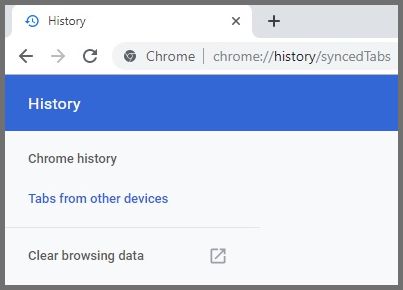 In each case, it may be necessary for you to change the time frame for the deletion and the specific kinds of data you want to get rid of.
To cover your trail as completely as possible, select all the checkboxes and set the time range as "everything" or "all time."
Then, move onto the more complicated task of getting rid of search history that's not stored in your browser.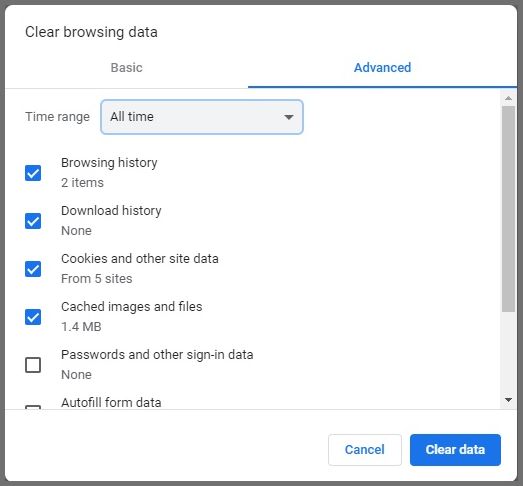 Why Does Google Store Your History?
Your own browser history is only a tiny portion of the data trail you leave when using the internet.
It is stored locally, so deleting it protects you against hackers or snoopers gaining access to your device. But there are tons of data that are stored remotely, especially on Google's servers. Those servers should be well-protected against hackers. But that probably isn't the only threat you're worried about.
The main purpose of Google's archive is to help create a more complete advertising profile for you.
Google has become more upfront about its data collection over the years, but it still isn't clear about what types of data are used to try to sell you things.
It's generally safe to assume that all your data is used for some manipulative purpose, or could be.
There's no telling who might try to get their hands on it, or why. Blackmail and prosecution are possible if there's anything incriminating in your history.
If any of this bothers you, then you'll want to get rid of as much data as you can. Thankfully, it has become easier to do that. And now Google also gives you the option to separate your private data from the services they provide.
Again, this will not prevent them from collecting your data in the first place. It will only limit the ways in which that data is used.
At some level, information about you will still be accessible. But it will be more difficult to connect it to your profile. It's a step in the right direction, though not good enough for most privacy-conscious people. To ensure your data stays private after deleting it, we recommend using a service likeNordVPNto further limit the data available to your search engine.
We'll discuss VPNs in more detail below.
Downloading Your Google Archive
If you want to see what your search record looks like before deleting it, you can. Just go to takeout.google.com, select all Google services, and choose how you want to receive the archive.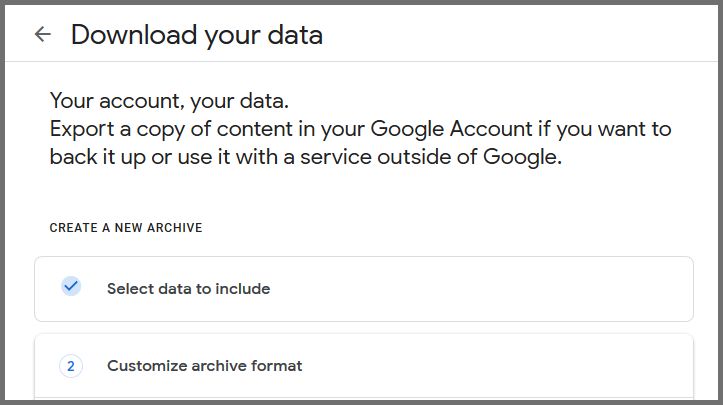 The result may shock you. One writer for the Guardian newspaper downloaded his archive and found that it was 5.5 GB.
It included search history from every device he used with a Google account, plus GPS tracking of all those devices. It's easy to underestimate just how much information the company keeps.
Fortunately, most of this can be deleted from your account. Unfortunately, Google admits that it might still "store activity separately to prevent spam and abuse and to improve our services."
You can stop them from trying to personalize your online experience. But you can't stop them from silently snooping on you unless you hide your identity behind a VPN.
Deleting Your Google Search History
To clear your history in any or all Google services, start by going to your Google account.
You type myaccount.google.com into your browser or click on your avatar on a Google webpage, then click "Google Account." You can also reach the account hub through Gmail or another Google app on your smartphone.
From there, click "Data & personalization" on the left side of the screen, or click "manage your data and personalization" on the main page.
Scroll down to the box that says "Activity and timeline," and click or tap on "My activity."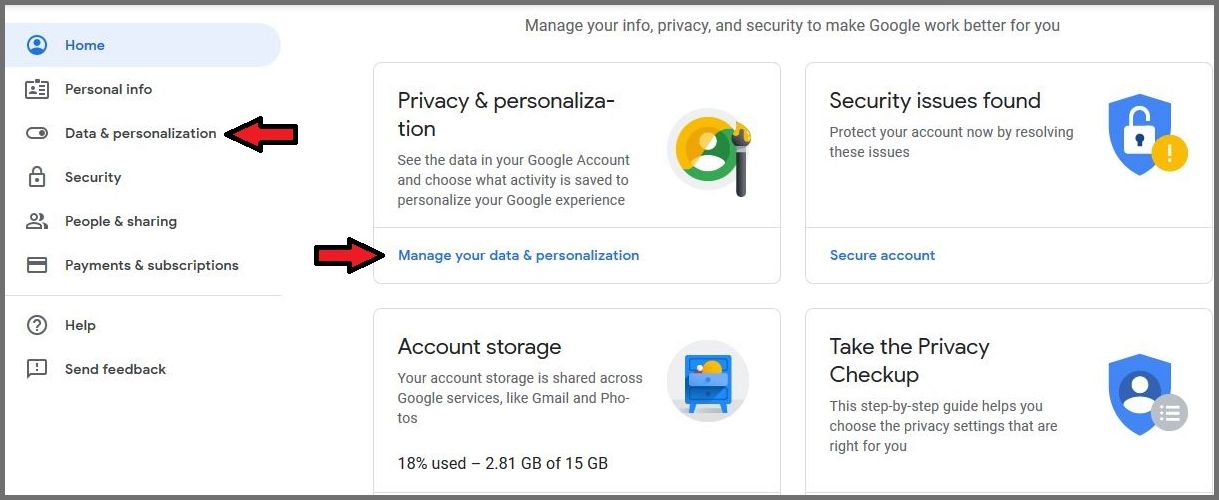 On the new menu that appears on the left side, select the option to "Delete activity by…" Just like your browser history, you can delete all of your Google history or just part of it.
You can even set a custom time frame, or delete activities on some services – like YouTube – but not others.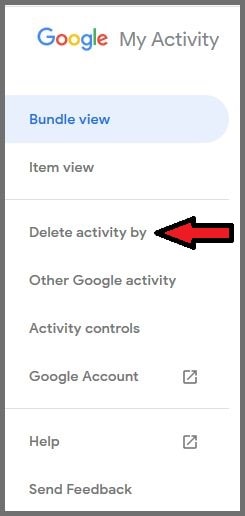 If you want to get rid of everything, select "all time" under "delete by date." Make sure "all products" is selected on the line below. Then click "delete."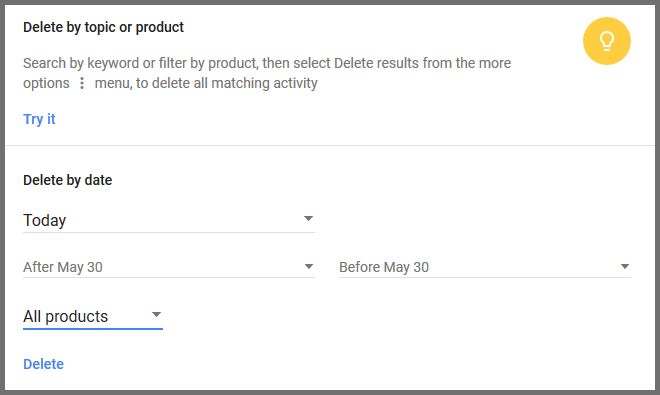 Controlling Your Activity Storage
That's all there is to the deletion process. But before you leave the page, you might also want to limit the types of data that Google associates with your account in the future.
If you go back to "data and personalization" you will see a box labeled "activity controls." This will show several settings like "location history." If an entry's status is "on," you can click to pause it.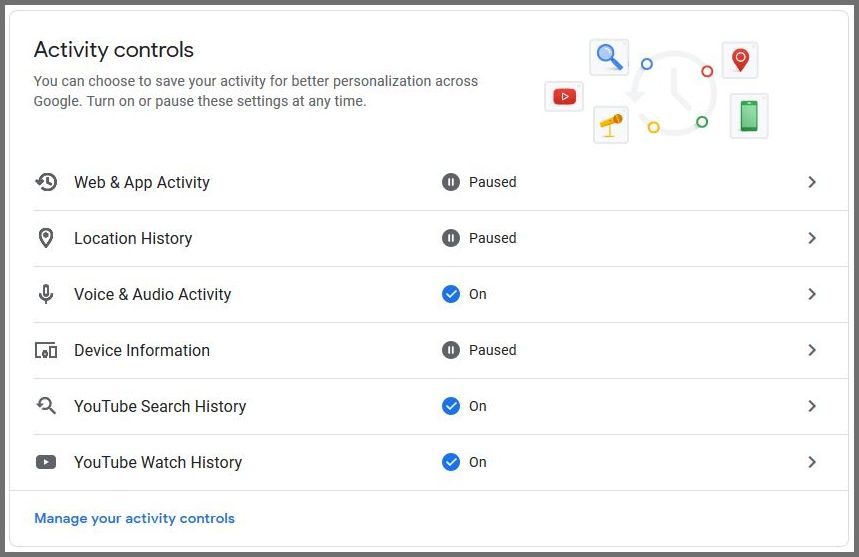 You can find even more options on the "my activity" page, by clicking "other Google activity" on the left-hand menu.
From there, you can see and delete past YouTube comments, answers you may have given to Google surveys, and much more. And by clicking on "ad settings," you'll reveal the option to turn off "ad personalization."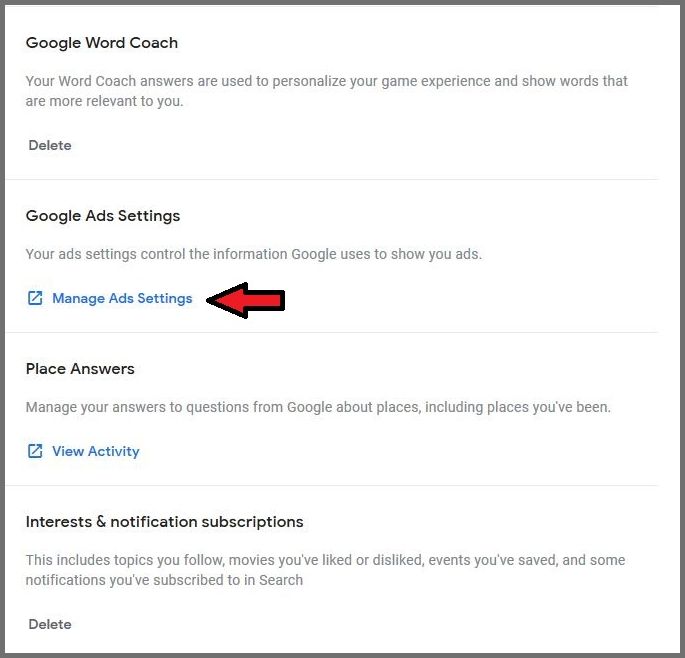 Ad personalization can also be turned on and off from the "data and personalization page." Underneath that box, you'll see that Google allows you to "download, delete, or make a plan for your data."
With this service, you can tell Google to delete your account if you stop using it for a certain period of time. But unfortunately, to use this service, you must give Google your phone number.
Keep Your Google Archive Clean with a VPN
Can you trust Google to delete your account after you die? Can you even trust them to actually get rid of your data when you click "delete"? Probably not. And even if you could, Google isn't the only thing you have to worry about.
There are other steps you need to take to fully safeguard your online privacy. And the most important is to start using a VPN.
Services like NordVPN save you the trouble of regularly deleting your Google archive.
By concealing the source of your activity, they limit the company's ability to develop a profile on you. And at the same time, they protect you from a constantly-growing list of online threats. Some of these threats are just natural parts of your online experience until you install a VPN.
Even your internet service provider stores its own records of what you've been doing online. And of course, companies like Facebook thrive on harvesting your data. Any interactions you have with these companies could be vulnerable to hacking on either end.
But by concealing your own identity with a VPN, you can throw both advertisers and hackers off your trail.
Whenever you request information from the internet, a VPN will send requests through its own servers. The information then comes back to you the same way.
To Google and others, the request seems to be coming directly from the VPN server. So even if you're logged into your Google account, they won't be able to tell what device you're using, or where you're located.
That kind of privacy can have great benefits. If you've downloaded your Google activity archive, you've seen how much data Google has about you. Giant companies are following every step you take online. You can tell them to erase your footprints, but they'll always keep records.
The only way to achieve real privacy is by preventing them from following you in the first place. And the only way to do that is with a VPN. To learn more about why VPNs are so crucial, head over to our Newbies Guide.
You May Also Like: