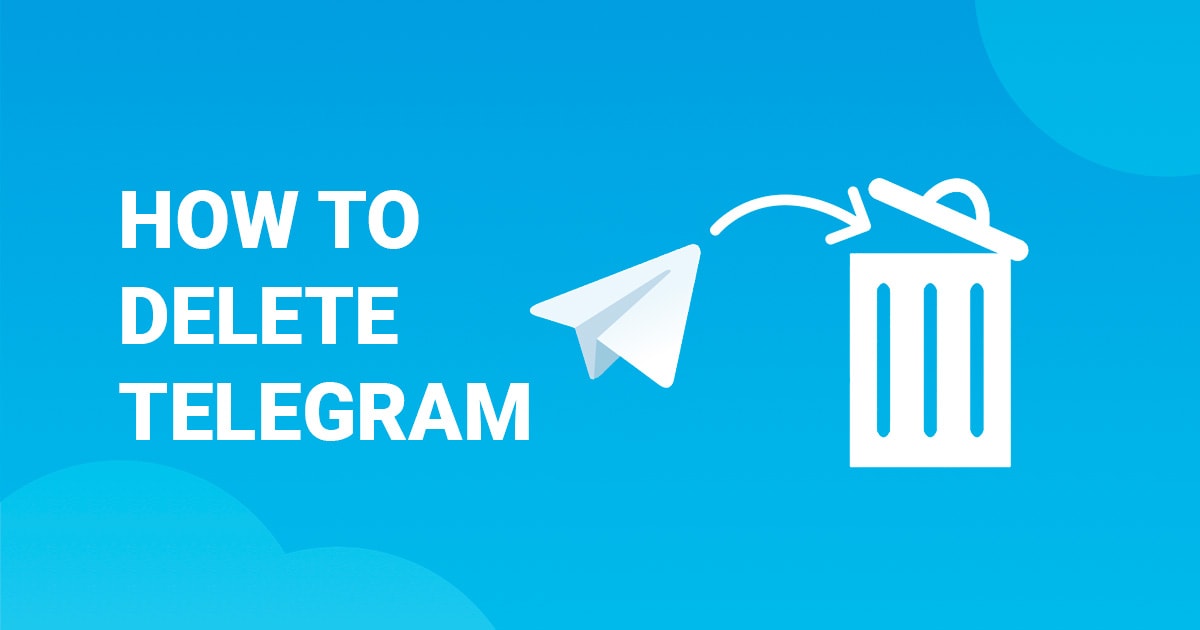 How To Delete Your Telegram Account Permanently - 2023 Update
If you're one of the millions of people who use the private messaging app Telegram, read on to learn more about Telegram's security issues and to find out how to permanently delete your account if that's what you decide to do.
Privacy concerns about private messaging app Telegram were raised not long after its launch in 2013. The default setting of the app doesn't encrypt communications between you and the recipient. If you don't enable the Secret Chat feature, your conversations will be saved on Telegram's servers, which are located across the globe.
Telegram claims that your stored chat data is encrypted on their servers and that they retain the information in case you want to restore old chats. However, this raises the question as to why storing your data isn't on an opt-in basis, or why end-to-end encryption is not the default setting. Storing data is an expensive endeavor for a non-profit company, so why do they do it?
Furthermore, there have been a number of issues with the security of Telegram in the past. In 2017 hackers exploited a Unicode bug in the Telegram software that allowed them to install remote control cryptocurrency miners and malware on vulnerable Windows computers.
Security concerns about Telegram are still there, with many experts in encryption wondering why Telegram uses a home-grown cryptography protocol known as MTProto. Telegram insists its encryption software is secure, but with protocols readily available, shown to be effective by independent experts, why do they have their own?
This homegrown protocol with high-level encryption has actually contributed to Telegram's rather shady reputation. It has infamously been used by terrorists to plan attacks and spread propaganda, amongst other troubling dealings.
As a result, it has been banned in a number of countries, closely monitored in others, and was even briefly removed from the app store in early 2018 when the sharing of inappropriate content was discovered.
If you're concerned about the unusual encryption protocols and policies, and the bad reputation of the messaging app, this article will show you how to permanently delete Telegram.
BE AWARE:
Every click, every share, and every download can be and is tracked, stored, and sold by app creators, internet service providers, and telecom companies.
Only a VPN like ExpressVPN can protect you
 and prevent these third parties from collecting and selling your sensitive data.
Step-By-Step Guide: How to Delete Your Telegram Account
There are a few different ways to delete your Telegram account. You should know beforehand that once you have deleted your account it cannot be undone. Your chats, contact list, groups, etc., will be permanently deleted, even if you download Telegram again at a later date.
Deleting by Adjusting Self-Destruction Settings
Self-destruction is one of Telegram's security features, which sees the account deleted after a certain period of inactivity. The default self-destruct period is six months of inactivity, but you can change this to a shorter period of time, as follows:
Log in to your Telegram account on your device and select 'Settings'.

Click on 'Privacy and Security'.

Scroll down to 'Delete My Account if I'm Away For' and change to 1 month.

If you refrain from using Telegram, after the one-month period is up, your account will be deleted, along with all your conversations and contacts.
Adjusting the self-destruct settings gives you the option to change your mind within the period of inactivity. Simply use the chat app and the self-destruct period will reset. If you don't want to wait and you want to delete your Telegram account immediately, read on.
Manually Deleting Telegram
There is no 'delete account' option in the Telegram app, it has to be done through a web browser either on your mobile device or computer. Follow these simple steps:
Visit the Telegram Deactivation Page and enter your account phone number in the correct international format.

You will be prompted to add a confirmation code, which has been sent to your mobile number.
On the next page, you can enter a reason for leaving if you choose, before clicking 'Done'.

A pop up asks 'Are you sure?' Click 'Yes, Delete My Account'.

Your Telegram account is now deleted and you can remove the app from your device.
If you change your mind, it is likely to be a few days before you can create a new Telegram account.
Exporting Telegram Data
Before deleting Telegram, you may want to export your data i.e. chats, photos, and other media. You will need the latest version of Telegram Desktop to download your data in JSON or HTML formats. To export your data:
Open Telegram Desktop and select 'Settings'.
Select 'Export Telegram Data'.
Then select 'Export Chat History', and choose which type of data you would like to export.
You can now view your Telegram data offline.
Other Ways to Keep Your Data Private
Telegram is no stranger to controversy, but it is not the only chat app that has had its security questioned. With hackers becoming more sophisticated than ever before, it has never been more important to keep your data private online.
There are a number of steps you can take to improve your online security which include using a high-quality VPN when web browsing, streaming, or sending information online. Easy to use, VPNs provide comprehensive online protection, preventing breaches before they happen. By using multiple layers of protection and encryption, your connection is anonymous, secure, and private.
Further Reading
For more information on VPNs and on how to choose the best one for you, check out How to Choose the Best VPN.
Find out more about keeping yourself safe online by reading our Ultimate Guide to Online Privacy.
Privacy Alert!
Your data is exposed to the websites you visit!
The information above can be used to track you, target you for ads, and monitor what you do online.
VPNs can help you hide this information from websites so that you are protected at all times. We recommend ExpressVPN — the #1 VPN out of over 350 providers we've tested. It has military-grade encryption and privacy features that will ensure your digital security, plus — it's currently offering 49% off.