How to Easily Stream Gotham Season 5 Online Anywhere in 2020
Updated on 6th February 2020
If you can't wait for season 5 of Gotham, now is the time to make sure you can watch every new episode online the moment it airs. That could be tricky depending on where you are, but we've got you covered.
Fox will air the new season beginning on January 3, but the broadcasts will only be available in the US. If you're outside the US and don't want to miss out on the latest chapter in Bruce Wayne's rise from scared orphan to savior of the city, you are going to need a VPN.
To watch new Gotham episodes instantly – or to catch up on previous seasons – choose a VPN with a reputation for bypassing tough geoblocks and plenty of high-speed US servers.
Here's how to get set up, along with our picks for the VPNs you can trust for easy access and uninterrupted streaming.
How to Watch Gotham from Anywhere with a VPN
Sign up for a premium VPN service. We recommend NordVPN for its massive selection of US servers and dedicated VPN gateways tuned for streaming.
Download and install the VPN app. Open the app and connect to a US server.
Navigate to the Gotham stream, www.fox.com/gotham.
Press play and enjoy!
Why Do You Need a VPN to Watch Gotham?
Both new and old episodes of Gotham are available at Fox.com, but you can only watch the streams from a United States IP address. If you're not in the US, you'll see an error message telling you that the content is not available in your location.
That means that Gotham fans elsewhere must wait months or even years for their local TV providers to show the new season, or resort to semi-legal streaming sites. In addition to having poor video quality, those sites host annoying and even dangerous ads.
Even if you're a US resident with a cable TV subscription, you won't be able to access Fox shows when you're outside the country.
How VPNs Bypass Geoblocks
A VPN reroutes your traffic through a server based elsewhere. It's a process called VPN tunneling, and it disguises your true identity and location by assigning you a new IP address based on the server you use.
If your VPN server is in a US city, Fox will think you are watching from within the country. The geo-restrictions will disappear – unless the website can tell you're using a VPN.
That's why it matters which VPN you choose. Many VPNs can't unlock heavily guarded sites that screen for VPNs, like Netflix and US TV networks. We test VPNs against the toughest geoblocks and VPN filters to find the ones you can count on.
A lot of VPNs also have painfully slow download speeds for streaming. Nobody wants lag and buffering, so we run speed tests on every VPN we recommend.
For smooth, high-quality video, look for a VPN service with a large network of US servers, fast speeds, and unlimited bandwidth. And to keep your streaming private, look for strong encryption and a strict privacy policy to protect your anonymity.
Best VPNs for Watching Gotham from Anywhere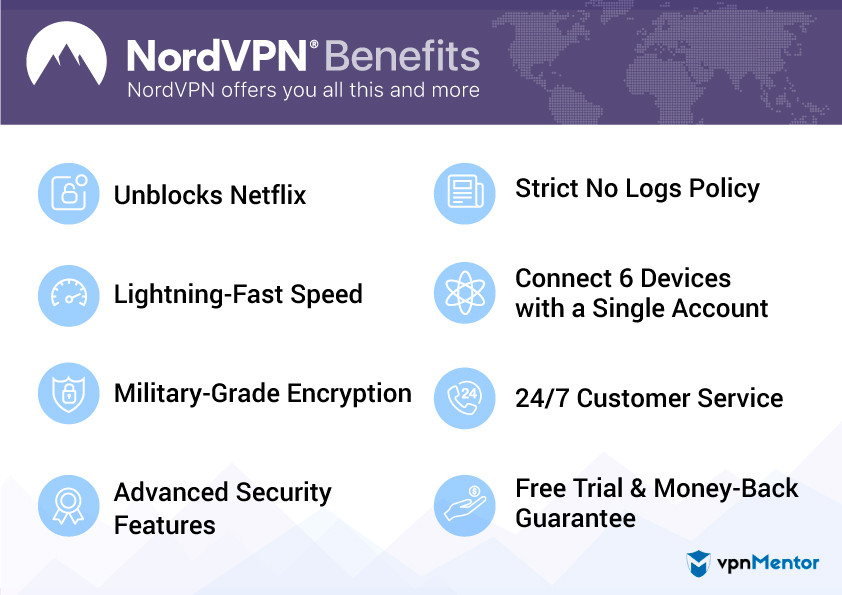 There is no shortage of VPNs on the market today, but NordVPN stands above the rest with a killer combination of features. It has been our best-rated VPN for a long time because the provider never stops expanding and improving the service.
Native apps for all major (and several not-so-major) platforms use the secure OpenVPN and IKEv2 protocols by default. Both are topnotch, and if you're a beginner, the apps will select the best configuration for you.
NordVPN offers more than 5,000 servers worldwide, with close to 2,000 in the US. The US servers are obfuscated – best for getting around geoblocks – and connection speeds are fast. The CyberSec feature blocks ads and malware, a welcome addition for streamers.
NordVPN offers a 30-day money-back guarantee to put your mind at ease, plus a completely free 7-day trial for new users. You can secure up to 6 devices with one subscription.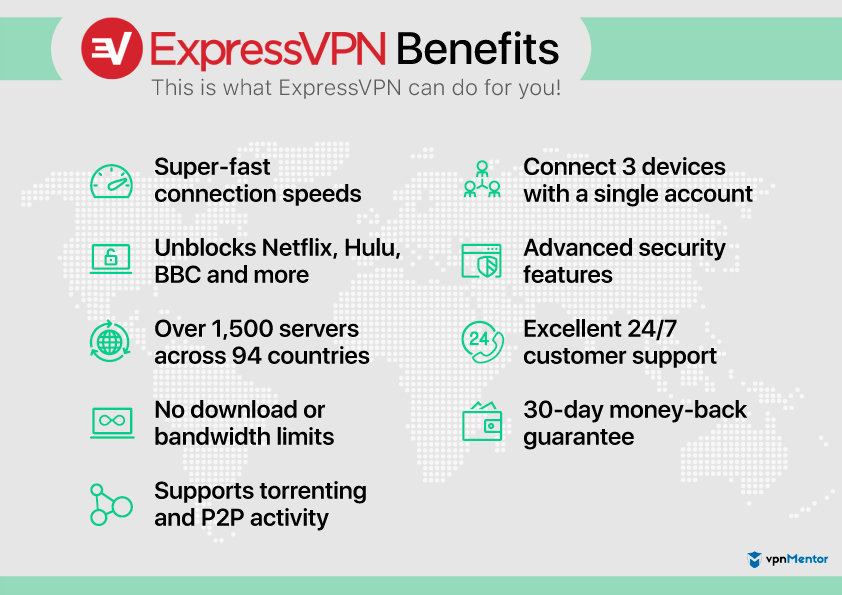 ExpressVPN uses military-grade encryption, and the cross-platform apps use the industry-standard OpenVPN protocol by default. The apps are user-friendly and include handy security features like DNS leak protection and a kill switch.
To protect your privacy, ExpressVPN doesn't keep any use logs. To watch Gotham on Fox, you can choose any of the 32 US server locations. Those servers deliver lighting-fast speeds, and our own tests prove that ExpressVPN has no problem getting around tough geoblocks.
ExpressVPN is not the cheapest VPN on the market if you choose a monthly subscription, but the premium features more than make up for the cost. Plus, you get a serious discount if you choose a longer subscription period.
The 24/7 customer service is topnotch, and if you're not happy with ExpressVPN for any reason, you can ask for a refund within 30 days under the no-questions-asked guarantee. However, based on all the positive user reviews for this VPN, it's unlikely you'll want to give it up.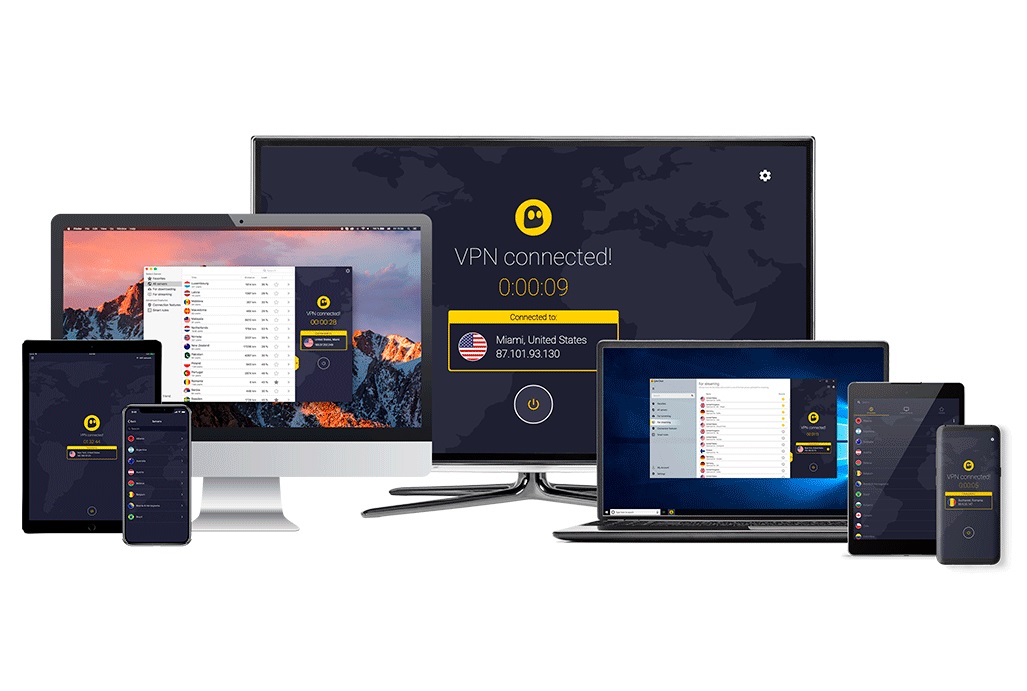 CyberGhost set out to prove that an advanced VPN can be simple to use, and many happy customers agree that the provider is doing just that.
One subscription covers up to 7 devices simultaneously, so you'll stay connected even if you have to leave the house in the middle of a Gotham episode. Apps for iOS, Mac, Linux, Windows, and Android are intuitive and user-friendly.
CyberGhost uses 256-bit military-grade encryption and doesn't keep user logs. The network includes more than 500 servers in the US. The speeds are fast, and the servers can bypass geoblocks on American content with ease.
If you're not sure whether CyberGhost is right for you, you can sign up without worrying. The provider offers a generous 45-day money-back guarantee.
Summary
If you're a Gotham fan outside the US and want to be front and center when season 5 takes off, you need a way around Fox's geoblocks. Don't mess around with dangerous third-party streaming sites. A high-quality VPN is the affordable, safe, easy way to get full access.
Too often, geo-restrictions stop people all over the world from accessing the best content online. We believe the worldwide web should be truly that, with every show available in every country, every day.
To help make that possible, we gather up all the best insider deals on top VPNs. To save big on your VPN subscription, head over to our exclusive online coupon codes page.