How to Get a Georgian IP Address from Anywhere in 2020 [+VIDEO]
Updated on 7th January 2020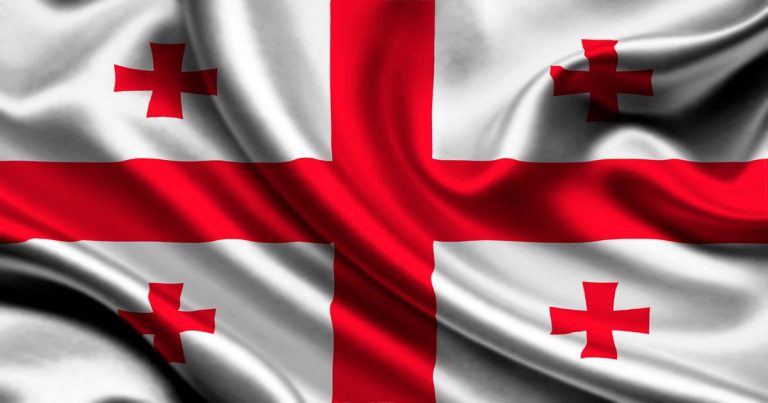 Watching Rustavi 2 or using your Georgian bank account may not be possible if you're outside Georgia. Certain websites read your IP address and if it's not in Georgia, they shut you out. It's called geoblocking, and it's a hassle.
If you want to view Georgian websites without restrictions, you need an IP address inside the country. You can get a Georgian IP address by using a virtual private network (VPN). It's simple to do in just a few minutes.
However, finding a VPN that works for Georgia is not so easy. So our experts have done the research and you'll find their recommendations below. You'll be enjoying the latest episode of My Wife's Girlfriend before you know it!
Quick Guide: How to Get a Georgia IP Address with a VPN
Select a VPN with servers in Georgia. ExpressVPNis our #1 choice.
Download the VPN software and install it on your computer or other device.
Launch the software and connect to a server in Georgia.
Get a Georgian IP Address NOW!
Table of Contents
How a VPN Can Get You a Georgia IP Address
A high-quality VPN gives you get instant access to secure servers around the world. Once you choose the server location you want to use, all your internet traffic will go through that server before reaching any website.
The server marks your traffic with its own IP address, hiding your location. Simply choose a server in Georgia, and websites will see a Georgian IP address. It will appear as though you are browsing the web from within the country.
Because websites think you're in Georgia, the geoblocks disappear and you can access any Georgian content you need. The trick is to make sure your VPN has Georgian servers – most of them don't.
The good news is that the VPNs that do have servers in Georgia are some of the best in the business. They can do far more than just give you an IP in Georgia.
A VPN Also Keeps You Safe & Lets You Stream Almost Anything
In addition to unlocking geo-restricted sites, a Georgian IP from a good VPN lets you browse local networks and access regional search results. If you do business in Georgia, seeing the same content as residents of the country gives you a big advantage over your competitors.
Unfortunately, using an IP address in Georgia can also mean losing access to some of your favorite content. Censorship is an issue in the country; the government once imposed a nationwide ban on YouTube until a controversial video was removed.
A VPN with servers in many countries and unlimited server switching is a powerful tool to bypass censorship. Use a Georgian server to access Georgia-only content, then switch to a server in a low-censorship country to use sites filtered by the Georgian government.
If you use your new IP to view restricted content or conduct business or banking transactions, internet security is crucial. A good VPN uses military-grade encryption and tracking prevention to ensure that your data and activity remain private at all times.
While it's possible to get a Georgian IP address using a free IP changer, these proxy services and so-called free VPNs put you at unnecessary risk. Weak encryption or poor protection against leaks could allow cybercriminals and surveillance agents to intercept your data.
The best VPNs offer high-speed connections around the world, protected by the strongest security features available today. Their impressive unblocking power will give you almost unlimited access to content around the world.
What to Look For in a VPN
Servers in Georgia: You need at least one to get a Georgian IP address.
Unblocking Capabilities: A VPN that gets past the tough geoblocks on streaming sites like Netflix will give you access to whatever you need in Georgia.
No-logging Policy: If the provider keeps no records of your use of the VPN, then your activity can't be traced back to you.
Security: Choose a VPN with AES encryption and additional protection measures such as a kill switch, double VPN, and DNS leak protection.
High Speed: VPNs with large server networks, fast connections, and unlimited bandwidth will let you stream with no lag.
The Best VPNs to Get a Georgian IP Address
Overall Rating: 4.9 – The Fastest VPN We Tested for Georgia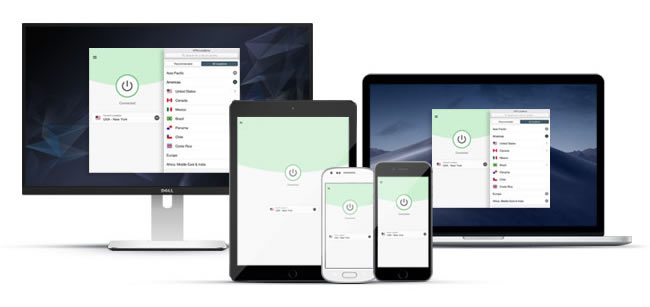 Don't Miss It: Get 49% off the #1 VPN & try it for 30 days risk-FREE
ExpressVPN offers server options in Georgia and over 3,000 servers globally. Users love ExpressVPN for its super-fast speeds and unblocking capabilities, which allow you to stream geo-restricted content in high quality from anywhere.
Your internet activity is protected by military-grade AES encryption. Added features like split tunneling, a kill switch, and zero-knowledge DNS give you complete anonymity and total control over your online security.
Apps for all major platforms are easy to use, and the 24/7 live chat support team is one of the best in the business.
ExpressVPN isn't the cheapest VPN available, but you can try it without risk to see if it's worth its price. All new subscribers get a no-questions-asked, 30-day money-back guarantee.
Need more info? Here's our detailed expert review of ExpressVPN.
Overall Rating: 4.9 – Our Overall #1 VPN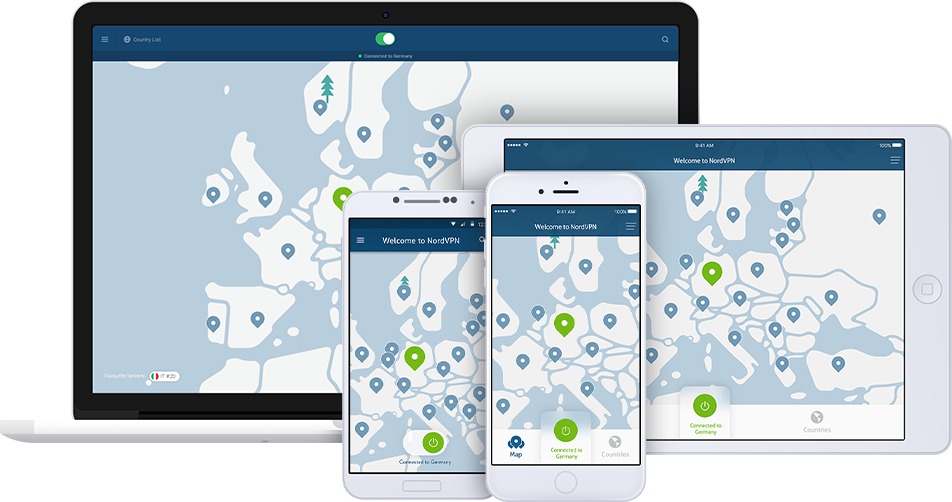 SPECIAL OFFER: GRAB YOUR 70% DISCOUNT to Get a Georgian IP Address With NordVPN NOW!
NordVPN offers you great peace of mind, with military-grade encryption and a multi-hop Onion network to protect you from hackers and internet spies. To give you a better online experience, the CyberSec suite blocks harmful websites and annoying pop-up ads.
With more than 5,000 servers worldwide, including 4 in Georgia, NordVPN gives you safe, quick access to the Georgian websites you want. Fast connection speeds mean smooth streaming of Erovnuli Liga matches.
NordVPN users especially love the SmartPlay feature, which automatically picks the best server to get around any geoblock in your way.
Families appreciate that a single NordVPN account lets you secure 6 devices at once, the most of any premium VPN with Georgian IPs.
You can give the service a try with a 30-day money-back guarantee on every new subscription.
Need more info? Here's our detailed expert review of NordVPN.
Overall Rating: 4.6 – The Best Global Coverage Among All Premium VPNs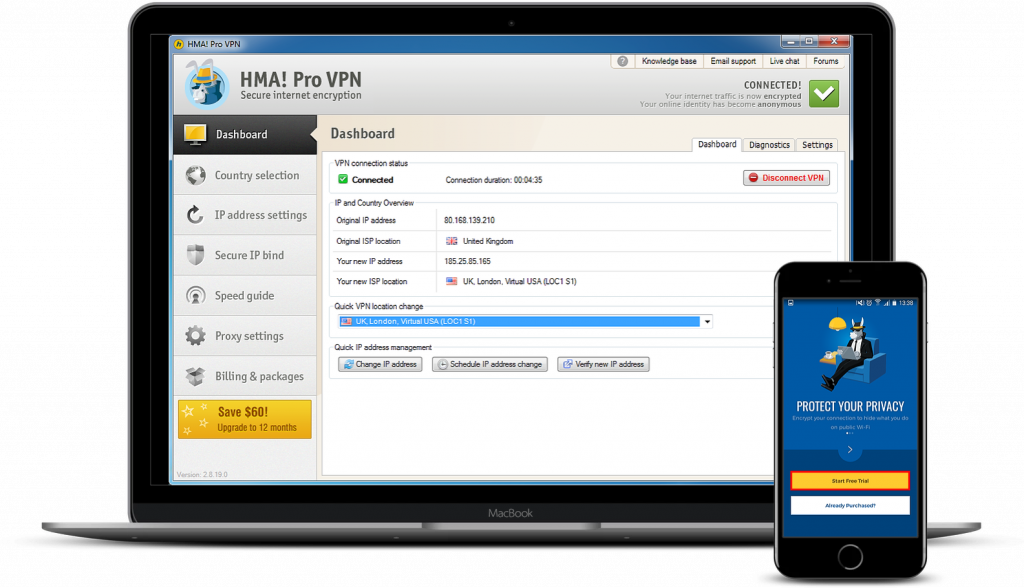 SPECIAL OFFER: GRAB YOUR 70% DISCOUNT to Get a Georgian IP Address with HMA NOW!
With servers in almost every country, including 2 in Georgia, HMA gives you access to geo-restricted content almost anywhere. It's a great option for VPN beginners, with an easy-to-use interface featuring preset modes for common VPN uses.
Simply choose the Location Mode and you'll have your new Georgian IP address in seconds. If you run into censorship issues, switch to Freedom Mode to connect instantly to a server in a country with free speech.
HMA has servers dedicated for streaming to give you buffer-free access to everything from Georgian TV to Hulu and US Netflix.
Contact customer support to set up a free trial, or subscribe with the protection of a 30-day money-back guarantee.
Need More Info? Here's our detailed expert review of HMA
Further Reading
Check out the latest offers on our deals page to save big money on your VPN!
Looking for a trustworthy VPN for your loved ones in Georgia? Learn about the best VPNs our experts found for Georgia.
Get the latest news on worldwide internet censorship and what you can do to avoid it.