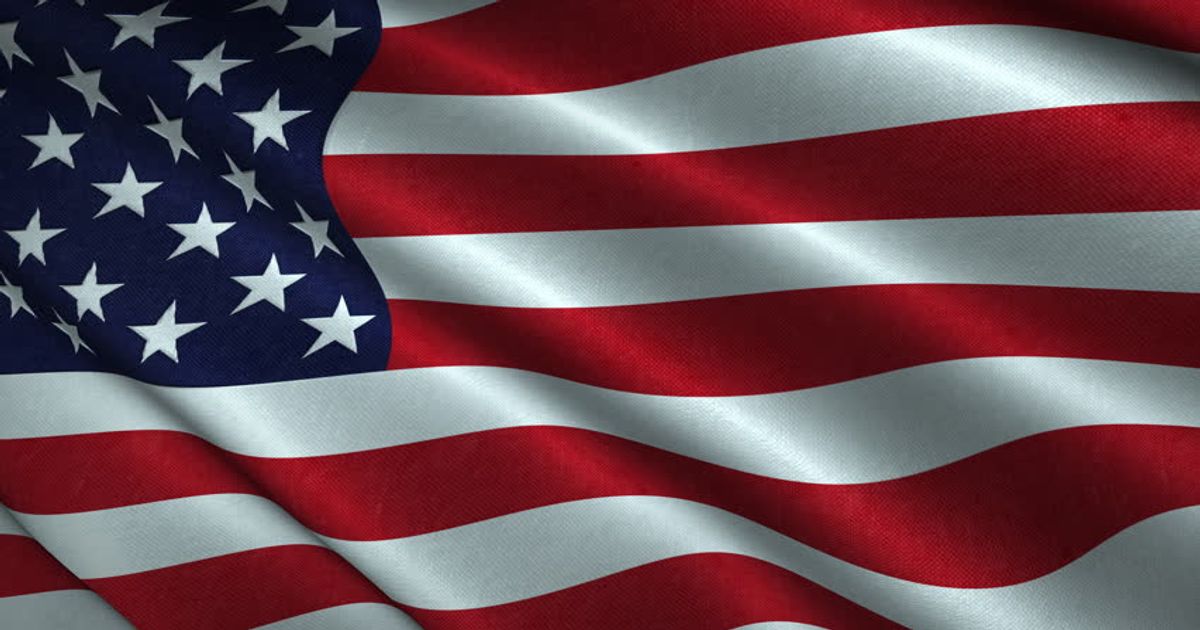 How to Get a US (American) IP Address From Anywhere (2023)
Updated on 5th January 2023
If you live in the US and travel abroad, you might have trouble using sites like US Netflix, Hulu, and ESPN. These sites block visitors who aren't located in their licensed regions from viewing their content. To find your location, these services look at your IP address. If it's not coming from the United States, you won't be able to access the site.
To get past this, you'll need an American IP. The best way to get an American IP address is to use a VPN with servers in the US. This allows you to change your real IP address to one in the US by sending your internet traffic through a server located there. It also encrypts your connection, which keeps your browsing habits and personal information private and secure.
I tested more than 30 VPNs, and the one I'd recommend for a US IP is ExpressVPN. Its large number of US servers, fast speeds, and no-logs policy make it a great choice. It even comes with a 30-day money-back guarantee, so you can test ExpressVPN's American IP addresses completely risk-free. If you don't end up liking it, you can ask for a refund.
Quick Guide:
How to Get a US IP Address With a VPN in February 2023
Download a VPN. I recommend ExpressVPN because it has fast speeds and reliably unblocks US content, with servers in more than 20 locations across the States.
Connect to a server in the US. This will replace your IP address with an American one.
Start browsing. Enjoy having access to your favorite sites and services from the US.
Why You Need a VPN to Get an American IP Address
When visiting a geo-restricted site, your IP address is checked. This is because your IP address reveals your approximate location. Once a website knows your location, it may change the content you have access to, or even block you entirely. This can mean you can't cheer on your local sports team, access your banking app, or watch the weekly episode of your favorite US drama while abroad.
To fully access US sites and services from anywhere, you can use a VPN with servers in the US. When you connect to a US server, you get a new IP address based on that server's location. This hides your actual location, so websites think you're in the US.
A VPN does more than just change your IP address. It will also protect your data and keep you safe online. Your internet service provider and the government can track and store what you do on the web. However, when you use a VPN, you benefit from its security and privacy features like military-grade encryption, IP/DNS leak protection, and no-logs policy. In short, you don't have to worry about unwanted surveillance.
Try ExpressVPN Risk-Free Today
The Best VPNs to Get a US IP Address From Anywhere in 2023
You'll need a VPN with US servers to follow your college football team or stream Hulu or HBO Max abroad. A VPN is also useful in the United States since it ensures your online privacy. This is important because the USA is a member of the 5 and 14-Eyes Alliances, a group of countries that perform surveillance and share data with one another.
Every VPN on my list has a lot of servers in the US and strong security features to protect your data and online identity. They also have reliable money-back guarantees, meaning you can try them risk-free.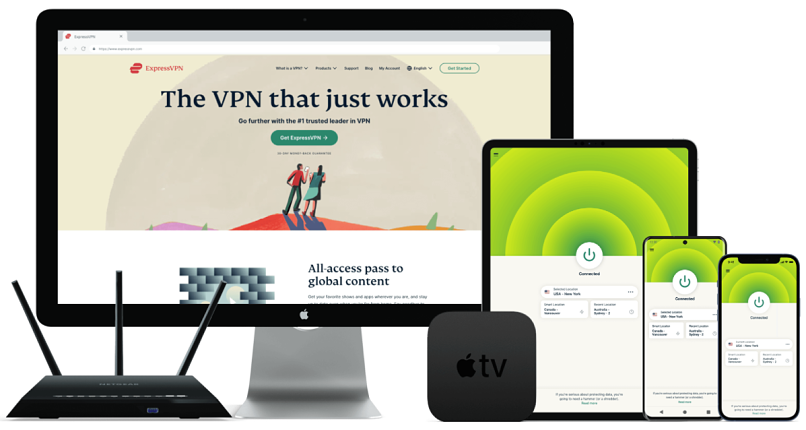 Editor's Choice
Editor's Choice

Tested February 2023
Try Risk-Free for 30 Days
Available on:
Chrome
Router
Smart TV
More
www.ExpressVPN.com
Server speed and location: The fastest VPN for the US. 3,000+ servers in 94+ countries, including 24 locations in the USA
Security and privacy: RAM-based servers and perfect forward secrecy keep your data extra safe from online snoops
Simultaneous device connections: 5
Can stream local and global content: US Netflix, Hulu, ESPN, DAZN, SlingTV, YouTube TV, Peacock TV, HBO Max, Amazon Prime Video, and more
ExpressVPN's lightning-fast speeds and proprietary Lightway protocol make it an excellent choice for streaming. I tried 5 of ExpressVPN's US servers, and while watching US Netflix in UHD, I got an average download speed of 66.86 Mbps. This was only a drop of 8% from my base speed, which was impressive as most VPNs slow your connection by 10-20%.
In addition, most of the servers I tried are over 4,000 km away, so even if you're located really far away from the US you'll get great speeds. You can use its MediaStreamer feature to access US streaming apps easily on devices like gaming consoles and smart TVs, too.
ExpressVPN has servers in 24 locations in the United States. I tried its servers in New York, Miami, San Francisco, Dallas, and Seattle. All of them worked with HBO Max — I loaded House of the Dragon in less than a minute. I could also access US Netflix, Hulu, and Disney+ with ease. It's also one of the few VPNs that can unblock DAZN, which has notoriously tough geoblocks.
It has easy-to-use apps for all major operating systems as well as Firestick and routers. "Recommended Locations" automatically connect you to the fastest server in that location. I just selected the United States and was automatically connected to the New York server, which gave me the fastest speeds.
Its security features are among the best in the industry. AES-256-bit encryption coupled with perfect forward secrecy means your online activity is essentially unreadable. The "Network Lock" kill switch feature maintains this security even if the VPN disconnects unexpectedly.
Your privacy is well protected, too, since ExpressVPN's no-logs policy has been audited and proven multiple times. Its headquarters in the British Virgin Islands also means that it doesn't have to adhere to any data retention laws. Plus, special TrustedServer technology ensures all your data is wiped automaticallty — your browsing history and personal data will not be stored.
The only downside to ExpressVPN is its price, which is quite expensive compared to other VPNs. However, I got 49% off my subscription by choosing a long-term plan. Short-term plans are the most expensive in the long-run, so I recommend opting for the long-term for the best value.
You can try ExpressVPN's US IPs risk-free since it offers a 30-day money-back guarantee. To test this policy, I asked them to cancel my subscription after 25 days. After I answered a few simple questions, everything went through, and I got my money back after just 2 business days.
Server speed and location: Fast speeds. 9,753+ servers in 91+ countries, including 11 US server locations
Security and privacy: NoSpy servers for added security and privacy
Simultaneous device connections: 7
Can stream local and global content: US Netflix, Hulu, ESPN+, SlingTV, YouTube TV, Peacock TV, HBO Max, Amazon Prime Video, and more
CyberGhost has dedicated servers for streaming, gaming, and torrenting. With the streaming servers, you always have reliable US IPs for access to US Netflix, DAZN, NFL+, Hulu, and 15 other US platforms. To test these servers, I connected to the US server optimized for ESPN+. My speed only dropped by 11%. While this isn't as fast as ExpressVPN, I could comfortably stream live NBA games in UHD with no lag or buffering.
It's also one of the easiest VPNs I've used, so CyberGhost is a great choice for getting a US IP if you're new to VPNs. It took me less than a minute to download and install it on my Windows laptop. Once that was done, I just navigated to the "For streaming" tab and typed "US" into the search bar, which showed me the full list of US optimized servers.
CyberGhost also offers dedicated US IP addresses. This is a personal IP address that only you use. Since VPNs usually offer shared IP addresses, geoblocked sites can identify VPN IPs because multiple people are using the same one. This results in IP blocks. With a dedicated IP, you're less likely to face this issue, and should have better speeds, too.
It's also a top choice for online privacy and security. It comes with all the standard security features, including military-grade encryption, leak protection, and an automatic kill switch. On top of its audited no-logs policy, you also get special NoSpy servers for added privacy. These servers are owned and operated by CyberGhost staff in its Romanian headquarters, reducing the risk of man-in-the-middle attacks.
Unfortunately, CyberGhost is quite expensive if you choose a month-to-month subscription, and this plan only comes with a 14-day money-back guarantee. For a longer term, prices start at only $2.19/month and you get added security features on top of a generous 45-day money-back guarantee. Dedicated IPs are available on all plans as a small added fee, but are cheaper if you choose a longer plan.
I tested the refund policy and made sure CyberGhost stood by their word. I asked them to cancel my subscription via its 24/7 live chat after using it for 35 days. The representative asked me 1 question before proceeding about what could have been better before approving the return. I had my money back after 3 business days.
Server speed and location: Good speeds. 29,650+ servers in 84+ countries, including 53 US server locations
Security and privacy: Ad, tracker, and malware blockers stops third parties from tracking your internet activity
Simultaneous device connections: 10
Can stream local and global content: US Netflix, Hulu, ESPN+, SlingTV, YouTube TV, Peacock TV, HBO Max, Amazon Prime Video, and more
PIA's highly customizable settings let you optimize for streaming, torrenting, and secure browsing on a US IP. For example, I used 256-bit encryption for maximum security while purchasing items on US sites, but I lowered this to 128-bit encryption to get better speeds while streaming on Hulu. There are also several VPN protocols to choose from, each offering their own balance of speed and security.
It also has the most US server locations of any of the VPNs on this list. It has 53 server locations distributed across the country. Unblocking popular US streaming sites from anywhere is easy — when I tested its New York and Las Vegas servers, I successfully accessed ESPN+, US Netflix, and YouTube TV. I got an average speed of 51.12 Mbps (a 30% drop), which was more than enough for HD streaming.
Another great thing about PIA is its built-in ad, tracker, and malware blocker, called MACE. Certain news websites, like CBS and CNN, can be frustrating with all the ads, but I saw none when I enabled PIA's ad blocker. As it also blocks trackers, third parties can't collect information about your browsing habits. PIA also offers an automatic kill switch and protection against DNS/IP leaks, so your personal information won't be leaked.
A downside to PIA is, unlike CyberGhost or ExpressVPN, it's based in a country that's part of the 5-Eyes Alliance surveillance network — the US. However, PIA doesn't store any information about its users. Its no-logs policy has even been independently audited and proven in court — it was ordered to hand over information, but there was none to be found.
PIA's longest-term plan offers the best value at just $2.19/month. This plan also gives you 1 year free of Boxcryptor — a third-party service that lets you encrypt the data you store on Google Drive, iCloud, and Dropbox. Its long-term plan has the same features as the shorter-term ones, but you get more for your money with the former.
It's even possible to try PIA for free as it comes with a 30-day money-back guarantee. I just had to contact its 24/7 customer support to cancel my subscription and get my money back. After answering a simple question, the agent processed my return, and I got my money back after 3 business days.
Server speed and location: Fast speeds across 5,384 servers in 60 countries, including 15 US server locations
Security and privacy: Double VPN, a kill switch, a no-logs policy, and private DNS to ensure your data privacy
Simultaneous device connections: 6
Can stream local and global content: US Netflix, Hulu, ESPN+, Sling TV, YouTube TV, Peacock TV, HBO Max, Amazon Prime Video, and more
NordVPN has specialty US servers that hide the fact you're using a VPN. School or work networks commonly block VPNs, so these servers ensure that your VPN connection looks like regular traffic. They can even sneak past country-wide firewalls, such as the Great Firewall of China. Plus, streaming sites will be less likely to detect the VPN while using them. I tested the US obfuscated location and easily accessed my Netflix US account while in Germany.
It has 15 regular US server locations. During my tests on a couple of them, I got consistently fast speeds averaging 65.6 Mbps, which was just about a 10% drop. This was more than enough for watching The Invitation on Netflix in HD without any buffering. I recommend using the NordLynx protocol because it's the fastest option.
NordVPN offers industry-standard AES 256-bit encryption, which is the safest available. In addition to it, you have the kill switch to make sure your traffic stays encrypted, and your IP doesn't leak. I tested it by consecutively switching between servers, and during those small periods between each server change, my internet was off. My real IP was never revealed.
I appreciate the fact that the VPN is based in Panama, which is outside the 14 Eyes Alliance countries that share data between them. It also has an audited no-logs policy, so it doesn't collect and store your private information or browsing activity. Plus, all its servers, including the US ones, are RAM-based, meaning the data on them is wiped off after each reboot.
The Windows app was a bit slow to launch — I waited for around 30+ seconds, which I didn't experience with the other VPNs I tested. However, it wasn't that big of a deal because once it launched, it worked smoothly, and it was pretty straightforward to use.
You can get a long-term NordVPN subscription for just $3.49/month. For a small additional fee, when you're first subscribing, you can also get a dedicated US IP. This is a great option to have because it's an IP that only you can use. So it's ideal to securely access your business accounts or to pay online.
All its plans are backed by a 30-day money-back guarantee. I tested it by contacting customer service, and after a quick chat, they approved my request. There wasn't much fuss about it, and I got all my money back in 4 days.
Server speed and location: Solid speeds on 3,200 servers in 100 countries, including 25 US server locations
Security and privacy: AES 256-bit encryption, a kill switch, and a no-logs policy
Simultaneous device connections: Unlimited
Can stream local and global content: US Netflix, Hulu, ESPN+, Sling TV, YouTube TV, Peacock TV, HBO Max, Amazon Prime Video, and more
Surfshark lets you connect an unlimited number of devices at the same time, so you can use a US IP on as many as you want. I tried it on my Windows PC and iPhone simultaneously, and there wasn't any noticeable difference in performance. My speeds on a couple of US servers averaged 65.1 Mbps (an 11% drop from my base). These results were similar to those I got with NordVPN, so you won't have to deal with interruptions or delays.
Its network consists of 3,200 servers in 100 countries, including 25 US server locations to get a US IP. During testing, Surfshark was consistent at unblocking many popular streaming platforms. These include Netflix US, Disney+, Hulu, Amazon Prime Video, and more. I used the Seattle and New York servers, and the connection was reliable throughout.
Surfshark also has a user-friendly app, so you can easily get a US IP by connecting to a server, even if you're a VPN beginner. I found the US servers in just a second — all I had to do was type "US" in the search bar and select my preferred location. It also shows you the ping next to each server before connecting, which makes it easier to pick the fastest one.
One downside is that Surfshark is based in a 9 Eyes Alliance country, the Netherlands. However, there's nothing to worry about in terms of data privacy because it has a no-logs policy. So your data and online activity won't be collected, stored, or shared.
Prices for a long-term subscription start at $2.30/month. It also offers short-term plans that come with the same features. The only difference is the price, so I opted for the longest-term plan since you save more overall.
It offers a 30-day money-back guarantee, so you can try out its US servers risk-free. I used it for more than two weeks and didn't have any issues, but wanted to test the guarantee. I did this through the live chat, and I got my money back in around 5 days.
Tips on Choosing the Best VPN for a US IP Address
When choosing a VPN with the intent of getting a US IP address, there are multiple qualities you should be on the lookout for. A large network of reliable US servers, fast speeds, robust security features, and proven privacy policies are crucial. All of the VPNs on my list have these features, but I made a checklist you can use just in case.
A network of US servers — If your VPN doesn't have any servers in the US, you can't get an American IP address. Always check how many servers your VPN has in the US and in which cities. A high number of US servers means you'll have plenty of alternatives to choose from if your usual server is experiencing problems.
Fast speeds — When you use a VPN, your internet speed will be impacted slightly due to the encryption process and extra distance your data has to travel. A good VPN minimizes the speed loss to the point where it is barely noticeable — meaning you can stream US content in the highest quality and torrent large files quickly.
Robust security features — A good VPN will always keep your connection secure, even on public WiFi networks. The main features to look out for are military-grade encryption, an automatic kill switch, and protection against DNS/IP leaks. This ensures your true location and other personal information is never revealed.
Strong privacy policies — Make sure your VPN has a strict no-logging policy. This lets you use the internet without fear of your data being shared with unknown third parties.
Good device compatibility — You should make sure that the VPN you choose supports all your devices and different operating systems. It should also offer enough simultaneous connections. This means you can make the most of your VPN subscription by allowing the entire household to access US content on their own devices.
Easy to use — A good VPN should have easy-to-use apps and let you connect to a US server with just 1 click. It should also be easy and quick to install on all your devices.
Good value — The best VPNs offer superfast speeds, reliable servers, and top-of-the-line security features at affordable prices. It's also worth noting that many VPNs on this list offer regular discounts when you sign up for long-term plans.
Prompt customer service — It should be easy to get help whenever you need it through a number of different channels, such as 24/7 live chat, email, and phone.
FAQs About Getting a US IP Address With a VPN
Can I get an IP address for a specific US city?
Yes, you can get a US IP address for a specific city with a VPN. All the VPNs on this list have at least 10 server locations in the States. These include VPN servers in US cities such as Washington D.C., New York, Los Angeles, Miami, New Jersey, Santa Monica, Chicago, and more.
Is using a US IP address legal?
Yes, using an American IP address from outside the country is legal in most places. VPNs allow you to get a US IP address in just a couple of clicks, so all you need is a VPN with a large number of US servers. However, be aware — some censorship-heavy countries, such as Russia and China, restrict or have banned VPN use. We do not condone breaking the law, so always check your local country's laws before using a VPN.
How do I see if I'm using a US IP address?
Once you connect your VPN to a US server, you can perform a leak test using an online tool to see what your IP address is. You can try vpnMentor's handy IP checker tool — if the IP address shows a location in the USA, then you know you're connected to a US IP. If your real IP and location show up, then clear your browser cache and cookies to remove any old location data and try again.
Will my American IP let me watch US Netflix?
Yes, as long as Netflix hasn't blocked the IP address you're using. Netflix has strong geoblocking technology in place to prevent people from streaming content not licensed in their location. So, it's best to use one of the VPNs in this list since they've all been tested with US Netflix and found to be highly reliable.
Even some of the best VPNs will encounter errors sometimes, so making sure your VPN has good customer service is also important. If your VPN has 24/7 live chat support, then you can always ask them for a list of US servers that work best with Netflix. In addition to US Netflix, these VPNs can unblock other streaming sites like Hulu, Disney+, HBO Max, and Amazon Prime Video.
Can I get a US IP address for free?
Technically, yes, but I wouldn't recommend it. Free methods of attaining a US IP address come with big disadvantages. For example, the Tor browser keeps your connection private, but it's much too slow for streaming and downloading US content. A proxy server or Smart DNS service is faster, but these lack the military-grade encryption of a good VPN, leaving you vulnerable to online attacks.
While free VPNs exist, they run into similar issues. Many are limited by data caps and tiny server networks, which can leave your speeds so slow that it's a struggle to simply browse the web. In addition, so many free VPNs aren't trustworthy — some have even been known to collect your data and share it with third parties.
A much better alternative is to use a premium VPN that comes with a money-back guarantee. This allows you to try a trustworthy service with no limitations. If you aren't satisfied, you can easily cancel and get a full refund.
Get an American IP With ExpressVPN
Get a US IP Address Today
Using a VPN with servers in the US is the easiest way to get a US IP address from anywhere in the world. It lets you use websites and services that are only available in the US while you're away from home. It will also encrypt your connection, keeping your personal data secure. Best of all, the VPNs above are easy to use — connecting to a US server only takes a couple of clicks.
ExpressVPN is my top pick for the US because it has servers all over the country, fast speeds, and strong security features. You can even try out ExpressVPN's American IPs totally risk-free without risk because it comes with a 30-day money-back guarantee. If you don't like it, asking for your money back is easy.
To summarize, the best VPNs to get a US IP address are...
Privacy Alert!
Your data is exposed to the websites you visit!
The information above can be used to track you, target you for ads, and monitor what you do online.
VPNs can help you hide this information from websites so that you are protected at all times. We recommend ExpressVPN — the #1 VPN out of over 350 providers we've tested. It has military-grade encryption and privacy features that will ensure your digital security, plus — it's currently offering 49% off.