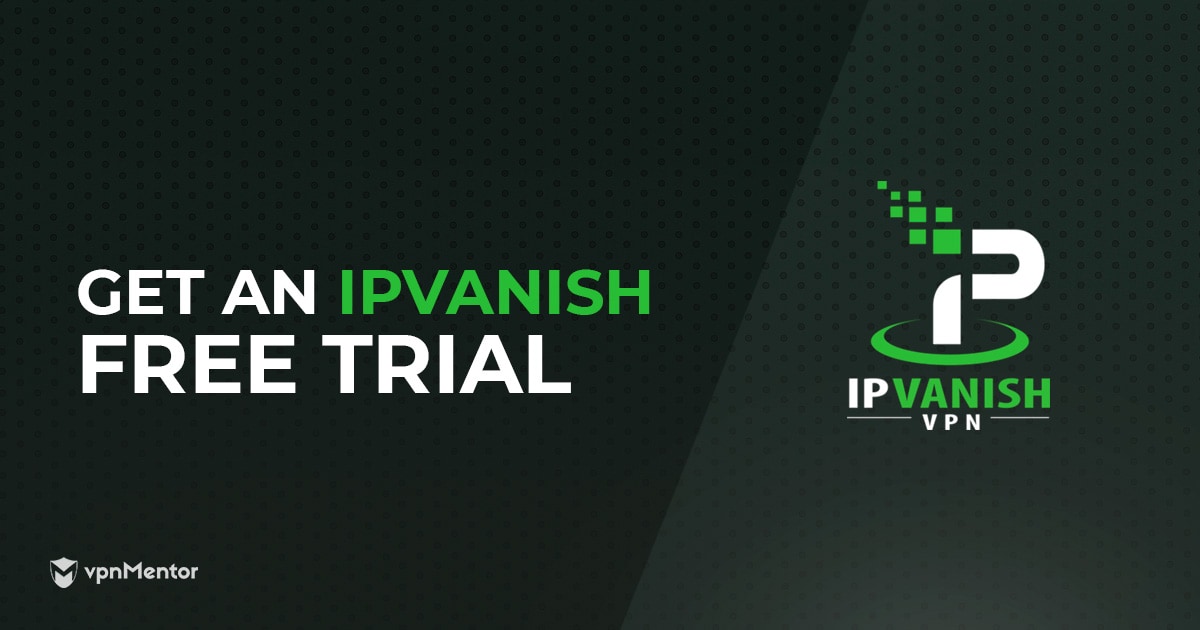 How to Get an IPVanish Free Trial — Easiest Hack for 2023
Updated on 20th January 2023
I was disappointed to see that IPVanish no longer offers a 7-day free trial, not even for iOS users. Fortunately, I found another way to test out the service before committing to a full subscription — with its money-back guarantee.
While you don't have to pay upfront for VPN free trials, they usually limit the data and features you get to use. However, if you use IPVanish's money-back guarantee you have more time to test the service before deciding whether you want to commit to a subscription. Plus, you get unrestricted access to its full range of features for the entire guarantee period.
To be sure you can trust the refund policy, I tested the entire process myself. It was super quick and easy to get my money back — I didn't even have to talk to an agent or give a reason for canceling. Even better, I saw the money back in my account only 2 days later.
Quick Guide:
How to Get an IPVanish Free Trial in 3 Easy Steps
Get IPVanish. Navigate to the IPVanish website and sign up for its risk-free yearly subscription.
Test it out. Enjoy unlimited streaming, torrenting, and gaming with the highest level of security for all of your online activity.
Claim your refund! Visit IPVanish's website before 30 days are up to get your money back.
IPVanish Free Trial — Overview
Using a free trial before you fully commit gives you a risk-free opportunity to test the VPN's features. Since a free trial is no longer an option, the best way to try IPVanish is with its money-back guarantee.
A money-back guarantee differs from a free trial since it requires you to submit payment upfront. However, with IPVanish, this payment is backed for 30 days — meaning, if you decide not to continue and cancel your subscription within the timeframe, you're entitled to a full refund.
IPVanish makes this process pain-free. When I tested it, all I had to do was log into my account on the IPVanish website to request a refund. I could do it all independently, with just a few clicks. It only took me about 2 minutes before my request was submitted and on its way for approval and I had my money back in 2 days. There was no pressure — I didn't even have to chat directly with an agent.
What to Know Before You Sign Up for IPVanish's Free Trial
Here are some tips to ensure you get your refund quickly and easily:
Sign up through IPVanish's website. If you sign up through Google Play, you'll have to go through them to claim your refund. If you sign up through the Apple App Store, then you don't qualify for the money-back guarantee at all.
Choose the annual plan. If you choose a shorter subscription period, then you don't qualify for the money-back guarantee.
Use PayPal. Your refund will be processed faster if you pay with PayPal. If you use cryptocurrency, you'll be refunded at the current exchange rate, which could be lower (although also higher) than what it was when you signed up. Some gift card payments are non-refundable, while some credit cards (like American Express) might take longer to process the refund.
Make sure to cancel within 30 days. It's stated in the IPVanish Terms of Service that refund requests made after this period will not be approved.
How to Sign Up for the IPVanish Free Trial
When you sign up for IPVanish's yearly subscription, it automatically comes with a money-back guarantee. The signup process only takes a few minutes — I'll guide you through it with easy-to-follow steps.
Go to IPVanish's website. Navigate to IPVanish's site and click "Subscribe Now".

You'll be redirected to the subscriptions page

Choose an annual plan. There are two yearly subscription plans — with SugarSync and without. SugarSync is a storage add-on (500 GB), making it easy for you to sync files across an unlimited amount of devices.

Be sure to download your files from SugarSync within 7 days after canceling to avoid losing them

Enter your details. Select a payment method and enter your personal details. You'll have to accept the Terms of Service after you've done this.

You can choose between credit, debit, or PayPal

Verify your email and download the app. IPVanish will send you an email confirmation right after you sign up. Afterwards, you can begin downloading the IPVanish apps to your devices.

Once you've confirmed, you'll be directed to a page that shows you how to set IPVanish up on your devices

Start Using IPVanish! You now have 30 days to test out the service!
Get the IPVanish Free Trial Now!
How to Claim Your Refund
If you decide IPVanish isn't for you, canceling your subscription and claiming a refund is even easier than the sign-up process. It took me less than 2 minutes and I had my money back 2 days later.
Log in to your IPVanish account. Navigate to IPVanish's site and click "My Account".

Enter your username and password in the text fields

Click "I wish to cancel my subscription". You can find it at the bottom left corner, under your account information.

When you're redirected to a new page, click "Cancel Now" — then "I Still Want to Cancel"

Provide your reason for canceling. It's your choice whether you leave feedback for IPVanish or not.

Click continue when you're finished

Confirm and get refunded. You may be offered an incentive to keep your subscription. To continue canceling and requesting your refund, click "I Still Want to Cancel".

You should see your refund within 7 days — for me, it only took 2 days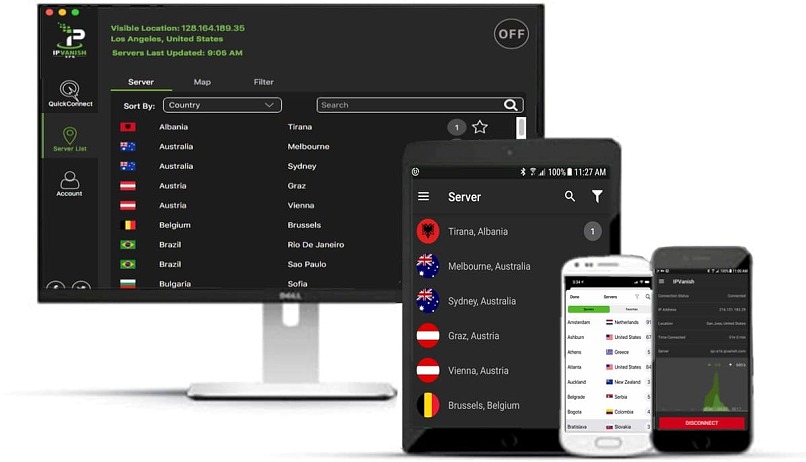 Editor's Choice
Editor's Choice

Tested February 2023
Try Risk-Free for 30 Days
www.IPVanishVPN.com
Lightning-fast speeds and unlimited bandwidth to browse and stream with no buffering
2,000+ servers in 75 countries for access to streaming platforms and websites from around the world
Military-grade encryption, a kill switch, and leak protection to keep you safe online
30-day money-back guarantee
Unlimited simultaneous device connections
Can unblock: Netflix, Disney+, HBO Max, Hulu, BBC iPlayer, and more
Compatible with: Windows, Mac, iOS, Android, Linux, Apple TV, routers, and more
IPVanish's 30-day money-back guarantee lets you use all of IPVanish's features without limits. Firstly, it offers some impressive speeds. I tested 10 servers worldwide, and never had a speed below 32 Mbps (even on servers thousands of miles away from my actual location). All of the servers allowed me to quickly jump from site to site and stream in HD with no loading times. You only need up to 5 Mbps for HD streaming — meaning, you can enjoy any online activity without interruption.
It also uses industry-leading security features to ensure you and your devices are protected. This includes 256-bit encryption, a zero-logs policy, a kill switch, ad blocking, and IP/DNS leak protection. When I tested for leaks on 10 servers there were none found. This level of security makes IPVanish a great option for staying safe while torrenting, especially since it also offers unlimited P2P traffic on all of its servers. Your personal information is kept safe from exposure to dangerous third parties.
While testing, I found that the IPVanish apps are intuitive and user-friendly. The "Quick Connect" feature allows IPVanish to select the fastest server for you. Otherwise, you can choose for yourself, as it shows each servers' ping and load percent (how crowded it is). There's also a world map feature, displaying the number of servers in each location. However, even if you're new to VPNs, you'll have no problem navigating it.
I was impressed to see IPVanish works extremely well with Netflix. I was able to access my US Netflix account easily on the 5 US servers I tested. It even offers a native app for Amazon Fire TV Stick, so you can stay protected on streaming apps like Kodi directly on your big screen.
IPVanish comes with some extra features that make it a great option for torrenting as well. It offers a SOCKS5 proxy, which you can set up for extra security and faster speeds while downloading large torrent files. In addition, its split tunneling feature lets you choose which apps to run through the VPN connection and which ones to leave on your regular connection. You can choose only to run your torrenting client through the VPN tunnel — this helps keep you protected only when you need to be, maximizes your device's performance, and gives you better download speeds.
Unfortunately, since the free trial is no longer offered, you will have to pay a bit of money upfront to use the money-back guarantee hack. However, I found out that you can save 66% when you sign up for IPVanish, making the upfront cost a lot more affordable.
Why Should I Try a VPN Before Buying?
Trying a VPN allows you to get a full overview of its abilities. IPVanish is one of our top recommended VPNs and offers all of the following features. However, when using any VPN trial, you should test its performance for:
Ability to access streaming sites — like Netflix, Hulu, HBO Max, Disney+, and more. VPNs with high-level security and extensive server networks are usually best for streaming. However, it's hard to know how well it actually works until you try.
Strong security features — many VPNs claim to be ultra-secure. The best way to see if it's really trustworthy is to test for leaks using an independent tool. You'll need to be signed up for and connected to the VPN to do so.
Fast speeds — slow servers can be quite annoying when you're trying to enjoy a movie, play video games, or browse the web. Testing a VPN allows you to see firsthand if it slows you down. You can even run servers through a speed testing tool to get a precise overview of how it performs.
Responsive and informed customer service — test the VPN's quality of customer service by reaching out to a representative with any questions or issues you encounter. Since I'm a frequent traveler, I find it useful that you get 24/7 live chat support with IPVanish; no matter what time zone I'm in, there's always an agent on standby.
VPN Trials and Guarantees: What to Watch Out For
IPVanish's money-back guarantee is legitimate and hassle-free, but not all VPN trials can be trusted. If you're comparing VPN service options at this point, beware of the common money-back guarantee issues, such as:
Major pressure not to cancel — some services will make it very uncomfortable when you try to cancel; they may drill you with a huge list of questions or attempt to change your mind by pushing incentives on you.
Disqualifying terms — some VPN services enforce strict rules that will disqualify you for your refund, like going over your bandwidth limit or the number of device connections; this is why it's always important to look closely at the provider's terms and conditions before signing up.
They're "unable" to pay back cryptocurrencies — this is just an excuse that some VPN services have been known to use; it's possible to return cryptocurrency payments, all they have to do is ask for your wallet address.
Making it almost impossible to cancel — sometimes VPN services make it super hard to find where to initiate a subscription cancelation; you might not even see a cancel button anywhere on your account page. Often, you'll be forced to end your subscription by contacting a help desk with limited hours/days of operation.
Reading the fine print is key in avoiding these mishaps — however, opting for a trial with a reputable VPN like IPVanish is the safest way to ensure you'll get your money back. To help guide your decision, you can check out our top recommended VPNs that all come with reputable money-back guarantees.
FAQs on the IPVanish Free Trial
Does IPVanish work with Netflix?
Yes! I was able to access Netflix US, UK, Australia, and others using IPVanish. It only took a few seconds for shows to load and I could watch in HD without buffering. IPVanish even has a native app for Fire TV Stick, so you can access Netflix easily on your smart TV, too.
Do I need a reason to claim my IPVanish refund?
Not at all! I was able to handle the entire cancelation process myself and even opted out of providing a reason for it. All you have to do is select "Other option" and type "no reason" as I did. IPVanish ensures you can get through the entire process easily — there's no pressure from customer service agents, no waiting for a reply, and no long questionnaire to fill out.
Free trial, money-back guarantee – what's the difference?
Free trials aren't paid while money-back guarantees require you to sign up and pay as a regular customer would. While free trials may ask for payment details, they won't charge you until after the free trial period has passed. With money-back guarantees, your payment is refundable for a period of time so you can test the product without risk.
The con to free VPN trials is they usually limit the features you have access to (like speeds, servers, or bandwidth) — this doesn't provide an accurate impression of how they work. Money-back guarantees allow you to test the full-featured product for a longer period of time, so you can make an educated decision on whether to keep it or not.
Try IPVanish Risk-Free Now
It's easy to see if a VPN is for you by testing it out. Luckily, many services offer free trials or money-back guarantees, giving you the ability to try out the features first hand. For a full-featured money-back guarantee that you can trust, I highly recommend IPVanish.
IPVanish offers a combination of the strongest security features, ultra-fast speeds, and a large server network. However, what you need in a VPN depends on what you intend to use it for. That's why I advise you to test IPVanish and its features using its 30-day money-back guarantee; if you find it isn't for you, it's no problem to claim a full refund.
The best VPNs with money-back guarantees in 2023 are…
Privacy Alert!
Your data is exposed to the websites you visit!
The information above can be used to track you, target you for ads, and monitor what you do online.
VPNs can help you hide this information from websites so that you are protected at all times. We recommend ExpressVPN — the #1 VPN out of over 350 providers we've tested. It has military-grade encryption and privacy features that will ensure your digital security, plus — it's currently offering 49% off.