How to Stop Internet Throttling — Get Full ISP Speeds in 2023
Updated on 11th November 2022
Some internet service providers throttle your bandwidth or speeds for several reasons. Even though you pay for the full service, ISPs can limit your connection to ease congestion on their network — or deter you from accessing certain sites.
Luckily, you can get around most throttling issues with a VPN. ISPs inspect your internet traffic to check for bandwidth-intensive activities such as streaming or downloading. If your ISP detects this kind of activity, it can then throttle your connection. But a VPN lets you hide your traffic, so your ISP can't see what you do online. Since your ISP can no longer adjust your connection based on your online activity, you get to enjoy the web unthrottled.
My team and I tested 65+ VPNs and my top recommendation is ExpressVPN. It offers incredibly fast speeds and a massive server network for you to easily bypass internet throttling. You can try ExpressVPN risk-free since it comes with a 30-day money-back guarantee. In case you don't like it, getting a refund is easy.
Stop Internet Throttling With ExpressVPN
Quick Guide:
How to Stop Internet Throttling With a VPN in 3 Easy Steps
Download a VPN. I recommend ExpressVPN because it comes with fast speeds and a vast server network to easily bypass internet throttling. You can try ExpressVPN without risk (it comes with a 30-day money-back).
Connect to a server. Simply click on the Quick Connect button or manually pick a nearby location to get the best speeds.
Enjoy unthrottled speeds. Watch all your favorite shows and download content at maximum speeds.
Why You Need a VPN to Stop Internet Throttling
Most ISPs throttle speeds to provide a consistent quality of service. If an ISP detects you're carrying out a high-bandwidth activity like streaming, it can throttle your speeds to maintain fast connections for other users. This is especially the case during peak hours. Public WiFi hotspots can be throttled too, for the same reason.
However, some services reduce speeds on certain sites to prevent you from accessing content that's forbidden in your location. In other cases, ISPs throttle speeds when you use popular services (like Netflix), hoping you might shift to platforms the ISP has affiliated deals with.
Your ISP might also have a peering conflict that reduces your speeds. Peering is when 2 or more ISPs exchange traffic to provide a consistent level of quality for every customer. However, when one provider exceeds the traffic ratio, it causes congestion on the other end resulting in slow speeds.
The easiest way to bypass content-based internet throttling and peering conflicts is to use a reliable VPN. VPNs encrypt your traffic and send it through a secure tunnel, making it super hard for your ISP to track and restrict your online activities. Your data doesn't have to go through another provider either and can take the least congested path. As a result, you can browse, stream, and torrent without speed limitations.
As a bonus, VPNs also give you online security and let you bypass geoblocks. Encryption doesn't just mean that your ISP can't see what you do online — it means hackers and snoops can't either. At the same time, your VPN can help you "borrow" IP addresses from other countries, letting you access geo-restricted content from anywhere.
Get the Best All-Around VPN Now
Best VPNs to Stop Internet Throttling — Updated in January 2023
All the VPNs on my shortlist help you get around internet throttling. They offer excellent speeds for browsing the web without limitations. Plus, each service comes with dedicated apps for popular operating systems so you can enjoy the web on your preferred devices.
They also offer reliable money-back guarantees, meaning you can test them without risks. If you are not satisfied with the results, it's easy to get a refund.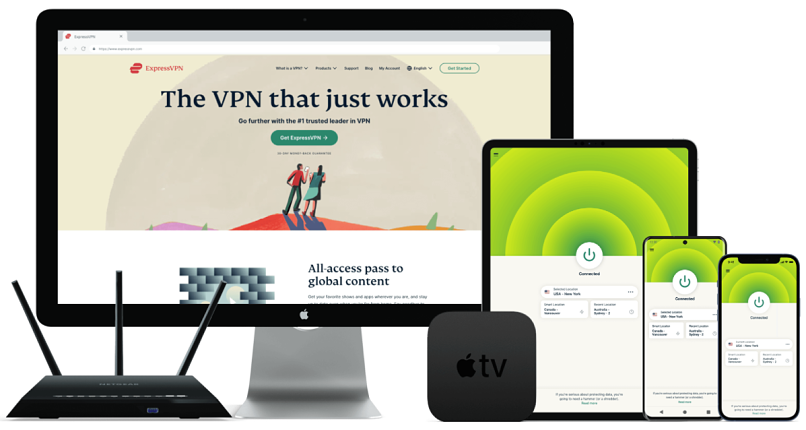 Editor's Choice
Editor's Choice

Tested January 2023
Try Risk-Free for 30 Days
Available on:
Chrome
Router
Smart TV
More
www.ExpressVPN.com
Lightway protocol provides lightning-fast speeds to watch your favorite shows in UHD
3,000 servers in 94 countries to easily bypass internet throttling anywhere
5 simultaneous connections to stream your favorite shows on any device
Can unblock: Netflix, Disney+, Amazon Prime Video, BBC iPlayer, Hulu, HBO Max, and more
Compatible with: Windows, Mac, iOS, Android, Linux, Chrome, Firefox, Apple TV, Amazon Fire TV, routers, and more
ExpressVPN's speedy Lightway protocol lets you enjoy the web unthrottled. It encrypts your traffic to avoid your ISP slamming on the breaks based on web activity. Lightway is so fast that any (usually expected) VPN slowdown is unnoticeable. When testing several ExpressVPN servers, I got fantastic results. I recorded speeds of 90 Mbps and watched Blade Runner 2049 in UHD (you need 25 Mbps for 4K so this was more than fast enough).
The service comes with an extensive server network, spanning 94 countries. This makes it easy to find a speedy server near you for the most reliable connection. It also means you get access to servers in a range of locations for unblocking global content. I had no issues accessing my US Netflix, YouTube TV, and Hulu accounts from the UK.
Military-grade encryption is reinforced by Perfect Forward Secrecy, which refreshes your encryption key every 15 minutes. This makes it super hard for your ISP to analyze your traffic. DNS/IP leak protection, private DNS, and a kill switch ( Network Lock) also help to make sure your online activity isn't exposed — even if the VPN goes down.
A strict no-logs policy means the VPN doesn't record anything you do while connected. Plus, your online privacy is guarded by TrustedServer technology, RAM-based servers that automatically wipe your data on every reboot. The service is also based in the privacy-friendly British Virgin Islands. That means the VPN isn't bound by the data-retention rules of the 5/9/14 Eyes Alliances (an agreement between countries to share citizens' internet data).
The VPN offers apps for all popular operating systems. I installed it on my Windows 11 PC, Android smartphone, and iPad in less than 5 minutes. The entire user interface of the app is super intuitive, but if you need help, you can contact support using the 24/7 live chat feature.
My only gripe with this service is its expensive subscription plans, which start at $6.67/month. However, you can take advantage of ExpressVPN's frequent deals and promotions. I got 3 months free and a 49% discount when signing up for the 12-month subscription.
Every plan is backed by a 30-day money-back guarantee. In case you don't like the service, it's easy to get a full refund. I tested this policy by contacting support through the live chat. After answering a couple of questions, my request was approved and my PayPal account was reimbursed 2 days later.
Try ExpressVPN Risk-Free Today
Carry out bandwidth-heavy activities without throttling, thanks to the optimized servers
Based in privacy-friendly Romania to protect your personal information from snoops
7 simultaneous connections to enjoy unthrottled speeds on all your devices
Can unblock: Netflix, Disney+, Amazon Prime Video, BBC iPlayer, Hulu, HBO Max, and more
Compatible with: Windows, Mac, iOS, Android, Linux, smart TVs, routers, and more
CyberGhost's optimized servers help you avoid throttling during bandwidth-intensive tasks. All you have to do is select a server from the "For streaming" or "For downloading" menu to get an optimized connection for your chosen activity. The streaming servers are also labeled with the platform they're designed to unblock, making it easy to find the right one. I didn't experience any throttling while watching Doctor Who in HD on BBC iPlayer.
Like ExpressVPN, the service offers super-fast speeds and unlimited bandwidth across the 9,753 servers in 91 countries. During my CyberGhost tests, I streamed as much as I liked without hitting data caps. The servers I tried gave me an average speed of 82 Mbps, which is impressively fast. You can also choose the WireGuard protocol for an extra speed boost. This lightweight protocol securely reroutes your traffic without slowing you down.
AES 256-bit encryption keeps your online activity hidden from your ISP. An automatic kill switch and IP/DNS leak protection further prevent your searches, location, and real identity from being exposed. Plus, the built-in ad blocker works against pesky pop-ups that often eat into your data.
CyberGhost also comes with a trustworthy no-logs policy and the VPN is based in Romania, outside of data-sharing alliances. It doesn't record anything you do on the internet, so it can't hand over any of your sensitive information to third parties — including ISPs and governments.
All the apps are intuitive and easy to install. The entire user interface is straightforward and very responsive, perfect if you're new to VPN software. Plus, there's plenty of support on offer including 24/7 live chat support, online tutorials, and troubleshooting guides.
One minor downfall is that the VPN's monthly plan has a reduced money-back guarantee (just 14 days). However, the long-term plans are the most affordable, starting at $2.19/month. They come with an extended refund period, so I recommend getting the 3-year plan because it's the most pocket-friendly.
This extended refund period means you can try CyberGhost for free for 45 days. If it doesn't match your needs, it's easy to get a refund. I tested the guarantee by canceling via email. After a couple of messages, the support rep proceeded with my request and fully refunded my credit card in 3 days.
Customizable security settings for bypassing throttling and prioritizing fast connections
29,650 servers in 84 countries mean plenty of nearby servers for the best speeds
10 simultaneous connections to use the VPN on several devices at the same time
Can unblock: Netflix, Disney+, Amazon Prime Video, BBC iPlayer, Hulu, HBO Max, and more
Compatible with: Windows, Mac, iOS, Android, Linux, routers, and more
PIA lets you choose between 128-bit and 256-bit AES encryption to prioritize speed or security. I used 128-bit encryption to successfully bypass throttling on my connection. It's secure enough to prevent your ISP from monitoring your traffic, but less encryption means it doesn't slow you down either. If you want maximum security though, choose the industry-standard 256-bit encryption (it's still pretty fast).
Like CyberGhost, this service also comes with a powerful MACE blocker that prevents online tracking. It stops troublesome ads, trackers, and other third parties from gathering your information — and using up your data. I tested several of PIA's servers for IP/DNS leaks and they all passed, meaning the VPN didn't leak my real location or online activity. The strict no-logs policy and RAM-based servers further protect your privacy.
Thanks to the large network, avoiding internet throttling is easy wherever you are. PIA has servers in 84 countries, so you're likely to be able to find one near you for a speedy connection. The network is also great for getting around geo-restrictions; I had no problems watching The Office on my Netflix account or streaming Twitch.
My speeds were fast enough to watch content in fantastic quality too. I recorded average download speeds of 71 Mbps across the servers I tested. This is just 29% slower than my base connection speed when it's unthrottled.
The only downside to PIA's numerous customization options is that you might find it difficult to configure if you're new to VPNs. However, I found the default settings were perfectly fine for safely stopping throttling. So you can use the apps right away without any complicated setup. Plus, there's a 24/7 online chat in case you need help.
Subscriptions for PIA start at just $2.19/month. Long-term plans offer identical features to monthly ones but are more budget-friendly. This is why I signed up for a 2-year subscription.
In case the VPN doesn't suit you, getting your money back is easy. All subscriptions come with a reliable 30-day money-back guarantee. I canceled via the website and filled in a web form requesting a refund. 5 days later, my bank account was reimbursed.
FAQs on Stopping Internet Throttling With a VPN
How does internet throttling work?
Throttling is when your ISP intentionally limits the rate at which data is sent to and received from your device. Typically, this is done to regulate network traffic and clear up congestion caused by too many customers being online at once. To avoid throttling, you need a reliable VPN that masks your online activities.
Since a VPN stops your internet service provider from seeing what you do online, the ISP can't throttle your speeds based on your activity. So you can stream anything from movies to live NBA playoffs online without hitting restrictions.
Will I know if I'm being throttled?
You can test if you're being throttled by measuring your internet speeds at different times. It's a good idea to test your speeds while connected to a reliably fast VPN. Use an online tool such as speedtest.net and see if your speeds change when you access certain sites or carry out certain activities, like using BitTorrent.
If you notice that your speed drops on some sites, or is improved with a VPN, then you're probably being throttled. Other telltale signs of throttling include:
Devices on your WiFi network regularly disconnecting.
Websites that don't work at specific times, are suddenly blocked, or load slower than other sites you access simultaneously.
Videos buffering for a long time, despite other sites working as normal.
Torrenting download speeds that are much slower than the max speed you pay for.
It's important to note that before running any tests, you should first make sure nothing else on your network is using up bandwidth. Turn off any automatic backups or software updates, and run an antivirus program on your devices to ensure no malware is using up data. If you're a Windows user, you can check the built-in bandwidth monitor in Task Manager.
Is my ISP throttling Netflix?
Use a VPN to test for throttling. Simply activate your VPN and then test your streaming quality while accessing Netflix. If you get better results with the VPN, then your ISP is most likely throttling your speeds when you use the streaming site (just keep your VPN on to avoid throttling in the future).
Are ISP legally allowed to throttle bandwidth?
It varies from country to country. Some countries make it legal for ISPs to restrict your speeds, while others prohibit throttling. However, in most countries, it's legal to use a VPN to bypass throttling.
Here's how different countries handle internet throttling:
United States — During the Trump Administration, the FCC revoked the Open Internet Order which required ISPs in the US to treat all internet traffic equally. This decision allows companies such as AT&T, Comcast, or Verizon to legally throttle your bandwidth if their network is overloaded. It's also legal for US ISPs to offer "fast lane" packages that companies can pay for to have their content prioritized.
United Kingdom — Currently, it's not clear whether the UK government allows ISP throttling. Before Brexit, the country followed the EU's Digital Single Market law that prohibited ISPs from throttling internet speeds. Today, most ISPs in the UK follow their own traffic management policies.
Canada — Most ISPs in Canada reduce speeds during peak usage hours. This is done after traffic inspection or if you're performing bandwidth-heavy activities like torrenting (or any other peer-to-peer tasks).
Australia — There are currently no laws or regulations that make internet throttling illegal. On the contrary, the Australian ISP market is very competitive and many companies promote zero-rating practices.
If you want to use a VPN to stop internet throttling, just note that some countries — such as Russia, Belarus, and China — do ban or restrict VPN use. Make sure you familiarize yourself with local laws before using a VPN.
Is there a device to stop internet throttling?
It's not likely. Some routers or WiFi gadgets claim to stop internet throttling but none have been found to work. The best way to easily and reliably prevent internet throttling is with a VPN.
Do VPNs stop internet throttling on iPhone and Android devices?
Yes, you can bypass throttling on your mobile device with a VPN. Throttling on mobile is especially annoying because it leads to higher data usage due to constant network errors that force automatic page refreshing. To get around it, just choose a VPN that has a user-friendly native app for your mobile device. That way, you can browse, stream, or even enjoy PUBG on mobile without slowdowns.
Does a VPN bypass ISP speed or data caps?
No, a VPN can't bypass data limits or exceed the maximum speed offered by your contract. The only way to bypass an ISP speed limit or get more data is to upgrade your plan or switch ISPs. That said, some VPNs have ad-blocking features that can help you save data.
Can't I just use a free VPN or proxy to stop internet throttling?
Proxies can't bypass throttling and free VPNs are not recommended. Most free VPNs have incredibly poor security features, while proxies are very slow and don't use encryption at all. This means that your ISP can see what you're doing online and throttle your connection. You're better off with a reliable premium VPN that's backed by a trustworthy money-back guarantee.
Even if you find a free VPN with decent encryption, these kinds of services often impose speed restrictions themselves. They can also limit your server access and bandwidth to force you into upgrading to a paid plan. At worst, some free VPNs have been caught stealing and selling user data or injecting malware into their apps.
Stop Internet Throttling With a Reliable VPN
Stop Internet Throttling With a VPN Now
The easiest way to stop internet throttling is with a VPN. It hides your traffic so your ISP can't see what you are doing online and doesn't throttle your connection. My recommended VPNs also offer fast speeds and access to vast server networks, so you always have a way to avoid network congestion.
ExpressVPN is my top pick. It offers cutting-edge security, blazing-fast speeds, and a large server network, making it ideal for stopping internet throttling. The service is backed by a 30-day money-back guarantee, meaning you can test ExpressVPN risk-free. If it's not for you, getting a refund is easy.
To summarize, here are the best VPNs for stopping internet throttling…
Privacy Alert!
Your data is exposed to the websites you visit!
The information above can be used to track you, target you for ads, and monitor what you do online.
VPNs can help you hide this information from websites so that you are protected at all times. We recommend ExpressVPN — the #1 VPN out of over 350 providers we've tested. It has military-grade encryption and privacy features that will ensure your digital security, plus — it's currently offering 49% off.