How to Stream the NBA Anywhere – Cheap Options, No Blackouts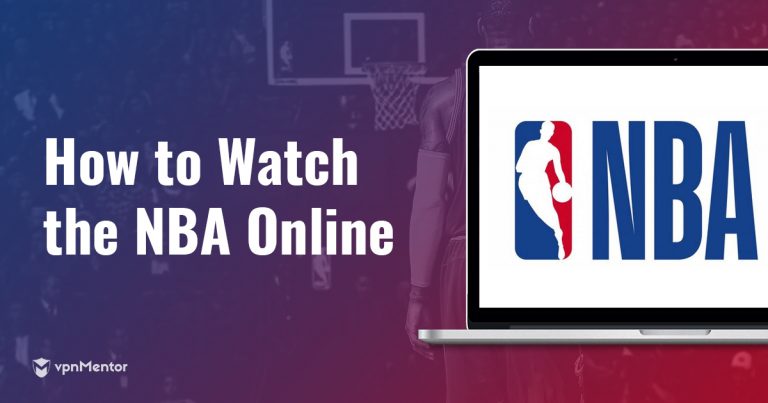 NBA fans around the globe are waiting to see if LeBron James' latest move to join the LA Lakers will pay off in another championship for the world's greatest basketball player.
Meanwhile, All-Star DeMarcus Cousins has a chance to reshape his legacy with the Golden State Warriors, who remain heavy favorites to win a third straight NBA championship. In the Eastern Conference, the rising Boston Celtics threaten to spoil the Warriors' dreams.
Yet despite the league's worldwide popularity, NBA games aren't available in some locations due to geo-restrictions on broadcasts. These geoblocks include regional blackouts within the US and Canada.
Even if live streams are available in your country, the cost of accessing them might make you consider illegal streaming options – sites that put your data and devices at risk. That's why we've researched the cheapest safe options to stream NBA games.
A VPN will allow you to bypass most blocks with a couple of clicks, so you can watch every game from anywhere in the world. From choosing the right provider to what you need to avoid, here's a comprehensive look at using a VPN to watch the NBA online.
How to Watch the NBA: Quick Guide
A number of popular US streaming platforms broadcast live NBA games. If you want easy and cheap access to most featured matchups, follow the first guide below to use a US streaming or satellite TV service.
For complete access to every game all season long, you'll need the NBA League Pass – scroll down to the second guide for that information.
Streaming with YouTube TV/DirecTV/Sling TV/Hulu
All four of the services listed above and many other US TV and streaming providers offer NBA broadcasts. A Sling TV Blue package is the cheapest way to watch NBA games via primary broadcasters ESPN and TNT, so we've used it for the following guide.
Pick a VPN provider with speedy US servers and sign up. Download the VPN app for your device and choose a US server location.
If you don't have an American credit card or US PayPal account, go to MyGiftCardSupply.com and purchase a Sling TV gift card. Follow the instructions carefully to redeem the gift card for Sling TV Blue. (You can also buy gift cards for other streaming providers like Hulu.)
You will now be able to watch all the live NBA games shown on US national networks like ESPN and TNT.
Note on regional blackouts: Many NBA games are only shown in limited areas of the US and Canada on regional networks like Fox Sports Florida, Fox Sports North, etc. To stream locally broadcast games, you can try connecting to a server within the broadcast region. However, a much better option is to subscribe to NBA League Pass.
Bypassing Regional Blocks to See Games on NBA League Pass
The NBA League Pass offers comprehensive regular season NBA coverage, with over 1,200 live games. It's not cheap – subscriptions currently average about $40 per month, more than you would pay for all the channels available on Sling TV Blue. However, it gives you access to games you can't reach with any other streaming service.
In fact, international users of League Pass can watch every minute of every game. But the US version is subject to blackouts depending on your location within the country.
That means that NBA League Pass is actually better for non-US viewers, who don't have to worry about regional restrictions. Usually, we show you how to use a VPN from outside the US, but for the NBA, a VPN is most essential in the league's home country.
If you are in the US, you will need a VPN to stream every game with no interruptions. Here's how to do it:
Pick a speedy VPN provider with servers in a variety of US cities and sign up. Download the VPN app for your device and choose a US server location.
Sign up/in to NBA League Pass. If you're within the US, you can do this either through the VPN connection or your normal internet connection.
If you're unable to watch a particular game due to a blackout, use the VPN to switch your connection to a different US city to bypass the blackout.
Alternatively, you can subscribe to the international NBA League Pass via a server location outside the US, and then always log in to League Pass using that same server. However, you might have difficulty subscribing as a non-US viewer if all your payment methods are US-based.
Spanish Language NBA Broadcasts
Many US broadcasts of NBA games have alternative commentary in Spanish that you can access by using the broadcaster's SAP feature.
If you are watching on a desktop or laptop computer, simply bring the streaming window to the front and press the "S" key on your keyboard. If Spanish commentary is available, you will be switched over to it instantly.
If you are watching on a mobile device, tap the video screen. You should see the SAP button in the lower right corner of your device screen. Tap it and select Spanish as your preferred language.
Why You Need a VPN to Watch All of the NBA from Anywhere
If an NBA game is unavailable in your region due to a geo-restriction, a VPN will allow you to watch the action live without resorting to an illegal stream. Many illegal streaming sites spread malware and spyware, so you should always avoid them.
With a good VPN, you'll be free to bypass regional game blackouts, as long as there's an available US server location within the game's broadcast area.
VPNs work by assigning you a new IP address, so you can appear to be in any location you choose. After connecting to a VPN server, you'll be able to access websites from countries all over the world easily.
Because VPN services vary greatly in quality, it's important to look for a few key features in a VPN for the NBA. Excellent connection speeds are critical, especially if you want to stream games in HD quality.
Only the best VPNs can provide end-to-end encryption without compromising your connection speed. That strong encryption hides your online presence, making all your web activity safer and protecting you from cybercrime.
Some VPNs are unable to unblock streams because their IP addresses have been banned by broadcasters. This is true of most free providers; even many paid VPNs will come up short.
With the best VPNs, you can unblock many other sports broadcasts through services like Sling TV and Sky Go, and also access the best content on Netflix, the BBC iPlayer, and HBO.
Best VPNs for Watching the NBA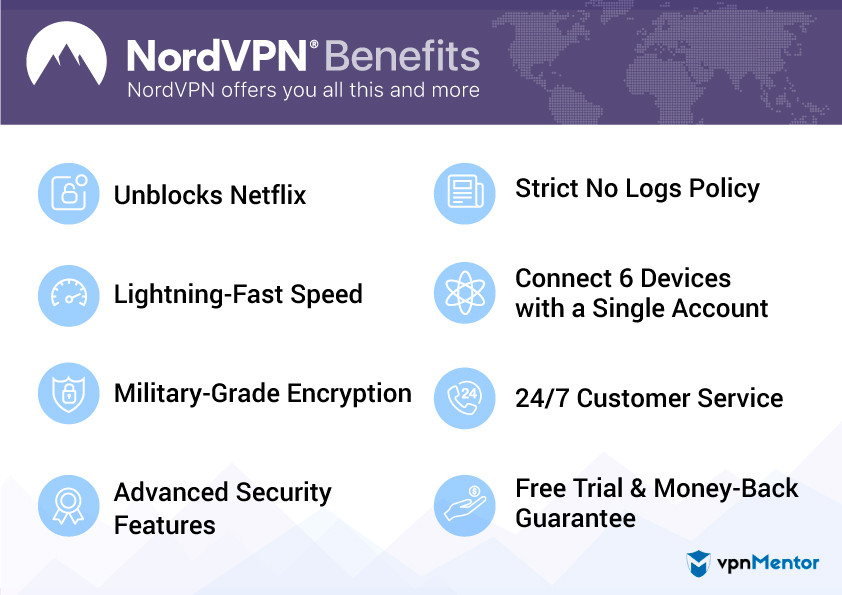 NordVPN is a trustworthy provider that can handle streaming all kinds of US content, with roughly 2,000 servers dotted across the country.
The Panama-based VPN offers great connection speeds on up to 6 devices simultaneously, and the user interface makes it easy to get connected with a couple of clicks.
NordVPN's US servers allow for double VPN connections, along with dedicated IP addresses and P2P sharing. Your data is protected with an airtight no-logging policy and military-grade encryption, and it's a great value for your money with a longer deal.
Users are almost unanimous when it comes to the overall quality of NordVPN, which is why it's our first choice for watching the NBA from anywhere.
Money-back guarantee: 30 days
Free trial: 3 days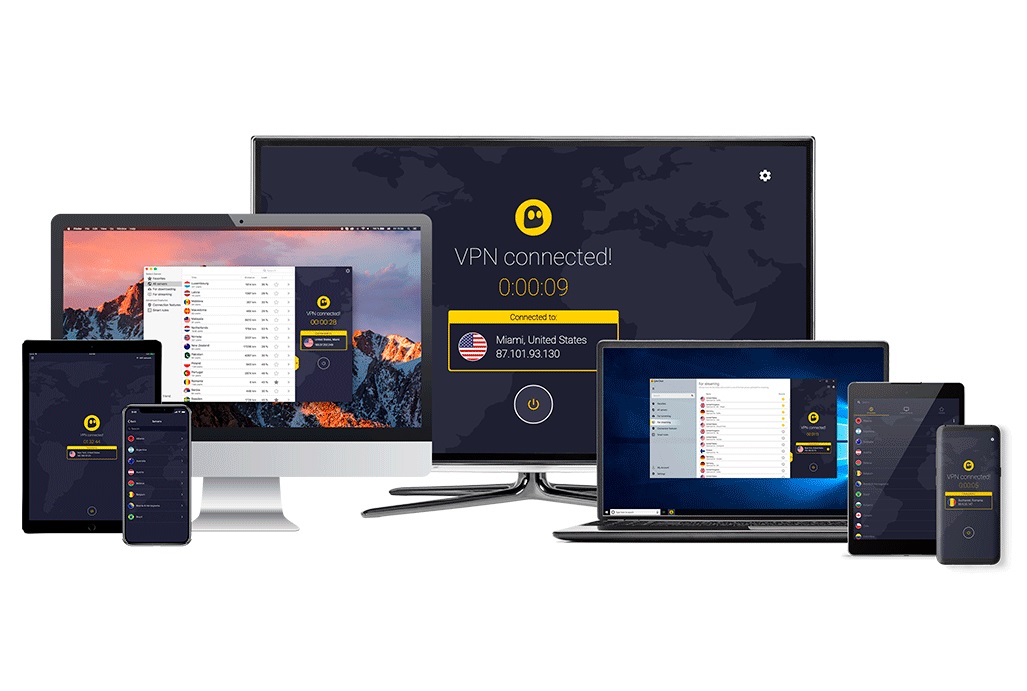 Although it began solely as an online privacy solution, CyberGhost has since evolved into a full-service VPN that can do almost anything.
It works to block ads, trackers, and malicious websites while you're browsing, and offers access to over 3,700 servers worldwide. You'll be able to unlock a host of international streaming services, including the NBA.
CyberGhost is well liked by users because of its affordable price and advanced security features like DNS and IP leak protection in case your server connection drops.
Speeds are easily good enough for watching live sports, and the provider can be trusted to dispose of your personal data, thanks to a strict no-logging policy.
Money-back guarantee: 30 days on short plans; 45 days on 6 months or longer
Free trial: 7-day trial for mobile; 1-day or 3-day Windows trial available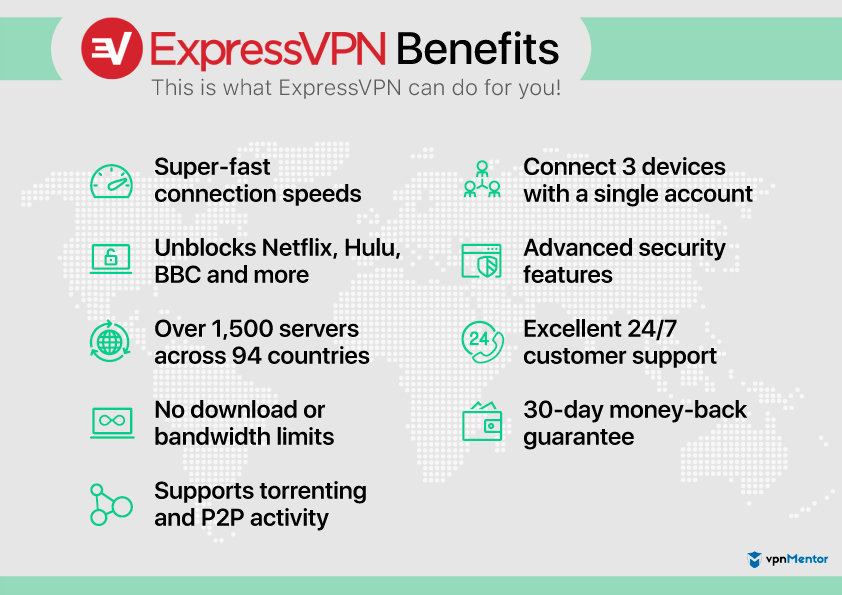 ExpressVPN is a premium provider in every sense of the word.
This provider is committed to speed in every way, with the fastest connection speeds among the 300+ services we've tested, and customer support that responds to every inquiry via 24/7 live chat instantly.
Security is handled with AES-256 encryption, complemented by features like Network Lock, which ensures that your personal data never spills out onto the public internet.
While ExpressVPN's overall quality is reflected in a higher-than-average price for a VPN, users agree that it can't be matched if you want the fastest safe VPN that money can buy.
It's perfect if you don't have the best internet speed in the first place, and it unblocks most geo-restricted content effortlessly.
Money-back guarantee: 30 days
Free trial: 7-day trial for iOs and Android
Summary
With over 1,200 games and all the drama that always surrounds LeBron, the 2018-19 NBA season is sure to have more than a few twists along the long road to the playoffs. You won't want to miss a single shot, and with a top-quality VPN, you don't have to.
A dependable VPN provider will ensure that you can stream every quarter with a couple of clicks. Don't take chances with questionable services, when the best VPNs regularly offer great discounts for new users. It's a slam dunk!