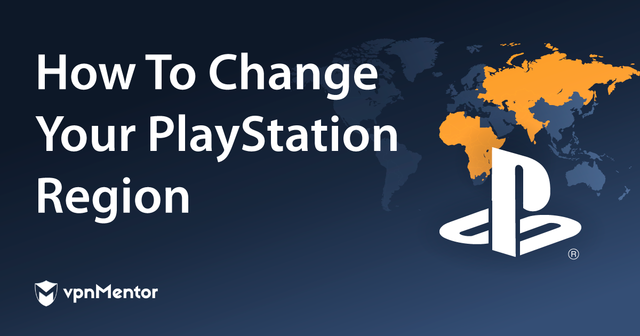 How to Change Your PS4 or PS5 (PSN) Account Region in 2023
It's frustrating that PlayStation locks your region as soon as you create your account. So you need to make another one if you want to change it. Plus, certain games and streaming apps are geo-restricted, so you can't access them unless you change your virtual location. However, there's an easy solution to this.
A VPN is a simple app that makes it seem like you're accessing PlayStation content from a region of your choice, such as Japan or the US. It doesn't change your PSN region but it lets you play region-exclusive games like Yakuza Ishin and access various streaming apps like Netflix, HBO Max, and Hulu. VPNs also protect you from hackers and DDoS attacks while gaming.
After extensive testing, ExpressVPN proved to be the best VPN for PlayStation. It has a lot of servers with superfast speeds so that you can enjoy bufferless HD streaming and lag-free gaming. You can also try out its features risk-free as it comes with a 30-day money-back guarantee. If you aren't satisfied with the service, you can get a full refund.
Get More PlayStation Content With ExpressVPN
How to Change Your PSN Region on PS4 and PS5
Your PlayStation locks your region once it is set up. Even if you move to a different country, you will be stuck with your primarily-assigned region. The only way to change your PSN region is to create a new user account on your console.
This method gives you full access to the PlayStation Store in whichever country you select during the signup process — letting you download its games and apps. Make sure you have your PlayStation console connected to the internet before starting this process.
Turn on your PlayStation and select "New User". Then click "Create a User".
Accept the License Agreement. You will be prompted to sign in to PSN — just scroll down past this message.
Select "Create an Account". Enter your date of birth when prompted.
Choose your preferred PSN region. Make sure to choose the region that relates to the version of the PlayStation Store that you want to access, such as Japan or the US. Use Google Translate to navigate pages in a foreign language.
Enter your email ID and create a password. You'll need to use a new email that hasn't been used on PSN before.
Enter your location details. PSN will ask you to fill in the city, province, and postcode of your newly-chosen region. After that, click "Next".
Create your profile. Select an avatar, create an ID, and choose your privacy and communication settings.
Click "Accept" on the Terms of Service and User Agreement page.
Verify your email address. You'll have to verify your email address by accessing your inbox, opening the PlayStation email (look for it in the Spam folder if it's not there), and clicking on the 'Verify Now' button.
Open the PlayStation Store. You're ready to use your new account.
Warning: Remember that you cannot transfer PS store credit from one user to the other. If you wish to download DLC for any game, you need to get it from the region you originally purchased that game from. Note that PSN rules and regulations vary within each region.
Access PS5 Content With ExpressVPN
How to Buy Games With Your International PSN Account
To buy PlayStation games, you need to use a payment method from the same country as your new PSN account. For example, if your region is set to the US, you'll need a US payment method. You can also purchase digital gift cards from that region's Amazon store and redeem them on the PlayStation Store.
Note that I do not recommend creating a PayPal or Amazon account with a fake address from that country. It violates their respective T&Cs and can lead to a permanent PayPal/Amazon account ban. It can also complicate purchases with sales tax.
Follow this guide to start buying games online:
Download a VPN. I recommend ExpressVPN for its wide range of servers and lightning-fast speeds.
Connect to a server. Make sure it's in the region where your PSN account is set up. So, choose a US server if it's a US account, or Japan for a Japanese one.
Buy a PSN gift card. Visit the PlayStation gift cards website > Click "Buy Now" under the gift card you want to purchase > Choose Amazon.

You can browse gift card retailers from any region you choose using a VPN

Click "Add to Cart" and then "Proceed to Checkout". You will need to sign in to an Amazon account for this.
Enter your payment details. Complete the purchase by paying with any suitable method.
Log in to your PlayStation. Use the PSN account you just created and open the PlayStation Store app.
Select "Redeem Code". Enter the 12-digit code from the gift card > Select "Continue".

Once you select "Continue", you'll be able to browse the store and buy the games and apps you want

You can now purchase games and apps from the deposited funds.
Quick Guide: How to Access More Content on PS4/PS5 in 3 Easy Steps
Download a VPN. I recommend ExpressVPN for its wide range of servers, so you can browse games and streaming apps from any region on your PS4 or PS5.
Connect to a server of your choice. Choose a VPN server from the region you wish to buy games and stream content.
Access PlayStation content from your preferred region. Sign in to your PSN account and enjoy gaming and streaming your favorite content.
Why You Need a VPN for Your PlayStation
While you don't need a VPN to change your PSN account region, it provides several advantages to enhance your PlayStation experience.
Once you change your console's region, you can use a VPN to buy games on your new international PSN account. Games can often have an earlier release somewhere else or be region-locked entirely. So, to access them you need to change your virtual location by masking your IP. A VPN hides your real IP address and gives you one in your chosen location. All you need to do is connect to a server in your preferred country to buy the PlayStation games you want.
VPNs also let you play with friends from other countries by connecting to that country's game server. Just choose a VPN server that's closer to you and the game's server to get the fastest speeds and the lowest ping possible in order to have a smooth gaming experience.
Your online data is vulnerable when playing P2P games like For Honor or Call of Duty: Warzone. Hackers can use your IP address to send large amounts of spam data to slow your connection to a crawl. This is called a DDoS attack, and competitive gamers sometimes use it to win matches. If you've ever faced this, you know how badly it ruins a good streak.
A VPN changes your IP and encrypts your online data, protecting you from DDoS attacks while playing your favorite multiplayer game.
Additionally, streaming apps on your PlayStation like Hulu or Netflix have geo-restricted content due to broadcasting restrictions. These apps use your IP address to identify your location and subsequently limit the movies and TV shows available to you. A VPN changes your virtual location by masking your actual IP. That way, you'll appear as if you're in the licensed country where the content is available.
Try ExpressVPN With Your PlayStation
Best VPNs for PlayStation in 2023
PlayStation consoles don't natively support VPN apps. The 2 most common ways of setting up a VPN on your PlayStation are by installing it on a router or using your VPN's Smart DNS service. Not all VPNs offer this additional feature, so I made sure to only list the ones that do.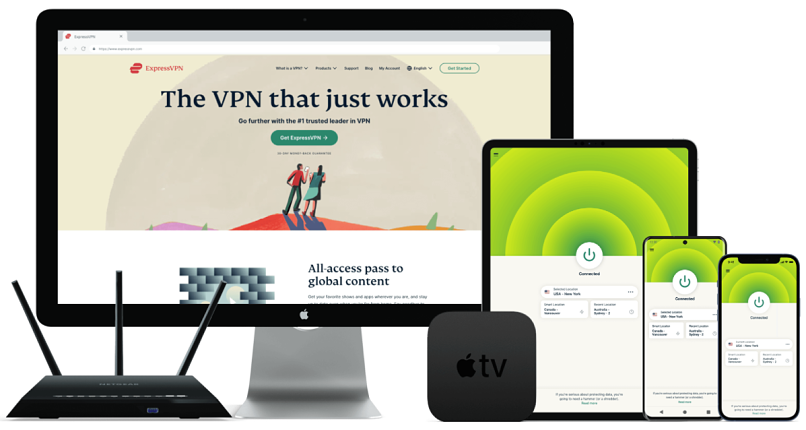 Editor's Choice
Editor's Choice

Tested February 2023
Try Risk-Free for 30 Days
Available on:
Chrome
Router
Smart TV
More
www.ExpressVPN.com
3,000 servers on easy-to-use router app
AES 256-bit encryption, kill switch, and IP/DNS leak protection
5 simultaneous device connections
Can unblock: PSN Store, Netflix, Disney+, HBO Max, Hulu, BBC iPlayer, Vudu, and more
Compatible with: PS4/PS5, routers, Windows, macOS, iOS, Android, Linux, and more
What sets ExpressVPN apart is its router app that makes it super easy to use — just pick a server and get back to gaming. It gives you easy access to all its 3,000 servers across 94 countries. I installed it on my Netgear router in under 10 minutes by following ExpressVPN's detailed guide and connected to a US server. The connection was stable, and I played Apex Legends smoothly on my PlayStation.
Its servers can handle a bandwidth of up to 10 Gbps, which means that they're optimized to give you and the other thousands of users more reliable connections. They also give you faster speeds since there's enough bandwidth for all to avoid congestion.
Besides its excellent VPN service, it includes the MediaStreamer as another nifty feature that offers faster speeds and convenience. This Smart DNS can be configured directly on your PS4 and PS5, so it's quick and hassle-free. Just copy the DNS code from your dashboard and paste it into your PlayStation's network settings. Plus, it automatically adjusts your location to access both US and UK streaming services. I easily got access to Hulu and BBC iPlayer without having to switch locations manually. Though, note that this feature is optimized for streaming, not gaming.
ExpressVPN is also one of the fastest VPNs in the market. During my tests, I could play Fortnite with no lag and stream Parks and Recreation in 4K on my PS4 with no buffering. I got average speeds of about 182 Mbps on a 200 Mbps connection (a 9% drop), and a ping of 40 ms while playing multiplayer. Considering these speed results, you can play competitive online games and watch your favorite shows without any interruptions.
Perhaps the only drawback for ExpressVPN is its relatively higher cost. Its lowest-priced plan is $6.67/month. However, it offers frequent discounts of up to 49%, so I got a sweet deal when I signed up, making it worth the price.
You can test ExpressVPN's features risk-free as it's backed by a money-back guarantee. If you find it's not right for you, you can claim a full refund within 30 days. I put this to the test after trying out the service for 2 full weeks. Then, I contacted customer service through the 24/7 live chat and asked for a refund. They promptly answered, and after confirming my account details, they issued the reimbursement. It landed in my bank account in just 3 days.
Try ExpressVPN With PlayStation
Smart DNS specialized for streaming and gaming
AES 256-bit encryption, kill switch, and IP/DNS leak protection
9,753 servers, including gaming-optimized ones
Can unblock: PSN Store, Netflix, Disney+, Hulu, HBO Max, BBC iPlayer, Vudu, and more
Compatible with: PS4/PS5, routers, Windows, macOS, iOS, Android, Linux, and more
CyberGhost provides Smart DNS that's optimized that unblocks PlayStation content from the US, UK, Japan, Germany, and the Netherlands. This feature makes sure that you get the lowest ping for gaming and the best possible speeds for HD streaming on your PS4 or PS5. The setup is similar to ExpressVPN's MediaStreamer. It took me under 5 minutes to configure it on my console. Since this feature doesn't encrypt your data as the fully-fledged VPN does, it can't protect you from DDoS attacks, but it can give you slightly faster speeds.
It also comes with superfast speeds for you to enjoy competitive gaming on your PlayStation. My tests on 6 US servers showed a mere 13% reduction in speed from 200 Mbps to 173 Mbps, and an average ping of 55 ms. That's more than enough for lag-free gaming and HD streaming. A speed drop up to 20% is reasonable and won't cause any noticeable hiccups if your base speeds are similar to mine.
CyberGhost offers servers in 91 countries, with some locations optimized for smooth gaming. This cuts out the trial and error method of searching for the ideal server for you. These gaming servers are available on its Windows and macOS apps. Hence, you can use your desktop as a virtual router to share your VPN connection to your console. I was able to play Rocket League lag-free on my PS4 by connecting to CyberGhost's optimized US server.
However, there is a minor issue with CyberGhost — its short-term plan is comparatively expensive and carries a shorter money-back guarantee. Despite this, you can opt for a longer plan for just $2.19/month. When I signed up, I also got its ID Guard monitoring service for free — this can alert you to password leaks.
CyberGhost comes with a 45-day money-back guarantee on its long-term plans, letting you evaluate if the VPN is for you. If you want a refund, you just have to reach out to a customer service agent via chat or email and answer a few short questions. When I tested it, they were quick to process the refund, and I got it back in my bank account within 5 days.
Try CyberGhost With PlayStation
Superfast speeds for gaming and streaming without interruptions
AES 256-bit encryption, and 2 kill switches to keep your data safe
10 simultaneous device connections
Can unblock: PSN Store, Netflix, Disney+, HBO Max, Hulu, BBC iPlayer, Vudu, and more
Compatible with: PS4/PS5, routers, Windows, macOS, iOS, Android, Linux, and more
Private Internet Access uses its proprietary NextGen VPN Network servers to provide you with faster speeds for gaming and streaming. Similar to ExpressVPN, these servers are built from the ground up with new 10 Gbps network cards, so you get reliable connections, fast speeds, and low ping. I tested this on my 200 Mbps connection and got stable speeds averaging 176 Mbps — a 12% slowdown. I could play Call of Duty: Warzone online with zero lag and a ping of about 60 ms.
It offers 29,650 servers worldwide, so you have plenty of choices to find ones that are closer to you to get an optimal ping for gaming. Plus, its app shows the latency next to each server, making it easier for you to connect to the best one for a lag-free experience. Among the 53 US servers, I tested 5 that showed the lowest ping, and they worked without a hitch. With so many servers, you can easily buy games from the PSN Store of any country.
There is a minor con when it comes to PIA — its customer service. There was a delayed response when I tried to use its 24/7 live chat. After waiting for 15 minutes, I finally connected to an agent, but it disconnected automatically. So I had to resort to sending them an email the next day. However, the response to the email I sent them was informative and detailed, so I had my answer.
Private Internet Access has multiple subscription to choose from. The lowest cost comes to $2.19/month for a long-term plan. When I signed up, I also received a 83% discount and a free trial for its antivirus. This got me great value for my money.
You can try out PIA's features risk-free with its 30-day money-back guarantee. All you need to do is contact its customer support through email if the service isn't right for you, and they will issue you a refund. When I tested this process, I got my money reimbursed within 6 days.
How to Set up a VPN on Your PlayStation Console
PlayStation does not support VPN apps. There are several ways around this — the quickest and easiest way is using Smart DNS, which can be installed directly on your PlayStation console within 5 minutes. It allows you to access content normally not available in your region. The downside to Smart DNS is that it doesn't encrypt your traffic or change your IP as a full-fledged VPN does. So you won't be protected from cyberattacks while gaming on your PS4/PS5.
If you want to stay protected, then you can share your VPN connection from your computer to your PlayStation (a virtual router). It takes a bit more time than setting up a Smart DNS, but you can use all the VPN features on your console this way.
Another option is to configure your VPN on a router. Since this is a complicated process, it's best to buy a pre-configured VPN router to save you some time.
Smart DNS Method
Sign up for a VPN. I recommend ExpressVPN with its MediaStreamer, which is one of the best Smart DNS services I have tested and only took me 5 minutes to install.
Register your IP address. Log in to your VPN service on a browser. Open "DNS Settings" or "Smart DNS". Your IP address should be registered automatically.
Note the given DNS address. After activating your IP address, you'll be given a DNS code to enter into your PlayStation's network settings.
Turn on your PlayStation. Go to Settings > Network > Set up your internet connection > Custom.
Configure your settings. Choose either "WiFi" or "LAN" depending on the kind of connection > choose "Automatic" > Do Not Specify > Manual > Enter the DNS address from step 3 > Do Not Use.

Restart your console. After that, you can start using your PS4/PS5 console to stream your favorite content.
Windows 10 — Ethernet/WiFi
Download a VPN. I recommend ExpressVPN for its user-friendly Windows app.
Connect your PlayStation to your desktop via ethernet or WiFi.

For ethernet — Use an ethernet cable to connect your router to your PC, and another cable to connect the PlayStation to the PC.
For WiFi — Go to Settings > Network & Internet > Mobile Hotspot and toggle mobile hotspot on. Set "Share my internet connection from" to "WiFi". Click "Edit" and choose a name and password for your hotspot.

Share your VPN connection. Go to Control Panel > Network and Internet > Network and Sharing Center on your PC.

For ethernet — Click on Change Adapter Settings > Right-click your VPN's adapter > select Properties > Sharing > Allow other network users to connect through this computer's Internet connection > Select "Home Networking Connection" > select your PlayStation's ethernet connection.
For WiFI — Click on Related settings > Change adapter options. Right-click on your VPN's adapter > select Properties > Sharing > Allow other network users to connect through this computer's Internet connection > Under "Home Networking Connection" > Select the active hotspot connection.

Connect your VPN. Open your VPN app and select a server.
Set up your PS4/PS5 internet connection. On your PlayStation console, go to Settings > Network > Connect to the internet > Use WiFi / Use a LAN cable > Easy. If prompted, select "Do not use a proxy server".
Start gaming or streaming. Your PlayStation is now connected to a VPN.
Mac — Ethernet/WiFi
Download a VPN. I recommend ExpressVPN for its superfast speeds for gaming.
Connect your Mac to your PlayStation. Do so through an ethernet cable or via WiFi. Note that the cable will offer maximum speeds and minimal latency.
Share your connection. Go to System Preferences > Sharing > Internet Sharing > Under "Share your connection from", select your VPN. Under "To computers using", select WiFi or ethernet.
Set up a WiFi name and password. Click "WiFi options" to set up a name and password for your network. If you see the pop-up: "To share your Internet connection, you must turn on WiFi", click "Turn WiFi On". Skip this step if you're using an ethernet connection.
Turn on Internet Sharing. If you see the pop-up: "Are you sure you want to turn on Internet sharing?", click "Start".
Connect to your VPN. Launch the app and choose a server.
Set up your PlayStation's internet connection. Go to Settings > Network > Connect to the internet.

For WiFi — Select WiFi and choose the network you set up.
For ethernet — Select Use a LAN cable > Easy > Choose "Do not use a proxy server" if prompted.

Start streaming and gaming.
Router
The main advantage of installing a VPN to your router is that you can protect all the devices connected to the router, including your PlayStation. However, not every router can support a VPN.
If you want to connect your PS4 or PS5 with your router, it's best to find the instructions for your specific model on your VPN provider's website. You can also purchase a pre-configured VPN router if you want to skip these steps.
I recommend ExpressVPN for its perfect compatibility with popular routers from ASUS, Linksys, and Netgear. The in-depth router setup guides on its official site detail every step required to install it. And its router app's user interface is the most intuitive I've used, with quick server changes.
FAQs on Changing Your PSN Region
Are there any issues that can come up by changing my PSN region?
There are a few issues that can come up by changing your PSN region, but they're quite easily fixable. Note that you cannot transfer PSN store credits and friends' lists from one account to the other. You can still change your PSN ID, which is free the first time, but this can cause issues on older games, especially on a PS3.
Depending on the region you choose, the content might be in that region's native language. Region-specific games sometimes don't have English subtitles or menus, such as the Yakuza franchise. In such cases, you can use Google Translate with your phone camera to navigate the menus — you'll miss most of the story/dialogue, but you can still play the game.
Downloadable Content (DLC) is also region-locked, so you have to purchase it from the same region in which you purchased the game. This is particularly troublesome for physical discs. For example, if you have a Japanese account, but you play a US version of the game using a disc, you won't be able to purchase DLC for it. You'll need a US account to do that. However, you can buy digital games on your new account along with their DLC to avoid any issues.
Can I buy games from other countries on my PlayStation?
You can't buy games from other countries other than your already assigned PSN region because you need a country-specific payment method. For example, a PayPal or credit card registered in the same country where you want to buy the item from.
If you want to buy games internationally, you'll need to create a new PSN account in your desired country. After that, purchase and use PlayStation gift cards from the same region.
Will I lose access to my PlayStation games if I change my region?
No, you will not lose access to your PlayStation games if you change your region. You can still play them on your old PSN account where you originally purchased them. Just switch users and sign in to the old account.
Additionally, in-game purchases, trophies, DLCs, friends' lists, and store credit are locked to your old account and cannot be transferred if you change your PSN region.
Is it possible to get games earlier in different regions on PlayStation?
Yes. You can create an account in the region with the earliest release date for your favorite games to get the fastest access. New games usually come out in the Asia-Pacific region first. But to buy these games, you need a local payment method from that region. To do that, you can set up a VPN on your PlayStation and buy PSN gift cards.
How do I check my PSN region?
There are 3 ways to check your PSN region. The easiest way is to visit PSNprofiles.com and enter your PSN ID to check your region. There's no login required, and you can do this on any device.
On a desktop, you can also log into the PlayStation website > Click on your Avatar on the top-right > Select "Account Settings" > Click "Edit" next to the Residential Address and view the country.
On your PS4/PS5, open the PlayStation Store > Click on the Menu button (3 dots) > Choose "Storefront Country", and you can view your account's location.
I usually check mine on PSNprofiles, and use ExpressVPN to buy and play games from international countries afterwards.
Can I use a free VPN with my PlayStation?
Not really. All free VPNs I tested didn't work well with my PlayStation and were very unreliable. A free VPN might sound alluring at first, but there are several drawbacks that will make your gaming experience quite unenjoyable.
First, most free VPNs cannot be installed on routers and don't offer a Smart DNS feature. This means that you're only left with the virtual router option, which takes much longer to set up. Free VPNs also tend to offer slower speeds than premium VPNs, which can cause lag while gaming and streaming.
They typically fail to unblock geo-restricted content on most streaming platforms available on PlayStation, so you can't watch all your favorite shows. What's worse, they come with strict data limits leaving you with just a couple of hours of streaming or gaming monthly.
Not only that, but free VPNs also often host ads and might misuse or even sell your data, jeopardizing your privacy.
To avoid these issues and get the best gaming experience on your PlayStation, you can opt for a reliable paid VPN with a money-back guarantee. All the VPNs I listed offer robust security, superfast speeds, and a wide range of servers available in different countries.
Can I change the Blu-Ray or DVD region on my PlayStation?
Yes, you can change the Blu-Ray and DVD region on your PlayStation, but only a limited number of times. This depends on the exact model of your PS4 and PS5, but in general, you can change it 4–5 times. To do so, simply enter the incompatible DVD or Blu-Ray (from another region), and it will prompt you with an error code. Click on "Next", and it will ask you to change the region code. Then, choose the correct region code based on your physical disc.
If you don't want to go through this process, there's another option for you to stream on your console — download streaming apps. To get an app that's not in your region, you can use a VPN on your PlayStation to access the content you need.
Access More Content on Your PlayStation Now
The streaming apps and games on your PlayStation are geo-restricted to certain countries. You need a VPN to access your favorite streaming platforms and buy international games. Plus, it'll help smoothen your online multiplayer gaming and protect you from hackers.
ExpressVPN is ideal for PlayStation, as it is among the fastest VPNs in the market and is easy to use even on routers. You can try out its features risk-free since it's backed by a money-back guarantee. If you're not satisfied with it, you can get a refund within the first 30 days after subscribing.
To summarize, the best VPNs for accessing more PlayStation content are…
Privacy Alert!
Your data is exposed to the websites you visit!
The information above can be used to track you, target you for ads, and monitor what you do online.
VPNs can help you hide this information from websites so that you are protected at all times. We recommend ExpressVPN — the #1 VPN out of over 350 providers we've tested. It has military-grade encryption and privacy features that will ensure your digital security, plus — it's currently offering 49% off.