How to Watch ARD Mediathek Live Outside Germany in 2023
Updated on 10th January 2023
ARD Mediathek has tough geoblocks and immediately detects anyone who's not in the country. So, to access it while I travel, I had to find a way to change my IP address to make it look like I'm still in Germany.
A VPN is the easiest way to get around these geo-restrictions and access ARD from anywhere. This app conceals your real location by assigning a new IP address from a country of your choice that makes you appear to be in a different region – such as Germany. This makes ARD think you're actually there, so you can watch all its content from anywhere.
After testing 50+ VPNs, ExpressVPN comes out on top. It impressed me because of its impressive speeds and extensive server network (many located in Germany) to unblock and watch ARD live uninterrupted. You can try ExpressVPN risk-free. You have up to 30 days to claim a refund if unsatisfied.
Quick Guide:
How to Watch ARD Live From Anywhere in 3 Easy Steps
Download a VPN. I recommend ExpressVPN because of its lightning-fast servers in Germany (and worldwide), allowing you to bypass ARD Mediathek's geoblocks from anywhere.
Connect to a server in Germany. You need to connect to a German server to get a German IP address and access ARD Mediathek abroad.
Start watching ARD Mediathek. Get your popcorn, open ARD Mediathek, and watch your favorite shows and programs.
Why You Need a VPN to Watch Mediathek ARD
ARD has broadcasting restrictions that block people outside of Germany from accessing its exclusive content. When you access ARD, it scans your IP address — if it's not from Germany, the platform automatically blocks you, and you will get this message:
Unfortunately, this video cannot be played. We ask for your understanding. Important: Content with geoblocking can only be accessed from Germany.
However, you can bypass this issue with a VPN. A VPN helps get around geo-restrictions by swapping your actual IP address with one from a German server of your choice. This makes it seem like you're accessing the website from inside Germany and gives you access to normally geoblocked ARD shows.
However, not every VPN is powerful enough to get past ARD's geo-restriction technology. Only a few premium VPNs have reliable German servers and fast enough speeds to watch shows like Erlebnis Erde without buffering.
Try ExpressVPN Risk-Free Today
Best VPNs to Watch Mediathek ARD Live From Anywhere in 2023
I have shortlisted the best VPNs that can reliably bypass ARD detection. They can provide you with a German IP address and stream shows like HIMMELSTAL on ARD without delays.
Plus, they're compatible with most devices and operating systems and offer multiple simultaneous device connections. They also come with trustworthy money-back guarantees, so you can try them out with peace of mind.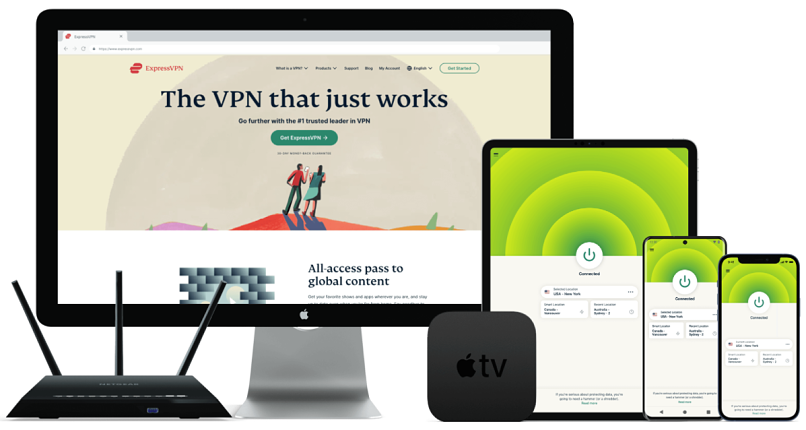 Editor's Choice
Editor's Choice

Tested January 2023
Try Risk-Free for 30 Days
Can access:
Netflix
Disney+
APV
HBO Max
Hulu
BBC iPlayer
Sky
More
www.ExpressVPN.com
The fastest VPN I tested for streaming ARD Mediathek without buffering
3,000+ servers in 94 countries, including Frankfurt and Nuremberg
5 simultaneous device connections to watch German content on all your devices
Can unblock: ARD Mediathek, Netflix Germany, ZDF, RTL+, Norddeutscher Rundfunk, Mitteldeutscher Rundfunk, and more
Compatible with: Windows, Mac, iOS, Android, Linux, routers, Apple TV, and more
ExpressVPN's impressive speeds ensure you can enjoy your favorite ARD tiles in high-quality without buffering. I connected to servers across Germany, and my speed never dropped below 46 Mbps. Considering you only need at least 5 Mbps to stream in HD and 25 Mbps in 4k, you can watch ARD Mediathek live in picture-perfect quality.
I found its extensive server network very reliable for unblocking geo-restricted content. With such a broad selection, you'll unlikely experience slow-downs due to overcrowding, and you can switch to a different server in seconds. I tested various servers in Frankfurt and Nuremberg and could access and stream several episodes of Die Kanzlei without issues.
With its custom router firmware, you can stream ARD Mediathek on any WiFi-connected device. I set it up on my PlayStation and smart TV in around 15 minutes by following the extensive guides on its website. The process wasn't complicated, so you should be able to watch ARD Mediathek on any of your devices.
It also uses top-tier security features to protect you while streaming ARD online. For instance, it uses AES 256-bit encryption and advanced protocols (like OpenVPN), which makes it nearly impossible for even the most sophisticated hacker to unscramble and read your data.
The only downside of this VPN is that its plans are slightly expensive, starting at $6.67/month. While it is pricey, ExpressVPN usually offers excellent discounts and sometimes even months of service for free. I got 3 free months when I signed up for a long-term plan, along with a 49% discount.
What ultimately sold me about this VPN was that it also comes with a 30-day money-back guarantee to try it without risk. I tested its refund policy by canceling my subscription via the 24/7 live chat support. The whole process was straightforward. My request was instantly approved, and I received the money in my bank account 3 days later.
Fast connections to watch ARD live uninterrupted
9,758 servers in 91 countries, many optimized for German streaming platforms
Watch ARD on up to 7 devices simultaneously
Can unblock: ARD Mediathek, Netflix Germany, ZDF, RTL+, Norddeutscher Rundfunk, Mitteldeutscher Rundfunk, and more
Compatible with: Windows, Mac, iOS, Android, Linux, routers, Apple TV, and more
CyberGhost has servers optimized for ARD, so you can quickly unblock it and watch your favorite shows immediately. It also has specialized servers for other popular German streaming services such as RTL+ (TV NOW), ZDF, DAZN DE, Zattoo DE, and Amazon Prime DE. When I tested ARD Mediathek, I could easily watch several You Shall Not Lie episodes. Click "For Streaming" and type "ARD" into the search bar to find the servers optimized for ARD.
With its fast speeds, you won't have to deal with lag or buffering while watching live ARD content. I ran a speed test on several of its German servers (Berlin, Dusseldorf, and Frankfurt) and averaged 45 Mbps which is more than enough for streaming in HD and even 4k. Each server I tested connected in under 10 seconds, so I could access my shows instantly.
I was also impressed by how seamless and uncomplicated the user interface is. Like ExpressVPN, CyberGhost allows you to set it up on your router and watch ARD on any WiFi-enabled device. This means that you'll be able to keep up with the latest ARD news directly on the big screen.
My one complaint with this VPN is its pricey short-term subscription options. However, you can save money if you sign up for the longest plan. For just $2.19/month, it gives you access to all of CyberGhost's premium features.
You can try CyberGhost free for 45 days using its money-back guarantee to claim a full refund if you change your mind. After trying it for a couple of weeks, I contacted one of its agents via 24/7 support and asked for a refund. The agent only asked a few questions about my experience with the VPN but approved my request after a 2 minute's chat. I received all my money in my PayPal account in 5 days
29,650 servers in 84 countries, including Frankfurt and Berlin
Good speeds for streaming ARD without delays
Watch ARD on all your devices with up to 10 simultaneous connections
Can unblock: ARD Mediathek, Netflix Germany, ZDF, RTL+, Norddeutscher Rundfunk, Mitteldeutscher Rundfunk, and more
Compatible with: Windows, Mac, iOS, Android, Linux, routers, Apple TV, and more
PIA's large server network makes it a breeze to find the best servers for watching ARD Mediathek. When I tested its German locations, I had instant access to ARD and enjoyed the best shows with steady connections. If the server you're connected to malfunctions, you'll be able to quickly find another one and resume where you left off. I tested servers in Frankfurt and Berlin, and they all connected in less than 10 seconds, so you'll have fast, easy access to ARD from anywhere.
Its high-speed servers ensure you can stream seamlessly, no matter where you are. My speed never dropped below 43 Mbps, which was more than enough for watching in Ultra HD. There was no lag or buffering on any of the German servers I tested, and I watched ARD for hours without interruptions.
One minor downside is that apps could be more beginner-friendly because of its many customization options. However, it comes pre-configured, so you can watch ARD live without changing settings.
The VPN is very affordable. With its long-term plan, you can sign up for as low as $2.19/month. All its subscriptions have the same features, but the longer ones offer much better value.
Each plan has a money-back guarantee, so you can try PIA risk-free. You can get a full refund within 30 days if you don't like it. I submitted my request via the 24/7 live chat feature to test this guarantee. After explaining why I wanted to cancel, the agent approved my request. My money was refunded to my credit card that same week.
Tips on Choosing the Best VPNs to Live Stream ARD
I used the criteria to test VPNs to access ARD Mediathek outside Germany. All the VPNs on my list have these features, but if you still want to do your own research, feel free to use this as a guide:
Servers in Germany — You need a VPN with servers in the country to get a German IP address and bypass geo-restrictions to access ARD anywhere.
Fast speeds — Typically, a VPN slows down your internet speeds due to traffic being sent through a server further away from your actual location. But with the best VPNs, like those on my list, you won't notice the difference and can stream ARD live uninterrupted.
Regularly updated German IPs — ARD uses advanced technology that quickly detects when an IP address is used by multiple people (which indicates the use of a VPN.) Look for a service that regularly updates its IP addresses to ensure you don't get blocked.
Easy to use — Choose a VPN with an intuitive interface to quickly access your favorite ARD content.
Trustworthy money-back guarantee — Ideally, a VPN will offer you a refund period to get your money back should you not like it.
Trustworthy money-back guarantee — Ideally, a VPN will offer you a refund period to get your money back should you not like it.
Try ExpressVPN Risk-Free Today
FAQs on Watching ARD Mediathek With a VPN
Which countries can I watch ARD from?
Due to copyright laws and geo-restrictions, ARD is only available in Germany. Fortunately, watching ARD from anywhere is possible using a reliable VPN. You can access the entire ARD content library from wherever you are by launching your VPN and connecting to a German server.
Can I watch ARD for free with a VPN?
Yes, ARD is not a subscription service — it's a free-to-air public broadcasting platform, but you must be in Germany to take advantage of it. To access the service while traveling, you need a VPN that can provide you with a German IP address.
On which devices can I watch ARD?
You can watch ARD Mediathek live on most modern devices, including computers, smartphones, tablets, smart TVs, and Amazon Fire Stick. However, the content library is geo-restricted to Germany. A VPN can help you access ARD on the most popular operating systems if you're abroad.
How can I unblock and watch ARD on my smart TV?
You can use a VPN to access ARD Mediathek on your smart TV if you're outside Germany. To do this, you need to configure the software on your router first:
Get a router-compatible VPN. I recommend ExpressVPN because it has customer router firmware that's easy to set up and use.
Download the router firmware. Open your account, choose your router from the list, and click "Download Firmware." Connect your router to the internet and install the VPN firmware on it.
Select a server in Germany. Launch the VPN and connect to a German server to get a local IP address.
Watch ARD on your smart TV. Open your ARD Mediathek app and enjoy.
Can I use a free VPN to watch ARD outside Germany?
Probably not, as free VPNs limit server networks and speed, so you'll upgrade to their paid plan. So, you'll unlikely find a free VPN with servers in Germany. A premium VPN with a money-back guarantee is a better alternative to reliably accessing ARD anywhere.
Also, free VPNs generally aren't powerful enough to get around ARD's VPN blocks. Some even sell your data to third parties for a profit.
What can I watch on ARD Mediathek?
ARD Mediathek broadcasts live sports and news and host a mix of series, documentaries, children's programming, and more. If you're traveling outside the country, you can use a VPN to watch your favorite German entertainment on ARD. Here are some of the most popular od-demand shows on the platform:
Die Baumhaus Könige
Beforeigners
Tsatsiki
Gut Zu wissen
Liebenslieder
Hanne
Stephen Hawking — Genie der Physik
Can I watch the FIFA World Cup on ARD?
Yes, ARD will stream World Cup 2022 for free. But due to broadcasting restrictions, you need a German IP address to gain access. To watch the FIFA World Cup live on ARD, use a premium VPN with servers in Germany. A VPN will allow you to hide your real IP address behind an IP from Germany, so it seems like you're in the country.
Start Watching ARD Live Now
The easiest and safest way to watch ARD outside Germany is with a VPN. Connect to a server in Germany, and you can stream your favorite shows and movies from anywhere in the world.
I recommend using ExpressVPN because it reliably gets past ARD's geo-blocks and guarantees seamless streaming in UHD. You can try ExpressVPN out risk-free as it's backed by a 30-day money-back guarantee — if you change your mind, you can quickly get a full refund.
To summarize, the best VPNs for watching ARD live are…
Privacy Alert!
Your data is exposed to the websites you visit!
The information above can be used to track you, target you for ads, and monitor what you do online.
VPNs can help you hide this information from websites so that you are protected at all times. We recommend ExpressVPN — the #1 VPN out of over 350 providers we've tested. It has military-grade encryption and privacy features that will ensure your digital security, plus — it's currently offering 49% off.