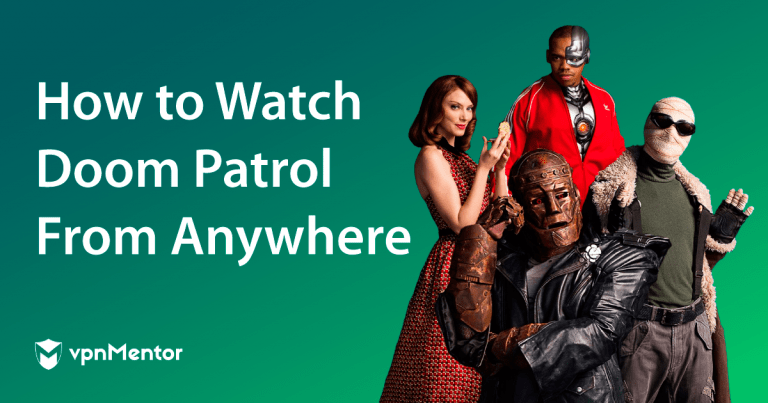 How to Watch Doom Patrol Online for Free (Anywhere) in 2022
The DC Universe filled my childhood with plenty of magical memories, so I couldn't wait to watch the new Doom Patrol series. But when I discovered that I could only watch it on international streaming platforms, such as DC Universe and HBO Max, I felt like I was missing out. Technically, you can't watch these streaming services outside the US, but after some testing of my own, I found a solution that works.
Watching Doom Patrol from anywhere is possible by using a VPN. A VPN tricks streaming platforms like DC Universe into thinking you're in a licensed country by giving you a different IP address. This conceals your real location so you can watch Doom Patrol, regardless of your whereabouts.
To make things easy for you, I tested 30+ VPNs and found that ExpressVPN is excellent for watching Doom Patrol. Thanks to its super-fast speeds and reliable connections, you can watch Doom Patrol without any lag. And when you take into consideration its 30-day money-back guarantee, you can try it out risk-free.
Start Watching Doom Patrol Today!
Quick Guide: How to Watch Doom Patrol For Free in 3 Easy Steps
Get a VPN. I recommend ExpressVPN for its super-fast speeds and stable connections (plus, you can try it risk-free, backed by a money-back guarantee).
Connect to a server in the US. This lets you access DC Universe from anywhere.
Enjoy Doom Patrol! Sign up to DC Universe, and relive all of your magical memories from childhood (don't forget to activate the 7-day free trial, so you can watch for free)! Remember you'll only be able to access the show with a US server.
Why You Need a VPN to Watch Doom Patrol
Only people in the US, UK, and Australia can watch Doom Patrol because of broadcasting restrictions. This means that streaming platforms like DC Universe and HBO Max will deny people who try to watch Doom Patrol from other countries.
A VPN bypasses broadcasting restrictions so you can watch Doom Patrol and other DC shows from anywhere. It achieves this by redirecting your internet traffic through one of its private servers in the US, giving you a US IP address to bypass detection. This will grant you access to the DC Universe (DC Universe is the easiest platform to use because you don't need a foreign credit card to sign up).
Best VPN to Watch Doom Patrol From Anywhere in 2022
Super-fast speeds means no buffering or lag while watching Doom Patrol
3,000 worldwide servers to unlock DC Universe and more
MediaStreamer makes it easy to watch on WiFi-enabled devices
5 simultaneous device connections
30-day money-back guarantee
Works with: DC Universe, Netflix, Disney+, HBO Max, Hulu, BBC iPlayer, Vudu, and more
Compatible with: Windows, Mac, iOS, Android, Linux, routers, Apple TV, and more
ExpressVPN's blazing fast speeds mean you'll enjoy crystal-clear picture quality and absolutely no interruptions from buffering. I tested dozens of its servers around the world, and my average download speed was 52.7 Mbps (you only need 5Mbps for HD streaming). After connecting to each server, I hit play on Doom Patrol — it instantly started every time and I only had to wait a few seconds for the next episode to load.
ExpressVPN has 3,000 servers around the globe, over 20 US locations. During my tests, I got around DC Universe's geoblocks in seconds. I had the best results with ExpressVPN's servers in New York and Los Angeles, but honestly, they all worked well. No matter which you use, you'll have no trouble unblocking the show.
One thing I really liked about ExpressVPN is its MediaStreamer feature. When you set it up, you can watch Doom Patrol on any device, even those that don't support VPNs. After following some simple instructions, I was watching Doom Patrol on my smart TV without having to cast from my laptop, which was super convenient.
One thing I was concerned about was ExpressVPN's price tag; it's higher than most services I tested. But this is easy to get around: You can pay as little as $6.67/month per month with its latest coupon.
You also have the opportunity to try out ExpressVPN risk-free thanks to its 30-day money-back guarantee — just be sure to ask for your refund during the guarantee period. I canceled my service via live chat during my third week and requested a refund. I expected some pressure to keep my subscription active, but it didn't happen. The rep only asked if there was anything she could do. When I said no, she agreed to my refund (and the money was returned within the week).
Watch Doom Patrol With ExpressVPN Now!
Where Can I Watch Doom Patrol Online?
Doom Patrol is available on DC Universe and HBO Max in the US, Foxtel Now and Binge in Australia, and Starz TV in the UK.
From these options, DC Universe is the best to watch Doom Patrol from anywhere. It has all the episodes, costs only $7.99 per month — and it has a free 7-day trial. It's also the easiest to sign up to because you can use an international credit card (to use the other platforms, you must use a local payment method, such as an Australian credit card for Binge.)
How to Sign Up for DC Universe to Watch Doom Patrol for Free
Get a reliable VPN. My favorite is ExpressVPN because its servers can unblock almost anything.
Connect to a US server. Since DC Universe is only available to US viewers, you must connect to a US server to gain access.
Go to DC Universe. Click the Free Trial button at the top right corner.
Create your account. Enter your email, choose a password, and accept the terms and conditions.
Choose your plan. Select either the monthly or yearly option. You'll save 20% with an annual subscription — both get a free 7-day trial.
Enter your billing details. DC Universe accepts international credit cards and PayPal, so you can sign up from anywhere. The site won't ask for an address, but you do have to enter the zip code that your credit card is registered under.
You're in! Enjoy Doom Patrol and all the other content that DC Universe offers.
Cancel your free trial. Before your 7 days are over, end your trial by clicking MY DC, then opening your settings and hitting cancel so you don't end up being charged.
FAQs on Watching Doom Patrol With a VPN
Is Doom Patrol on Netflix or Hulu?
No, Doom Patrol is not available on Netflix or Hulu. You won't find other shows from the DC franchise, such as Titans, Harley Quinn, and Stargirl, on Netflix or Hulu, either.
DC Universe is the best place to watch Doom Patrol (as well as Titans and other DC shows). It's technically only available in the US, but there's an easy way to watch it from any country.
Can I watch Doom Patrol for free?
Yes, you can watch Doom Patrol for free on DC Universe. It has a 7-day free trial that you can take advantage of. I had to put my payment details in when I signed up, but I canceled my account before the trial ended, and I wasn't charged. Better still, you can end your free trial online from your account settings menu and you don't need to speak to anyone or answer any questions. The process is pretty straightforward, and I have written a step-by-step guide to help you sign up for the free trial. 
Where can I watch Doom Patrol in Australia and the UK?
You can watch Doom Patrol on Foxtel Now and Binge in Australia and on Starz TV in the UK. 
Foxtel Now costs $25 AUD per month, while Binge costs $10 AUD and comes with a 14-day trial (note that you need an Australian credit card to sign up for both). Starz TV costs £4.99 per month and has a 7-day free trial.
However, if you want to watch other DC shows, it's better to sign up for DC Universe. It has far more of DC's content than Foxtel Now, Binge, or Starz TV — and there's a 7-day free trial (plus, you can sign up from anywhere).
Can I watch Titans on DC Universe, too? Which should I watch first?
Titans is also available on DC Universe — so you can watch both during your 7-day free trial.
I recommend watching Titans before Doom Patrol, but it's not necessary. They are both parts of the same universe and are in the same continuity, but each has different storylines. Doom Patrol explains the entire backstory at the beginning, so you don't have to watch Titans beforehand.
Can I Use a free VPN to watch Doom Patrol?
No, the free VPNs I tested were not able to unblock Doom Patrol.
Another frustrating aspect of free VPNs is their slow download speeds. This is a common tactic they use to get you onto paid plans with faster speeds. Your connection speed affects the quality of your picture when you're streaming — and slow speeds will ruin your Doom Patrol marathon.
What features should my VPN have?
The VPN you choose should have:
Fast speeds to watch Doom Patrol in HD — You need a VPN that can give you 5 Mbps or faster to get the best picture quality without buffering.
Hundreds of US servers that can access DC Universe — You need a large, reliable US server network to use to unblock Doom Patrol. 
Strong unblocking abilities — It's vital that your VPN can overcome DC Universe's strong geoblocks (and not all VPNs are up to the task).
The VPN I recommend tick all of these boxes  — and it's come with money-back guarantees so you can try them risk-free.
Catch Up on Doom Patrol!
The DC universe is full of epic adventures, and Doom Patrol is right at the heart of it. Even though it's only available in certain countries, you can use a VPN to watch it from anywhere.
Even though all of the VPNs in this article can unblock DC Universe,  I recommend ExpressVPN. It has the best server network and the fastest download speeds. You can also try it risk-free backed by its 30-day money-back guarantee.
To summarize, the best VPN for watching Doom Patrol is…
Privacy Alert!
Your data is exposed to the websites you visit!
The information above can be used to track you, target you for ads, and monitor what you do online.
VPNs can help you hide this information from websites so that you are protected at all times. We recommend ExpressVPN — the #1 VPN out of over 350 providers we've tested. It has military-grade encryption and privacy features that will ensure your digital security, plus — it's currently offering 49% off.