How to Watch Grey's Anatomy Season 15 Online for FREE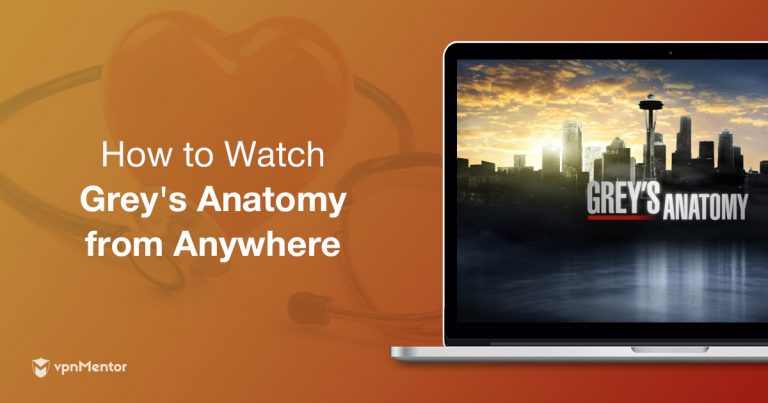 Are you addicted to the rush of the operating room and the juicy hospital drama at Grey Sloan Memorial? So are we!
The second part of primetime TV hit, Grey's Anatomy season 15 is returning soon. New episodes will be available as they air on ABC's livestream, and soon after on their catch-up streaming service.
Unfortunately, ABC uses geoblocking to prevent non-US viewers from accessing their content. If you live outside the US or are an American traveling abroad, you'll need to use a virtual private network, or VPN, to catch up with your favorite surgeons every week.
Using a VPN will mask your location and unlock geoblocked content from around the world, giving you unrestricted access to Grey's Anatomy no matter where you are.
It's crucial for your streaming experience and online security that you select one of the best VPNs available. Simply follow our quick and easy guide to the best VPNs, and you won't miss a moment of action on the hospital ward. Here's everything you need to know about watching the latest episodes of Grey's Anatomy online.
How to Watch: Quick Guide
Choose a VPN service that offers lightning-fast speeds, US servers, unlimited bandwidth, and multiple layers of privacy protection. (Our recommendations are below – NordVPN is our #1 choice.)
Follow your provider's guide to install and set up the VPN and you'll be ready to go in minutes. Connect to a VPN server in the United States.
Navigate to abc.com and create an account. Choose "Live" to watch the current episode of Grey's Anatomy as it airs, or find Grey's Anatomy on the "Shows" page to catch up on recent episodes.
Enjoy some quality time with your favorite surgeons at Grey Sloan Memorial Hospital!
NOTE: ABC's live broadcasts of new Grey's Anatomy episodes are also available through many US-based multi-channel streaming platforms, including Sling TV, YouTube TV, and Hulu with Live TV – all of which are also geo-restricted to the US.
Why You Need a VPN to Watch Grey's Anatomy
ABC's livestream and catch-up services use geolocation software to block viewers outside the United States. So if you are beyond US borders temporarily or permanently, you'll need a VPN to watch the latest Grey's Anatomy episodes online.
VPNs use encryption to mask your IP location, making it appear like you are accessing ABC's streaming service from within the US. You'll be able to view any geoblocked content from anywhere in the world while bypassing congested local networks to stream at top speeds. Using a VPN also protects your connection from malicious attacks.
For the smoothest streaming experience, you should look for a VPN with the right features. You'll need a provider that operates servers in the US and offers unlimited bandwidth over high-speed connections. There's nothing worse than your connection dropping out as you're about to find out if Meredith survives, just because you're out of bandwidth!
If you're looking to keep the rest of the household quiet and entertained while you're watching your Grey's Anatomy marathon, you'll also need a VPN that allows you to connect multiple devices at the same time.
The Best VPNs for watching Grey's Anatomy from Anywhere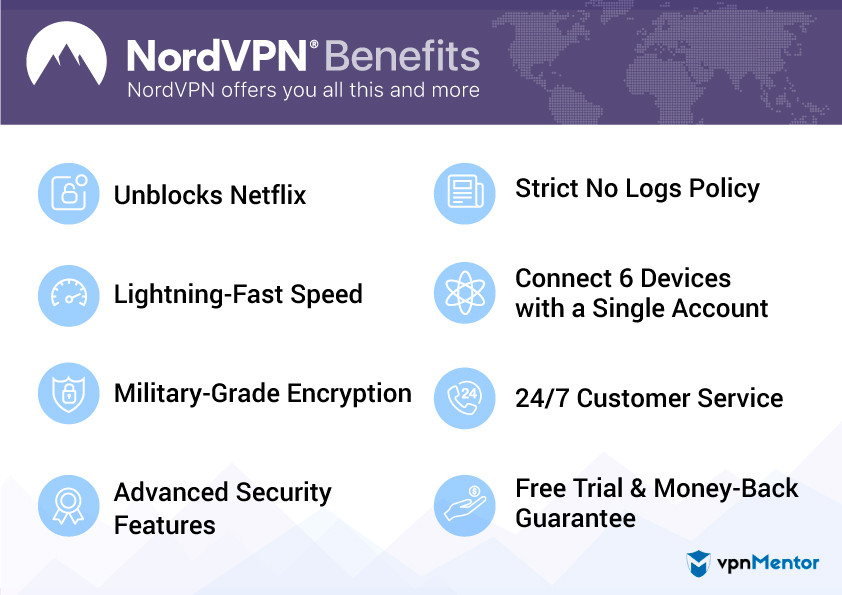 NordVPN's impressive service combines high speeds and unlimited bandwidth with a strong focus on your online security and anonymity. AES-256 and 2048-bit encryption and Onion over VPN obfuscation are just two of its industry-leading privacy protection features.
With 4,879 servers across 62 countries, NordVPN is one of the best VPNs available for streaming, and you can enjoy a quality viewing experience on up to six devices simultaneously.
Its impressive service has earned NordVPN excellent customer reviews, and with a 3-day free trial and a 30-day money-back guarantee, you can test it out for yourself.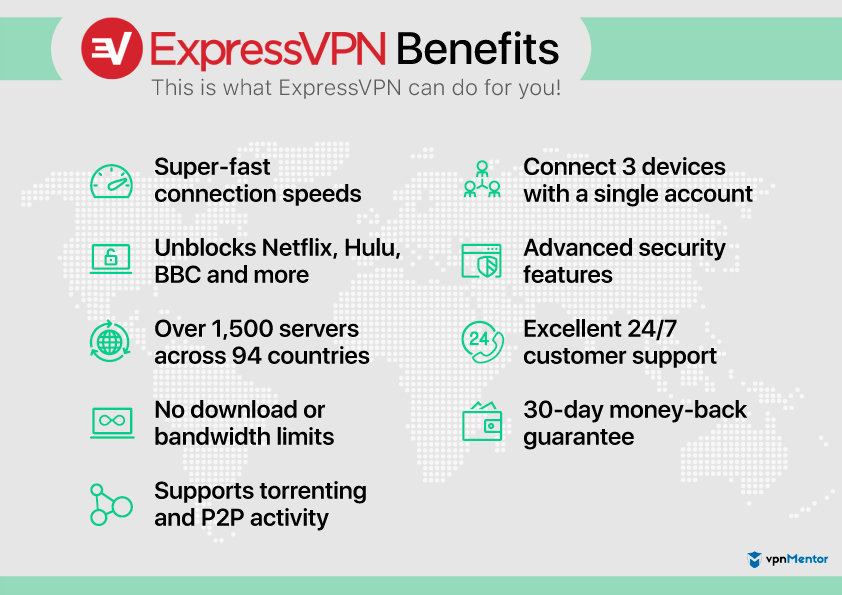 With ExpressVPN's extremely fast and easy set up process, you'll be streaming Grey's Anatomy in no time at all. And speaking of fast, if it's smooth streaming you want, you'll love the fact that this VPN is our speed test champion!
ExpressVPN offers 24/7 customer support via live chat and a 30-day, no-questions-asked, money-back guarantee on all of its services. You can also try it free for seven days on Android and iOS devices. As an ExpressVPN user, you'll be able to enjoy unlimited bandwidth with up to three of your devices simultaneously. Check out what real users have to say about this top VPN.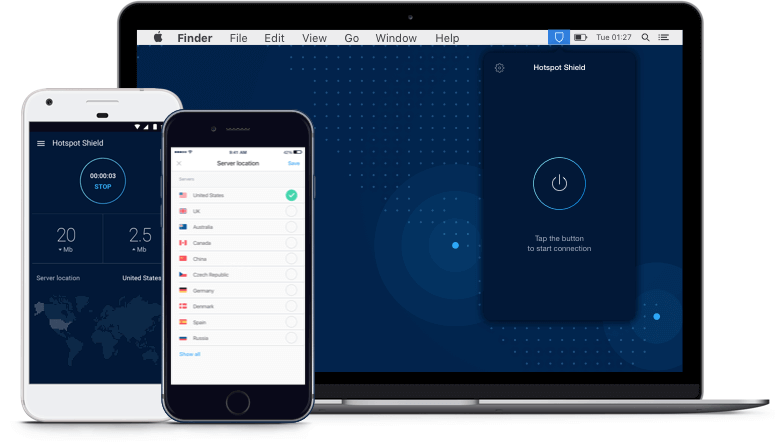 Hotspot Shield is a top choice for streaming, and it's easy to see why!
Its super-fast speeds and unlimited bandwidth eliminate lag and buffering, and it's easy to bypass geoblocks with its global server network.
Hotspot Shield offers 256-bit encryption as well as malware and phishing protection. It will alert you if the website you're visiting is known to contain malware, and then block it.
There are apps for all your devices so you can stream at home and on the go. You can test Hotspot Shield with a 7-day free trial, and a 45-day money-back guarantee on all subscriptions.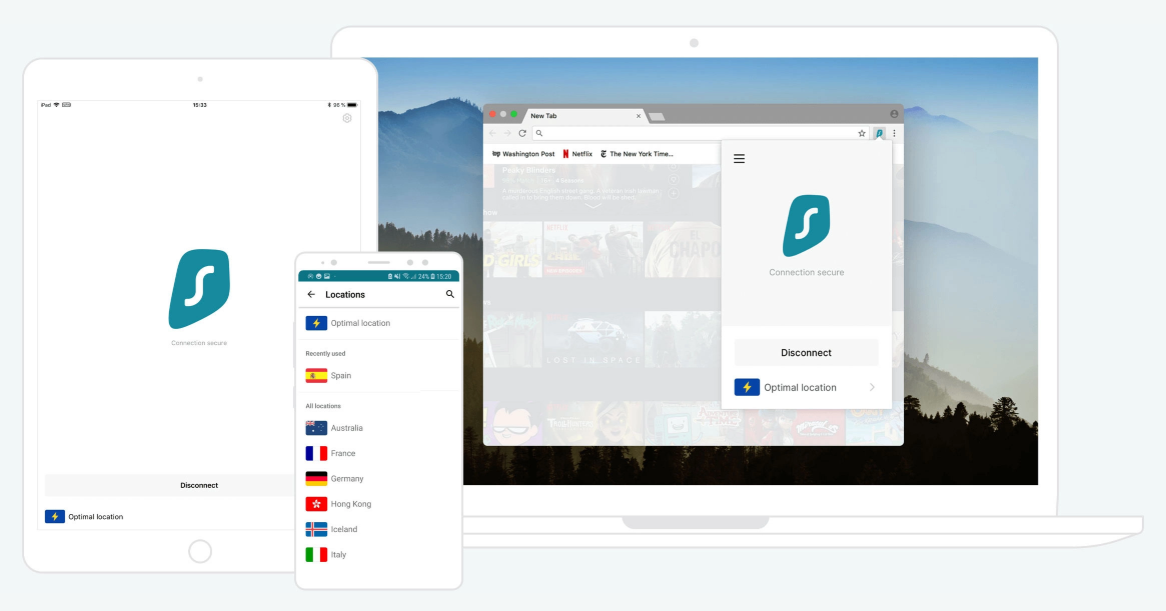 Surfshark is one of the most flexible VPN services available, compatible with most major platforms. You can even install it on your FireTV! With high-speed connections and unlimited downloads, it's a great match for streaming.
It's easy to use, and all its apps feature a built-in ad, tracker, and malware blocker. Surfshark uses some of the best security protocols available, including AES-256-GCM encryption, a strict no logs policy, and an automatic kill switch.
You can try it risk-free thanks to its 30-day money-back guarantee. It also offers a 7-day free trial for Android users. Here's what our users are saying about Surfshark.
Renowned for its high-quality user experience and fast connection speeds, HideMyAss! (HMA) is a favorite among users. There are no data restrictions to get in the way of your binge-watching, and you can connect two devices at the same time to keep your family entertained and quiet while you're watching Grey's.
HMA has servers in an astounding 190 countries and offers a standard 30-day money-back guarantee and a free 7-day trial for you to try its services. And true to its name, this VPN puts a high priority on privacy.
Summary
If you are outside the US but can't wait a second longer to check out what the doctors at Sloan Memorial Hospital have been up to, a VPN is the easiest, safest, best way to get the access you need. With a premium VPN, you'll be able to bypass geoblocks and access content from around the world securely and anonymously. Be there from anywhere in the world when Grey's Anatomy episodes premiere on ABC's livestream and never miss a moment again.
If you want to learn more about why some VPNs can be trusted to give you access to the best streaming content while others can't, see what our experts had to say in our 2019 Best VPN Awards report.
Start Your Free NordVPN Trial Now
You might also like: