An Interview with NordVPN's Jodi Meyers: The VPN Industry Now and in the Future
Thanks to its unique focus on data encryption, NordVPN is growing fast. In this interview, Jodi Myers, head of NordVPN's marketing and communications team, talks to us about the current state of the VPN industry, NordVPN's place in the market, and what to look for in the future. Share
Founded in Panama in 2008, NordVPN offers easy-to-use, military-grade encryption to keep customers' data safe and private.  With 553 servers in every continent save Antarctica, the company offers a host of cutting-edge features including: mobile apps for Apple and Android, a network kill switch, a DNS leak resolver, encrypted chat, and web proxy extensions. As a result, it is one of the fastest growing services in the VPN industry.
We recently visited with Jodi Myers, head of NordVPN's marketing and communications team. Below, she offers her thoughts on current VPN industry issues and makes some interesting forecasts for the industry's future.
The Current State of the VPN Industry and NordVPN's Place in the Market
Tell us a bit of NordVPN's background. How did the company develop and what is its mission? How does this mission differ from others in the VPN industry?
NordVPN was founded with a mission to liberate the Internet and to provide safe browsing experience anywhere in the world. It was inspired by Nordic ideals of freedom, human rights and trust. One of NordVPN's policies is strict no logs policy. Besides, NordVPN is very easy to use – it can be easily used by novices as well as experienced computer professionals. We believe NordVPN differs from many other VPN services by being more security-oriented than most, and also by being one of the most user-friendly VPN apps on the market.
Today's VPN customer wants a high-quality mix of security and performance. How does NordVPN achieve this careful balance?
NordVPN offers military-grade security protection and an array of high-tech features, such as Anti DDoS server, SSL-based 2048-bit encryption, encrypted chat, IKEv2 and other security protocols and more. A 'kill-switch' lets you select applications that will be closed automatically if the VPN connection suddenly drops. NordVPN also boasts top-notch performance with its 553 servers around the globe (the number is constantly growing), competitive speeds and new apps for Mac, iOS, Windows and Android.
What features are most important to your users? Which motivations are trending up and which ones are trending down? 
This varies by country. For example, our users in countries with suppressed freedom of speech use NordVPN to access websites that might be blocked, such as YouTube, Wikipedia or social media sites. Many users in the U.S., Australia, UK and other countries choose our services to protect their online activity from government surveillance and snooping; and then there are those around the world who use NordVPN for streaming and accessing geo-restricted sites, such as Hulu, BBC iPlayer or Soundcloud. Each group takes different features into consideration (for example, network speed is the most important to those who use the service for streaming), but strong encryption and no logs policy is what all our clients desire and what we deliver.
What are your top 3 reasons consumers should add VPN service to their monthly internet bill?
Protect your privacy and online safety, especially if you are traveling and using a public wi-fi. Your information is easy to steal on any public network.
Connect to a server in any country and stream geo-restricted content on such streaming sites as Hulu or BBC iPlayer.
Stay safe online, wherever you go, whatever you do. Your online activity is yours only, and you should keep it that way.
NordVPN says it is the "most advanced" service in the VPN industry. What do you mean by this?
Not many VPN service providers have such features as double data encryption: NordVPN encrypts data not only once, but twice. This is a unique VPN solution that in combination with other security features offered shows the dedication that NordVPN has towards its users' security.
It also claims to be the "easiest VPN ever."Tell us about ease-of-use as a company focus. How have you developed your system to achieve user-friendliness?
Yes, user-friendly design is one of the top priorities at NordVPN. We want our services to be widely accessible and so easy to use that anyone can do it, because everyone deserves a secure internet experience. Basically, to connect to any of our apps, you just need to turn the ON button. The algorithm automatically selects the fastest server, unless you manually select the one you want to connect to. Our apps have a polished, minimalistic design and 24-hour tech support chat embedded on NordVPN apps.
Some VPN industry marketing promises "internet anonymity." Many security experts argue anonymity is impossible. Where do you stand on this issue?
Yes, there are some VPN providers that actually keep customer logs – mostly because they are required to do so by the governments of the countries they are based in. Moreover, there have been cases where a VPN provider sold customer data to a third party. This, however, doesn't represent the industry as a whole, and there will always be some bad players, as in any field. NordVPN is based in Panama, where the government does not require that companies keep their customer logs, allowing us to guarantee our no-logs policy, which we believe is key to ensuring internet user anonymity.
It's worth to note that free VPN providers do not necessarily provide highest quality security measures. A VPN service needs to pay for the server maintenance, staffing and operational costs and in itself cannot be free. 'Free VPNs' typically rely on third party advertisers to cover the costs. Often they are free proxy services, marketed as a VPN service, when in fact proxies are not encrypted (they just change your IP address, but do not hide/encrypt it).
NordVPN ignores all requests from law enforcement and copyright agencies. Please explain why you're able to do so.
We are based in Panama, we only answer to Panamanian Law, which does not require us to provide any customer information, which we don't have by not keeping any logs.
The Future of the VPN Industry and Internet Security
Compared to the U.S. market, VPN use is far more prevalent in Asia and India. Do you see the VPN industry becoming more "mainstream" in the U.S. at the consumer level?
We definitely see this is a trend, for various reasons.
First of all, Americans are afraid of online hacks and theft. Almost half of American families are fearful to conduct any transactions online: 45 percent avoid doing financial transactions online, buying goods or services, posting on social networks, or expressing opinions on controversial or political issues via the Internet.
Secondly, the government surveillance has significantly increased in the past years. The Cybersecurity Information Sharing Act (CISA) was passed by Congress earlier this year and signed into law. It culminated several years of effort to pass the controversial cyber bill. Critics claim that the law is a free pass to mass surveillance, and Internet users are scrambling to find ways to protect their privacy. The bill allows big tech companies to share their users' information with the government without a warrant, violating user privacy and bypassing legal accountability.
TPP agreement is another big agreement that is being negotiated between a group of countries, including USA. Among other things, the agreement puts individual rights of expression and freedom of speech at risk.
A VPN, by encrypting user's data, protects from online hacks and government surveillance.
And lastly, there is an increasing part of population that uses Internet to watch movies, TV shows or to listen to music: and such streaming sites as Hulu or BBC iPlayer are geo-restricted. A VPN helps bypass these restrictions.
"Each group takes different features into consideration...but strong encryption and a no logs policy is what all our clients desire and what we deliver."
In your view, what is the top internet security threat to individual consumers? How does NordVPN help protect against this threat?
We put individual hackers and government surveillance at the same level of dangerous threat. If government collects users' data and it leaks, millions of users' private data can be compromised. Besides, thousands of Internet users experience online identity theft, and end up with money stolen when they are shopping, checking bank account information or paying taxes online. NordVPN protects from both threats by encrypting user's information, so no one else can see what they are doing online.
NordVPN is compatible with Windows, Mac, and Linux. You also enable up to 6 devices to connect to the service at one time. How important is this flexibility to your business plan?
We note the tendency of people being more interconnected and using an average of 3.4 devices per household. We want to ensure our customers and even small business can protect their entire network. We have also recently partnered with Flashrouters to collaborate on a NordVPN router. This ensures the entire network is secure and even more internet enabled devices can be connected.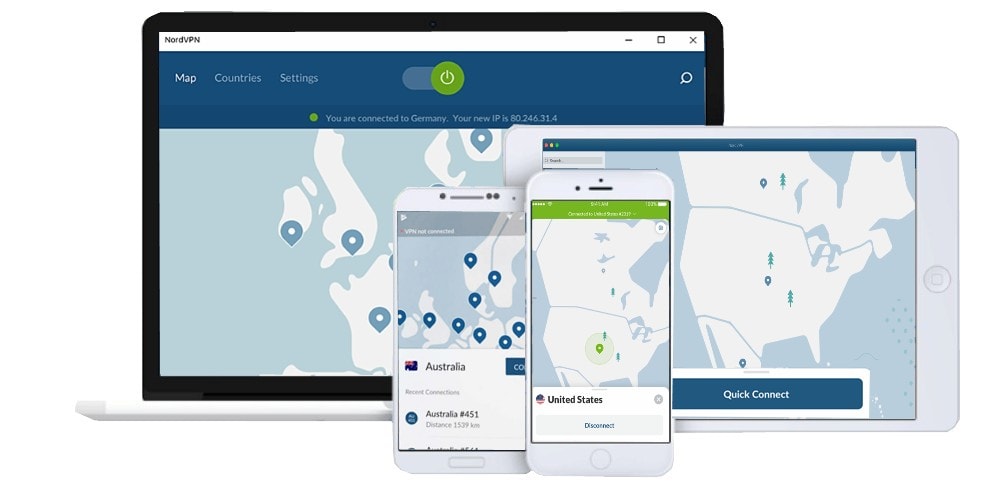 Governments want to hack into VPNs. Netflix want to block VPN users from accessing content. How will the VPN industry handle such powerful opponents?
NordVPN will always stand for privacy and online freedom and continue to offer services for the internet users who are increasingly aware of dangers online. Our customers and other VPN clients tend to choose privacy over streaming convenience - repeatedly saying they would rather quit Netflix than quit their VPN. They are too increasingly more aware that if government tries to open the door to customer data, by setting up backdoors to encrypted devices, this 'key' to this door is in grave danger of being stolen, which could have dire consequences. More people are taking action and getting involved in opposing such initiatives - including tech industry leaders like Apple.
We see the increase in VPN popularity despite the opposition as we stand to protect internet users' interests.
Where do you see the VPN industry in 5 years?
We believe VPN will be the industry standard when talking about the internet security protection toolkit, which currently involves encrypted hardware, anti-virus services, encrypted email services and more.
Where do you see NordVPN in 5 years?
We see NordVPN as one of the leaders of the industry, uncompromisingly dedicated to providing free Internet to those who don't have it, and secure online experience to everybody. Our customer base almost doubles every few months, so we see NordVPN becoming a household name in the future.