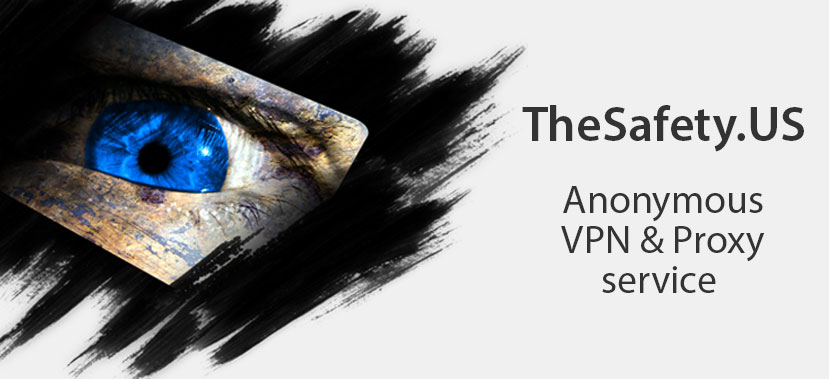 Interview with TheSafety.US - Anonymous VPN & Proxy Service
Please provide some background on the company: what inspired you to start a VPN service and how did it come together?
We started our business in 2006. Back then, VPNs were used by private companies to protect their local networks. VPN services were not circulated yet, and there were no more than about 50 VPN providers out there, many of which were selling their services through ICQ or web forums.
We were looking for a reliable VPN service and tested a few different companies, but most of them did not provide the security and anonymity we were aiming for. Therefore, we decided to create our own VPN service and keep it log free.
That's how TheSafety.US was born, combining different technologies to create the best anonymous VPN on the planet.
What makes your service unique compared to the competitors?
Our goal is to ensure the safety and anonymity of our clients. All VPNs encrypts traffic and change IP addresses, but our VPN does more than that.
Today, there is a technology that can determine your location, even under a VPN. For example, WebRTC and the geographical coordinates of Wi-Fi access points. We make it a priority to educate our customers on how to hide all indirect parameters which can trace your real location to ensure maximum privacy.
VPN fingerprint is another technology that uses the MTU and other parameters to determine whether a VPN is used, but our VPN is not detected by this technology. You can test it for yourself on http://witch.valdikss.org.ru/ and https://2ip.io/privacy/
Expanding on hiding VPN use, protocols PPTP and L2TP VPN have standard ports, and they are easy to identify. OpenVPN has the ability to use a non-standard port, making it a little harder to recognize. In 2006, TheSafety.US set up an OpenVPN connection to the SSL port 443 to make it harder to spot.
Nowadays, there's equipment that can do that for you, and it has become almost standard. This is why VPN use is forbidden in China. After combining several technologies, we created a VPN connection with a common SSL connection.
We always talk about integrated security. Anonymity starts with the first website you visit. We extend your anonymity from your payment system (we accept Bitcoin) to a no-logs policy that hides indirect parameters. For example, not many think about their time zone when they browse the web anonymously, and users often don't realize that their time zone on their computer could give away their location. But at TheSafety.US we change the time zone to reflect the location of the VPN server.
We also developed our own program called Secure Kit, which simplifies the setup of a VPN connection. We believe the best use of open source software, such as OpenVPN, should be available on all operating systems, and that many VPN services can learn about their users' activity with this program.
It allows for VPN providers to collect and transmit statistics on their VPNs without logging information about the user. Our Secure Kit does not spy on users, but it's still good for users to know if their VPN provider uses it.

What is the difference between an anonymous proxy and a constant proxy?
An anonymous proxy ensures maximum security and anonymity. The life span of an anonymous proxy usually does not last more than 24 hours, since the database is frequently updated.
Constant proxies are constant and always active. If you look at the proxy list they virtually do not change. Constant proxies are often used for data parsing, SEO, and SMM.
Apart from web anonymity, VPN provides many possibilities. Please describe some cases where a VPN or proxy can be valuable to the common internet user.
VPN can be used in many different fields:
They protect personal data when using public Wi-Fi hotspots.
VPNs can change certain prices on different sites depending on the geographic location you use. Sites change the prices of flights, hotels, and other purchases in different locations, and changing your geo-location with a VPN can save you money. For example, tickets purchased in Africa are generally lower than if purchased in the US or UK.
VPNs can unlock content that is not available in your country of residence. For example, China blocks Google Drive, but if you use a VPN you can gain access to it.
How have the frequent changes in global privacy legislation affected your users' choice of servers?
We do not have statistics on our VPNs users, since logs are disabled on all of our VPN servers. We also disabled the syslog service, which records system events, so I cannot fully answer this question. Anonymity is important to us, and our goal is to make the best anonymous VPN service available.
But what I can tell you is that we select new VPN servers locations based on the current legislation of these countries.
In your opinion, what changes can we expect to see on the VPN market in 5 years from now?
We are noticing a trend that VPNs are separating into two markets: specialized and general. If there were about 50 VPN services in 2006, there are now more than 1000 VPN companies. New VPN services are constantly popping up, but at the same time, older ones are shutting down.
The market is constantly updating with newer specialized VPNs that are intended for particular tasks. We also believe that a lot of the cheap VPN services that cost $1-5 a month will disappear within one to two years.
We also see more and more companies detecting VPNs due to terrorism. For example, PayPal is actively implementing the detection system of the real IP address, and  Maxmind.com published a tool for checking VPN and proxy use.
Special for vpnMentor readers, TheSafety.US is offering a special 10% discount on their VPNs with the promo-code: VPNMENTOR.
Click here to download their Secure Kit and connect to their VPN servers.