IPVanish Works With Netflix [Super Easy Hack] for 2020
Updated on 13th July 2020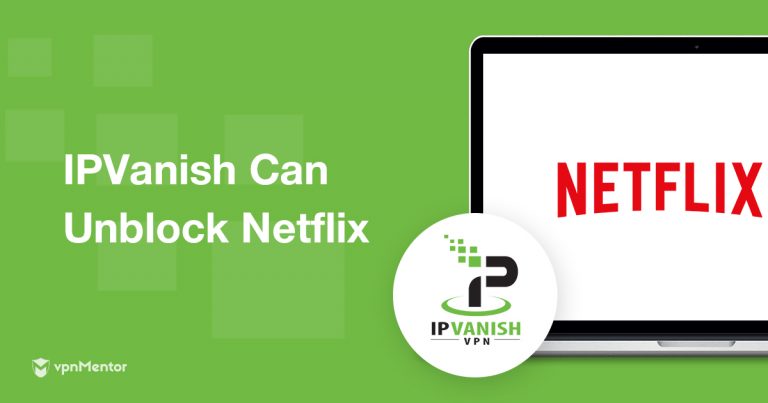 Imagine this: it's your day off, and with junk food in hand, you're ready to settle in on the couch and give your Netflix subscription a workout. You read online that the latest season of your favorite show is out, but… oh no! It isn't available to stream in your country.
Or maybe you're traveling abroad, and after a long day of exploring a new city, you're back at your hotel room and you suddenly realize you can't access all the shows you like to watch back home.
Due to strict copyright laws and distribution agreements, Netflix offers a different catalog of shows and movies depending on where you live, and some content won't be available in your country at all. For example, even though Parks and Recreation is readily available to US viewers, you'll have trouble finding it on Netflix in any other country.
A VPN can help you change your IP address and access geoblocked content – but when it comes to Netflix, which applies additional VPN blocks, not all VPNs are up to the task. This is where IPVanish comes in. In the past, it wasn't able to bypass the VPN blocks, but good news! IPVanish can now unblock Netflix from any location – you just have to make sure to connect to the right server. Here's how to do it:
Quick Guide: How to Use IPVanish to Unblock Netflix
Sign up for IPVanish.
Install the VPN and connect to a server in Las Vegas, Dallas or Chicago (see more info below).
Login to Netflix and enjoy all of the newly unlocked content!
Using IPVanish to Access Netflix USA
Until recently, most VPNs were able to unblock Netflix content in any region. But back in 2014, movie and television studios began to pressure the streaming giant to block VPN users from accessing their content internationally. This was a great move for studio profits, but a terrible outcome for online freedom. Not only did Netflix's offering in each country become more limited, but travelers were suddenly unable to access their home country's catalog of shows and movies.
Currently, there are only a handful of VPN services that are able to bypass Netflix's anti-VPN software, and IPVanish is one of them. If you're a traveler who uses IPVanish, you'll be able to access Netflix's full catalog, including all of the shows you are used to watching back home.
However, when we tried to use IPVanish to access Netflix USA, we found that some US servers didn't work. When we contacted customer support to try to figure out what was going on, we were told that only their servers in Las Vegas, Dallas or Chicago could access Netflix.
Before signing up for IPVanish, you may want to contact customer support directly yourself to see if these servers are still working.
If you're looking for an excellent VPN that has shown time and time again that it can reliably access Netflix USA, NordVPNis our top choice.
What to Look for in a VPN for Netflix
If you want to enjoy unrestricted access to all of the content on Netflix and other streaming services like Hulu and HBO Go, you're going to need a VPN service that offers unlimited data transfer and high-speed connections. The VPN provider you choose will also need to have servers within the region that you're trying to unblock. For example, if you're craving a 30 Rock marathon, you're going to need to use a VPN that operates servers in the US.
With more than 1,000 servers in over 60 countries, IPVanish is an excellent choice. And, just in case unrestricted access to thousands of hours of entertainment on Netflix isn't enough, IPVanish offers a host of other impressive features, including:
Insanely fast streaming and download speeds
Unlimited bandwidth so that you can stream as much as you like for as long as you like
Multi-platform compatibility – IPVanish has apps for Windows, Mac, Android, iOS, Windows Phone, Linus, Fire TV, Chromebook, and even routers
A strict no-log policy, which keeps your browsing data completely private
High-end encryption protocols to protect your data
The ability to connect up to 10 devices simultaneously to keep the whole house entertained
24/7 customer support, although we doubt that you'll ever need it!
If you're looking for unrestricted, lightning-fast access to your favorite TV shows and movies, IPVanish is the way to go.
If you're still not convinced, you can try it out risk-free with the 7-day money-back guarantee, or read what real users have to say.
For More Than Just Netflix
But wait – there's even more! Not only will IPVanish will let you access geoblocked content from all around the world, it will also keep you safe online.
Because of strict encryption and security protocols, IPVanish protects your device from malicious attacks and cybercrime. You can browse the internet without a worry, knowing that your connection will always be secure and anonymous and your private information will always remain private.
You can even save your money when you use a VPN service to change your virtual location for some services, especially if you are traveling or have friends and family overseas. For example, some VoIP providers charge higher fees for international calls. Using a VPN, you can connect to a server in the same country as the friend or family member you're calling so you'll only need to pay the cost of a local call.
Summary
If you're anything like me, you're absolutely dying to explore all of the content that your newly unlimited Netflix subscription has to offer you. Thanks to IPVanish, your Netflix marathon is saved! With a VPN, your internet connection will be secure and unrestricted while you binge-watch all your favorites.
If you're still unsure if IPVanish is right for you, you can try it risk-free! In addition to its 7-day money-back guarantee on all of its services, IPVanish also offers a free trial for iOS users.