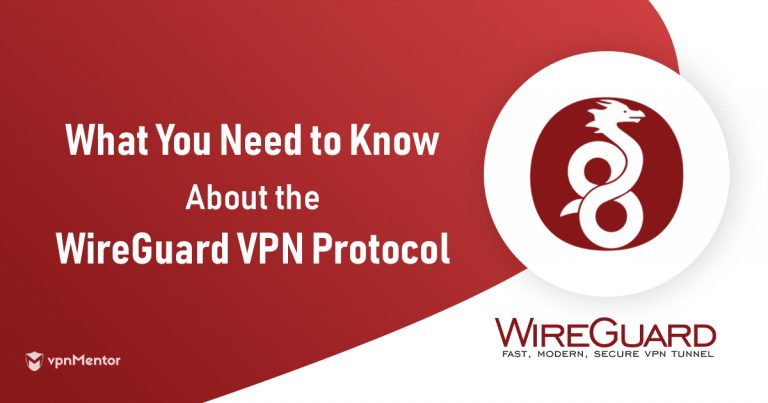 Is WireGuard the Future of VPN Protocols? 2021 Safety Update
Updated on 2nd August 2021
WireGuard is a new open-source VPN protocol that simplifies the encryption process. It promises to be faster than OpenVPN and IKEv2, and its fans predict that it will surpass every existing protocol.
But is this true? Will WireGuard put an end to the VPN issues we see today, like speed loss and dropouts?
WireGuard isn't without its faults. It's still in development, and even its creators acknowledge there are some inherent security risks involved. Because of this, few VPNs have integrated it so far.
Of the three VPNs that currently support WireGuard, CyberGhost is the most comprehensive service that offers a safe WireGuard solution.
What's Exciting About the New WireGuard Protocol?
There are pros and cons to each VPN protocol (e.g., faster usually means less secure), but there are several potential advantages of using WireGuard.
In addition to outpacing OpenVPN and IKEv2, WireGuard was built for ease of use. Even manual network configuration is quite simple.
One of the reasons for the new protocol's speed and simplicity is a streamlined approach to encryption.
WireGuard's developers have reassembled the elements that make up ready-made encryption algorithms (called "primitives"). The goal is to gain speed without losing security.
It's also far less bloated than OpenVPN, with only 4,000 lines of code. For comparison, OpenVPN has 70,000 lines of code.
This compact coding ensures regular, thorough auditing and improvement, which leads to fewer vulnerabilities than other protocols.
Potential Risks of Using WireGuard Now
Despite its many positives, even WireGuard's primary developer, Jason Donenfeld, classifies it as experimental. This means your experience with WireGuard might not match those impressive speed test results because of potential stability issues.
There are several security concerns, too. The most pressing is the way WireGuard assigns IP addresses. Both OpenVPN and IKEv2 dynamically assign IP addresses. This means your VPN issues you a different IP every time you connect.
WireGuard can't dynamically assign IP addresses. Instead, you get the same static IP address every time you connect. So that it can assign the same address each time, WireGuard has to log and store your real IP address and timestamps.
Storing your identifiable information violates most VPN's privacy policies. Many services have issued statements saying that they will not implement WireGuard until this is rectified.
The creator himself is quick to caution VPN users against relying on the new protocol, recognizing that there's plenty of work to be done before a stable version is released.
Despite these issues, some VPNs aren't waiting. Three services have resolved WireGuard's risks by pairing it with custom security features. 
Which VPNs Support WireGuard? – Full Analysis (Updated September 2021)
These three VPNs are leading the charge to offer WireGuard support. I tested all three to see how they tackle WireGuard's flaws while safeguarding your security and privacy. I ran each VPN through speed tests to see if WireGuard can truly make your VPN connection faster. I also tested for general security and reliability.
We retest and update our results regularly, so this list will be revised as soon as there are new WireGuard developments.
Integrated WireGuard protocol for Windows, macOS, Android, iOS, and Linux

Lightning-fast speeds that increase with the use of WireGuard

7,190 WireGuard servers 

7

simultaneous device connections

45-day money-back guarantee

Works with: Netflix, BBC iPlayer, Hulu, HBO Go, Showtime, Amazon Prime Video, and more

Compatible with: Mac, Windows, Linux, Android, iOS, Roku, gaming consoles, and more
Cyberghost's user-friendly apps give you easy access to WireGuard — with native support in all of its mobile and desktop apps. To see how it works, I tested it with my Macbook. I was surprised how simple it was to activate; all I had to do was navigate to Cyberghost's "General" settings and change the protocol to WireGuard. This way, you can skip all of the time-consuming manual configurations. 
Your browsing and streaming activity is protected by Cyberghost's top-notch security protocols. With WireGuard, it uses Cryptokey routing to protect your data. Additionally, it offers 256-bit encryption, a zero-logs policy, a kill switch, and DNS/IP leak protection. I tested for leaks with an independent tool — there were none detected. Your personal information is safe from malware, trackers, hackers, and other cyber threats. 
It already boasts some incredible speeds, but with WireGuard turned on, it's even faster. During my tests, I first recorded my base speed which came to 17.39 Mbps. Next, I connected to Cyberghost's server in my country while using the IKEv2 protocol. This slowed me down a tad (13.24 Mbps). When I changed to WireGuard, I was shocked to see it was actually faster than my base speed, increasing it by 2.06 Mbps. You can keep yourself protected all while enjoying lag-free browsing and streaming. 
| | | | |
| --- | --- | --- | --- |
| Connection | Ping — ms | Download Speeds — Mbps | Upload Speeds — Mbps |
| Base Speed in San Jose, Costa Rica | 9 | 17.39 | 11.51 |
| San Jose server with IKEv2 | 15 | 13.24 | 8.06 |
| San Jose server with WireGuard | 10 | 19.45 | 12.88 |
With such speedy WireGuard connections and servers optimized for P2P activity, torrenting with CyberGhost is fast and easy. The torrenting optimized servers are designed to give you the fastest speeds possible for P2P file sharing. Not only are you well-protected while torrenting, but it won't take long to download large files. I was able to download a 1.5GB (copyright-free!) file in just 7 minutes while using WireGuard. So, you can protect yourself while torrenting without compromising speed.
The only downside to Cyberghost is that it can't be used in China, due to China's Great Firewall. However, this is not a major issue for me as I don't intend to use a VPN in this location. 
The best way to see if Cyberghost is right for you is to sign up with its 45-day money-back guarantee; if you're unhappy with the service, you're entitled to a full refund. I tested the return policy myself to see if you can rely on it. After 27 days, I contacted an agent via live chat. She asked me a few customer satisfaction-related questions, then was happy to process my request. I received the money back within just 3 days. 
Want to know more? Check out our CyberGhost review to learn about the results of all our research and testing.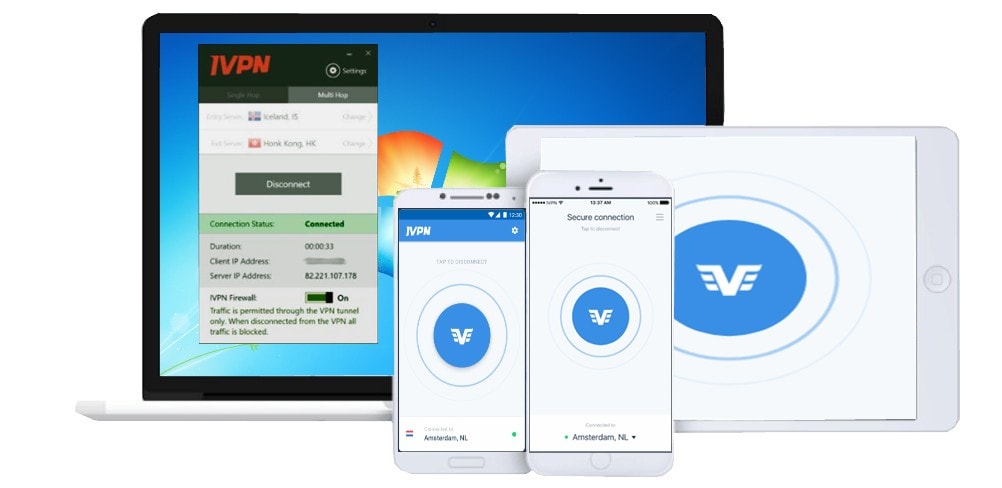 Manual WireGuard support with additional privacy features
78 WireGuard servers in 32 countries
Improved speeds with WireGuard
7 simultaneous connections
3-day free trial and 30-day money-back guarantee
Works with: Netflix US
Compatible with: Windows, Android, iOS, macOS, Linux
To use WireGuard with IVPN you need to do some manual configuration.
IVPN has user guides for setting up WireGuard on Windows, macOS, iOS, Android, and Linux that I found fairly easy to follow.
Although its website states that "WireGuard is sufficiently secure for the purposes of a privacy VPN," IVPN has taken some additional steps to address problems with dynamic IP assignment and logging.
First, IVPN randomly allocates you an IP address alongside your WireGuard key to mimic dynamic assignment and ensure you're not linked to the same IP address every time you connect. Your WireGuard key and all of your information are deleted as soon as you log out.
It also disconnects you and automatically deletes your information if you're inactive for more than 180 seconds. Disconnecting and reconnecting with WireGuard is almost instantaneous, so I didn't notice any dropouts during my tests.
If you don't log out, IVPN automatically regenerates your WireGuard key once a week to ensure that your data isn't stored for long. You can even change your settings to delete your key and information daily.
IVPN's speeds are significantly improved by WireGuard. To see the difference, I ran speed tests for both OpenVPN and WireGuard.
Where OpenVPN gave me a 5% decrease, WireGuard gave me a 7% increase in download speed.
| | | | |
| --- | --- | --- | --- |
| Connection | Ping – ms | Download Speed – Mbps | Upload Speed – Mbps |
| Base speed in AU | 3 | 17.61 | 10.83 |
| AU server with OpenVPN | 44 | 16.70 | 9.73 |
| AU server with WireGuard | 27 | 18.80 | 7.25 |
I was able to unblock Netflix US with some IVPN WireGuard servers, but I didn't have much luck with other streaming platforms. That's a shame since the speeds I got with my WireGuard server were great for buffer-free streaming.
I was also able to torrent on a couple of WireGuard servers. I am satisfied that, with IVPN's additional privacy measures, WireGuard doesn't invalidate its no-logs policy.
I tested for DNS and IPv6 leaks and couldn't find any. I was particularly impressed with IVPN's blockers for ads, malware, and data harvesting. I was able to stream YouTube with no annoying ads.
If you want to test IVPN's WireGuard support first, it offers a 3-day free trial and a 30-day money-back guarantee. That's not as long as other VPNs, which usually give you at least 30 days to claim your refund.
There's 24/7 live chat if you have questions about setting up WireGuard, but I didn't find it as helpful as the user guides. The representative I spoke to kept sending me links instead of answering my questions, which was quite frustrating.
Want to know more? Explore our IVPN review to see the full results of our research and testing.
Subscribe today to get 50% off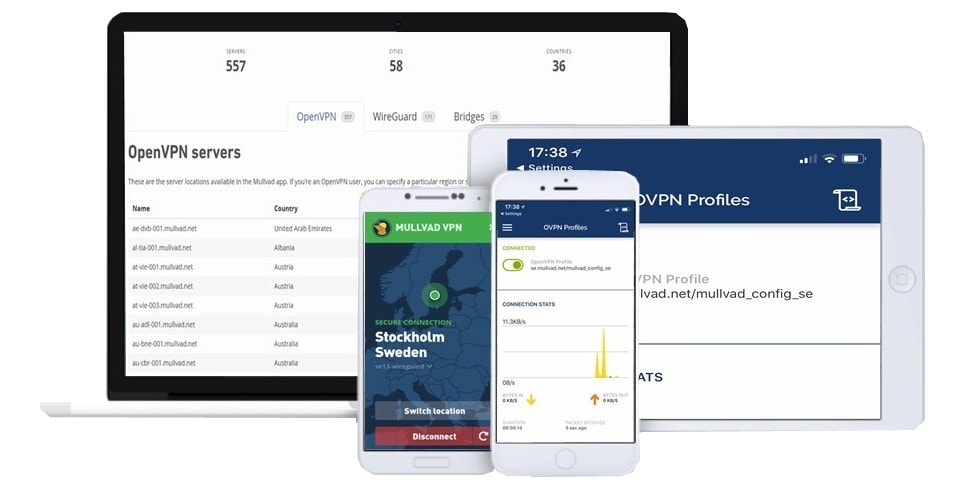 Easy WireGuard configuration
50 WireGuard servers in 37 countries
Decent speeds
Connect 5 devices at the same time
30-day money-back guarantee
Works with: HBO GO
Compatible with: Windows, Android, iOS, macOS, routers
Mullvad is such a keen supporter of WireGuard that it already uses the protocol as a default on its Android app. If you're a Windows, macOS, iOS, or Linux user, through, getting set up is easy. All you have to do is go to Tunnel protocol settings and select "WireGuard."
The configuration is easier than IVPN, but Mullvad offers a weaker solution to WireGuard's privacy flaws. Like IVPN, it disconnects and reconnects you automatically if you're inactive for 180 seconds, but that's the extent of its problem-solving.
You can use its Multihop feature to redirect your traffic through several VPN servers while connected to WireGuard to increase your privacy. But, you have to activate Multihop manually, as it's not part of the full WireGuard solution.
I was also surprised to find that using Mullvad with WireGuard didn't increase my speed as much as with OpenVPN. OpenVPN was actually faster— it took my base speed from 6.14 Mbps to 17.52 Mbps. That's a 185% increase. With WireGuard, I only saw a 171% increase – but that's still impressive.
| | | | |
| --- | --- | --- | --- |
| Connection | Ping – ms | Download Speed – Mbps | Upload Speed – Mbps |
| Base speed in AU | 3 | 6.14 | 8.48 |
| AU server with OpenVPN | 26 | 17.52 | 9.19 |
| AU server with WireGuard | 28 | 16.62 | 13.24 |
That's more than fast enough for streaming with no buffering. Sadly, I was only able to access HBO GO using Mullvad – it was unable to overcome most geoblocks.
Mullvad is a good VPN for torrenting, though. It has safe torrenting guidelines in the Help section of its website and allows P2P traffic on all of its servers. It also has a strict no-logs policy.
Unlike IVPN, Mullvad doesn't have any built-in protection against malware or ads. Instead, it recommends you download and install additional ad-blocking software yourself, which is time-consuming.
If you need help setting up WireGuard, you have to contact its support team via email – there's no 24/7 live chat option. However, its email support is prompt and helpful – I received a response in under an hour.
You can also try WireGuard out for yourself, risk-free with Mullvad's 30-day money-back guarantee.
Want to know more? Explore our Mullvad review to see the full results of our research and testing.
Sign up now for just $6.13/month

FAQs
? How secure is WireGuard?
WireGuard's 4,000 lines of code leave less room for vulnerabilities or security flaws. It's also much easier to check and audit.
Still, WireGuard assigns static IP addresses and logs some identifying information. If you want a safe way to try out the new protocol, I recommend using a WireGuard with CyberGhost, which has its own additional privacy measures.
⚖️ Is WireGuard better than OpenVPN?
WireGuard is faster than OpenVPN. It's also less complicated and less bloated.
WireGuard has been independently audited as of version 1.0.0, but OpenVPN has undergone years of testing and auditing.
Until WireGuard's privacy issues have been rectified, OpenVPN is still the safer option – even though WireGuard is the faster one.
? ️ Can I use WireGuard now?
Most VPNs won't implement WireGuard support until it has been thoroughly tested and audited multiple times. Others say that they're waiting for WireGuard's creators to come up with a more robust privacy solution that won't invalidate their no-logs policies.
At the moment, only three VPNs give you safe WireGuard support: CyberGhost, IVPN, and Mullvad.
Bottom Line
WireGuard has been hailed as the future of VPNs. The speed and security tests I conducted on it yield very exciting results.
However, even its developers admit it isn't fully tested or complete. We'll have to wait a little longer before WireGuard is in good enough shape to be offered by VPNs across the board.
But some VPNs are ahead of the game and are either working with WireGuard or coming up with their own solutions to its privacy issues.
Of all of these, CyberGhost offers the most comprehensive and trustworthy WireGuard solution. It's incredibly fast, reliable, and secure while maintaining high standards when it comes to privacy and logging.
To summarize, here are the only VPNs implementing WireGuard safely in 2021…
Privacy Alert!
Your data is exposed to the websites you visit!
The information above can be used to track you, target you for ads, and monitor what you do online.
VPNs can help you hide this information from websites so that you are protected at all times. We recommend ExpressVPN — the #1 VPN out of over 350 providers we've tested. It has military-grade encryption and privacy features that will ensure your digital security, plus — it's currently offering 49% off.