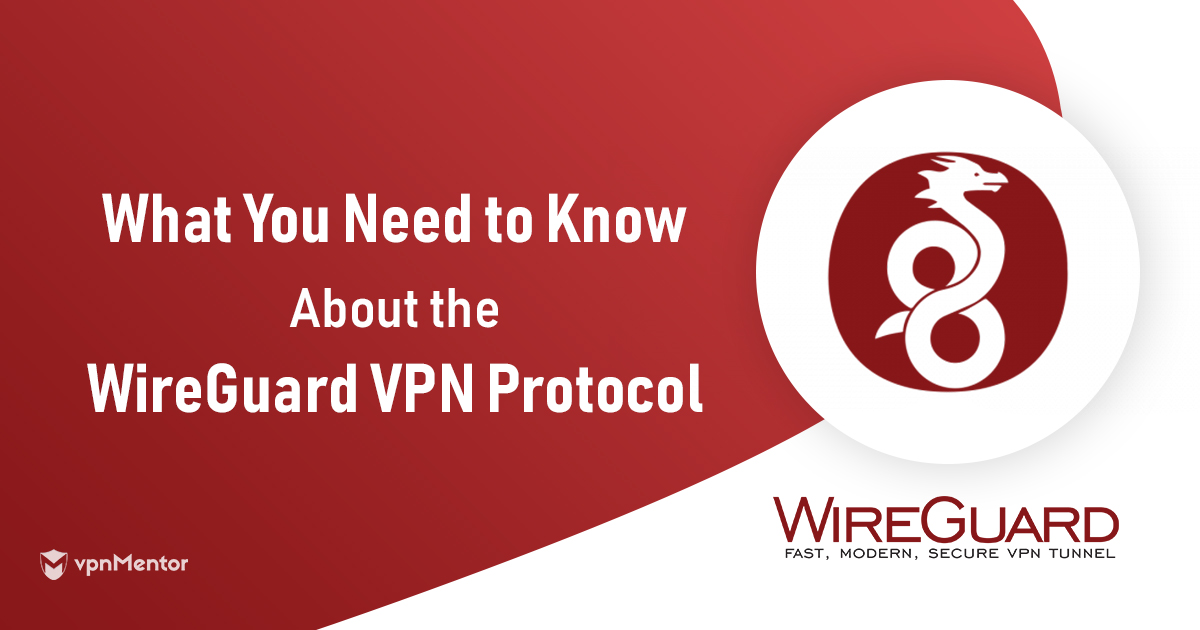 Is WireGuard the Future of VPN Protocols? 2023 Safety Update
Until now, the OpenVPN protocol has dominated the VPN industry. When WireGuard was launched in 2020, it had been over 2 decades since there had been an upgrade in tunneling protocol technology. Although OpenVPN is still highly regarded, WireGuard has been growing in popularity, thanks to its superfast speeds.
I wanted to find out why WireGuard has been causing such a stir, whether it really is a safe alternative to OpenVPN, and just what the difference is between the two protocols. There are only a handful of high-performing VPNs that support Wireguard, so I took them for a test to see how they performed in terms of security, speeds, and server features.
My top recommendation is CyberGhost. It has easy-to-manoeuvre apps that make WireGuard configuration a cinch. You can try CyberGhost with its 45-day money-back guarantee, so you can test it out and see if it's right for you.
WireGuard vs OpenVPN
A VPN protocol defines the rules of communication between your local network and the remote network. This includes the type of encryption that will be used and how user authentication operates. OpenVPN has dominated the protocol of choice in the VPN market for the last 20 years, but WireGuard is proving itself to be a worthy adversary.
With every rival technology that challenges an existing product, there are usually pros and cons to be found with each. These are the main differences:
Ease of use – Unlike OpenVPN, WireGuard is a versioned protocol. This means that upgrades are released periodically, with a single encryption that relates to each specific version. OpenVPN can only change its existing cryptographic algorithms when it is requested by the administrator.
Quicker connection speeds – Because it takes longer for OpenVPN to negotiate handshake and encryption standards every time it makes a connection to a server, this massively impacts connection speeds. When you use WireGuard, the server instantly recognizes the encryption and conjoining standards the tunnel is using.
Less code – WireGuard runs using just 4,000 lines of code. In comparison, OpenVPN uses 70,000 lines of code. There is less likelihood of bugs impacting WireGuard's performance and, in the event it does get a bug, it is way easier to find and resolve with 94% less code to trawl through than OpenVPN. Security threats are lessened as there is a smaller target — the longer the code, the more vulnerable it is. It is also far easier to maintain and audit.
Faster download speeds – The great reputation of WireGuard protocols comes mainly from its speeds when packets of data are being delivered through the tunnel. This rapidity is seen because it operates in the kernel space, which boosts speed-to-CPU ratio. In comparison to OpenVPN or IPSec, you get more speed per level of CPU usage with WireGuard. During benchmark tests, Wireguard outperforms OpenVPN in throughput and ping speed by more than 3 times.

OpenVPN falls way behind both IPSec and WireGuard in speeds

Stronger encryption – OpenVPN uses certificates for identification and encryption, while WireGuard incorporates public key encryption. Certificates include more data, such as the organization it belongs to and its expiration date. Keys just have the data needed to decode the encryption. Overall, Wireguard's encryption is far simpler and much less susceptible to downgrade attacks. Although OpenVPN has long-since been considered the safer option, WireGuard is proving that it may potentially be even more secure thanks to its shorter coding.
Potential Risks of Using WireGuard Now
Even WireGuard's primary developer, Jason Donenfeld, classified it as an experimental technology when it launched in 2020. Despite its impressive speeds and revolutionary simplicity, there are still some areas where WireGuard falls under scrutiny:
New Technology — As with all new technologies, it can take some time following launch for developers to iron out any creases and discover flaws in the systems that could cause potential problems. That said, WireGuard has been successfully audited and at the time of writing there have been no security or performance issues raised. It also previously came under fire for not having compatibility with common operating systems, such as Windows, however Windows now fully supports WireGuard.
Logging Concerns — Both OpenVPN and IKEv2 dynamically assign IP addresses. This means your VPN issues you a different IP every time you connect. WireGuard can't dynamically assign IP addresses. Instead, you get the same static IP address every time you connect. So that it can assign the same address each time, WireGuard has to log and store your real IP address and timestamps, which violates most VPN's privacy policies. Many services have issued statements saying that they will not implement WireGuard until this is rectified.
Despite these issues, many VPN's are keen to implement WireGuard thanks to its other benefits, and have developed custom security features that enable them to use WireGuard and keep users IP addresses private.
My top recommended VPNs that support WireGuard all have strict privacy and no-logs policies in place.
Get Started With CyberGhost Today!
Which VPNs Support WireGuard — Full Analysis (Updated in 2023)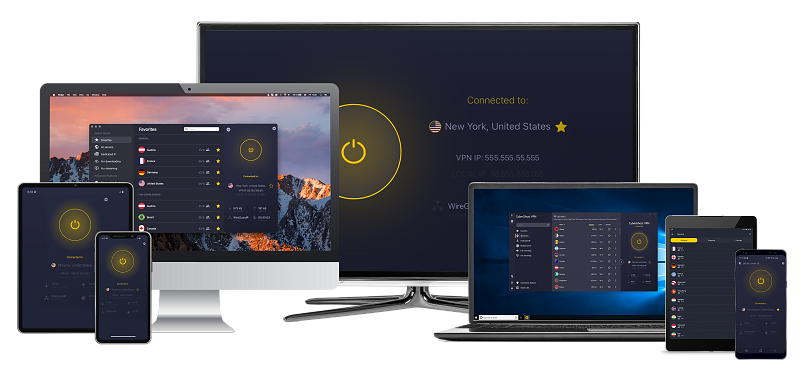 Editor's Choice
Editor's Choice

Tested March 2023
Try Risk-Free for 30 Days
Available on:
Chrome
Router
Smart TV
More
www.cyberghostvpn.com
User-Friendly Interface
9,091 servers in 90 countries
7 simultaneous device connections
Protocols: WireGuard, OpenVPN, IKEv2
Compatible with: Windows, Mac, Linux, Android, iOS, Xbox, PS4/5, and more
Cyberghost's user-friendly apps give you easy access to WireGuard, with native support in all of its mobile and desktop versions. To see how it works, I tested it with my Macbook. I was surprised how simple it was to activate; all I had to do was navigate to Cyberghost's "General" settings and change the protocol to WireGuard. This way, you can skip all of the time-consuming manual configurations.
Your browsing and streaming activity is protected by Cyberghost's top-notch security protocols. With WireGuard, it uses Cryptokey routing to protect your data. Additionally, it offers 256-bit encryption, a zero-logs policy, a kill switch, and DNS/IP leak protection. I tested for leaks with an independent tool — there were none detected. Your personal information is safe from malware, trackers, hackers, and other cyber threats.
This VPN already boasts some incredible speeds, but with WireGuard turned on, it can be even faster. My base speed before I started my tests was 17.39 Mbps. Next, I connected to Cyberghost's server in my country while using the IKEv2 protocol. This slowed me down by 23% (13.24 Mbps). When I changed to WireGuard, I was shocked to see it was actually faster than my base speed, increasing it by 2.06 Mbps. You can keep yourself protected while enjoying lag-free browsing and streaming.
CyberGhost's only downside is the expensive monthly plan that only comes with a 14-day money-back guarantee. However, the yearly plan is only $2.11/month, which is extremely competitive for a premium VPN.
You can get CyberGhost without commitment by using its money-back guarantee. If you find you don't like it, you can cancel before the super-generous 45 days are up and get a full refund. To test its refund policy, I asked the customer rep to cancel my auto renewal and give me a refund. They asked why I wasn't happy, but didn't push me to stay — all it took was a 5-minute chat and my request was approved. I had my money back in my account in 4 days.
Use WireGuard With CyberGhost Now!
Strict no-log policy
Lightning fast speeds
Unlimited simultaneous device connections
Protocols: WireGuard, OpenVPN, and IPSec
Compatible with: Windows, Mac, Linux, Android, iOS, Xbox, PS4/5, and more
PIA has great security and privacy features to keep you safe when you use WireGuard. Like CyberGhost, it has a kill switch that you can activate in the settings area, which cuts your internet connection in the event the VPN fails. During my tests, I checked its MACE protection, which automatically prevents pop-ups from appearing as you browse. I went on ad-heavy news pages and the pop-ups were all immediately prevented. This is helpful as it stops malware and trackers before they are a risk to your device. You're covered by 128 or 256-bit encryption, depending on your preference.
WireGuard is now fully implemented in its desktop and mobile clients, all of which are open source. On Linux devices, it specifies that you should install the WireGuard kernel module for the best performance. On all other operating systems, you can just click to activate in the user settings.
The only issue comes if you like to use the ShadowSocks proxy, as it's available to OpenVPN users and you can't access it with WireGuard. Still, if you're happy to use the standard VPN service, the servers are well distributed and are usually great at bypassing geoblocks.
You can now get PIA for just $2.03/month thanks to its latest discounts.
It also lets you get a 30-day money-back guarantee so you're not stuck with it if you don't like it. Cancellation was quick and easy. I messaged the support team and asked for a refund. Although I had to explain why I didn't need the VPN anymore, the agent wasn't pushy and approved my request in about 15 minutes. I had my money back within 1 working week.
High speeds
Unlimited simultaneous device connections
2,200 servers in 75 countries
Protocols: WireGuard, OpenVPN, IKEv2, L2TP, IPSec, and PPTP
Compatible with: Windows, Mac, Linux, Android, iOS, Xbox, PS4/5, and more
Although IPVanish isn't as fast as CyberGhost, I found it had excellent speeds. I wanted to test the claim that IPVanish's WireGuard protocol would give me steady connections even while switching from a mobile network to WiFi. Using its French, Dutch, and UK servers, I maintained steady connections with fast speeds and no lag. After starting with a baseline of 34 Mbps, I enabled WireGuard protocol in my settings and found that I had speeds of 31 Mbps. This is a drop of only 8%, which is excellent.
IPVanish has outstanding security and privacy features on its servers, meaning that you're fully protected from cyberattacks and data leaks. I ran its servers through multiple DNS and IP leaks with the WireGuard protocol implemented and all of them kept my identity fully secure. This is reassuring since many user's main reservations about WireGuard is privacy.
What I didn't like about IPVanish is that its server network is relatively small. However, all the locations I tested were reliable and I didn't experience any slowdowns.
You can get a yearly plan for the great price of $2.49/month. The long-term plan is far better value than the shorter term one so be sure to choose a lengthy term.
Grab its 30-day money-back guarantee to test it before you commit. It's easy to get a refund. Just access account settings on its website and click to cancel the account. I only had to provide a brief reason and submit a form. The entire process only took 10 minutes, and I had my money back in 6 days.
Use WireGuard With IP Vanish Now!
Military-grade AES-256 encryption
149 servers in 35 countries
7 simultaneous device connections
Can Unblock: Netflix, Disney+, Amazon Prime Video, Vudu, BBC iPlayer, Kodi, and more
Compatible with: Xbox, PlayStation, Windows, macOS, Linux, Android, iOS, and more
To use WireGuard with IVPN you need to do some manual configuration, but I was happy to see how secure it was. There are easy-to-follow user guides for setting up WireGuard on Windows, macOS, iOS, Android, and Linux on its website. During my tests, I had it configured and up and running in around 5 minutes.
IVPN counters the issues with WireGuard's dynamic IP assignment by allocating every user a random IP address along with the WireGuard pass key. This assures that you aren't linked to any IP address more than once. As soon as you log out, your IP and personal information is completely wiped and not stored anywhere. If you go inactive for any length of time, the server will disconnect, prompting the data wipe. It was easy to reconnect with WireGuard, so I had no problems with this extra level of security.
One downside to IVPN is that it doesn't unblock all the popular streaming services. I managed to watch Netflix US, but when I attempted to unblock Disney+, Hulu, and Amazon Prime Video, I couldn't get access.
You can get IVPN for only $3.88/week on its current cheapest plan.
If you want to test IVPN's WireGuard support first, you can get a short 3-day free trial and a 30-day money-back guarantee. I requested my money back using its 24/7 chat service. The rep tried to get me to stay and offered me a better deal, but when I insisted that I wanted to leave he approved my refund. I had my money back within 7 working days.
Fast speeds and unlimited bandwidth
801 servers in more than 41 countries
5 simultaneous device connections
Also works with Netflix, BBC iPlayer, Disney+, Hulu, and more
Compatible with Xbox, PlayStation, Windows, Mac, Linux, Android, iOS, and more
This VPN was one of the earliest to incorporate WireGuard on its apps, but because of this, its technology is perhaps falling a little behind the other top choices. To increase your privacy when you use WireGuard, you can use Mullvad's multihop feature to redirect your traffic through several VPN servers. You have to activate multihop manually, as it's not part of the full WireGuard solution, but it's simple to do this in settings.
Mullvad uses the WireGuard protocol as a default on its Android app. If you're a Windows, macOS, iOS, or Linux user, getting set up is easy. All you have to do is go to Tunnel protocol settings and select "WireGuard." The configuration is much easier than IVPN, and I had it up and running in a couple of clicks.
One downside is that Mullvad offers a weaker solution to WireGuard's privacy flaws than the other VPNs on this list. It disconnects and reconnects you automatically if you're inactive for 180 seconds, but that's the extent of its problem-solving.
At the moment, you can get it for just $5.33/month with its latest deal.
Use Mullvad's 30-day money-back guarantee to make sure you like the VPN before you commit. When I contacted them to cancel, they asked me a few questions about why I wanted to leave. I just told them I wasn't going to use it anymore, but the rep was extremely friendly — he didn't pressure me to stay. I had my refund in 10 days.
Use WireGuard With Mullvad Now!
FAQs on WireGuard VPNs
How secure is WireGuard?
WireGuard is extremely secure, but only when it's coupled with a solid VPN. WireGuard has its own state-of-the-art security protocols that ensure there are no data leaks or risks of cyberattack to its users. However, it is unable to allocate a new IP every time someone uses it, meaning that your personal data may be compromised. This isn't an issue when you couple it with a premium VPN, such as CyberGhost. VPNs hide your IP address with their own server locations, keeping your data fully protected at all times. You can get CyberGhost for just $2.11/month on its longer-term plans, so you can try it risk-free.
Is WireGuard better than OpenVPN?
WireGuard is arguably better than OpenVPN. This is due to its exceptional speeds at transferring data packets, and streamlined code, which enhances its performance in areas such as bug prevention and auditing. However, OpenVPN allocates every user a new IP address every time it is used, which is something that WireGuard can't do. Because of this, many VPN providers are happy to retain OpenVPN with its slow speeds until WireGuard's developers manage to fix the issue. All of the VPN's in my recommended list have developed ways to use WireGuard while protecting user IP addresses, so you can have the speed and the security of both.
Is my privacy at risk with WireGuard?
If you use WireGuard without a supporting VPN, your privacy may be at risk. This is because WireGuard is unable to allocate users a different IP address in the way OpenVPN does. To get around this, my recommended VPNs have developed technology that resolves the issue and maintains user privacy, while simultaneously using WireGuard.
Can I use WireGuard with Windows?
Yes, you can use WireGuard with Windows. It took longer for the developers to release a Windows-compatible version than many other popular operating systems, but WireGuard is now fully compatible with Windows. All of my top recommended VPNs have native Windows apps, so you can use WireGuard safely every time you go online.
Is WireGuard available on macOS?
Yes, WireGuard is available on macOS. It is still in the Beta testing phase for some VPNs, and may require additional steps at the point of configuration to enable privileges on its kernel. My favorite VPN to use with mac is CyberGhost. You can use WireGuard with macOS when you enable CyberGhost's "Helper Tool", which opens the correct dialog to a steady and secure WireGuard connection. You can get CyberGhost risk-free for 45-days when you sign up today.
Get Started With CyberGhost Today!
Get a VPN that Supports WireGuard Today
WireGuard is an exciting development in the VPN world. Although there are some concerns about it being a juvenile technology with possible privacy issues, when it is used alongside top-quality VPNs, WireGuard is proven to be fast, secure, and reliable.
Out of the WireGuard supporting VPNs I shortlisted, I recommend CyberGhost because it has simple apps, an immense network of global servers, and full encryption and security features with every plan. You can get it now for just $2.11/month and try it risk-free. If you don't like it, you can claim a refund within 45 days.
To summarize, the VPNs that support WireGuard are...
Privacy Alert!
Your data is exposed to the websites you visit!
The information above can be used to track you, target you for ads, and monitor what you do online.
VPNs can help you hide this information from websites so that you are protected at all times. We recommend ExpressVPN — the #1 VPN out of over 350 providers we've tested. It has military-grade encryption and privacy features that will ensure your digital security, plus — it's currently offering 49% off.