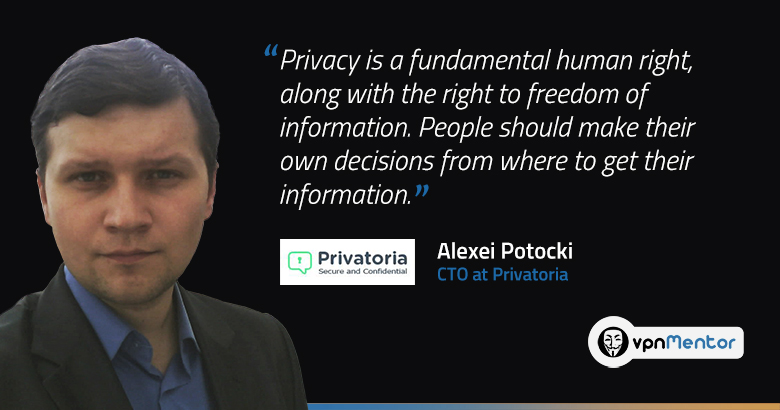 More Than Just an Ordinary VPN Provider; An Interview with Privatoria
Privatoria is a Czech-based VPN provider whose mission, according to their website, is to "uphold the right for privacy, which is guaranteed by the Universal Declaration of Human Rights." They pride themselves on the fact that they offer unique services that many VPN providers do not, such as VPN Plus Tor and their encrypted email service. We caught up with them to what their service is all about. Share
Please describe your background as a company. what's inspired you to start a VPN service initially?
Privacy is a fundamental human right, along with the right to freedom of information. Nowadays these rights are often violated and limited worldwide. We know many instances of blocking social networks, news media sites and even messengers in different countries. We are not talking about online resources that are relevant to crime. We are all about free access to information. People should make their own decisions from where to get their information. They should be confident that their online life is also protected from unauthorized snooping. That's why our technological team set a goal to develop a service that will ensure protection of privacy and freedom of information.
What is the difference between VPN, Tor and Proxy? What scenarios are they most suitable for?
All of these services hide your real IP address and let you surf anonymously, as well as view blocked sites. They encrypt user's traffic to varying degrees. Proxy encrypts only web browser traffic. Other online software remains unprotected (for example, mail client, games and other apps). This service is most suitable to change an IP in one click to get access to blocked sites, by surfing from another country. For easy use we've developed a Google Chrome extension.
A VPN is no different, except it encrypts all of your traffic, including web browser and other apps. A VPN also protects from malware and phishing threats. Privatoria VPN offers static IP addresses.
There are a lot of debates around the best solution: VPN or Tor. We decided not to argue and to provide the user with a double protection. Tor directs Internet traffic through a free, worldwide, volunteer network consisting of more than seven thousand relays to conceal a user's location and usage from anyone conducting network surveillance or traffic analysis.
What are main advantages using VPN Plus Tor?
Double protection
Tor is a very reliable way to ensure anonymity, but hackers periodically find loopholes to identify users. VPN Plus Tor allows Privatoria users to protect themselves from such intrusions. To be hacked via Tor, user must first be identified. Tor only sees the IP address of the Privatoria VPN server.
We do not have any information about users because we do not keep logs. Therefore, in the case of a theoretical compromise of the Tor, user will be additionally protected at the threshold of the VPN.
Easy to use
At the moment, surfing through Tor requires to download and install a Tor-browser and adjust certain settings. Often it is quite difficult for an ordinary user to do this.User should have at least a basic understanding of the functioning of the network. With Privatoria, even users without technical knowledge have the opportunity to redirect their traffic through Tor in any browser and any OS without additional software.
3. Quality
It is important to note that not all Tor nodes are always working. Privatoria checks chains, in real time, and only provides access to known working Tor nodes. This type of connection provides dynamic IP addresses. Additionally, this type of connection allows users to hide from their ISP. Nevertheless, this method of connection is slower than a simple VPN due to the technological peculiarities of Tor.
To sum it up, it should be noted that deciding which service to use depends on the purpose.
For fast and easy IP changing, a proxy service is most suitable. No technical expertise is required to do this.
To get traffic encryption, unblock websites which are not available in your region, watch streaming content and stay secure online, VPN is the optimal choice. VPN also protects user's personal passwords, bank accounts and credit card details from anyone who might steal them.
For online paranoids, who wish to protect themselves online without Tor browser, VPN Plus Tor is the best choice.
Privatoria offers solutions for everybody.
What can you tell us about your anonymous email service?
We understand that traffic encryption is one of the components of online privacy. No less important is protecting online communications. Privatoria offers an Anonymous Email service that enables users to get PGP email encryption so that no one can access their files and messages. Using other Privatoria services at the same time, a user is able to change their IP address to send anonymous email to be sure no one can track him.
What is your policy with regards to data retention and content monitoring?
Privatoria does not keep user activity logs. This includes IP addresses, browsing, download history, and any other traffic logs. This also concerns data mining and traffic analysis.
For this reason, we were forced to block P2P traffic. We were faced with numerous complaints from copyright holders (movies, music and software). Since we do not store user logs, we cannot block the infringer of copyright separately. So we had to block all torrents on the system level.
Your prices are significantly lower than your competitors. How do you manage to do that?
Periodically, we correct the pricing policy of our service after adding new features that enhance the value. For example, when we launched Privatoria, we offered only one VPN server in Germany. Therefore, the price then was very low. We grow and develop our service in order to better meet the needs of our customers. Currently, Privatoria provides access to 25 countries via Secure VPN service, and more than 60 countries via Web Proxy Tor service. We are working to grow this list. We also offer such services as VPN Plus,Tor, Web Proxy, Tor Web Proxy and Anonymous Email with PGP encryption. Our mission is to give more than an ordinary VPN provider.
It is on this basis that we determine the prices, but we always adhere to the balance between price and quality. We believe that privacy protection should be accessible to everybody.
What measures do you take to protect user data from outsiders as well as your own employees?
As we mentioned above, Privatoria does not store user data. We have the minimum information that is required for the authentication process. This information is stored in the encrypted form at our servers. Only a limited number of employees have access to work with it. We adhere to the highest security standards to protect the service from external attacks.