Keeping Your Chitchat secure: Are Viber, WhatsApp and FaceTime Secure? What About the Others?
Whether it's a personal secret, a company agenda, a business deal or simply breakings news, here's a look at how to keep our private conversations, private. Share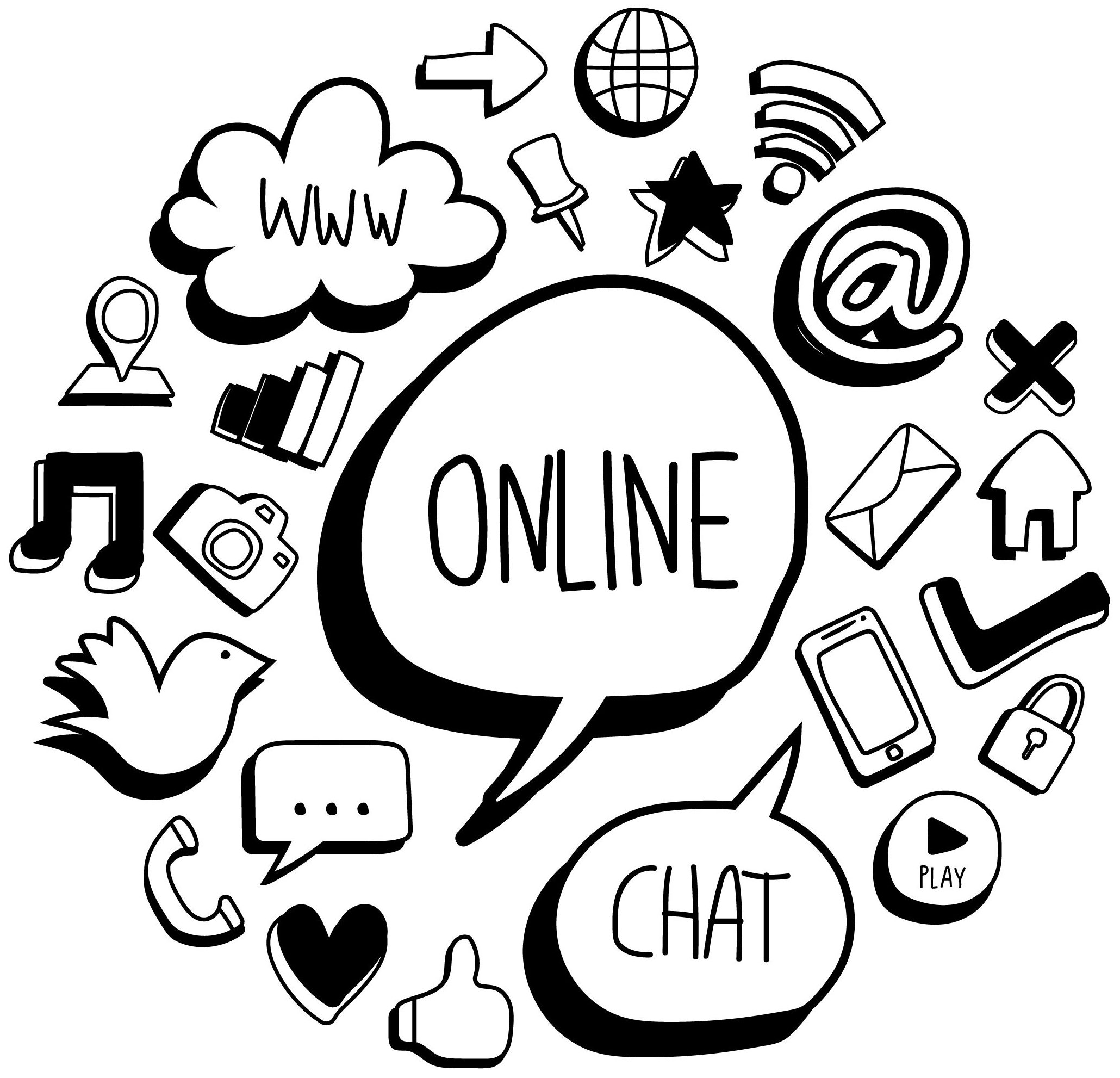 In a world where texting has replaced meeting up for an afternoon coffee; where one can spend hours chatting online when they are actually miles away from anyone; where group chats have replaced family gatherings or bar nights, it's only natural that we should be con
cerned about who is eavesdropping on our online chit chat.
Whether it's a personal secret, a company agenda, a business deal or simply breaking news, here's a look at how to keep our private conversations,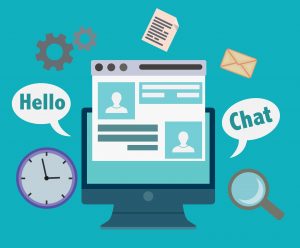 private.
First, let us consider the facts:
Truth be told, we are a chatty lot. Reports show that WhatsApp users – which boast over 1 billion worldwide – send approximately 42 billion messages daily. Facebook chat is second on the list, reaching 1 billion users in July 2016.
Then comes WeChat. As of March 2016, China's mobile messaging app WeChat had 762 million users globally, according to parent company Tencent. Viber reports over 600 million users, while Line numbers over 200 million.
That's a lot of talking indeed.
Now just imagine the data stored in chat history:
places you've been
pictures
email addresses
online banking codes
scan of IDs
details about relationships
phone numbers
addresses
Heimdal Security – a company that specializes in protecting users and companies from cyber-criminal activities, among other things, created an eye-opening diagram revealing the web of data associated with chats.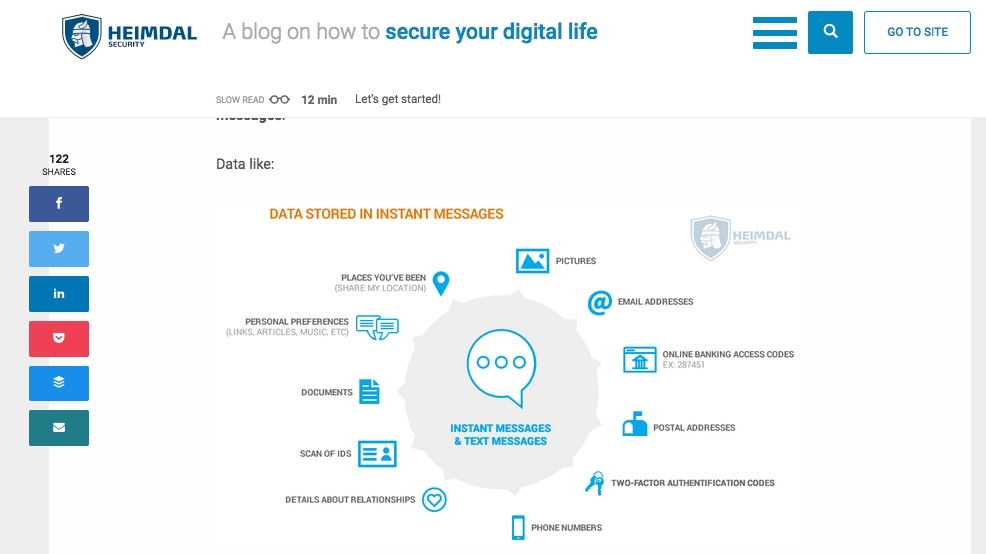 You get the picture. A lot of talking, a lot of data and, with that, comes many nosy parkers feasting on those conversations.
So how do we secure our privacy on online chats app?
The basic security system:
First of all, always select an app that offers end-to-end encryption. End-to-end encryption means only the sender and recipient can see each other's messages. They can't be decoded along the way, not even by the app maker.
Without this feature, your conversations are at the clutches of the infamous terrible three predators: hackers, governments and marketers.
In 2016, WhatsApp implemented end-to-end encryption, making the most popular chat app, arguably one of the safest as well.
Their website states,"privacy and security is in our DNA, which is why we have end-to-end encryption in the latest versions of our app. When end-to-end encrypted, your messages, photos, videos, voice messages, documents, and calls are secured from falling into the wrong hands.
WhatsApp's end-to-end encryption ensures only you and the person you're communicating with can read what is sent, and nobody in between, not even WhatsApp. Your messages are secured with a lock, and only the recipient and you have the special key needed to unlock and read your message. For added protection, every message you send has a unique lock and key. All of this happens automatically: no need to turn on settings or set up special secret chats to secure your messages."
Sounds rather foolproof, doesn't it?
Facebook soon followed suit, calling the feature "Secret Conversations," introducing it to its over 1 billion users in April 2016.  The opt-in feature allows users to encrypt their messages so that no one can read them except the two people on either end of a conversation. "Your messages are already secure, but Secret Conversations are encrypted from one device to another," stated on its website.
Although these big wigs do offer safe services, it doesn't mean every app out there is as secure. It also means that there are safer options than WhatsApp and Facebook messenger that are often overseen.  
Breaking it down further:
According to the Electronic Frontier Foundation – the nonprofit organization defending civil liberties in the digital world –  many companies offer "secure messaging" products, which do not necessarily mean they are secure.
To that effect, the Electronic Frontier Foundation took it upon themselves to devise a rather thorough scorecard, detailing levels of encryption. To see their website, click here.
The 7 questions investigated for 27 chat apps:
Are your messages encrypted at all stages of the communication?
Is the encryption end-to-end so the messaging company can't access your communications?
Can you verify whom you are messaging?
If your encryption keys are stolen, are you your previous communications safe?
Can the app's code be independently reviewed?
Is the design and implementation of the cryptography documented and available for review?
Has the code and implementation been independently audited in the last year?
Among those chat apps that strike 7 out of 7 on the scoreboard are Signal, Telegram and Silent Phone.
Signal – free and open source software developed by the team of Open Whisper Systems in San Francisco – scores top m
arks. Unlike WhatsApp, Signal – which is available for iPhone and Android – doesn't store any message metadata. What also sets Signal apart is that it is entirely open source. Finally, if you back up your phone to your Google or iCloud account, Signal doesn't include any of the messages in the backup.
Next comes Telegram. Founded by Pavel Durov, who previously founded the Russian social network VK, the Telegram messenger has a special feature "Secret Chats." "With Secret Chats nothing is stored on our servers, you can automatically program the messages so that they destroy themselves on both devices," according to the website.
Finally, Silent Phone also gets 7 out of 7. Silent Phone provides encrypted voice, video, and messaging created by Silent Circle, an encrypted communications firm based in the Canton of Geneva, Switzerland. Silent Phone allows users to make end-to-end encrypted phone calls from iPhones, iPads, and Android devices, including the company's own hardened Blackphone 2. What's more, the app has recently been proven secure to be used on US government networks.
So there you have it. Take your pick!
We strongly recommend you follow the scoreboard for the safest chat app before jumping into your next conversation.