How To Live Stream RTE Outside Ireland in 2020 [Super Easy Hack]
Updated on 19th March 2020
Trying to unblock RTE Player from outside Ireland? No worries! The VPNs on this list can unblock RTE player from anywhere in the world. Share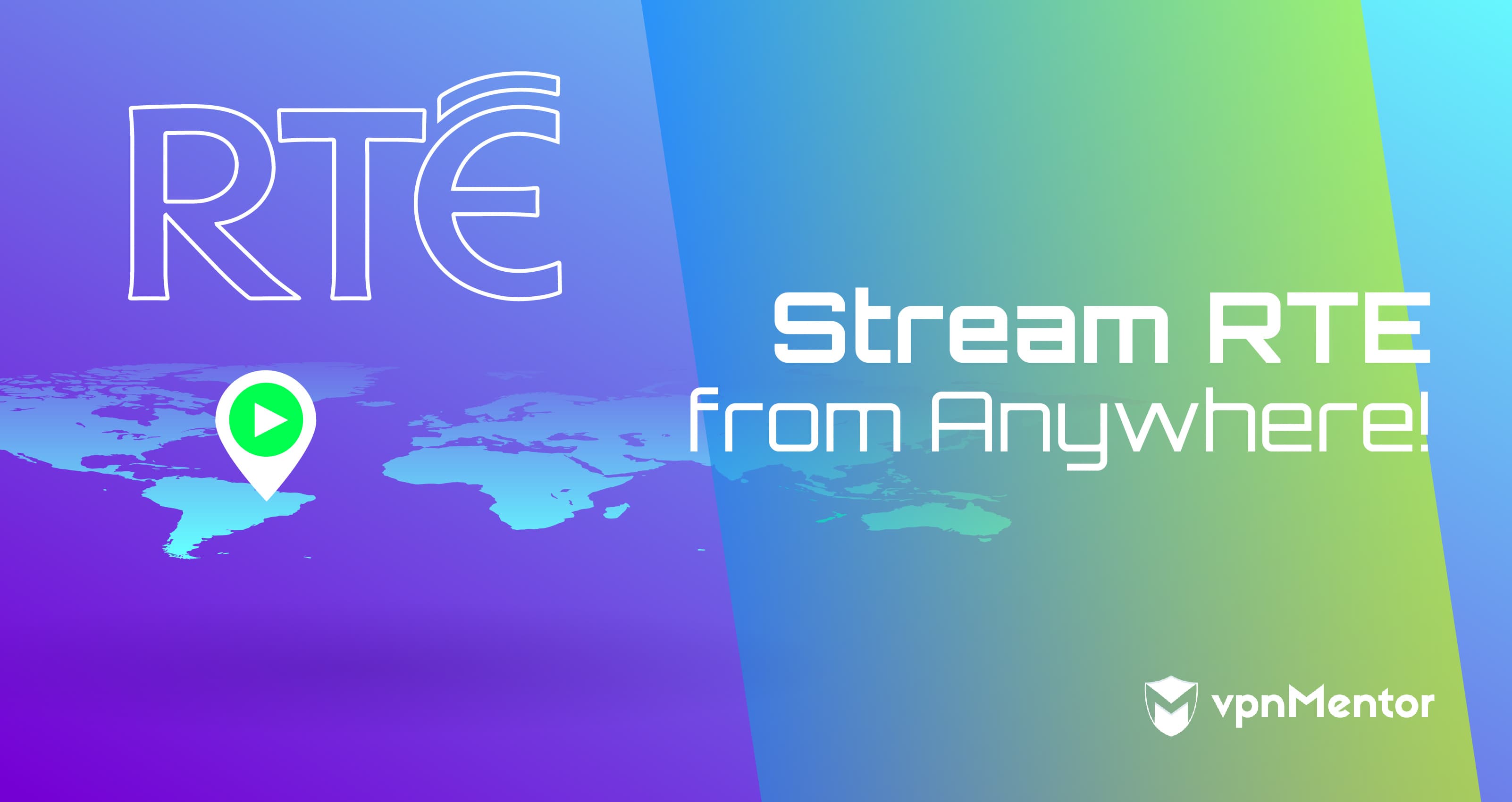 If you're one of the 1 million Irish people currently living abroad, you probably share a frustration felt by many: you miss your favorite TV from home.
Maybe you're trying to keep up with Ros Na Rún or Fair City. Much more likely – and a lot more important – you're missing the hurling and football every weekend. 
The solution is RTE Player. It offers live streaming every major GAA match, alongside all your favorite Irish TV, and much more. However, if you live outside of Ireland or leave to go on holiday, you'll be unable to access any of this.
 A VPN easily fixes this, by unblocking RTE Player from anywhere in the world. You'll get access to all your favorite TV from Ireland and never miss another live county final.
To help, we'll show you how to live stream RTE from anywhere in the world, in a few easy steps, using the best VPNs in the world.
Quick Guide: How to Unblock RTE Player Using a VPN
Download and install a VPN. We recommend PrivateVPN for RTE Player.
Connect to a server in Ireland.
Log on to RTE Player and start streaming!
Why You Need a VPN to Unblock RTE Player
As Ireland's state broadcaster, RTE only wants people who actually live in Ireland to access their content, especially anything broadcast live. To restrict access from overseas, RTE Player uses powerful geoblocks, based on the physical location of your IP address.
Whether you're located in Sydney, Australia or Sofia, Bulgaria, if it sees you are outside of Ireland, RTE Player will block you from live streaming its content.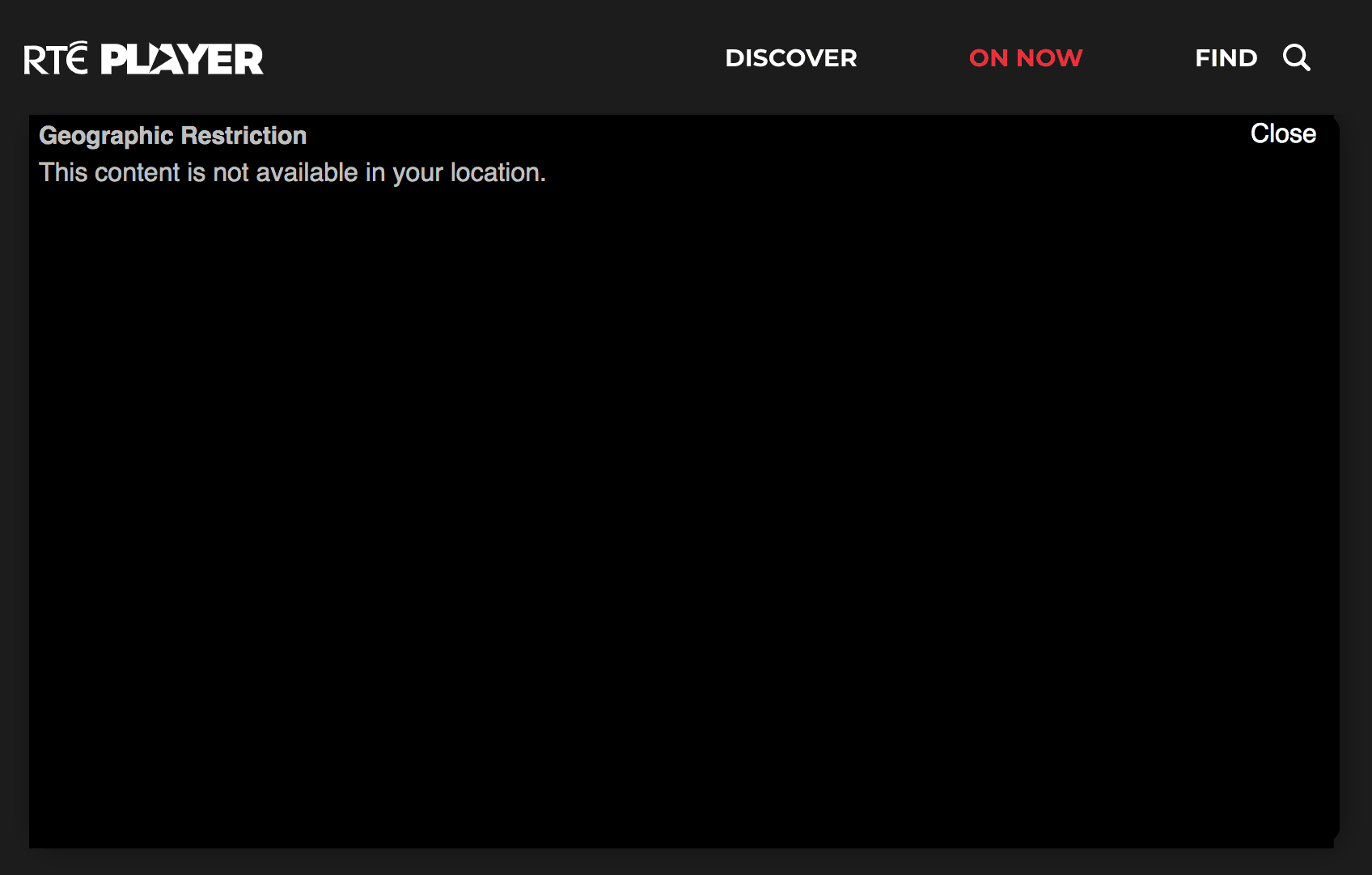 By installing a VPN, you can trick RTE Player into thinking you're based in Ireland. A VPN allows you to hide your real location and move your IP address all over the world. In this case, moving your IP address to Ireland will unblock RTE Player.
VPNs also use powerful security features to hide your online activity, keep your identity hidden, and even speed up your internet. Not only can you live stream RTE from anywhere in the world, but you will also be much safer while online. 
However, not all VPNs are powerful enough to unblock RTE Player. Streaming platforms hate VPNs and do everything they can to block them. Make sure you choose a VPN that can bypass geoblocks and remain undetected by RTE Player. 
To help you out, we'll quickly show you just how easy it is to set up a VPN. After that, you can choose from our top 5 VPNs and decide which one is best for you.
The Top 5 VPNs for RTE: A Quick Glance
The right VPN should do more than just allow you to stream RTE. It also needs robust security and a wide range of other features. We've selected the 5 best VPNs on the market to meet your every need.
1. PrivateVPN
PrivateVPN is a great choice for a beginner. The interface is incredibly easy, but it hasn't sacrificed speed or security to make it so. Combined with excellent support, this makes PrivateVPN great value.
2. Surfshark
Surfshark boasts unrivaled abilities to bypass any and all geoblocks. An up-and-comer in the VPN space, Surfshark has proven increasingly popular for its simple interface, great value subscriptions, and amazing customer support.
3.  VyprVPN 
VyprVPN's proprietary Chameleon protocol can bypass geo-restrictions and VPN blocks without being detected. It operates 700+ high-speed servers in countries across the globe, including Ireland.
4. ExpressVPN
ExpressVPN guarantees consistent connections and seamless streaming. The VPNs speeds are boosted by an easy interface, military-grade security, and plenty of customizable features.
5. CyberGhost
Dedicated to privacy, CyberGhost will make you undetectable to the outside world. This VPN will not only get you access to RTE Player, but keep you anonymous and safe from harm while online.
To learn more about each of these VPNs, check out our complete review of the best VPNs in the world. 
Can You Use a Free VPN for RTE Player?
Free VPNs claim to be just as effective and safe as premium VPNs, but this is usually not possible. If it were, there would be no premium VPNs. This is especially true when it comes to bypassing geoblocks. Free VPNs have limited servers and basic security tools, too weak and limited to go undetected by streaming platforms likes RTE Player. 
They also come with a wide range of security and usability issues. Many free VPNs have been caught monitoring users' online activity and selling this data to advertisers. They also deliberately slow down your internet connection and bombard you with ads, hoping this will push you to upgrade to a paid package.
For a more enjoyable and safer experience, invest in a premium VPN. Aside from gaining access to RTE Player, you will benefit from greater privacy and security while using the internet. All the best premium VPNs also offer a risk-free 30-day money back guarantee, so you can try them out for free and see the difference.
Summary
Combining a good VPN with RTE Player, you can get access to all your favorite Irish TV from anywhere in the world. You'll never again have to worry about missing another GAA match or an episode of The Late Late Show.
With the right VPN, not only will you be able to live stream RTE quickly and easily, but your entire internet experience will be transformed. A VPN makes the internet quicker, safer, more private, more open, and a lot more enjoyable.
You can see for yourself within minutes, by signing up to PrivateVPN risk-free, with a 30-day money-back guarantee.
Further Reading
Interested to learn more about VPNs? Check out our complete guide for newbies.
When you understand the incredible benefits of VPNs, take a look at our exclusive deals and coupons.
How about Netflix? Only the most powerful VPNs can unblock its content. We've tested and selected the very best.