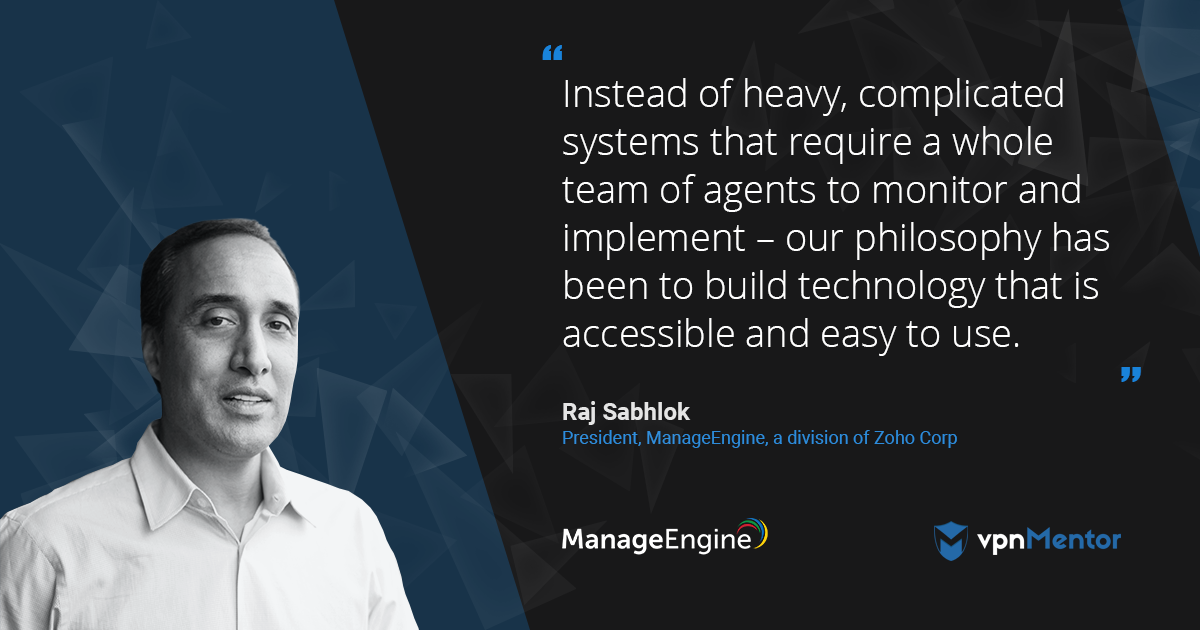 ManageEngine – Easy-to-Use IT Management
In the past, IT management was a space dominated by expensive, cumbersome and complicated technologies that were only accessible to very large companies.  Raj Sabhlok, President of ManageEngine, talks about the development of easy-to-use IT management technologies for small and medium-sized businesses in an increasingly technological business environment.
Tell us about ManageEngine, the history of the company and what it does.
ManageEngine was founded in 2002 and is the IT division of ZOHO Corporation. Back in 2002, there were just a handful of IT software management companies that primarily targeted large, Fortune 500 companies and offered complex, expensive solutions that required large and sophisticated IT teams to implement. We saw the opportunity to provide solutions for the thousands of small and mid-sized businesses that were using technology for their businesses, including running their own servers, apps, and the like, but couldn't bring in the massive solutions on the market.
ManageEngine today has ‌over 90 products and free tools for organizations of any size to manage their IT.
How did you get involved in the company and IT?
I've always been involved in software and the IT management realm. Initially, I worked at the Santa Cruz Operation, which built and distributed UNIX. After about seven years at the Santa Cruz Operation, I moved on to BMC Software where I ran strategy and did a lot of work with Mergers and Acquisitions (M&A). There, I gained an understanding of the challenges associated with M&A and actually became quite turned off by the concept. I saw that few transactions really developed well and synergized well.  Eventually, in 2007, ZOHO's CEO invited me to come and join the management division, and I've been focused on that ever since.
IT Management is pretty broad field – what makes ManageEngine stand out?
What we've focused on is changing the way people think of IT management. Instead of heavy, complicated systems that require a whole team of agents to monitor and implement – our philosophy has been to build technology that is accessible and easy to use. It's hard to imagine now, but some of these larger systems require dedicated, standalone consoles to run and that's just not feasible for small to mid-sized businesses.
We were also one of the first management companies that offered a download trial. Historically, IT management was ushered in with a group of experts, and they would rarely let you touch the product.  As a startup, we didn't have the physical locations and people to follow that model – nor do we believe in that model.
What products and services does ManageEngine provide to clients?
Our first product was a network monitoring tool, OpManager, which is still available today. From there we developed ServiceDesk Plus, which is a collaboration point for all things that go into IT and that became a massive hit for us. That put ManageEngine on the map, and from there we went on to build our portfolio of comprehensive IT solutions including:
IT Operations
Active Directory Management Solutions
End-point management
IT Security
IT Analytics

You talked about how ManageEngine provides solutions for smaller companies – how small are some of your clients?
Our clients range from Fortune 500 companies with thousands of employees down to smaller businesses with a few hundred employees – 300-500 is a small business in the IT management world. If you are smaller than that, then you might not have an IT department or the infrastructure that requires it.
Have you ever ventured into the Public sector?
We have a number of government clients that have adopted our technology, including here in the US.
Things are still rapidly changing in the IT world, whether it's new security challenges or automated services – how does ManageEngine maintain its competitive edge?
Essentially, we are an IT company. A lot of the management companies develop IT solutions, but we actually develop solutions to our own problems or needs, test them internally and, sometimes, develop it so that it provides a useful service for the broader market. And we can do this because of our own significant infrastructure – both ManageEngine and our sister company, Zoho.com – that includes eight global data centers servicing 35 million users. That provides a great environment for us to learn and test new technologies. Many of our products have come through this system, and it helps us maintain a connection to what others will need as well.