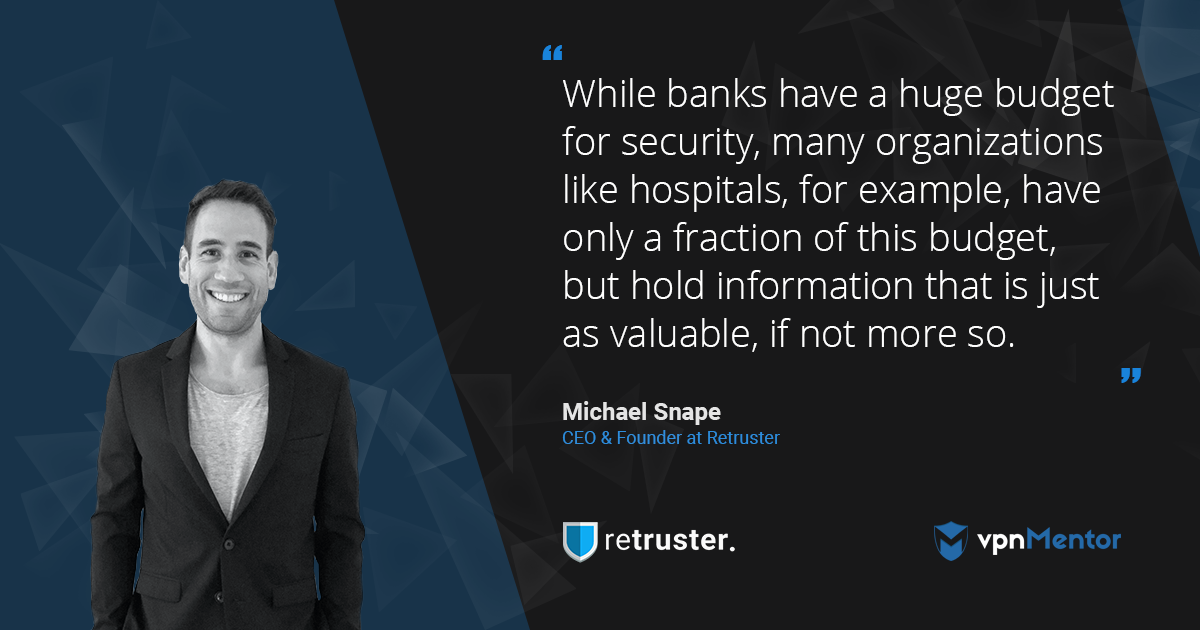 Meet Retruster - The Ultimate Security Addon to Fight Email Scams
Not every email you receive deserves your attention, especially not ones trying to scam you. Using proprietary algorithms and deep background checks, Retruster scans your incoming email, alerting you to phishing, malware and ransomware attacks, and puts the power back in your hands, as CEO Michael Snape explains. Share
What's Brought you to Establish Retruster?
I come from a financial background, being a CPA. A few years back, while working in the financial department of an organization, I received an email from the CEO, instructing me to transfer money to a supplier. While it looked like a completely normal email, it subsequently emerged that the email was fake. It looked real, it came from the CEO's real email address, but it was fake. I realized this was a massive global problem and decided to create a solution that will prevent it.
The naked eye cannot tell the difference between a real, genuine email, and a fake one. And it's really easy to fake sophisticated emails. Our company, Retruster, immediately tells you if emails are genuine or not. Furthermore, with Retruster in place, you limit your exposure to threats like malware and ransomware.
What's unique about Retruster?
We're an add-on to your current system, so there's no need to install anything on your computer or change your email settings. Within 3-4 clicks you are all setup and protected. As a vendor that understands that businesses have more important things to do than waste resources on setting up emails, we emphasize simplicity alongside protection. A lot of security solutions today are very complex to understand. With Retruster, you do not need an IT expert to assist you. You do it yourself once, and your entire company is immediately protected.
Email fraud affects everyone in the company. It can affect the new interns that just started yesterday, who might not be familiar with phishing techniques, or even be aware that the problem exists. They may get an email from a big client, for example, asking them to send the latest draft of a secret contract. It'll already be too late when you discover that the email wasn't really from the client, and the information has been compromised. These kinds of events have a massive impact not just on the intern or client, but also on the marketing and financial operations of the business.
The bright side is that we're at the cutting edge of technology. Our solution uses Machine Learning and Artificial Intelligence to learn how each of your team members work. Every employee will get a personalized solution based on their normal behavior, so that every anomaly is detected and alerted in real time, before any damage is caused.  
How does email fraud take place?
When most people think about email fraud or phishing, they think about emails saying: "Well done you've won the lottery, come claim your prize". In reality, those kinds of emails will normally go to your spam folder without you even seeing them. If you did see them, you're most likely to ignore them, because we all know there are no free gifts in this world and that you have not just inherited money from a long-lost family member in Nigeria.
What we're interested in is fraudulent cases where things aren't as black and white. These can be drilled down to a few main types:
Phishing or whaling targets a specific person in the company, normally in a senior position, whose name and email can easily be found on LinkedIn or elsewhere online. Then, another employee is targeted with an email from that person, asking them to urgently transfer money to an account for a secret project they're working on, or to send some kind of confidential information.
Let's talk about supplier fraud as another example. You get an email from your supplier, saying they had changed their bank account, and asking you to send all future payments to a new bank account. The email appears to have been sent from the real email address of your supplier, and looks completely genuine. This kind of scenario happens all the time, causing companies to lose money and damage their relationships with suppliers.
Then there is Data leakage, where it's not money leaving the organization, but information. Someone emails a law firm or accounting firm, asking them to send the latest contract or financial statements. That's secret information now leaving the company in an unauthorized way. With the naked eye, you wouldn't be able to tell it is fake.
Finally there's ransomware, where fake email is the preferred method of delivery. Again, they will use the address of someone you already know and trust to inject malware or hijack your files. All of these threats can be stopped with Retruster.
We focus on what we do best, our product ensures that the person is genuine and they are who they say they are. We look at everything about the email and flag anything suspicious, without taking you out of your everyday business routine. We focus on simplicity and user-friendliness, so you don't have to be a tech genius to use the solution.
What are your thoughts for the future?
Compromised online communication is a hot topic these days. We're not just talking about communication between two humans, but also communication between things. With IoT devices and autonomous vehicles communicating between themselves without human interference, we are all exposed to malicious actors. Therefore, we have to authenticate communication between humans right now, and be prepared to authenticate devices as well, making sure they are genuine, flagging the anomalies and immediately alerting about anything that looks suspicious.
Technology sometimes runs ahead of security. New devices and new ways to communicate are being created, but security has not yet caught up. Infrastructure, for example, is vulnerable. A couple of years ago, the Iranians hacked a New York dam, almost causing catastrophic consequences. This might well be the new frontier of global terrorism.
Many organizations sorely need protection against these threats, particularly as our world continues to move online. While banks have a huge budget for security, many organizations like hospitals, for example, have only a fraction of this budget, but hold information that is just as valuable as the banks, if not more so.
When it comes to autonomous vehicles, within a few years it'll be our day-to-day reality. There have already been a few security incidents, and the last thing we need is vehicles being hijacked remotely. That's another area we're watching very closely.
Protecting yourself is often something that people only realize is needed after something bad happens. I encourage readers to be proactive and make sure they are protecting themselves and their organizations.