Netflix Proxy Error – How to Fix it with a VPN (Very Easy Hack)
"Whoops, something went wrong... You seem to be using an unblocker or proxy. Please turn off any of these services and try again." Learn how to fix this message and stream your favorite TV shows and movies. Share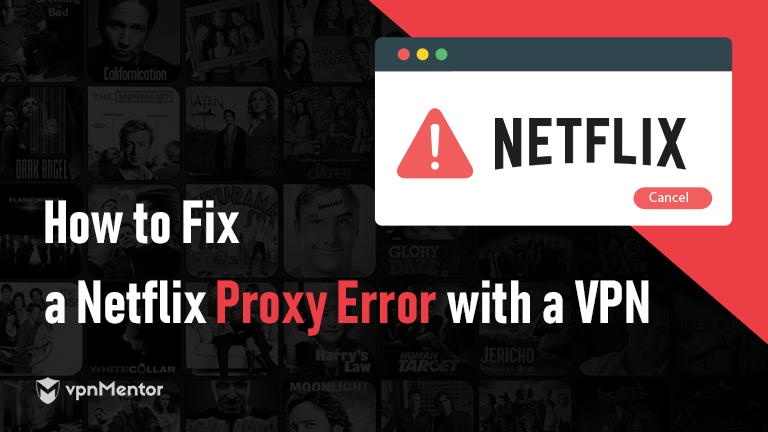 Netflix's proxy error can be a pain sometimes.
Everyone loves Netflix! But if you don't live in the US, you have fewer shows and movies to watch.
Copyright laws prevent Netflix from offering the same amount of content across the globe.
Typically, a VPN can change your geolocation and access the US Netflix catalog. But now, Netflix can detects when you're using a proxy or VPN. Instead of your show, you'll get the infamous error page.
Don't worry! We've got your back. Below, we tell you how to bypass the Netflix Proxy error and how to fix it with a VPN.
If You Don't Have a VPN, You're Going to Want One
VPNs, or Virtual Private Networks, connect you to different servers around the world.
These servers essentially change your geolocation and IP address, making websites think you're coming from a different location.
VPNs can also protect your privacy and security. If you want to learn more about how VPNs work, click here.
Ideally, you should be able to access Netflix with any VPN, but that's not the case.
Why Can't I Watch Netflix With My VPN?
There's nothing more frustrating than planning to watch Netflix only to realize the movie you were going to watch is blocked.
Because so many people attempt to watch Netflix's entire library from around the world, Netflix caught on.
The company heavily cracked down on VPN workarounds and DNS proxies.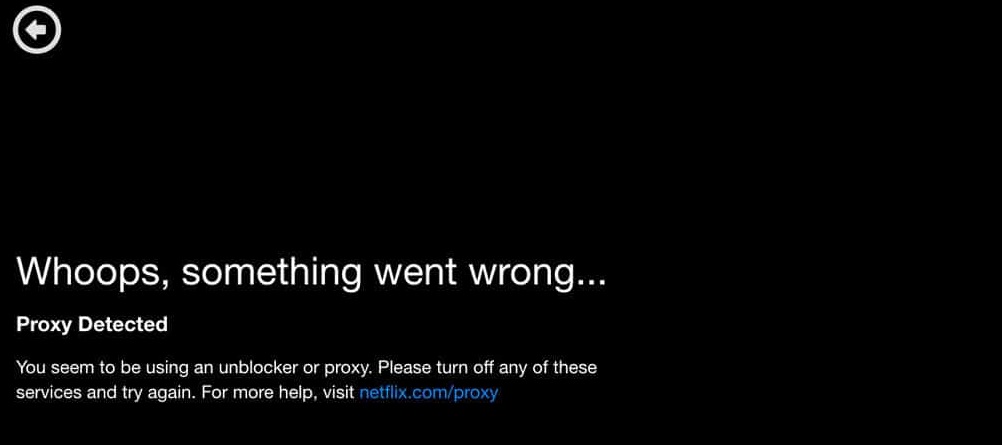 "Whoops, something went wrong… You seem to be using an unblocker or proxy. Please turn off any of these services and try again."
Netflix's proxy detector automatically blocks content to anyone using a VPN or proxy.
Netflix even goes the extra mile frequently blacklisting known VPN addresses and DNS proxies, similar to the BBC iPlayer.
This means that even if your VPN successfully accesses Netflix, it might not the next day.
So what can you do about it?
A Good VPN Won't Have This Problem
While we wish every VPN could easily access all of Netflix's content, it's just not true.
The best thing to do is use a tried and tested VPN that repeatedly bypasses Netflix's VPN block.
These VPNs are sure to help you watch all of your favorite shows and movies.
Look, there's no guarantee that a VPN that can work, but there are a few that have proven themselves time and time again.
ExpressVPN  has the best reputation for unlocking all of Netflix, but if you don't want to pay that much for a VPN,  NordVPN is your next best bet.
Both companies have a 30-day money-back guarantee and have excellent customer support.
Other providers, like PIA and PureVPN cannot unblock Netflix and state this on their website.  Unlocator went on record as saying it has a solution "in the works" for a long time now.
Want to Try It for Free?
You already pay for your Netflix subscription, why should you pay for a VPN?
Here's the deal. Free VPNs and DNS proxies won't be able to access Netflix. Even if they do, we guarantee you'll have to refresh the page a few times, and you'll have to find a new VPN very soon.
Bottom line: you need a good VPN. You can watch your favorite shows, but you'll need a good VPN to access them.
Check out our best VPNs for Netflix, and you'll be able to "Netflix and chill" whenever you want!
You might also like: