Netflix Proxy Error Code M7111-5059 – Quick Fix in 2020
Updated on 6th October 2020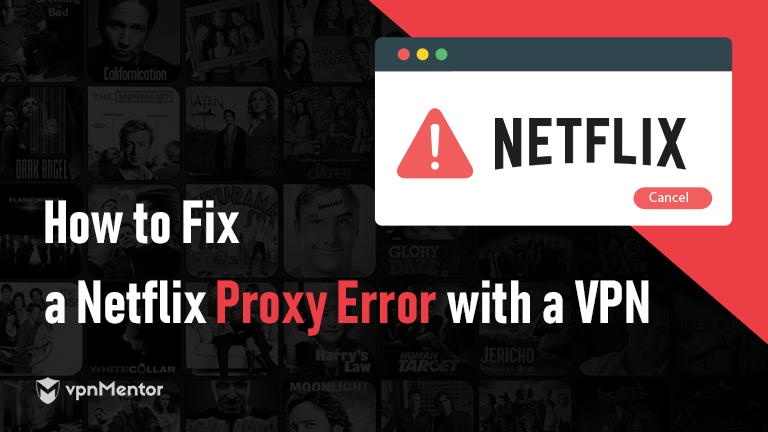 The Netflix proxy error (officially called Netflix Error M7111-5059) shows up in very specific situations. And it's always a disappointing experience to see this message on the screen.
When trying to access the best of Netflix with a VPN, you may end up with a "proxy detected" message on a black background instead of the movie or series you're waiting to stream.
Some people in certain geo-locations may also see the M7111-1331-5059 displayed on their screens.
This shows that your VPN is struggling to get past Netflix's advanced anti-unblocking detection.
Don't worry – there's a simple solution to this problem! Below, we'll tell you how to bypass the Netflix proxy error, as well as why it exists and which VPNs are the best for the job.
How to Fix the Netflix Proxy Error
The Netflix proxy error shows up when the system detects that you're trying to access its catalogs using a proxy or VPN. This is due to licensing agreements – you're only allowed to access content that's allowed in your country.
The Netflix proxy error usually shows up when:
your current VPN doesn't have the resources to bypass the strict Netflix detection, or
the VPN server you're using to access Netflix is now on the blacklist and doesn't work anymore.
In truth, getting a proxy error is neither scary nor uncommon. Netflix is known to ban entire VPN IP ranges in waves, and no VPN service is immune to getting caught.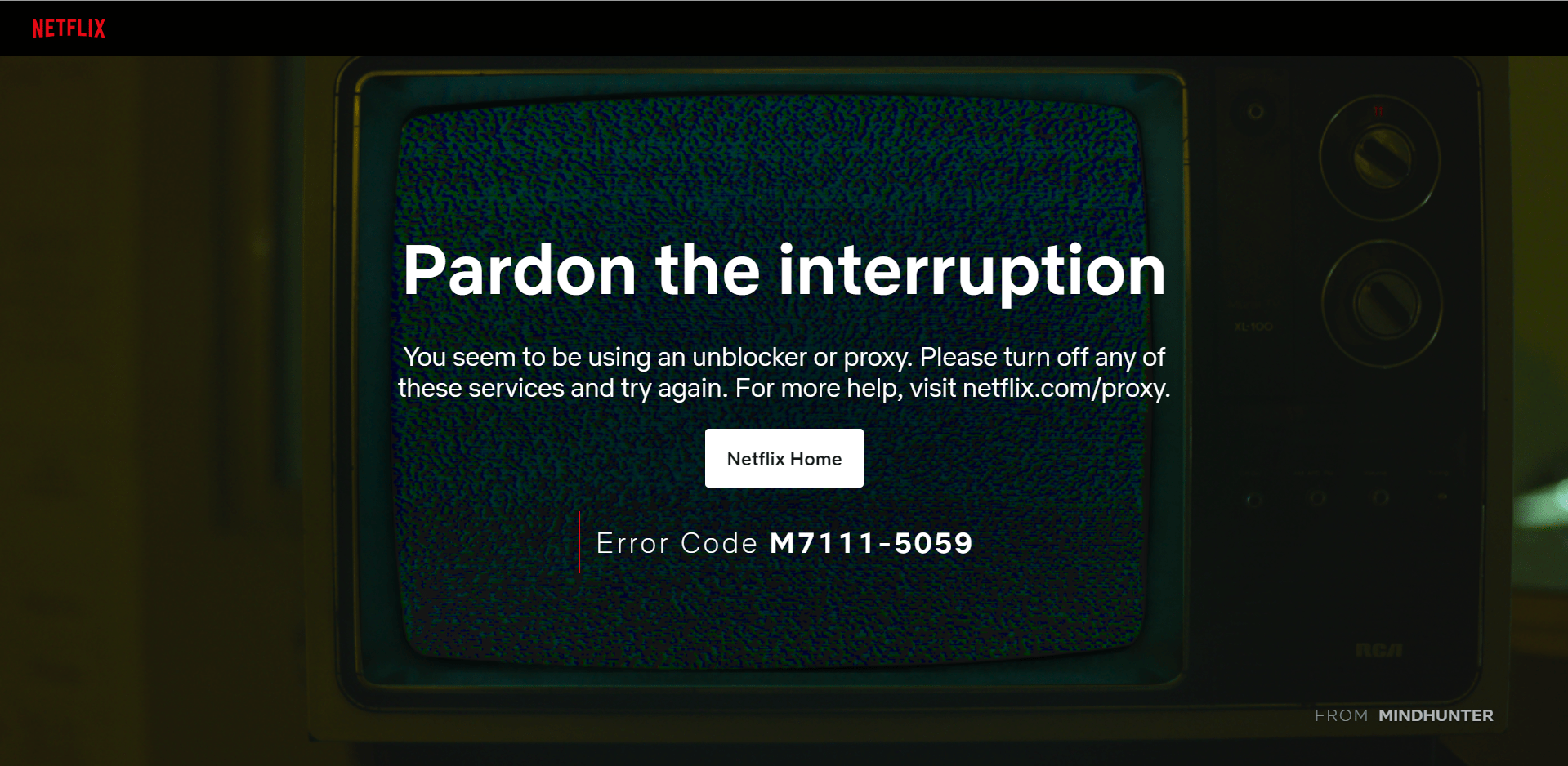 Pardon the interruption. You seem to be using an unblocker or proxy. Please turn off any of these services and try again. For more help, visit netflix.com/proxy. Error Code: M7111-5059
That said, some VPN providers are much better at providing dependable Netflix access than others. So next time you see the dreaded Netflix proxy error, check out one of these excellent Netflix VPNs.
NordVPN is the top-rated VPN for Netflix and a crowd favorite. There are several reasons for its solid reputation:
Confirmed to work with at least seven popular regional Netflix libraries in our extensive tests. This includes the super-popular US Netflix library, which we tested on five different NordVPN servers across the country.
Has the server numbers to deal with Netflix's constant blacklisting. With 5,600+ servers in 60 countries, hundreds (if not thousands) of options in most popular locations, and regular new additions, you simply won't have to worry about running out of suitable Netflix servers.
Proprietary SmartPlay technology. This allows the NordVPN app to pick the right server for your streaming needs. SmartPlay springs into action every time the VPN detects you're trying to stream geo-restricted content (like regional Netflix libraries). The best part is it's fully automatic, so you don't need to do anything fancy to access the Netflix catalog you're after – the system does it for you.
Fix the Netflix Proxy Error With NordVPN NOW!
ExpressVPN is another great choice for hassle-free Netflix streaming. Here's why:
Works with six of the biggest Netflix catalogs, as confirmed by our tests. Netflix US is also on the list, with at least two ExpressVPN servers (Dallas, Los Angeles) working perfectly.
Amazing speeds. ExpressVPN's ultra-fast servers let you stream Netflix in high definition, without annoying buffering or connectivity issues in your way.
Massive network to tackle the Netflix blocks. ExpressVPN gives you over 3,000 servers in 160 locations and 90+ countries. This is more than enough to find a working server for your desired Netflix library.
Fix the Netflix Proxy Error With ExpressVPN NOW!
Making the switch to a tried and tested VPN for Netflix is the key to smooth access to your favorite shows and movies from anywhere. But keep in mind that no VPN service can guarantee you 100% Netflix uptime – not even the best of the bunch.
Still Seeing the Netflix Proxy Error With NordVPN or ExpressVPN?
One thing you'll quickly find out, if you're unlucky enough, is that the Netflix proxy error can be very persistent.
Even if you're already using a premium VPN for Netflix like NordVPN or ExpressVPN, you may end up with the frustrating error message.
In these rare cases, your first move should be to contact customer support for help.
Both NordVPN and ExpressVPN have helpful 24/7 live chat support, which provides quick and expert assistance with server suggestions for Netflix and any other questions. At the very least, you'll learn if the VPN is currently having difficulties with the streaming platform.
Another way to troubleshoot the issue is by trying to stream Netflix on a different device.
NordVPN supports up to six simultaneous connections – more than enough to run the VPN on a separate device without worrying about losing access to your main one. The same goes for ExpressVPN, which can be run on up to five devices at the same time.
If all else fails, don't forget that you can always get a refund if the VPN's policy allows it.
Both NordVPN and ExpressVPN can be tried out risk-free, thanks to a 30-day money-back guarantee. If you aren't happy with your VPN, you can get a refund and continue your search for the perfect Netflix VPN – although you may have a hard time finding better picks.
Other VPNs That Bypass the Netflix Proxy Error
By now, you probably know first-hand that not every VPN is ideal for Netflix.
Premium VPN services such as NordVPN and ExpressVPN have proven their worth, but the list doesn't end with them. Here are a couple of decent alternatives.
CyberGhost has a dedicated streaming profile for various Netflix catalogs, along with great server variety and a user-friendly interface. While not as fast or versatile as NordVPN and ExpressVPN, it offers a good combination of speed, ease of use, and customer support.
Surfshark is another quality VPN for Netflix. The smaller server roster (500+ servers in over 80 countries) puts it just outside of our top three Netflix VPNs, but some users may be interested in the unlimited simultaneous connections it offers.
To summarize, the best VPNs for Netflix in October 2020 are…
Provider
Our Score

9.8

/10

9.8

/10

9.6

/10

9.4

/10

9.2

/10
FAQ
Why is Netflix blocking VPN traffic?
Simply put, Netflix doesn't want you to freely stream content that isn't intended for your region.
Due to copyright laws and licensing deals, Netflix content isn't the same in every country. This is the main reason many users get a VPN for Netflix in the first place.
Netflix quickly caught on that many users were bypassing their geo-restrictions, which doesn't sit well with their licensing and distribution partners. Nowadays, Netflix is actively cracking down on VPNs and other unblockers.
Netflix even goes the extra mile frequently blacklisting known VPN addresses and DNS proxies, similar to the BBC iPlayer.
? How does a VPN make Netflix better?
Netflix catalogs can vary greatly in different regions.
For example, the US Netflix catalog is widely considered the best one due to its size. It typically has a much bigger library, especially compared to some small regions.
In other cases, certain movies and shows appear much sooner, or are exclusive to a Netflix region.
With the right VPN, you can pick your favorite Netflix library in just a few seconds, even if you aren't physically located in the country. That way you gain access to dozens, if not hundreds of titles that would otherwise be off-limits.
? Why does the Netflix error say "unblocker or proxy" and not VPN?
While VPNs are useful for many different purposes from security and privacy to anti-censorship, "unblocking" is a big reason for their popularity.
So when the Netflix proxy error says "unblocker or proxy," it includes VPNs in the list by default, even if they aren't explicitly mentioned.
That said, there are dedicated "unblocker" services out there. Those are different from VPNs, and usually way less effective at helping you access geo-restricted content.
? Is there a proxy service that works with Netflix?
The short answer is no. At least not reliably.
Now for the long one – as far as your connection goes, proxy services work very similarly to VPNs. They change your IP and DNS addresses, but one crucial part is missing – encryption.
Since proxy services don't offer any privacy or obfuscation by definition, it's much easier for advanced detection measures, such as the ones Netflix runs, to recognize and block them.
Compared to proxies, VPNs are harder to detect and overall much more dependable for accessing geo-restricted content. Plus, your internet traffic is kept safe by bulletproof security – always a nice bonus.
? Can I use a free VPN to stream Netflix?
Sadly, no. And we suggest staying away from free VPNs in general.
Between thousands of fast servers, streaming features, and quality customer support, your VPN for Netflix must meet several important criteria. Free VPNs may be alluring for obvious reasons, but they simply can't offer you all of that value. In fact, most can't offer you any of it.
Even if you somehow manage to load up Netflix with a free VPN, it won't be long before you start running into connectivity issues.
Our advice? Stick to a proven VPN for Netflix and save yourself the trouble. Free VPNs will only frustrate you in the long run.
? How do I watch Netflix in a hotel or during my travels?
Streaming your favorite Netflix catalogs on the go is easy – just remember to "pack" a VPN that works.
We recommend downloading, installing, and testing your VPN before your trip. Then, simply launch the app and select a remote server in the same country as your desired Netflix library.
And that's it – hassle-free Netflix in the hotel, cafe, airport, and anywhere else.
Remember that you can stream Netflix without geoblocks or proxy errors on different devices at the same time, as long as your VPN supports simultaneous connections.
You might also like:
Privacy Alert!
You are exposing yourself to the websites you visit!
The information above can be used to track you, target you for ads, and monitor what you do online.
VPNs can help you hide this information from websites so that you are protected at all times. We recommend NordVPN — the #1 VPN out of over 350 providers we've tested. It has military-grade encryption and privacy features that will ensure your digital security, plus — it's currently offering  68% off.