NordLocker Review February 2020 (How You Can Try it FREE)
I have put NordLocker to the test in this in-depth review. Find out everything you need to know about this encryption program below. Share
There is a lot of excitement around the release of NordLocker – but are the rumors true? Is NordLocker going to revolutionize your digital security?
I decided to test NordLocker myself to see what it can – and can't – do.
What is NordLocker?
NordLocker is a program that encrypts your files.
Encryption stops cybercriminals accessing your personal information. You can read more about encryption in my colleague's article, here.
You can use NordLocker to encrypt photos and other documents before saving them to your computer, uploading them to the cloud, or sharing them with others.
Encryption allows you to:
Share your photos and videos privately with family and friends. Unlike social media and other photo sharing platforms, only people you trust will be able to see the photos and videos you share.
Store documents and personal information securely. You can encrypt copies of your passport, ID, or other important documents. This way, you will always have access to them in emergencies and when you're away from home.
Share files with your colleagues without having to worry about accidentally leaking customers' information.
Features
Security
NordLocker uses end-to-end encryption. This means that even the company itself cannot see the files you're encryption. It uses advanced ciphers and principles, including Argon2, AES256, ECC (with XChaCha20, EdDSA, and Poly1305).
It's designed and owned by NordVPN, a reputable VPN service provider. You can read our detailed review to learn more about NordVPN.
Sharing
You can also use NordLocker to share encrypted files. The person you are sharing with must be a NordLocker member, too.
User Experience
NordLocker's app is easy to install and use. It's ready to go in less than five minutes.
I tested it on my Windows 10 laptop. I encountered an error when I first tried to use it, but this was quickly resolved by re-installing the app.
When I first logged in, I was asked to create a master password. This password is used to access all of your files. I found out that NordLocker does not send your this password via email, so you'll need to remember it.
On the next screen, I was given a recovery key to use if I lose my password. NordLocker advises you to store this key securely. If you forget your password and the recovery key, you won't be able to access your files.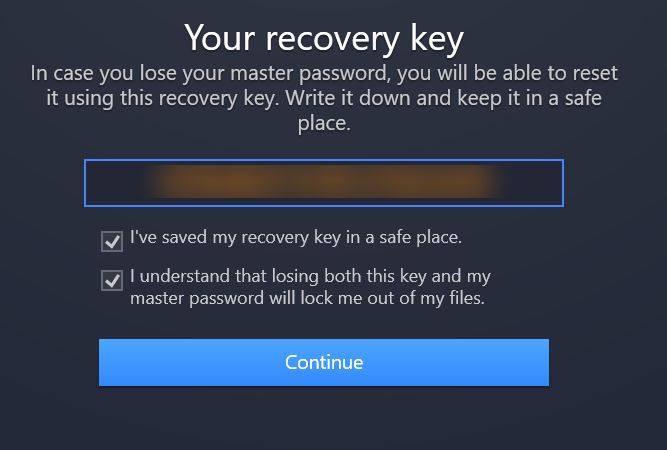 The app was ready to go as soon as I logged in. It uses a simple drop and drag method to upload files. Click on the file you want to encrypt, drag it over to your open NordLocker window, and release your mouse button. Done!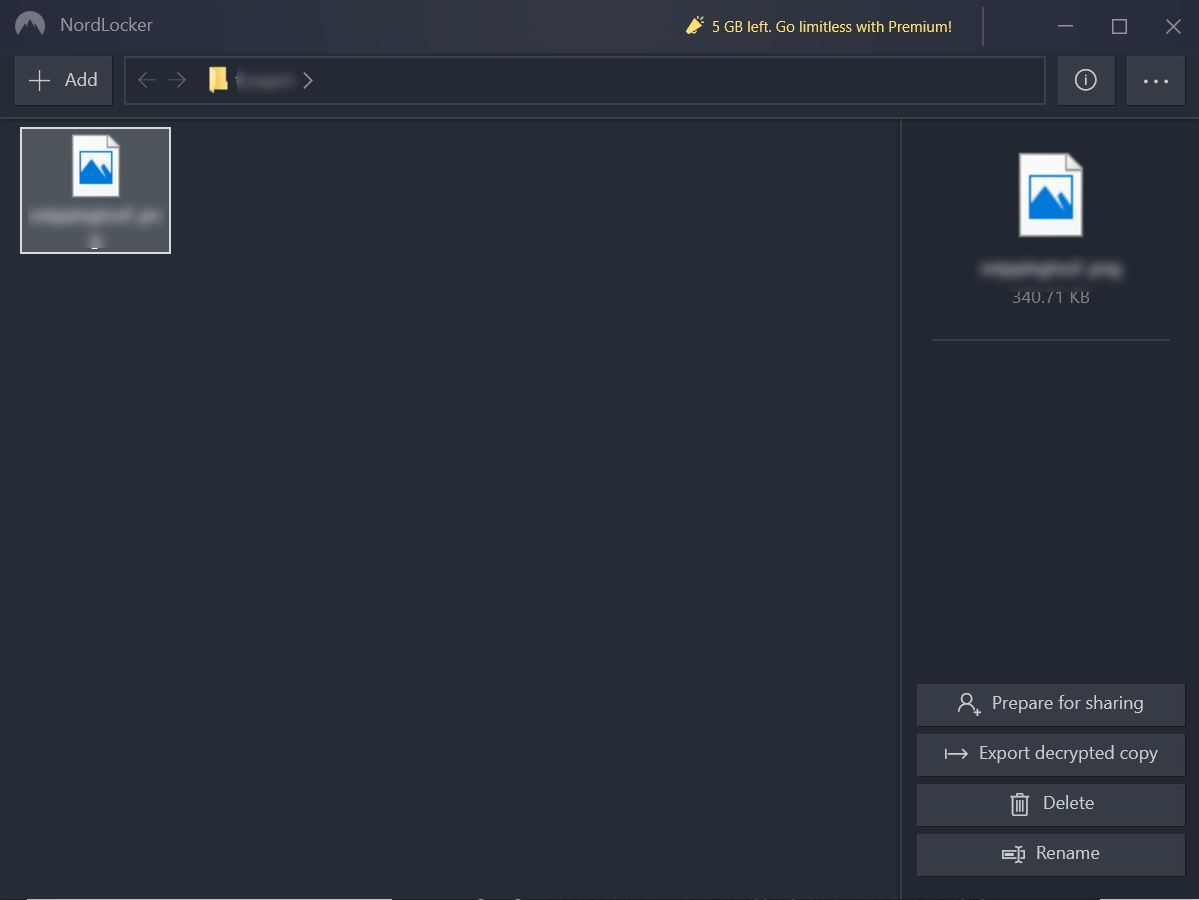 I had a look at the settings menu, but there are very few customization options. You can configure the app to open when your computer starts up, though.
It took about six seconds for NordLocker to encrypt and decrypt my test file.
Next, I tried to share the file with a friend. It's easy. All you need to do is enter the email address of the person you want to share with, and NordLocker does the rest. If your friend isn't a member, the file will appear as 'pending' until they join.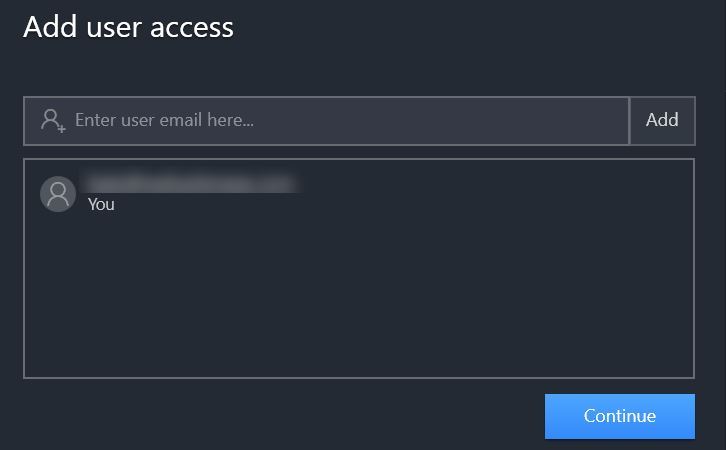 Compatibility
NordLocker has apps for macOS and Windows.
Price
NordLocker offers a free account with 5GB of data. Once you've used 5GB, you won't be able to encrypt new files. But, you can still access the files you have already encrypted, and files that have been shared with you.
Upgrading will get you unlimited data and priority 24/7 live support. It offers affordable plans that range from one month to three years. Longer plans attract a higher discount, and there is a 30-day money-back guarantee.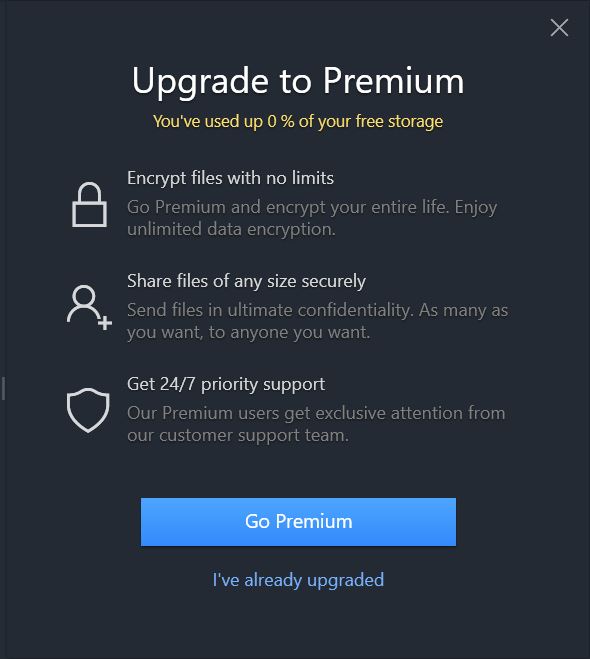 Summary – is NordLocker Worth It?
NordLocker is one of the best data encryption programs I've used. It's easy-to-use, safe, and affordable.
The apps are reliable and simple. You don't need to configure it or change any settings; NordLocker is ready to go as soon as you log in.
It offers 5GB of free data, too. If you exceed this limit, you can upgrade to its affordable premium plan for unlimited data. Even if you don't upgrade, you will still be able to access all of your encrypted files.
NordLocker is brand new, and I'm excited to see where it goes in the future. I'm hopeful that we will see some mobile apps that will make it easier to take, upload, and encrypt photos.